Supercars: Van Gisbergen extends Championship lead with 2 wins at Sandown
Shane van Gisbergen has extended his points lead with a dominant Race 25 victory at Sandown.
Van Gisbergen won from pole in Sunday's first Penrite Oil Sandown SuperSprint race.
It was van Gisbergen's 15th win of 2022, and his fourth in the last five races at Sandown.
The reigning champion will carry a 446-point lead into Sunday afternoon's finale.
Chaz Mostert shrugged off an engine change to finish second, with Will Brown third.
Brown cleared David Reynolds on lap 33 to claim his first podium of the season.
Will Davison, who started 11tafter a qualifying drama, finished down a lowly 15th due to a penalty.
Davison worked his way into the top 10 before he was pinged for a pit lane infringement.
"The car was really good, so much better than yesterday," van Gisbergen said.
"The real test will come this afternoon, when Will is up the front, he was very fast yesterday.
"I can't remember the last time I got through Turn 1 in the lead, I was like, 'Shit, what do I do now?'
"I was a bit lost for the first few laps."
Mostert hounded van Gisbergen in the early laps before the points leader pulled away.
The winning margin was 7.5s, van Gisbergen scoring career victory No. 69.
Triple Eight has now won 12 of the last 14 races at Sandown dating back to 2011.
Brown was 4.4s behind Mostert, with Reynolds 1.9s behind the Erebus Commodore.
Brown's last podium came in Sydney some nine months ago.
Scott Pye was fifth ahead of Heimgartner and Waters, with De Pasquale, Golding and Feeney rounding out the top 10.
The Penrite Oil Sandown SuperSprint will conclude with Race 26 at 4:20pm local time.
Van Gisbergen holds off Davison for Sunday double at Sandown
Shane van Gisbergen has outlasted Will Davison to record his 16th win of the season and draw one step closer to a third career Supercars title.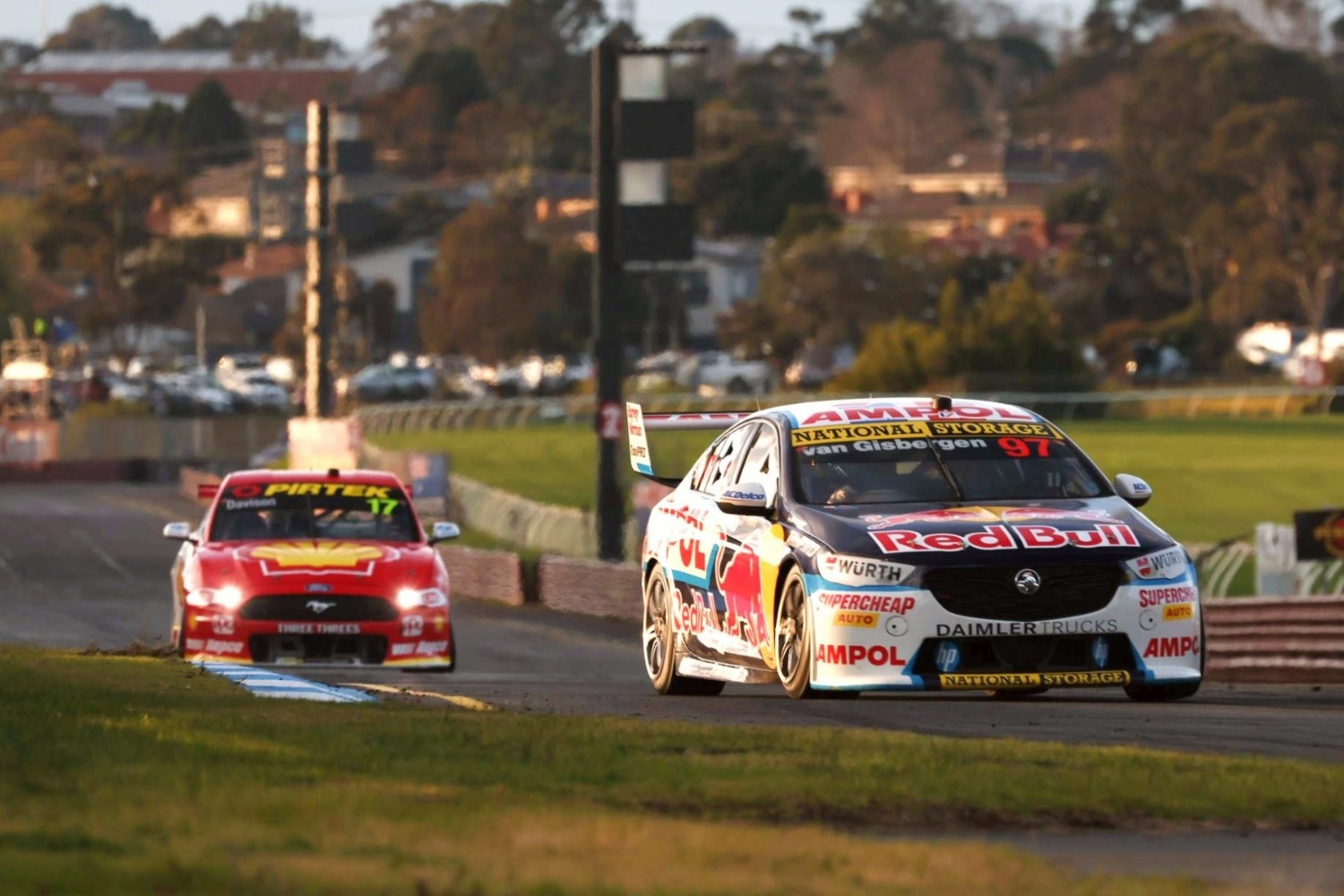 Red Bull's Van Gisbergen helped himself to a second Penrite Oil Sandown SuperSprint win of the day after winning earlier today.
Davison chased all day but just couldn't run down Van Gisbergen in the closing stages, while rookie Broc Feeney finished third for his second career podium.
Van Gisbergen's Championship points lead is now out to 500 points from Ford's Cam Waters and Anton De Pasquale.
It was a hectic start to the race as van Gisbergen and Davison tussled for the lead.
While the weekend's previous race winners traded paint, Davison's teammate Anton De Pasquale tried to sneak past the race leaders only to collide with his teammate and get the front of his car airborne.
That allowed van Gisbergen the break he needed from Davison and the defending Champion never looked back.
Van Gisbergen's 16th win drew him level with Craig Lowndes' haul set in 1996. Only Scott McLaughlin's record 18 wins, set in 2019, is in van Gisbergen's way of a new Supercars' season record.
The victory was also the 70th of van Gisbergen's career, which began way back in 2007.
"It was critical in those first few laps, what an awesome battle," van Gisbergen said.
"It's a shame Anton got damage, and we couldn't all fight it out.
"So stoked for the team, double podium, congrats to Broc.
"[Davison's] been really fast all weekend, I followed him yesterday, he was driving very well.
"That race, I knew I had to get him at the start… I didn't look in the mirror, I just kept pushing."
Holden Racing Team rookie Lowndes won a then record 16 races in the 1996 season. Lowndes' record stood for 23 years before McLaughlin won 18 of the first 25 races in 2019.
McLaughlin and Lowndes both won the Bathurst 1000 and championship in their respective seasons.
While it took 23 years for Lowndes' record to fall, McLaughlin's is in serious danger of lasting just three years.
Van Gisbergen has eight more races across four events to surpass McLaughlin's tally.
Fittingly, van Gisbergen could equal and break countryman McLaughlin's record on home soil.
Races 27, 28 and 29 of the season will be held at Pukekohe Park Raceway in Auckland.
Coincidentally, McLaughlin broke Lowndes' record with his 17th victory coming at Pukekohe.
Van Gisbergen will carry an extended 500-point series lead to New Zealand next month.
Supercars will return to New Zealand on September 9-11.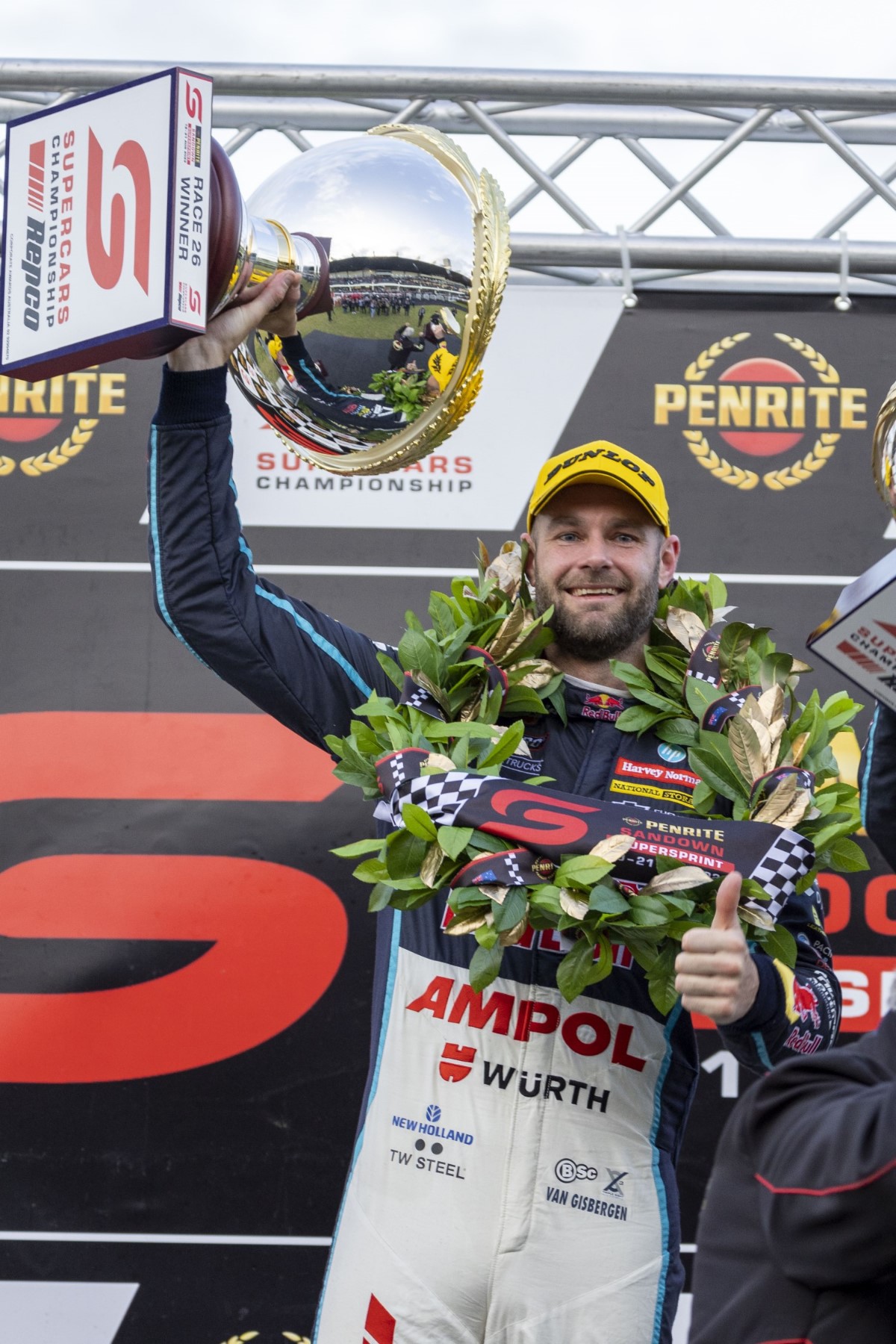 Sunday Race 1 Results
| | | | | |
| --- | --- | --- | --- | --- |
| POS | NO. | DRIVER | TEAM | BEHIND |
| 1 | 97 | Van Gisbergen | Red Bull Holden Racing Team | +0.000 |
| 2 | 25 | Mostert | Walkinshaw Andretti United Racing Pty Ltd | +7.517 |
| 3 | 9 | W. Brown | Penrite Racing – Erebus | +11.997 |
| 4 | 26 | Reynolds | Penrite Racing | +13.986 |
| 5 | 20 | S. Pye | Team 18 | +16.185 |
| 6 | 8 | Heimgartner | Brad Jones Racing | +16.186 |
| 7 | 6 | C. Waters | Tickford Racing 1 | +27.570 |
| 8 | 11 | A. de Pasquale | Shell V-Power Racing Team | +28.509 |
| 9 | 31 | J. Golding | PremiAir Subway Racing | +31.397 |
| 10 | 88 | B. Feeney | Red Bull Holden Racing Team | +33.571 |
| 11 | 3 | Slade | CoolDrive Racing | +33.956 |
| 12 | 18 | Winterbottom | Team 18 | +35.826 |
| 13 | 5 | Courtney | Tickford Racing 1 | +36.821 |
| 14 | 96 | M. Jones | Brad Jones Racing | +37.247 |
| 15 | 17 | Davison | Shell V-Power Racing Team | +37.465 |
| 16 | 22 | C. Pither | PremiAir Coca Cola Racing | +39.706 |
| 17 | 55 | T. Randle | Tickford Racing 2 | +42.283 |
| 18 | 500 | Holdsworth | Penrite Racing | +42.455 |
| 19 | 2 | Percat | Walkinshaw Andretti United Racing Pty Ltd | +46.642 |
| 20 | 56 | J. Kostecki | Tickford Racing 2 | +47.841 |
| 21 | 14 | B. Fullwood | Brad Jones Racing | +51.090 |
| 22 | 4 | J. Smith | SCT Motor Sports | +51.699 |
| 23 | 99 | B. Kostecki | Penrite Racing – Erebus | +1 Lap |
| 24 | 35 | T. Hazelwood | Matt Stone Racing | +5 Laps |
| 25 | 34 | J. Le Brocq | Matt Stone Racing | +5 Laps |
Sunday Race 2 Results
| | | | | |
| --- | --- | --- | --- | --- |
| POS | NO. | DRIVER | TEAM | BEHIND |
| 1 | 97 | Van Gisbergen | Red Bull Holden Racing Team | +0.000s |
| 2 | 17 | Davison | Shell V-Power Racing Team | +0.461 |
| 3 | 88 | B. Feeney | Red Bull Holden Racing Team | +11.805 |
| 4 | 25 | Mostert | Walkinshaw Andretti United Racing Pty Ltd | +15.264 |
| 5 | 18 | Winterbottom | Team 18 | +15.409 |
| 6 | 3 | Slade | CoolDrive Racing | +16.962 |
| 7 | 20 | S. Pye | Team 18 | +18.578 |
| 8 | 55 | T. Randle | Tickford Racing 2 | +22.395 |
| 9 | 26 | Reynolds | Penrite Racing | +24.092 |
| 10 | 6 | C. Waters | Tickford Racing 1 | +25.716 |
| 11 | 9 | W. Brown | Penrite Racing – Erebus | +26.349 |
| 12 | 5 | Courtney | Tickford Racing 1 | +28.363 |
| 13 | 8 | Heimgartner | Brad Jones Racing | +29.029 |
| 14 | 14 | B. Fullwood | Brad Jones Racing | +34.924 |
| 15 | 4 | J. Smith | SCT Motor Sports | +36.922 |
| 16 | 99 | B. Kostecki | Penrite Racing – Erebus | +38.846 |
| 17 | 96 | M. Jones | Brad Jones Racing | +39.399 |
| 18 | 500 | Holdsworth | Penrite Racing | +39.871 |
| 19 | 31 | J. Golding | PremiAir Subway Racing | +44.160 |
| 20 | 56 | J. Kostecki | Tickford Racing 2 | +1 Lap |
| 21 | 22 | C. Pither | PremiAir Coca Cola Racing | +2 Laps |
| 22 | 2 | Percat | Walkinshaw Andretti United Racing Pty Ltd | +2 Laps |
| 23 | 11 | A. de Pasquale | Shell V-Power Racing Team | +6 Laps |
| 24 | 35 | T. Hazelwood | Matt Stone Racing | +7 Laps |
| NC | 34 | J. Le Brocq | Matt Stone Racing | +4 Laps |
| | | | |
| --- | --- | --- | --- |
| Driver        | Team | Points   | Diff |
| Shane van Gisbergen | Red Bull Ampol Racing Commodore | 2493 | -000 |
| Cam Waters | Monster Energy Mustang | 1993 | -500 |
| Will Davison | Shell V-Power Racing Mustang | 1974 | -519 |
| Anton De Pasquale | Shell V-Power Racing Mustang | 1971 | -522 |
| Chaz Mostert | Mobil 1 Optus Racing Commodore | 1764 | -729 |
| Broc Feeney | Red Bull Ampol Racing Commodore | 1648 | -845 |
| David Reynolds | Penrite Racing Commodore | 1562 | -931 |
| Brodie Kostecki | Boost Mobile Erebus Commodore | 1389 | -1104 |
| James Courtney | Snowy Rivers Caravans Commodore | 1349 | -1144 |
| Andre Heimgartner | R&J Batteries Commodore | 1346 | -1147 |
| Tim Slade | CoolDrive Mustang | 1343 | -1150 |
| Mark Winterbottom | Irwin Racing Commodore | 1280 | -1213 |
| Will Brown | Boost Mobile Erebus Commodore | 1174 | -1319 |
| Lee Holdsworth | Penrite Racing Commodore | 1122 | -1371 |
| Nick Percat | Mobil 1 NTI Commodore | 1068 | -1425 |
| Todd Hazelwood | Truck Assist Commodore | 1022 | -1471 |
| Scott Pye | Nulon Commodore | 938 | -1555 |
| Bryce Fullwood | Middy's Commodore | 917 | -1576 |
| Macauley Jones | Drill Pro Commodore | 885 | -1608 |
| Jack Le Brocq | Truck Assist Commodore | 193 | -2300 |
| Thomas Randle | Castrol Racing Mustang | 873 | -1620 |
| Chris Pither | Coca Cola Commodore | 813 | -1680 |
| Jake Kostecki | Tradie Mustang | 807 | -1686 |
| Jack Smith | SCT Logistics Commodore | 754 | -1739 |
| James Golding | Subway Commodore | 308 | -2185 |