IndyCar: McLaughlin Takes Pole at Grand Prix of Portland
Team Penske's Scott McLaughlin won his third career pole, beating his two teammates with a time of 58.2349.
Josef Newgarden and Will Power took second and third spots.  Newgarden, who is second in the championship, will start six positions back due to a grid penalty for an unapproved engine change at WWT.
Rahal Letterman Lanigan's rookie, Christian Lundgaard, put in a 58.4482 lap to claim the fourth spot on the grid tomorrow.
Ganassi Racing's Alex Palou, the defending series champion, qualified fifth, the best of all his team's entries by putting down a lap at 58.5075.
Arrow McLaren SP's Pato O'Ward set a time of  58.5075 and will start in sixth place.
Two of the champion front runners that did not make it into the Top 12, Ganassi Racing teammates, Scott Dixon and Marcus Ericsson, will start in the 16th and 18th respectively.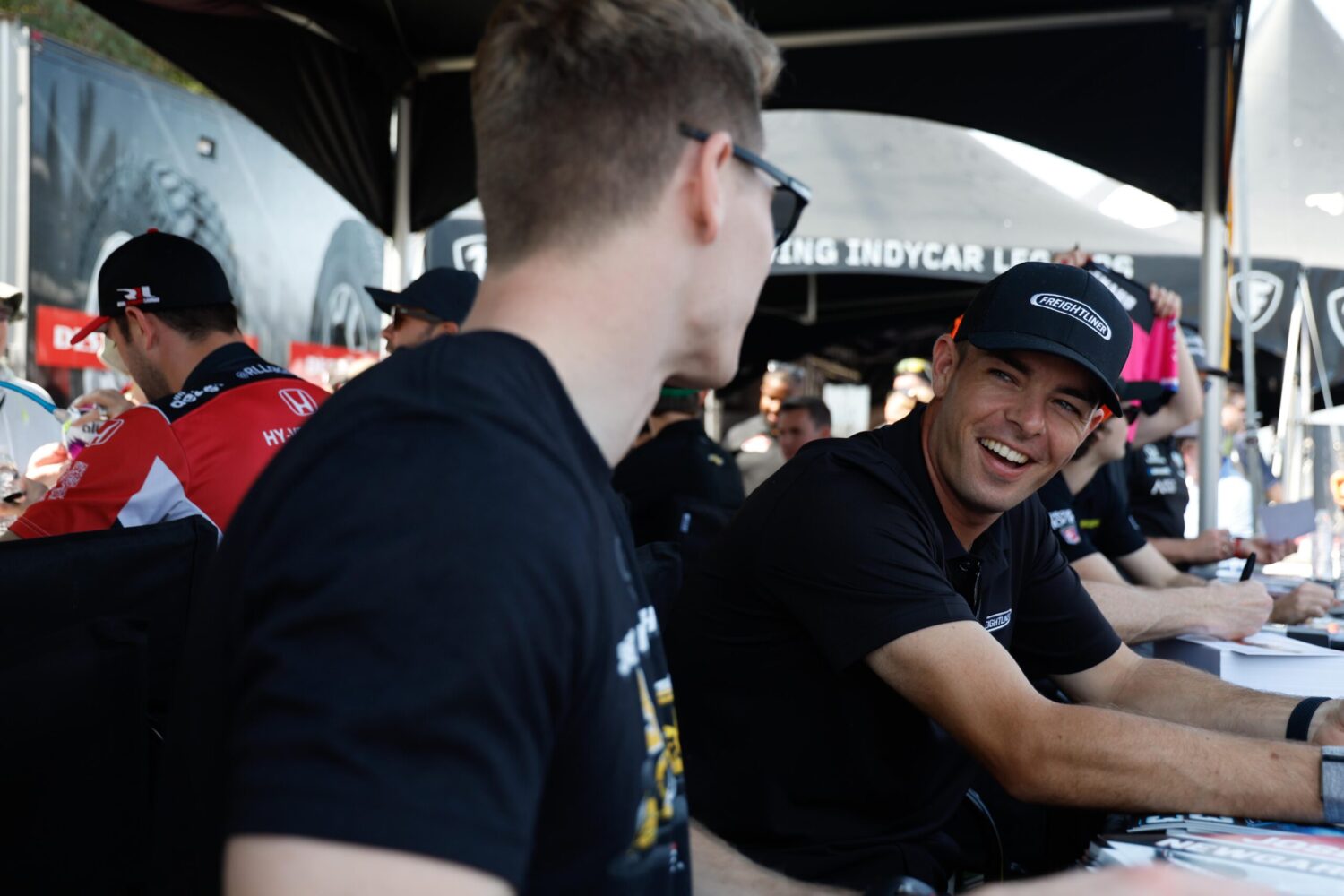 SCOTT MCLAUGHLIN
"Yeah, really happy day. I knew coming in we had pretty strong race cars for Team Penske.
It was just really going to be if we all do a good job getting to the Fast Six, then we're battling each other. That's sort of what happened."
"I set our session up because we did one lap less on our red tire in Q1 which really helped. I did a pretty solid lap on my first flyer. Having that little fresher tire helped."
"I think my car got a little bit worse as the quallie went on.  We managed to cue it up for turn three and managed to do a good enough lap for pole."
"Freightliner's home race here in Portland. I went and saw them during the week. That was cool. Everyone is pumped. A lot of people here," [where?]
"Credit to everyone at Team Penske," McLaughlin said. "We weren't great here last year, but we've come back here this year with three hot rods. We're all pushing each other."
Qualifying Results
1. (3) Scott McLaughlin, Chevrolet, 58.2349 (121.412)
2. (2) Josef Newgarden, Chevrolet, 58.3129 (121.249)
3. (12) Will Power, Chevrolet, 58.4254 (121.016)
4. (30) Christian Lundgaard, Honda, 58.4482 (120.969)
5. (10) Alex Palou, Honda, 58.5075 (120.846)
6. (5) Pato O'Ward, Chevrolet, 58.6090 (120.637)
7. (7) Felix Rosenqvist, Chevrolet, 58.3475 (121.177)
8. (26) Colton Herta, Honda, 58.3925 (121.084)
9. (27) Alexander Rossi, Honda, 58.3983 (121.072)
10. (18) David Malukas, Honda, 58.4038 (121.061)
11. (15) Graham Rahal, Honda, 58.4475 (120.970)
12. (21) Rinus VeeKay, Chevrolet, 58.5356 (120.788)
13. (14) Kyle Kirkwood, Chevrolet, 58.4865 (120.889)
14. (77) Callum Ilott, Chevrolet, 58.1988 (121.487)
15. (28) Romain Grosjean, Honda, 58.5097 (120.842)
16. (9) Scott Dixon, Honda, 58.2628 (121.354)
17. (45) Jack Harvey, Honda, 58.5332 (120.793)
18. (8) Marcus Ericsson, Honda, 58.3064 (121.263)
19. (60) Simon Pagenaud, Honda, 58.6898 (120.471)
20. (20) Conor Daly, Chevrolet, 58.4398 (120.986)
21. (06) Helio Castroneves, Honda, 58.7534 (120.340)
22. (51) Takuma Sato, Honda, 58.6058 (120.643)
23. (48) Jimmie Johnson, Honda, 59.1933 (119.446)
24. (29) Devlin DeFrancesco, Honda, 58.6127 (120.629)
25. (4) Dalton Kellett, Chevrolet, 59.0082 (119.821)