F1: Italian GP Thursday Press Conference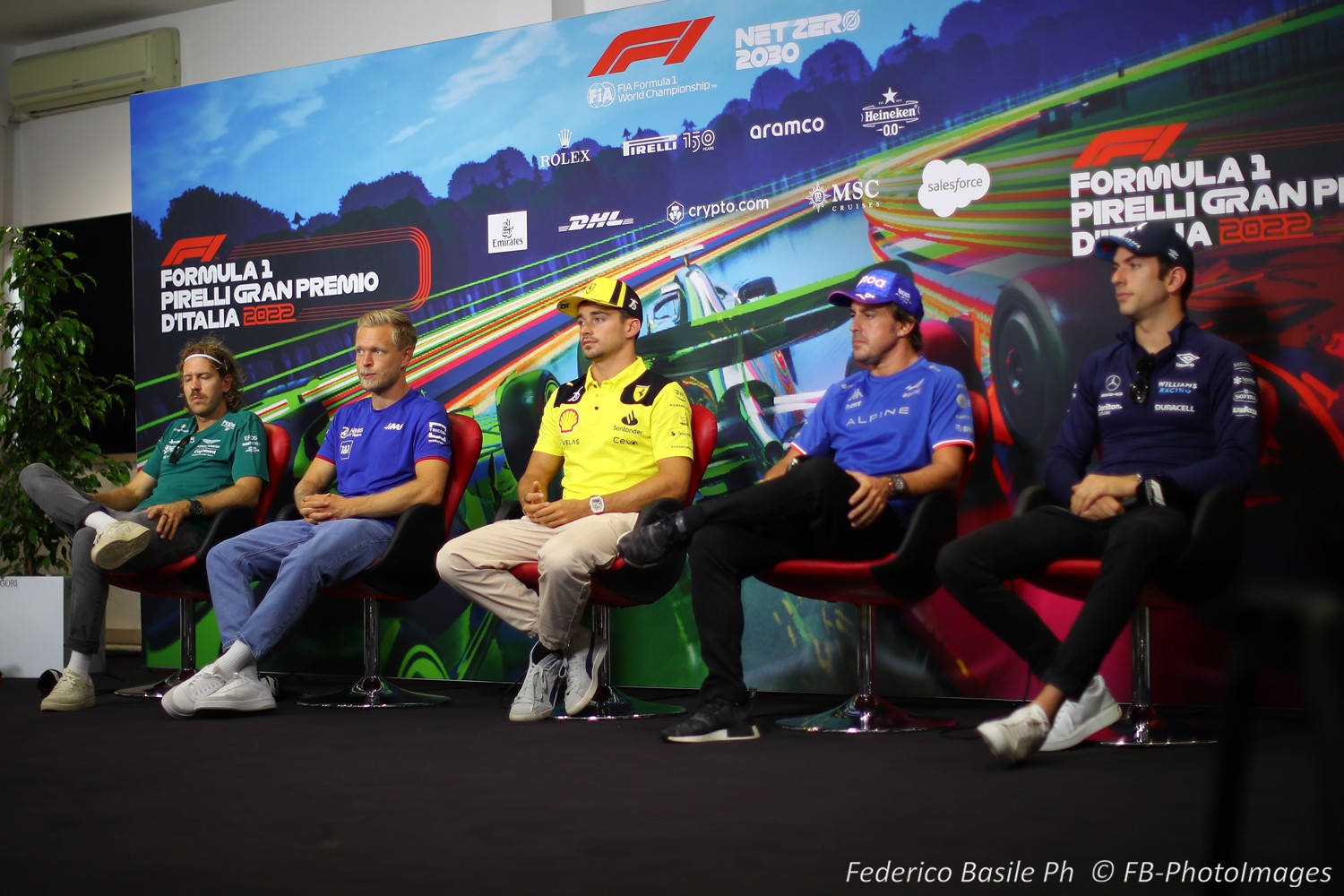 Q:  Sebastian, if we could start with you, please?  The last European race of your Formula 1 career at Monza, the scene of your first win, how do you feel about this one?
Sebastian VETTEL:  Well, I like Monza, I love the track. Obviously, there's a lot of memories. I don't… you know I don't wake… I didn't wake up this morning, I won't wake up on Sunday thinking this is the last time in Monza. So it's not how I approached the races, but yeah, I'm looking forward to the weekend. It's usually a great atmosphere.  Obviously, having driven for Ferrari in the past, there's a lot of support for Ferrari, a lot of support for Formula 1 so I think we can all look forward to a great weekend., and like I said, for me it has a bit of an extra meaning because I celebrated my first win here. I think it's Monza's 100th anniversary this weekend, so yeah, should be cool.
Q: Of your 53 wins in Formula 1, where does that first victory back in 2008 stack up? 
SV:  Well, it was a long time ago., but I think your first win always remain something special so to answer your question, probably pretty high, but then it's quite a luxury to be able to choose from so many., and for sure, right now, I can't compare all of them, but I would say the first one is very special. Also the circumstances, you know; it was a bit of a miracle, and fairy tale, pulling it off with a pole, and then the race win. So yeah, very special.
Q: Let's bring it on to your performance this weekend. Your car was very racy at Spa a couple of races ago. Does that give you extra hope coming into here?
SV: Yeah, I think overall we've made a little bit of progress in the… obviously now the last months, but yeah, I think it is very tight, we are in the midfield, and it's very tight being at the back of the midfield or just in the middle with a couple of other teams. So it definitely helped us to make small steps forward because we were able here, and there to fight for points, and that is the target as well for this weekend. Now, here, it's a different track; everybody's running as little downforce as they can so we'll see where it takes us.
Q: Just before we go is there a story behind the mustache?
SV: Got bored, and I thought it was something different.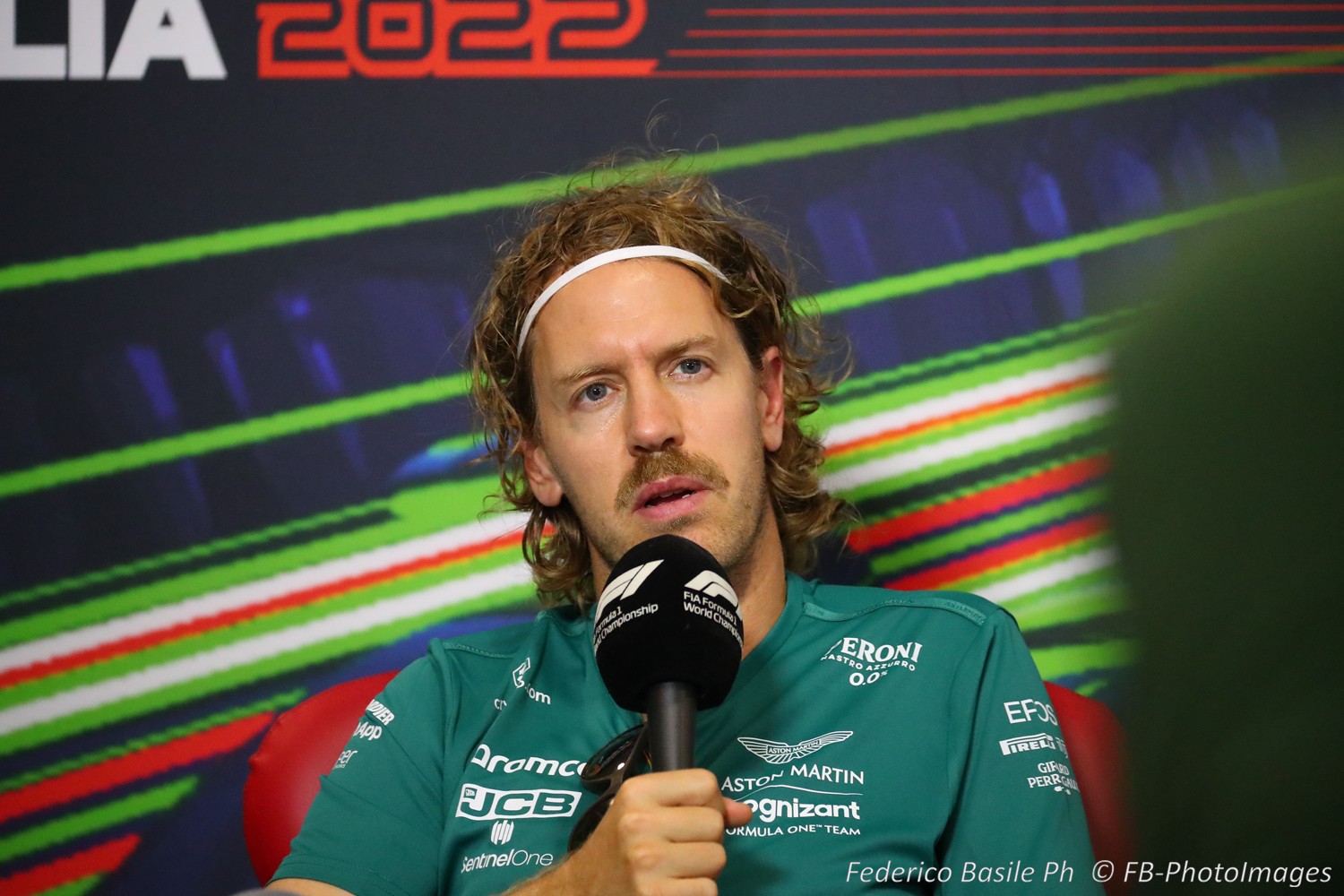 Q: Kevin, let's come on to you. Throw it back to last weekend first of all at Zandvoort which you described as a wasted weekend.  Now we saw what happened to you on lap two, but where was the performance of the car in Holland? 
Kevin MAGNUSSEN: Well, I think the car had good performance. Mick qualified P8 which was a good result. That's kind of our…  where we wish to be, in contention for points, and stuff like that. So I think I messed up in qualifying, and then didn't get out of Q1 although the car had the pace, I just made a mistake, and got a bit unlucky with traffic, and then I was out so I got my lap deleted even, and had to start 18th., and then in the race I tried…  you've got to take risks on the first lap. I got a few positions, but then made another mistake in turn two, and went off the track, and was last so it was a bit of a wasted weekend like that, just  didn't get anything out of it.
Q: Now this weekend, at least on paper, looks like a difficult event for Haas. Where are you setting your expectations? 
KM: For this one, probably a little lower. We don't have this super low downforce configuration that you would use here, and then in Baku, for example, we also were struggling a bit, but in Baku, for example, in the race, we were still a little bit racy. So I thought we could score points there; I had an engine failure so I didn't finish the race, but I was running inside the points, and that was pretty unexpected with the package we ran there, and so naturally I hope we can do that again here, but with what we're running, not our favorite track.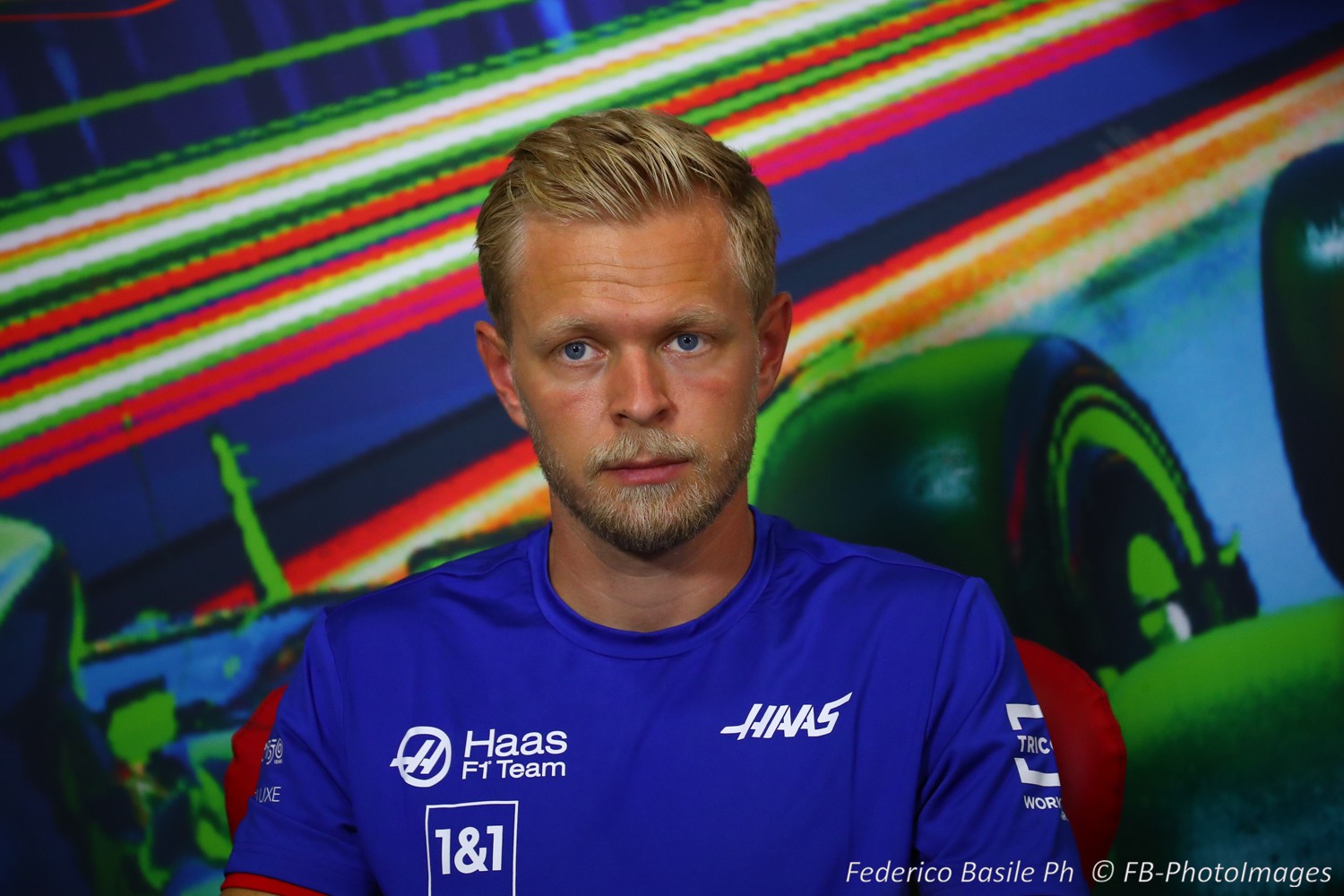 Q: Now Kevin, there's a lot of speculation about the identity of your teammate next year. What do you feel the team needs?
KM: Pretty obvious;  of course we need fast drivers, and drivers that are consistent, can score points, can help drive the team forward, but I think right now we have me, and Mick, and it's not going too badly, I think so I don't really have any strong opinions either way. It's up to Guenther, and of course the management to sort that one out. I'm not here to speculate or be involved in that.
Q: Is there a need for more experience in the other car?
KM: Again, I'm not here to really take part in that. I don't really have an opinion on that. I think Mick is doing a good job, and that's all I can say.
Q: Charles, coming on to you:  you're a Ferrari driver, you're racing at Monza. Just how different is this experience for you?
CL: Well, this one is particularly different because for once I'm not red, but in yellow. It's a special colour for this weekend to celebrate the 75 years of Ferrari, and it's nice, and as always the Monza week is just crazy busy for us, but it's always an incredible feeling. We had some events yesterday in Milan, so many people, so much support, and it's just great. They make you feel at home so  yeah, it's great, and hopefully we'll have a good weekend.
Q: Can you give us your thoughts on the yellow? 
CL: I like it. I like it. It's a bit strange now to see me wear yellow this morning with the Ferrari logo, but it's cool. I think for one race it's really good.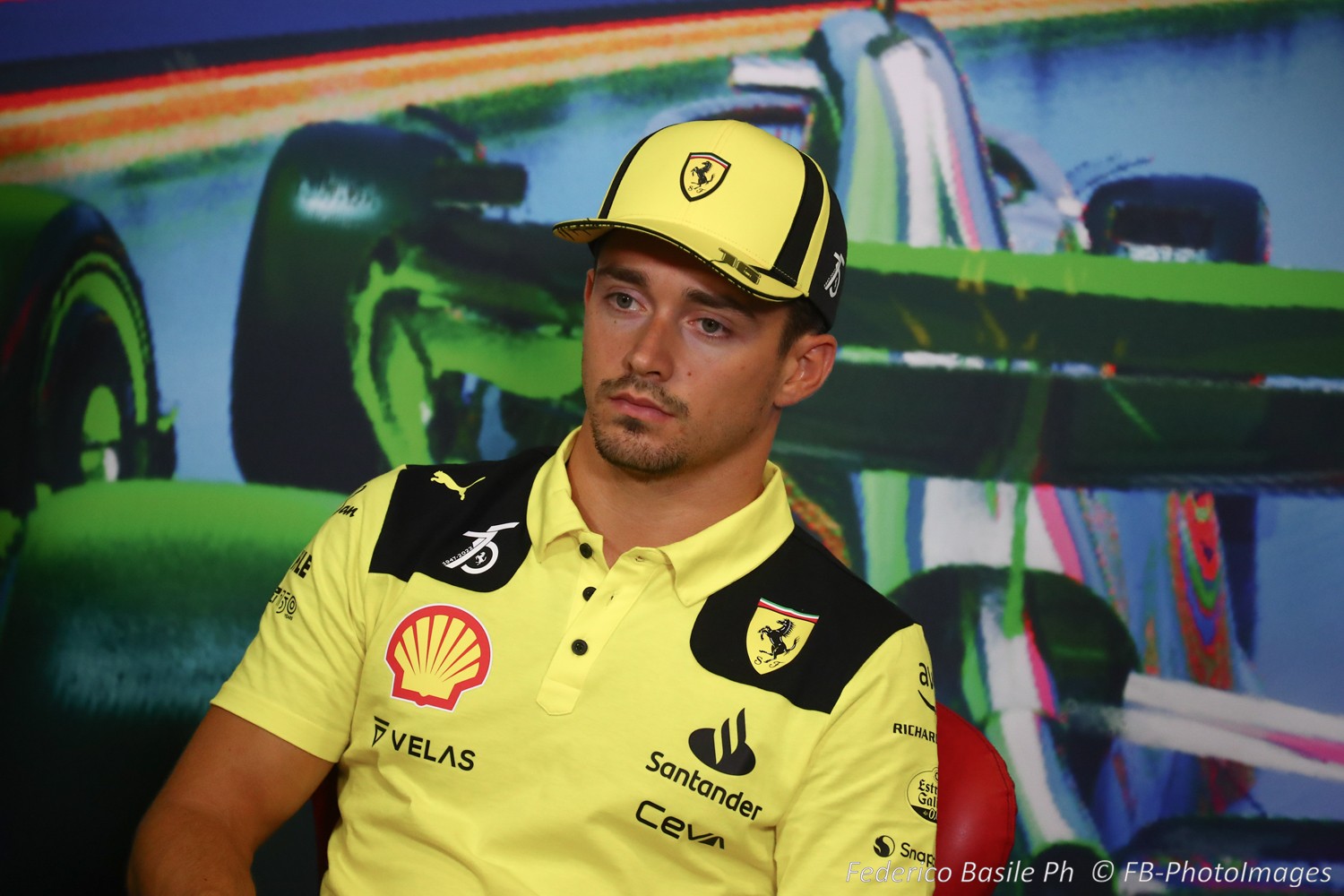 Q: Now this is Monza's centenary, as well. Just wanted to ask you, when did you first come to this racetrack?
CL: I think it was in 2014 for my first year in single seaters., and I think -, but I've got a very bad memory so that might be wrong -, but I think this was my first victory in single seaters. So yeah, I always really liked Monza
Q: Now in terms of performance, what can we expect from you, and the Scuderia? 
CL: I think it's going to be a bit of a difficult weekend, on paper at least it is going to be a difficult weekend. We expect Red Bull to be stronger. It's not… the track characteristics don't exactly fit our car, but again, we've had some good, and bad surprises this year so hopefully this one is one of the good ones, and that we over-performed compared to what we expect.
Q: Fernando, we've seen a fantastic level of consistency from Alpine:  10 consecutive points finishes for you; five consecutive double points finishes for the team, but what do these stats say about the current level of you, and the team?
Fernando ALONSO: Yeah, as you said,  I think we are in a good run now. We found some consistency even though these 10 last races were not completely out of trouble for us. One of those was Barcelona;  we changed the engine, we started last.  One of those was Austria;  the car didn't start on the sprint race, and we started last on Sunday so we still need to improve a few things to have completely clean weekends, and if we do so probably we will be in the points in the future races
Q: Points, but what about podiums? Do you feel close?
FA: I think we are in the same place as we have been all year long. I think we are right behind the top three teams so our natural position, let's say, is seventh, seventh, and eighth so we need some help always, from the cars in front.  Sometimes there are penalties involved like in Spa, and we start third on the grid. Here there are some other penalties that will come with Carlos, and Lewis, I heard, so we could have a better starting position, but lately in the race we eventually ended up in our natural (position).
Q:, but what about the straight line speed of the car? Do you think this could be one of your more competitive outings?
FA: Let's see. I think we don't have any specific Monza downforce, let's say, or rear wing so let's see how we can perform here.  The car was very good in Baku, and Spa so I don't see any reason why we should not be competitive, but I think it's going to come some other races that we will be also fast: maybe Suzuka, Austin so I'm looking forward to all the races,  basically.
Q: A quick word on your longevity. This is going to be start number 349 for you, equalling the tally of Kimi Raikkonen. How proud are you of that stat, and how surprised are you that you've made so many starts in Formula 1?
FA: Yeah, I know the number because every weekend we keep repeating it, but I'm not into this so much. I'm happy to be in Formula 1 for so many years, and with the two more coming, or whatever, how long I will be in Formula 1 I will reach 400 for sure so that's a big number., and yeah, it shows my passion for the sport, and my discipline to perform at the high level. If you are not performing, the team will not give you 400 Grands Prix  for sure.
Q: Nicholas, thanks for waiting. Zandvoort was a tough one for you. Do you fully understand the issues holding you back there such as the power unit problem?
Nicholas LATIFI: The power unit issue in qualifying, yeah we did get on top of it, and it wasn't an issue any more in the race. As to the general lack of pace on the weekend still; yeah, some question marks there to be honest. Not a crazy amount of time to go through it in between the two races, obviously.  This weekend is completely different, let's say,  the man from the driver, and the car so just kind of looking to focus on this weekend, and we have a bigger break after Monza, but before Singapore we'll do a roundup of the past few races.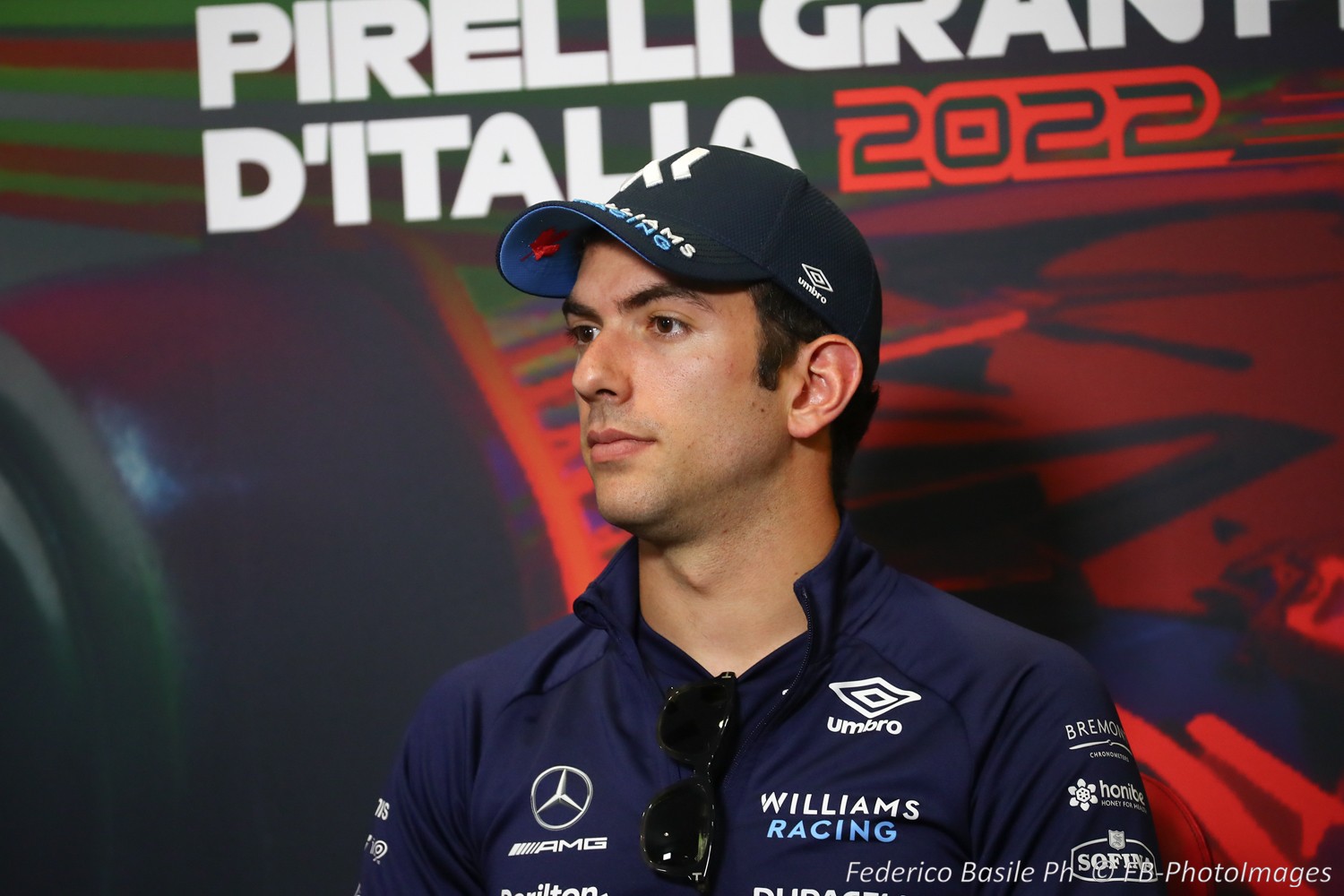 Q:, but let's talk more about this weekend: the car is very slippery, quick in a straight line. What are your expectations?
NL: I expect to be very quick in the straight, we saw that in Spa, that was the case. So I think on paper, the car should perform at a higher level here relative to Zandvoort., but at the same time, just being quick in the straight line isn't everything, you still do need to be quick in the corners. In Spa, for example, I think we were quickest in the straight line, but then we were also slowest in the second sector which is where all the corners are so it does balance out. The car is quick in the straights because we are lacking downforce so obviously, thankfully, you don't need too much of that around here in Monza so I am hoping that's going to be a relative step forward in performance., but at the same time last year, we were one of the quickest in the straight lines here, and we struggled to get out of Q1 with both cars. So again, it's not all about straight line speed, here you do need a car that still gives you the confidence to attack the braking zones, and play on the edge with the car in those high speed corners. So it's not all about top speed.
QUESTIONS FROM THE FLOOR
Q: (David Croft – Sky Sports F1)  To the three drivers who have either driven for Ferrari here or who are driving for Ferrari this weekend:  driving a Ferrari at Monza sounds like an absolute dream, but with a weight of expectancy on your shoulders. Is it a dream? Or can it be a bit of a nightmare?, and what is the pressure that you feel as a Ferrari driver racing around here?  That's to Charles, to Fernando, and Seb. 
CL: For me, it's pure pleasure. Of course you can feel the expectations. As I was saying, whenever you are doing the events in Milan, especially, you can see that everybody in the city is behind you, is behind Ferrari, and have high expectations, but it's part of it., and I take it more as a motivation, more than an added pressure, but it's incredible. Even to get out of the hotel it's  pretty difficult to come to the track. I guess it's similar for the drivers, but when you are Ferrari there's this little bit more, but that just feels really, really nice.
SV: Yeah, I've never had the problem with coming out of the hotel, but maybe it's Charles' good looks that make him so popular!  No, I think it's an extreme pleasure, it's an honor, and I think from what I had experienced in all these years, is just… they're happy for you to drive the red car, and push you on. I've had races, and bad races; they seem both times equally excited. For sure they love you to be on the podium, and meet you there, and love Ferrari to do well, but even if you don't… it's not like they start to hate you, there's still a lot of love, and support. So it's a great feeling as a driver to experience.
FA: Yeah, same comments. It's an extra motivation, but never a pressure, your performance is not affected by this, and if anything they give you extra, so I think it's one of the best moments of the year for sure.
Q: (Fred Ferret – L'Equipe)  Question to the three Ferrari drivers:  how difficult was it or is it to deal with the rumors in Monza of the boss being sacked? When you were a Ferrari driver coming to Monza, and having all the rumors about the boss of Ferrari being sacked,  if you were not winning the championship or the Grand Prix? 
FA: At least in my case, I never paid too much attention to rumors so all these things when you are in Ferrari…  When you're in Formula 1 in general you have to perform, if not things will change. It's the same for drivers, mechanics, designers, bosses.  There's a huge pressure.  This is not a charity event. This is professional sports.
SV: I think you when you race for Ferrari in Monza, in Italy then you will be confronted with rumors, but like Fernando said rumors are rumors. I haven't heard that particular rumor, but yeah, I think it's probably something you have to deal with when you are racing for Ferrari in Italy., but equally, in two weeks' time we will be somewhere else, and you have to deal with it less. Yeah, rumors are there, but as I said, I don't know anything right now.
CL: Yeah, there are always rumors around a Formula 1 team, and especially with Ferrari, but I think that what is most important in those moments is not to get distracted with whatever is being said around.  We are very united as a team, and I think we need to keep on going like this. We've shown that we've been great from last year to this year doing this type of performance, and we need to keep working in that direction. Obviously taking off all of these outside rumors. I didn't hear that one in particular, but obviously we just have to focus on our own job.
Q: (Silvia Arias  – Parabrisa) Question for Fernando, besides the two seasons when you were champion, this season you are doing such a good job, I wonder if you feel it is one of the best seasons of your career, and how much  are you enjoying it in terms of fighting?
FA: I do enjoy it for sure. We would love to fight for the championship or for podiums, there's always wins, but we don't have that possibility yet., but yeah, I'm happy with the performance this year. As I said at the beginning of the year, I think we lost 40-50 good points at the beginning of the year with reliability issues., and with those points, the situation in the championship will be very different, also with McLaren in the fight in the Constructors, so I'm happy, and proud with the performance, and I think together with 2012, probably they have been my best two seasons, even higher than the championship ones that we have a dominant car on those years. So 2012, 2022, next one will be 2032!
Q: (Matt Kew – Autosport) Charles, you said you don't expect the car to suit the track very well this weekend. Can you just go into detail on that?  Is that engine, corners, change of direction through the chicanes? Where do you think you maybe lose out in the battle with Red Bull, Mercedes?
CL: I think, comparing to Red Bull especially because it's a bit more consistent throughout the whole year, we are slower down the straights. Their main strength this year are the straight line speeds, we seem to be a bit quicker in the corners., but in tracks like here it's not enough to gain back the advantage that they have on the straights. So compared to Red Bull, I think this will be the case this weekend. Compared to Mercedes, it's a little bit more difficult, it's been a bit up, and down. Sometimes they are very, very quick. Sometimes they struggle a bit more, so a bit more difficult to predict.
Q: (Jon Noble – Motorsport.com) Sebastian, you made some comments about Formula E recently, which triggered a swift response from Lucas Di Grassi. I wonder if you've spoken to Luca at all about your comments., and were you surprised that he accused you of greenwashing over your environmental actions?
SV: No, I haven't spoken to him. So, yeah, I don't know. I heard that he… I know him for a long time now, and he's a very clever, and intelligent guy. So I don't know. Next time I see him I'll probably talk to him., but I don't know what the interview was or what the question was to him. I know from my own experience, if you only take bits, then… So, it's not probably not… It's pointless to say anything now because it will only go back, so happier to sort it out with him, if there is anything to sort out or any misunderstanding or anything that he wonders or I don't know.
Q: (Christian Nimmervoll – Motorsport-total.com) Seb, Christian Horner recently said that when you left Ferrari at the end of 2019 there was a bit of chit-chat, loose chat going on about returning to the team. Is that something you ever considered seriously at the time?
SV: Well, I think it was 2020., but yeah, I mean, obviously, you know, I made the decision to join Aston Martin before I think it was really in discussion that Alex is going to leave. So it was never really close., but of course, I know, Christian, I know Helmut. So for sure. I had a, you know, sort of brief chat with them, but never really anything serious., and I also know, and knew that if it was, would have been an option or series, we would have at least talked about it., but it never came to that point. So obviously, a couple of months later, you could look back, and say if, and what if, and so on., but I'm happy with the choice I made., and obviously, you know, expected that we will be more competitive last year, and this year, but we were not., and I'm very happy with the way the team has progressed, and [how] we are working together. So obviously it's not the dream sort of coming true, racing in the positions we are racing, but you know, it's been a challenge, and I think I've accepted it, and tried to make the most of it.
Q: Would you consider going back to Red Bull in a non-driving role?
SV: I don't know at the moment, I'm not considering anything, because, you know, I'm stepping away. So, time will tell what will be something that is possible to do, if there is an offer of any such nature or not, and then I will see how I feel like, you know, at the moment. I'm quite happy to spend more time on other things, and look forward to seeing the kids more, and stuff like that., and then time will tell whether I get bored within three months or three years. I don't know. So we will see.
Q: (Adam Cooper– Motorsport.com) A question for all of you. How powerful is the two going to be round here in qualifying with these 22 cars, and any concerns that we might get the problems we've had in the past at the end of qualifying, everyone getting in each other's way, especially as we've got new race directors who maybe don't know everything that was discussed with Michael in the past, what was agreed? 
NL: I think what we've seen this year is that the tow is worth less than last year, but it's still worth something. I've seen that in Spa, we've seen that at other tracks. So it's definitely still going to be, I think, an advantage if you can get a good one. As for the way the runs will unfold, I think yeah, Q1 in particular is probably always going to be quite tricky., and yeah, naturally, no one's going to want to be the first car because again, the tow is still worth something. So yeah, I expect it to still be not as straightforward as it is at most other tracks.
FA: Exactly the same, I mean, it's less than previous years, but it's still worth a little bit. So it's better not to be the first car, but maybe we are not as stressed as in the past in the last corner, so we should be sure, hopefully.
CL: I don't know, I think for the qualifying game, it probably will be the same, because even if it's less worth it, it's still worth it., and people will go for… I mean, drivers will always go for that little last bit in qualifying. So I think it will always be trickier in quali than for the race. I think with these cars we can follow a bit closer in the medium-, and high-speed, but the tow is obviously worth a little bit less also in the straights. Having said that, I think it will be hugely dependent on whether there's a train of cars with the DRS. In that situation, it will be very, very tricky to overtake. If not, then I think it should be fairly easy.
KM: Nothing to add really?
SV: Same.
Q: Fernando, can I just come back to you about a fun story that has broken in the past week., and that's that Jacques Villeneuve, your former team-mate, is to drive last year's Alpine at Monza next week. Got any advice for him?
FA: Is that fun? Hopefully. No, I mean, I think it's going to be a great opportunity for him to feel these modern cars, which probably he will be, you know, amazed to feel, and the hybrid power of the engines., and yeah, I met him in the elevator in Zandvoort, and he said, 'I need some tips for next week', so if I have five minutes, I will take a coffee with him, and brief him on whatever he needs to ask., but I think it's going to be straightforward. The cars now are easier to drive in a way. We have more comfort in the car than 15 years ago. The engines they don't need to rev you know, in the last 1000 RPM, now you can drive in any gear out of the corners. So I think it's a bit easier.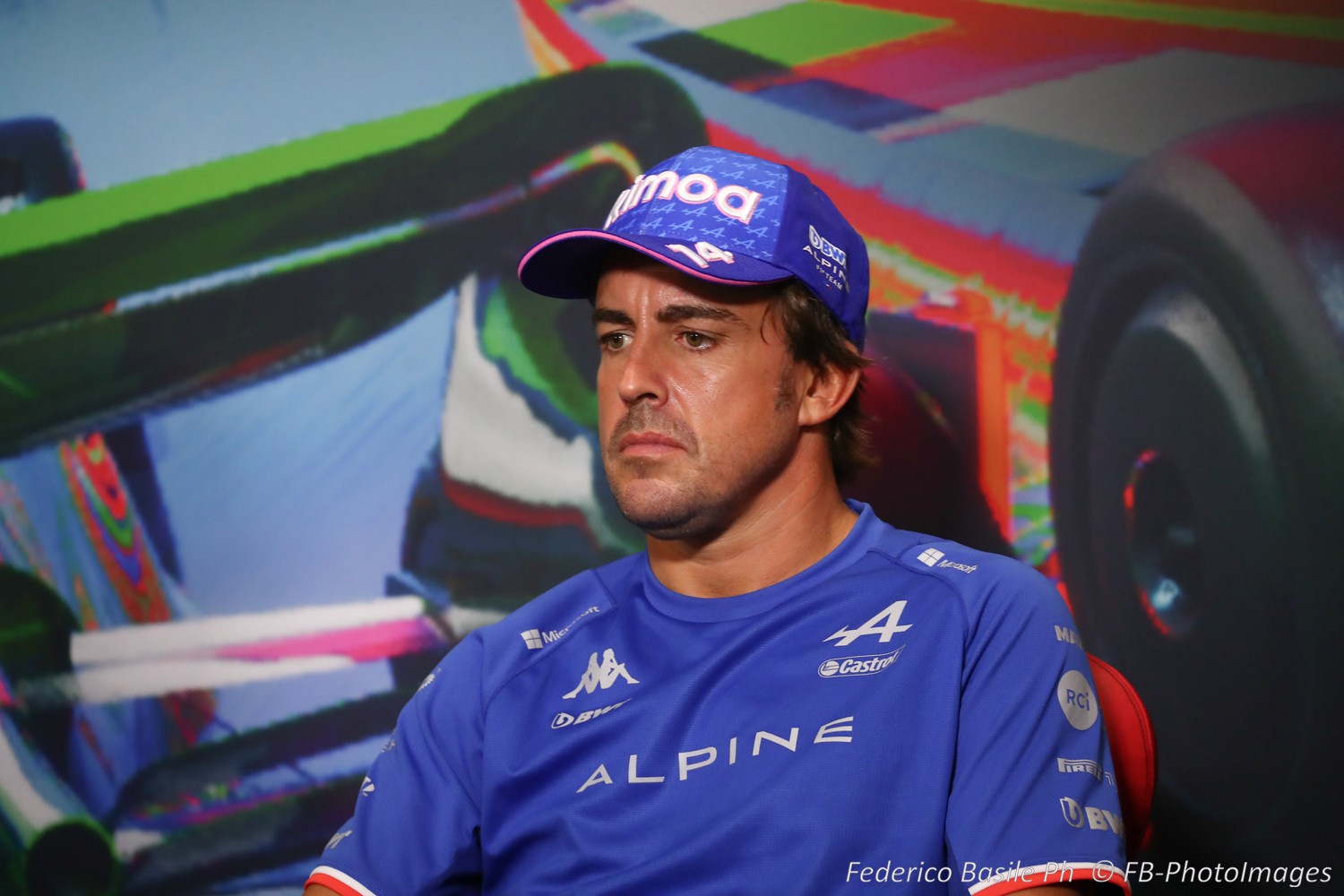 Q: (Matt Kew – Autosport) Another question for Charles. Can I just follow up on the comment you made earlier about the straight line speed of the Ferrari versus the Red Bull? How much of that is decided by the engine, and how much is that decided by, like, the drag or the efficiency of each car?
CL: This is very difficult to know. I mean, I don't know exactly what they have under the covers, but they have a very efficient car for sure. Again, we've been normally stronger on high downforce tracks that have been stronger on low downforce tracks. How much of this is coming from the engine or the package? I'm not sure to be honest.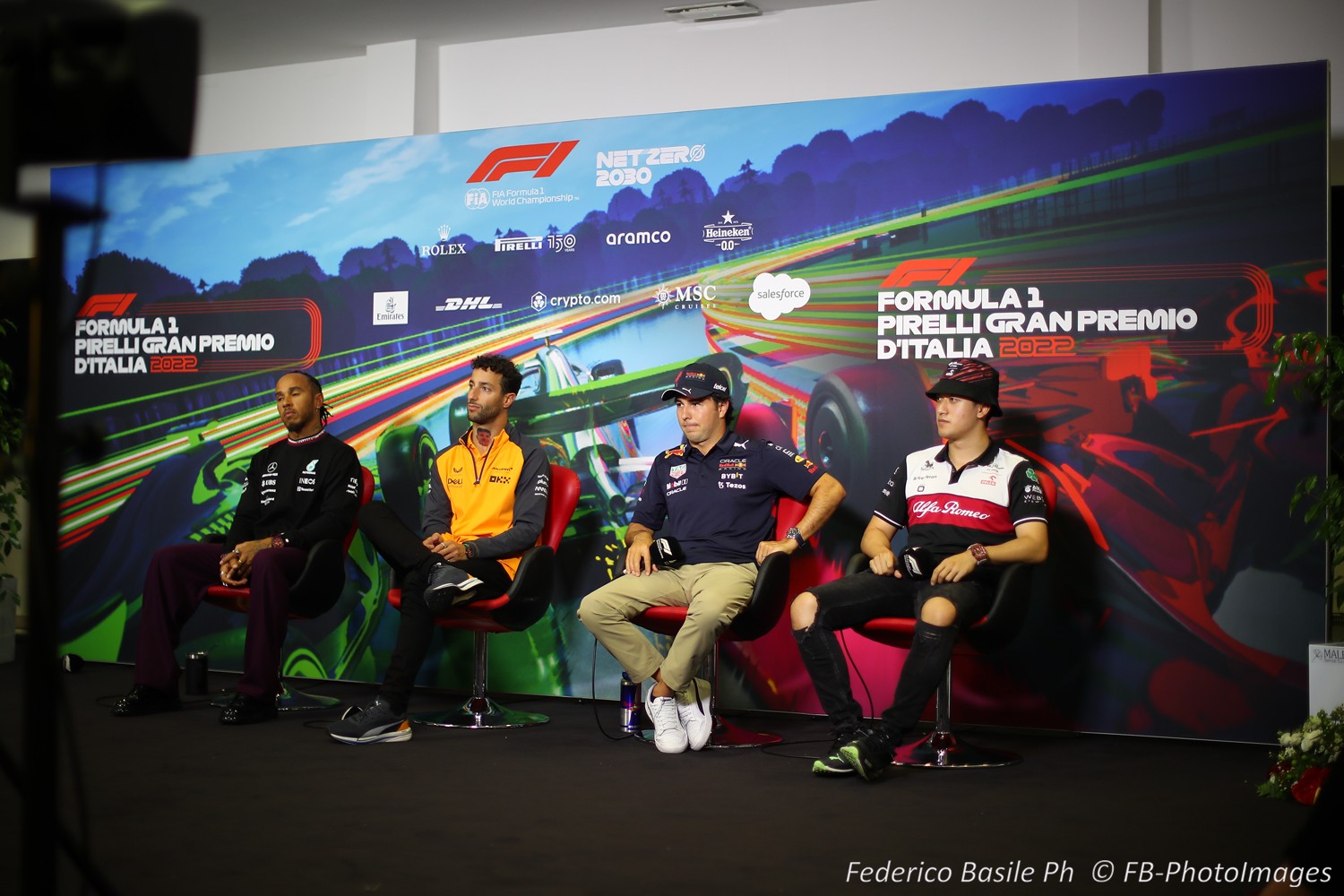 Q: Daniel, perhaps we could start with you, please. You won this race last year. Do you feel you've returned to your happy place?
Daniel RICCIARDO: I'm going to cover this. This is ridiculous.
Q: Perhaps we should start with that. What's on your neck? 
DR: I have Lando's face on my neck. Anyway, we did a little thing this morning with a team, and gosh, anyway… So I yeah, he looks sunburnt. He's got a few on him as well. So anyway, you'll see later I'm sure., but it is cool, I mean, obviously last year was so special. A big moment. It's a year on, you know, those big moments, and memories still seem so much at the forefront of your mind, and it feels very recent, everything is still very vivid when I think back on it now., but I think Monza is a place that I've always enjoyed, you know, and results aside, it's a fun track – low downforce, high speed, best pizza in the world, all these all these things that make it fun, and nice., and yeah, mum, and dad are here this weekend. It's their second race, I think second or maybe third since COVID. So nice to have them here., and yeah, it's good to be back.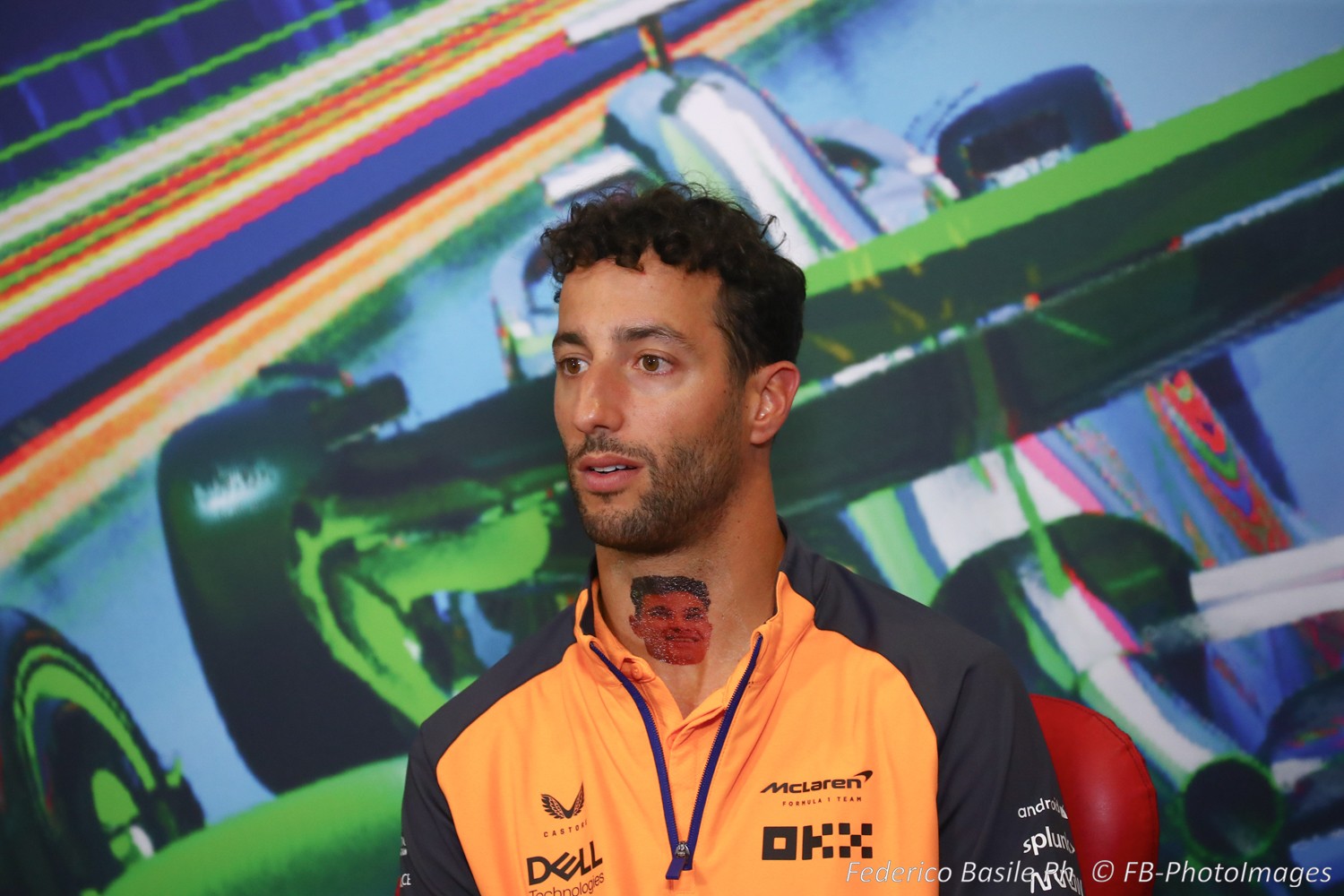 Q:, and so does last year sit fresh in the memory, or does it seem like quite a long time ago now?
DR: No, it's still there. Everything's still there. Look, you know, I don't want to say, yeah, we're going to repeat it this year, but obviously just coming into a circuit with those good feelings, and good memories, and stuff, it's cool., and as I said, like, take the win away, I've always just come to this track, and enjoyed my time here., and it's a circuit that I have fun on. I saw they have resurfaced a few corners, but I think the track is still the same. The character of the track is still the same. So looking forward to going out here, and getting my teeth stuck in.
Q: in terms of your own competitiveness?
DR: Don't know. I don't know yet. I mean, look, obviously this year it's hard for me to be like, 'yeah, we're going to finish on the podium this year'. I would just be saying that to say it. I think we'll be alright., but who knows. So,. to be determined. TBD.
Q: Daniel, it's great, you seem very relaxed. It's been two weeks since the announcement of you leaving McLaren at the end of the year? Can I just ask you, where are you at with regards to your own future? Are you still hungry to race in Formula 1 in 2023? Would you consider Williams or Haas? Would you look at a third driver role at Mercedes? Just where are you at with everything?
DR: I'm really assessing everything. In short, I don't have anything teed up yet. Like, I don't have anything confirmed., and I think when I do, I'll be the first to tell you. There's no reason for me to hold back any information now. There's no secrets. It's kind of all open, and out there. I'm sure over time, the right thing, whatever that ends up being. will make sense., and I think as well, you know, it's not just about what's right for next year, it's what's right for my future, you know. It goes beyond 2023. So it's complex, but when I know you will,
Q: Thanks, Daniel. Best of luck to you this weekend. Lewis, can I bring you in on this? Would you welcome Daniel as a third as a reserve driver next year at Mercedes?
Lewis HAMILTON: I think he should be racing, personally. I think he's far too talented to…, and he's earned the right to be amongst us all, racing., but of course, if he's a part of our team that would be great., but I mean, the third role is not really, I think, what's best for him. I was managing him, he'd be racing.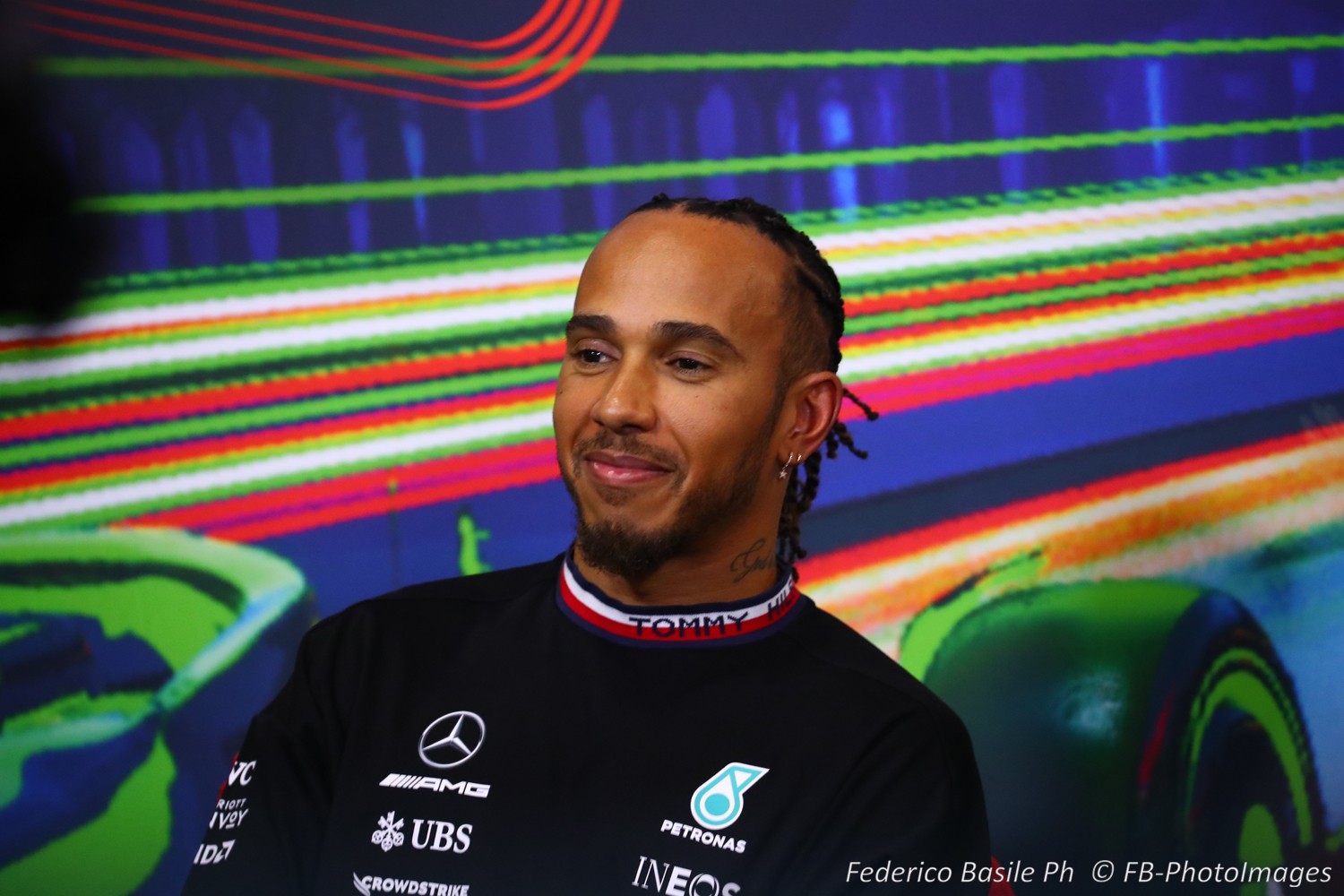 Q: All right, Lewis, a word on Monza, if we could. The track celebrates its 100th anniversary this year. You've won here five times. Just how special is a victory here?
LH: I mean, it's one of the originals, the classics, the historic circuits. It's the fastest circuit that we have on the calendar. It's unique in its layout. It's so much different to all the other circuits that we go to., and then the crowd is incredible here. So, you've got that whole sea of red most often, particularly at the end of the races, but it's great for overtaking, and the thrill of driving here, because you're on low downforce, and you've kind of floating on the surface of the tires, is pretty epic. So I'm really grateful for the wins that I've had. I remember my first race here, in 2007, and the pass on Kimi, and , you know, it's not an easy circuit, and it throws lots of spanners in the works.
Q: Now, you say, it's great for overtaking, which is good news, because your weekend has just got a whole lot harder with the news that you're going to have some grid penalties as a result of that fourth power unit. How are you feeling coming into this one?
LH: As good as I can feel. Of course, you'd always feel better if you came off a win., but still, we've been making so much progress as a team. We've closed the gap more… At least we're closing the gap more, and more, weekend after weekend., and , of course, we don't know how the car is going to be here this weekend, whether or not it will be as good as it was in the last race, we'll find out., but yeah, I mean, my third engine that I had brand new in Spa is still being worked on, so I can't use it right now, so I have to take a fourth. So that's my doing., and we're still hopeful we can use that later on., but yeah, so I've got to kind of recover the best I can from the back.
Q: Do you think the car will be better here than it was at Spa?
LH: I don't think it'll be worse. That's a positive way of looking at it. It can't be worse than Spa, I don't think. No, I think it will be a lot better here.
Q: Alright, best of luck to you as well. Thank you, Lewis. Checo, if we can come to you now. Just let's go off track just briefly. You swapped a race suit for a wetsuit earlier in the week. Can you just tell us about your experiences with the Oracle SailGP team?
Sergio PÉREZ: Yeah, it was very impressive. Once we jumped on the sailboat, it was super, super impressive to see how they're able to jump side by side. It was really, really enjoyable, and a great experience, and a lot of respect for what they do. You know, looking from the outside, you don't tend to think that they're that impressive.
Q: Are there many parallels between what they do, and what we do in Formula 1? 
SP: Yeah, certainly, in terms of learning on the wind, understanding directions on how to optimize your power, your energies, when to put the energies into it, when to push, when not to. So, I think there's definitely a lot of similarities with our sports.
Q: Now, let's talk about Monza. What makes this place different? You finished second year in only your second season of Formula 1. So you've experienced that podium. 
SP: It's a great podium to be in, you know, the tifosi really may make it very special. So being on the podium here, it's certainly one of the most special ones in the whole calendar. So yeah, it will be really nice to get there this weekend.
Q:, and in terms of performance, given the pace of the RB18 at Spa a couple of weeks ago, do you enter this weekend as the favorites? 
SP: I will hope that we have the similar pace to what we have shown in Spa, that will be good., but certainly, I believe that this track, it's a little bit different to Belgium, certainly the weather will be, so it will be interesting to see how we are able to perform. For example, Mercedes was very strong last weekend, especially with the tire deg, so yeah, it will be an interesting one this Sunday.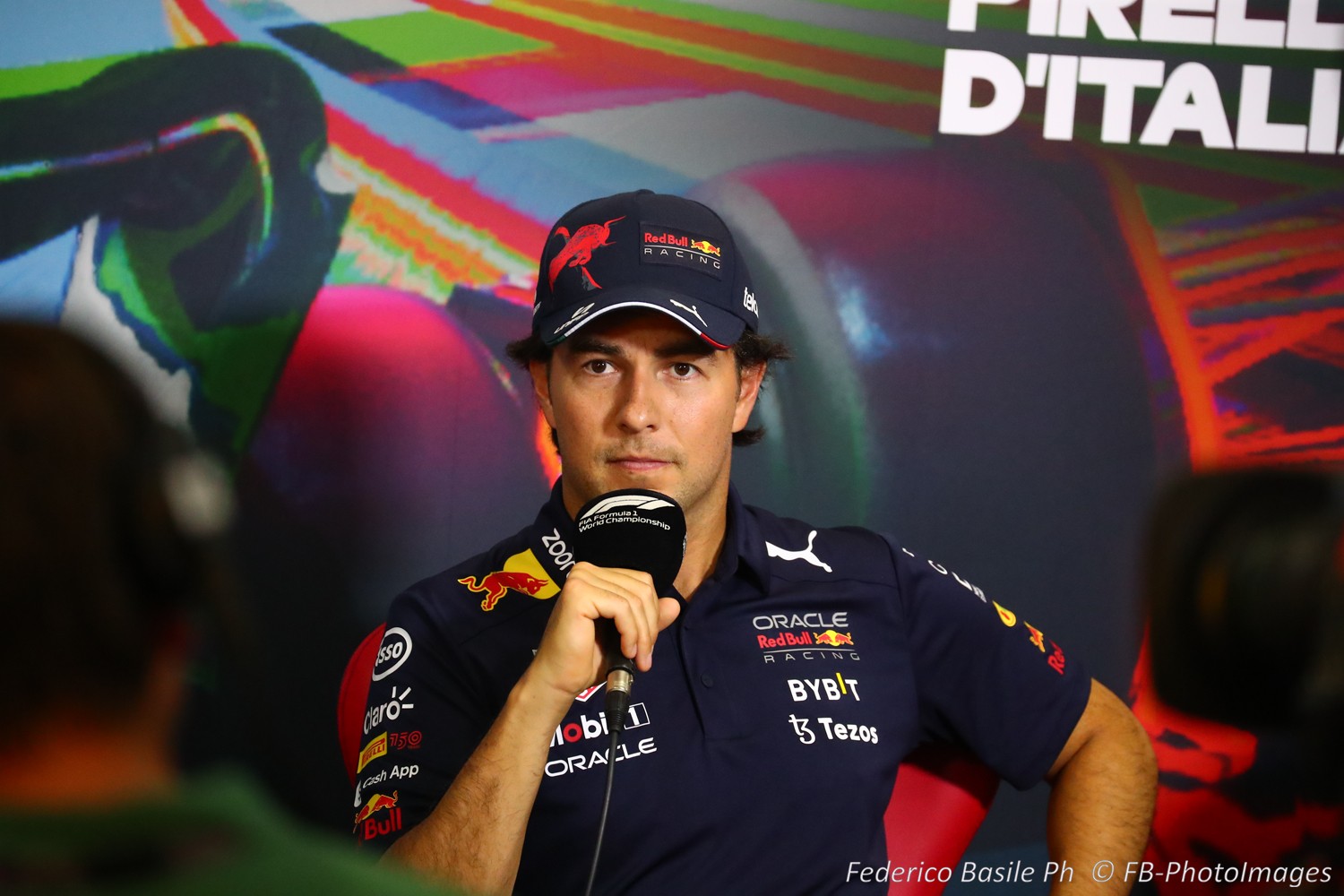 Q: Zhou, coming to you now. This has been a frustrating period for the team with no points on the board since Canada in June. What have been the issues? 
Zhou GUANYU: Yeah, I mean, there's several issues, of course after summer break it's been extremely tough for the team, so yes, Spa we were having both cars taking the engine penalties. So obviously, we're were in with little chance for the race., but then yeah, last weekend, it was let's say probably the biggest struggle race, so far this season, in terms of this couldn't get the tires to be working in the range., and it was very tight in Zandvoort, of course: two cars, of course, barely made it into Q2, but overall, we were finding more, and more pace. Hopefully… it wasn't so bad in Spa in the low downforce track, so in Monza is again, a very important race for us, like a home race for the team, and hopefully better speed.
Q: Has the relative performance of the car slipped back – or when you maximize everything, do you think points are still in the offing? 
ZG: Yeah, I mean points is of course, still there, and as you know, as we saw, especially in tracks like here: low downforce, a lot of overtaking opportunities hopefully, so provides quite a lot of chances., and , yeah, it's quite true to say that we're not having the advantage we had earlier of the season, where I think we was very good on the weight, saving a lot of that, and now people are catching up, and we're being maybe not as fast as others, in terms of reductions., but we're still there, like last weekend, we saw on-tenth could be up to three positions or more. So, in that midfield battle, it's all about putting everything together in the in the car.
Q:, and Zhou, final one from me. A word on your future, please, when can we expect news? 
ZG: Yeah, we're talking about it., and there's no hurry, myself, and the team are very happy for each other, the job we've done so far. It wasn't an easy season, let's say, for the rookie campaign., but for my side, I'm quite happy working with everyone in the team., and yeah, we're talking about it. Nothing has been confirmed, but hopefully I get more information soon, and I get it all done. So now, I'm just focused on delivering a great race, and hopefully get the team back in the points. All right. Best
QUESTIONS FROM THE FLOOR
Q: (David Croft – Sky Sports F1). A question to Lewis this afternoon: You've broken many, many records in Formula 1, but one I wanted to concentrate on now, you are the only driver to win at least one race in every single season. You've competed in so far, you've got seven races left to carry that run on. How important is that record to you?, and where do you consider your best chance of a win between now, and Abu Dhabi? 
LH: Honestly, it had zero importance to me. So it's… I'm grateful that each year, we have had, since 2007, an opportunity to win. I do believe that we're going to have a chance this year, still got some races to go., and that's definitely a real big goal for us as a team, to get back to the front, and be fighting for the lead., I've not really thought of where our car… I have no idea where our car is going to be great. So, you know, it was a surprise when we got in the car last week, and the car felt so much better than it… like completely different to the previous weekend., but I'm hoping more often than not, it feels like Budapest, and the last race for the rest of the races.
Q: You haven't completely given up hope on the record? 
LH: I'm not focused on the record, but of course, I'm trying to get that win this year., but the record is not important to me. Just because I don't really care about records in general, so…
Q: (David Tremayne – Grand Prix Plus) For Lewis. Two questions Lewis: where do you think you could have finished if you'd had Softs at the end of the race last week?, and is it correct that you were in a different engine mode for the restart? 
LH: I think at least second. We obviously got…  we had good pace; we were closing on our on our one-stop strategy. We were obviously really unfortunate with the VSC., and that seems to have happened a lot this year. Basically, when you're doing slow laps, you're in one strategy, and when you go to start lap, you're in a different strategy, and I was slightly late to it, but it wouldn't have made a difference. They've calculated the distance. I was into it, on the bank on the straight, and either way he was coming past, so…
Q: (Ian Parkes – New York Times) Another question for Lewis. Lewis, a lot was made earlier in the season about the jewelry furor, and of course, you had a conversation with Mohammed Ben Sulayem, post that. What's been your relationship like with Mohammed since then? What have you made of the role he's done overall, since he took the job of FIA president?, and are you, and he working in any way in collaboration on… for the betterment of the FIA, and F1? 
LH: Well, I mean, it's not an easy role for anyone, I think it takes time to get into a role, and , and build all the relationships, and again, also to implement change., but I think the most important thing for right now is the drivers. We're trying to build that connection with the drivers, all of us, the GPDA, we're all united, and we want to help make the racing better. We want to help the FIA, and Mohammed has been really open with that. So yep, we're just going to continue to work on that communication. I'm in touch with him quite a lot. We actually speak quite a bit., and , and he's very, very driven for… he's competitive. He used to race himself, so he has a competitor sort-of mindset., and he's also very keen on diversity, and really pushing for future change. So he wants to collaborate with us all on that. So I'm quite happy with it
Q: (Matt Kew – Autosport) Question for Sergio. Sergio, you'll know, from your time last year, and long before you joined Red Bull, that it was never the favorite coming into a race at Monza., but that seems a bit different this year. Charles just been talking about how quick the cars in a straight line? What is it about the RB18 that makes it good? Is it the engine? Is it aero efficiency? Just talk us through that please? 
SP: Yeah, because we were sitting really, really low. Lower than any anyone out there!, and also, I think we got quite an efficient car in that regard. We've seen in Spa, and hopefully again in Monza, that we tend to like more the lower downforce wings. So the car seems to perform better when we run with the smaller rear wing. So hopefully, that can be a good thing again, here,. But, as I say, it's going to be very different conditions. So, we are also very curious to see how we are able to cope on these different conditions.
Q: (Jon Noble – Motorsport.com) Lewis, the W13 has obviously got its weaknesses
but it's also got some strengths as well., and also seems to deliver surprises at times in terms of where it's competitive, and isn't competitive. When it comes to your dialogue with the engineers for next year, how clear are you in the specific areas that need improving, and need pushing forward?, and how complicate is it going t be making changes, which keep the strengths, and don't eradicate… that get rid of the weaknesses without losing any of the strengths? 
LH: I mean, it's always complicated., but I would say… look, we've been very strong in the past, we've won world titles, our communication continues to improve. We're holding more meetings, and breakout group conversations about… , and I'm trying to just help give as much feedback as I can about what I'm feeling in the car, and what are those limitations where I could gain time. These will be things that they won't be able to see in the data, that the driver is able to bring to it. So, working closely with George also on that., but there is potential in the cars: We've got downforce, it's just in some places it we're not able to utilize it., and ride quality, of course, is an area that we can always be better. So I'm comfortable the direction that we're going, and have 1,000% confidence in the guys back at the factory, who are stringing together all these pieces of the puzzle, and have no doubt that we will be back in a fighting position next year.
Q: (Claire Cottingham – Racefans.net) A question for all four as possible. Just a quick note on the sausage curbs that have been removed on the track. How good is it that the FIA have sort of listened about the sausage curbs, and the dangers around them, especially after the crash we saw in WEC, please?
ZG: Yeah, to be honest, I was quite surprised at the beginning of the year, because obviously, being in Formula 1 for the first year, and to see how much power the driver actually can affect – which I think is very positive things to take – because most of us are agreed into the same thing, depends on what tracks, and what needs to be changing. So of course, the Race Director, under fire, trying their best to even do the change, for example: I think in thing Miami or something,  just over the night. So, it was great to see that. Of course, the sausage curbs is making racing quite difficult when you're racing side-by-side, not just for us also for the feeder series, you know, there's been a few incidents in Monza in the past, so I think it's definitely a good way to go.
Q: Checo please
SP: Yeah, I think it took a bit too many incidents to remove them. Already a few years ago, we saw how dangerous they can be., but I mean, luckily, nothing bad has happened., but again, it's a great thing to get rid of them, because they can create a massive shunt.
Q: Daniel?
DR: We're happy with the decision for sure. Yeah, I agree. Honestly, I just don't want to waste your time. There's not much more to say, but I'm happy with it.
Q: (Niharika Ghorpade – Sportskeeda) A question to Lewis, the Mercedes W13 still seems to struggle with excess drag on the straights. So, is it related to the sidepod design? Or is it related to the PU as well? 
LH: The drag? I can't answer that. Honestly. I think that's more for the aero… I'm not an Aerodynamicist. As I said, we do tend to have a bit of a draggy car, I think, this year. I can't really answer much more to it. I'm always asking the question, and I think we're all trying to understand it., and yeah, try to make sure we rectify that for next year.
Q: (Silvia Arias – Parabrisas) Lewis, you just said you don't care about records., and we can understand what are you saying., but anyway, do you have the same feeling to be eight-time World Champion? 
LH: Do I have the same feeling?
Q: I mean, that you said, I don't care about records., but what does it mean for you to be eight times World Champion? I mean, this is your challenge? 
LH: Oh, for sure, it's a challenge. For me, it's just winning another World Championship. It's like, every one, I've approached it as my first, and the feeling of winning the World Championship, it's so unique, and special in its own way., but of course, the idea that no driver in history has ever gone past seven, of course, you want to try, and accomplish that., but what I guess, as you get older, you realize the journey is the most important part, and the ride that you do with all the people, and all the people that you bring with you, and all the people that you try to elevate… there's an opportunity to elevate lots of people, not only in your team, but with the work that we're doing, with Mission 44, there's a much bigger picture to it., but from a personal point of view, yeah, winning another world title continues to be a goal. I'll be so proud to be able to do that for this team.
Q: (Giles Richards – The Guardian) Another question for Lewis, and Daniel. Lewis, first of all, it was reported this morning that Mercedes were potentially lining up Daniel to replace you should you leave at the end of next season? So, I was just wondering, were you aware that the team were doing this, if they were doing it., and secondly, also, are you in discussions with the team about racing on after 2023?, and how you feel about that?, and then also to Daniel, can you tell us if you are in discussions with Mercedes to become a reserve driver next year, to step in should Lewis retire? 
LH: So, I mean, look, for years, we'll be going around, up, and down with stories of retirement, and stopping, and for me, I feel healthier than I've ever felt, as I focus a lot on that, I'm feeling fit. I love what I'm doing –, and I don't plan on stopping anytime soon – sorry Buddy –, but I'm very… my goal was always to be with Mercedes, y'know, I signed with them in 1997. I love that we have the long partnership we have, I feel like we are embarking on a lot of really positive things, not only in the sport, but outside., and I think there's a lot of work, a lot to accomplish together. So I want to be a part of that. I think I'll always be with Mercedes 'til the day I die., and I feel like I can race for quite a bit longer. So, I'll be potentially steering towards that.
Q: Daniel, please. 
DR: No comment. Just kidding! The truth is I'm keeping every option open for, as I said, not only next year, but for the future. I still don't know what next year looks like. As Lewis said earlier, I do want to be on the grid, I do want to race. You know, I touched on a few weeks ago that, although this has been like, certainly a challenging time in my career, it hasn't taken the love of the sport away from me, and that desire to still be here, and still compete. So yeah, obviously many talks or thoughts about next year, and beyond that., but as I said, I'm still not sure what that looks like.
Q: (Matt Coch – Speedcafe.com) One for Daniel. With everything that's happened in the last couple of weeks, has anything changed for you with McLaren in terms of your access to data, engineering, all that sort of stuff? Has anything started to roll back or be limited as yet? 
DR: I asked if I could do less simulator. Just kidding. No, it was clear when all this was decided that anything related to this year, and getting the most out of the rest of the year remains the same. So, if there's any talks about next year's car, then yes, I'm not involved in that., but I also wouldn't expect to be involved in that., but as far as, yeah I'm still simulating, still in all the briefings, the meetings, and all the engineering stuff. So yeah, 2022 remained unchanged.