IndyCar: Newgarden Fastest in First Practice at Laguna Seca
Championship contender Josef Newgarden led opening practice for the Firestone GP of Monterey IndyCar season finale with a lap of 1m11.4103 in his Penske Chevy with special shocks that their team has developed.
"Just a tricky session," Newgarden said.  "There were a lot of people going off, and there was a lot of dirt on the track, so it was quite difficult to put it together. So not a very straightforward session.  But I think very productive in a lot of ways."
"It's not a lot of running, and you're trying to make the most use of just a couple runs, and I felt like we did that, so I was happy about that."
" I didn't even really put together my best lap, and I'm sure that was the case for the majority of the field. It's always hard to read off the first session. I think we'll tighten up tomorrow."
"I felt like we made really good use of our short time that we had today and short set
of tires that we had. We didn't have a lot to work off of. "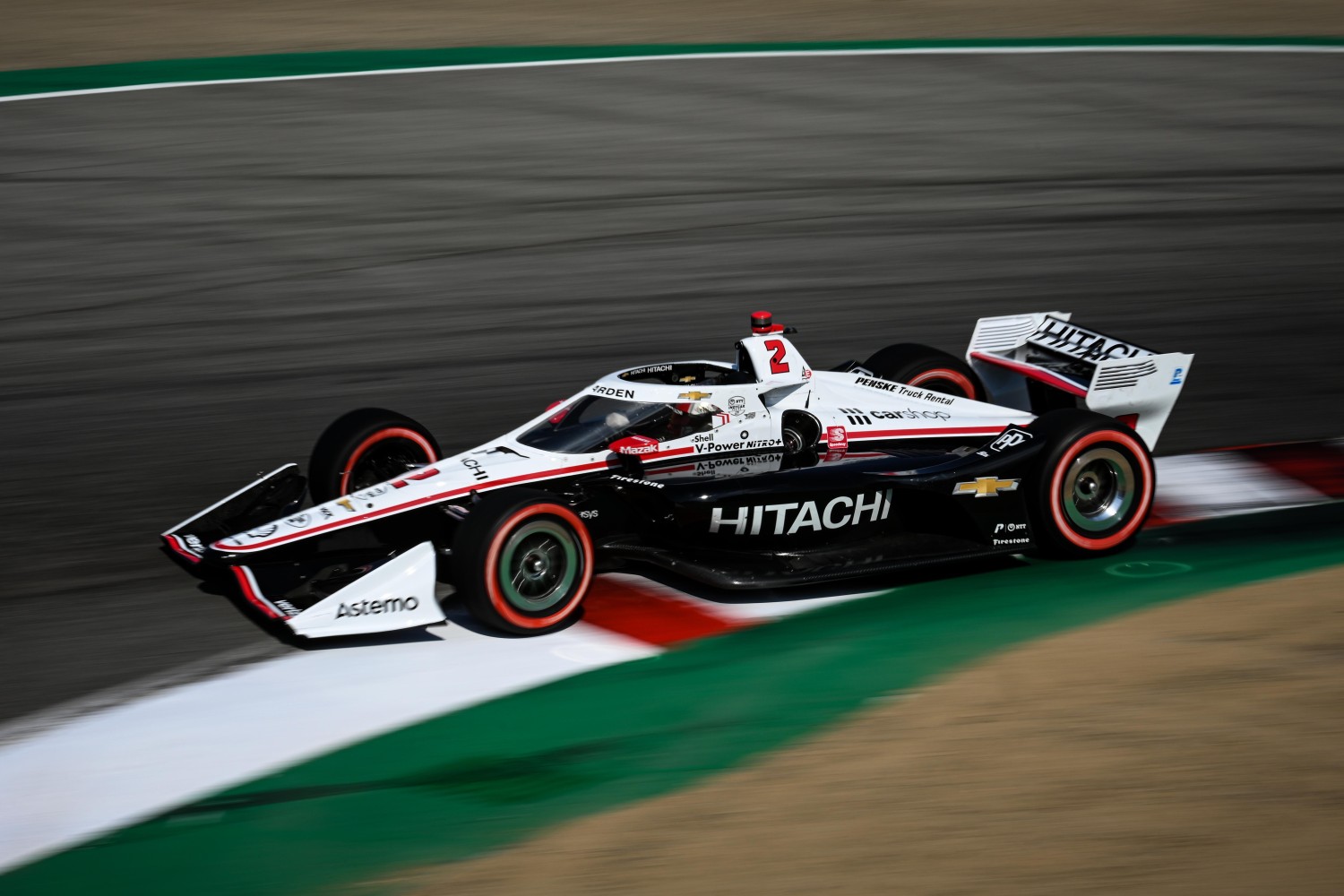 Colton Herta, who won the last two races here, was 2nd quick in his #26 Andretti Honda, but he was 0.41s behind – an eternity.
Herta's Andretti teammates Romain Grosjean and Alexander Rossi were 3rd and 4th.
Callum Ilott rounded out the top 5 in his Juncos Hollinger entry.
Practice 1 Results
| | | | | | | | | | |
| --- | --- | --- | --- | --- | --- | --- | --- | --- | --- |
| Pos | No | Name | Time | Behind | Gap | Laps | Speed | Engine | Team |
| 1 | 2 | Josef Newgarden | 1:11.4103 | 0.000s | 0.000s | 17 | 112.824 | Chevy | Team Penske |
| 2 | 26 | Colton Herta | 1:11.8266 | 0.4163 | 0.4163 | 16 | 112.170 | Honda | Andretti Autosport w/Curb-Agajanian |
| 3 | 28 | Romain Grosjean | 1:11.8697 | 0.4594 | 0.0431 | 18 | 112.103 | Honda | Andretti Autosport |
| 4 | 27 | Alexander Rossi | 1:11.9034 | 0.4931 | 0.0337 | 20 | 112.050 | Honda | Andretti Autosport |
| 5 | 77 | Callum Ilott | 1:11.9490 | 0.5387 | 0.0456 | 16 | 111.979 | Chevy | Juncos Hollinger Racing |
| 6 | 60 | Simon Pagenaud | 1:11.9821 | 0.5718 | 0.0331 | 19 | 111.928 | Honda | Meyer Shank Racing |
| 7 | 12 | Will Power | 1:11.9858 | 0.5755 | 0.0037 | 21 | 111.922 | Chevy | Team Penske |
| 8 | 5 | Pato O'Ward | 1:12.0333 | 0.6230 | 0.0475 | 15 | 111.848 | Chevy | Arrow McLaren SP |
| 9 | 18 | David Malukas | 1:12.0418 | 0.6315 | 0.0085 | 21 | 111.835 | Honda | Dale Coyne Racing with HMD |
| 10 | 8 | Marcus Ericsson | 1:12.0803 | 0.6700 | 0.0385 | 14 | 111.775 | Honda | Chip Ganassi Racing |
| 11 | 3 | Scott McLaughlin | 1:12.0877 | 0.6774 | 0.0074 | 14 | 111.764 | Chevy | Team Penske |
| 12 | 7 | Felix Rosenqvist | 1:12.1036 | 0.6933 | 0.0159 | 14 | 111.739 | Chevy | Arrow McLaren SP |
| 13 | 29 | Devlin DeFrancesco | 1:12.2135 | 0.8032 | 0.1099 | 26 | 111.569 | Honda | Andretti Steinbrenner Autosport |
| 14 | 10 | Alex Palou | 1:12.3102 | 0.8999 | 0.0967 | 19 | 111.420 | Honda | Chip Ganassi Racing |
| 15 | 30 | Christian Lundgaard | 1:12.3193 | 0.9090 | 0.0091 | 19 | 111.406 | Honda | Rahal Letterman Lanigan Racing |
| 16 | 06 | Helio Castroneves | 1:12.3840 | 0.9737 | 0.0647 | 21 | 111.306 | Honda | Meyer Shank Racing |
| 17 | 9 | Scott Dixon | 1:12.3911 | 0.9808 | 0.0071 | 15 | 111.295 | Honda | Chip Ganassi Racing |
| 18 | 51 | Takuma Sato | 1:12.4401 | 1.0298 | 0.0490 | 19 | 111.220 | Honda | Dale Coyne Racing w/RWR |
| 19 | 45 | Jack Harvey | 1:12.9774 | 1.5671 | 0.5373 | 15 | 110.401 | Honda | Rahal Letterman Lanigan Racing |
| 20 | 15 | Graham Rahal | 1:13.0487 | 1.6384 | 0.0713 | 16 | 110.294 | Honda | Rahal Letterman Lanigan Racing |
| 21 | 21 | Rinus VeeKay | 1:13.1004 | 1.6901 | 0.0517 | 19 | 110.216 | Chevy | Ed Carpenter Racing |
| 22 | 20 | Conor Daly | 1:13.1450 | 1.7347 | 0.0446 | 18 | 110.148 | Chevy | Ed Carpenter Racing |
| 23 | 14 | Kyle Kirkwood | 1:13.2761 | 1.8658 | 0.1311 | 27 | 109.951 | Chevy | AJ Foyt Enterprises |
| 24 | 4 | Dalton Kellett | 1:13.6331 | 2.2228 | 0.3570 | 27 | 109.418 | Chevy | AJ Foyt Enterprises |
| 25 | 48 | Jimmie Johnson | 1:13.9251 | 2.5148 | 0.2920 | 20 | 108.986 | Honda | Chip Ganassi Racing |
| 26 | 16 | Simona De Silvestro | 1:14.0544 | 2.6441 | 0.1293 | 27 | 108.796 | Chevy | Paretta Autosport |