WEC: Kobayashi Takes Home Hypercar Pole;  No.92 Porsche Fastest in LMGTE Pro
Kamui Kobayashi took a hugely popular pole position for Toyota this afternoon ahead of tomorrow's WEC 6 Hours of Fuji.
In so doing, Kobayashi ensured the first ever Hypercar pole in Japan was achieved by the home favorites – Toyota Gazoo Racing. Tomorrow's race will also be the first time that a No.7 Toyota has started from pole at Fuji Speedway.
Kobayashi hustled the No.7 Toyota GR010 Hybrid around the 2.835-mile track to set a 1m29.234s lap, and better Brendon Hartley's effort in the No.8 sister Toyota by just 0.020s.
That lap sealed the No.7 cars' first top spot of the 2022 WEC season and earned Kobayashi and teammate Jose-Maria Lopez and Mike Conway the pole point.
The Alpine ELF Team took third place on the grid as Matthieu Vaxiviere peaked on a 1m29.466s lap and got within 0.2s of the Toyotas. This was much improved pace from the free practice sessions for the Hypercar points leaders who are aiming to protect their 10-pont title advantage this weekend.
Peugeot TotalEnergies will start their second ever WEC race from fourth and fifth position. Jean-Eric Vergne qualified the No.93 Peugeot 9X8 and set a best lap of 1m30.00, while Loic Duval achieved a 1m30.152s lap as the French manufacturer continues to gather miles and data on the striking new Hypercar.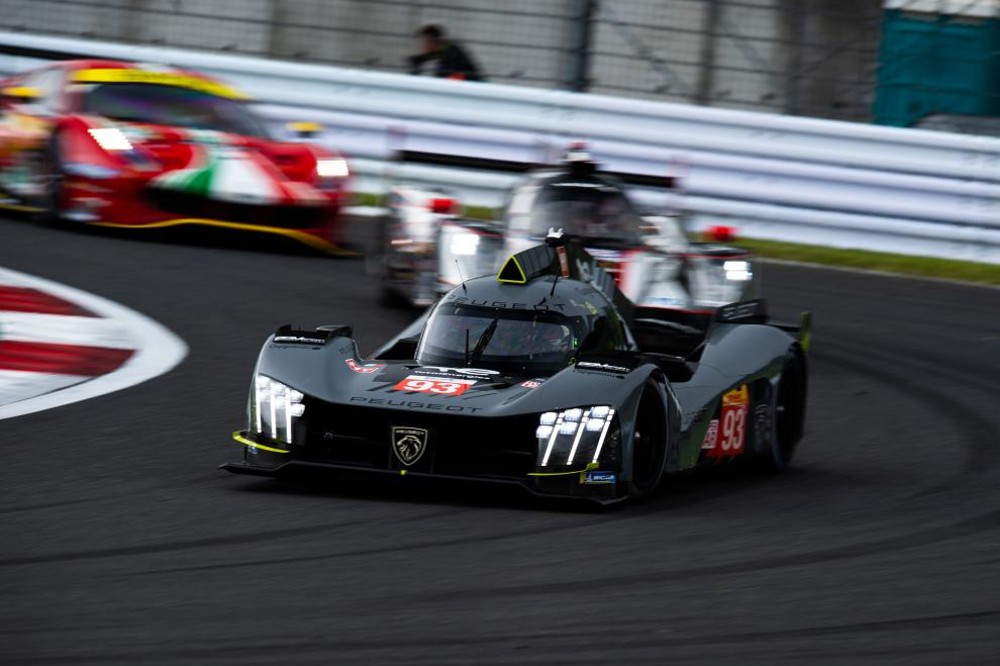 The LMGTE Pro saw the anticipated close battle between Porsche and Ferrari as the two endurance racing titans re-ignited their fierce rivalry.
The initial battle was won by Porsche as Michael Christensen claimed pole in the No.92 Porsche 911 RSR-19 by setting the ultimate pace on a 1m36.371s lap.
It was the first pole for the No.92 car since opening race of the season at Sebring in March with Christensen able to lap 0.195s quicker than the No.51 AF Corse entered Ferrari 488 GTE EVO.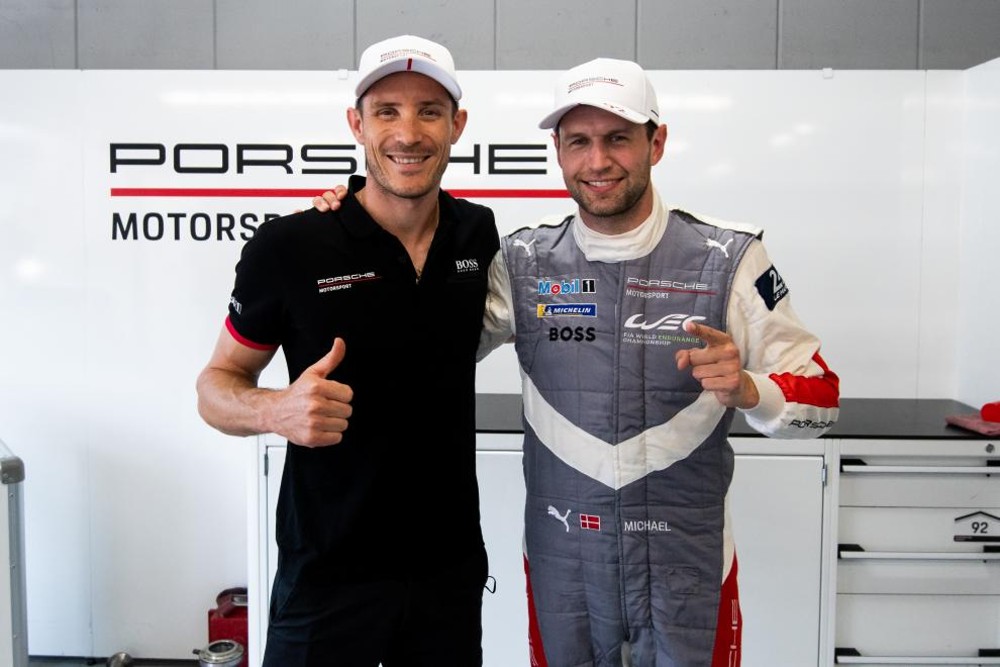 Christensen's pole effort means that both of Porsches entries are now one point off the title lead in one of WEC's tightest ever championship battles.
The reigning LMGTE Pro champion and 2022 points leader, James Calado, was just unable to better Christensen's best lap but the Porsche and Ferrari battle is set to be as close as ever in tomorrow's six-hour race.
Heading the second row of the grid will be the No.91 Porsche 911 RSR-19. Gimmi Bruni qualified the car but had one of his laps deleted for track limits violation.
Miguel Molina qualified the No.52 AF Corse Ferrari fourth ahead of Nick Tandy in the Corvette Racing entered C8.R.
Antonio Felix da Costa ruled supreme in the LMP2 category as he delivered the No.38 JOTA cars first pole position of the season.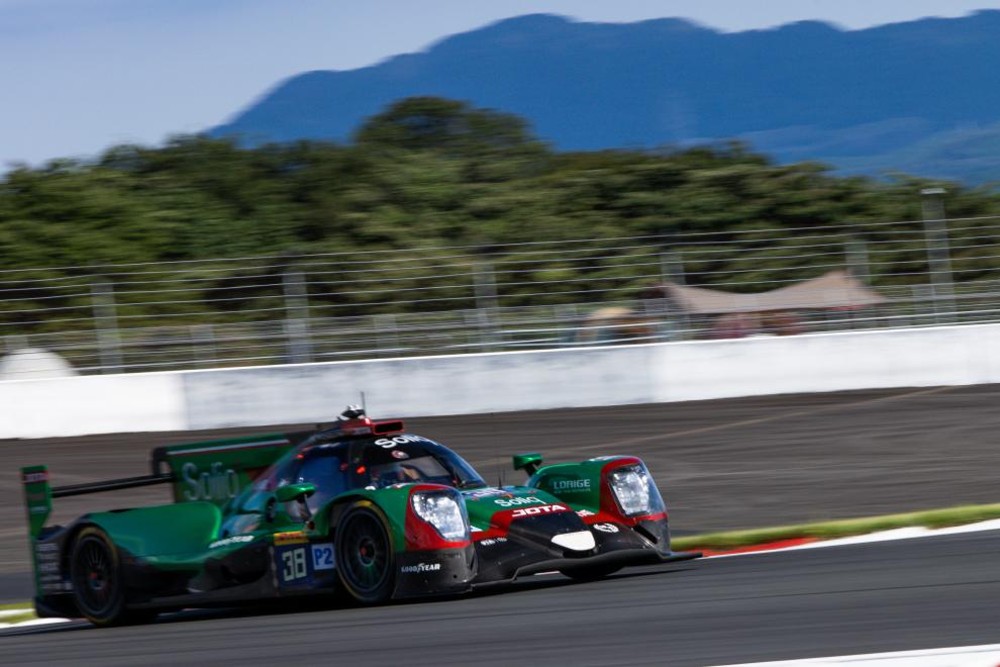 The points leading trio of da Costa, Roberto Gonzalez and Will Stevens saw their points lead extended to 20-points thanks to the rapid 1m31.649s set by da Costa at the start of the 10-minute qualifying session.
Robin Frijns in the No.41 WRT car looked set to be da Costa's biggest threat for pole but he eventually dropped back to fourth as first Nicklas Nielsen in the No.83 AF Corse LMP2 and then Ferdinand Habsburg in the Realteam by WRT entry took second and third.
Frijns was initially third but lost his time of 1m32.059s for a track limit violation.
In the LMGTE am category Ben Keating took his 2022 hat-trick of poles for TF Sport, adding Fuji to Sebring and Spa top spots in the blue Aston Martin he shares with Henrique Chaves and Marco Sorenson.
Keating lost his first timed lap after running wide but then banged in two exceptional lap to just take the pole by the tiny margin of 0.082s.
Keating reprised his memorable Monza qualifying battle with Sarah Bovy in the Iron Dames Ferrari and ultimately extended the TF Sport trio's points advantage to five points over fellow Aston Martin runners Paul Dalla Lana, David Pittard and Nicki Thiim.
Behind the Iron Dames Ferrari came the No.71 Spirit of Race run 488 GTE EVO driven by Franck Dezoteux. The French gentleman driver was aiming for a crack at pole but spun his car spectacularly on his final push lap.
The 2022 6 Hours of Fuji is due to begin at 11.00 local time tomorrow morning.
Qualifying Results
| | | | | | | |
| --- | --- | --- | --- | --- | --- | --- |
| Pos | No. | Class | Drivers | Car | Time | Behind |
| 1 | 7 | HYPERCAR | Mike Conway/Kamui Kobayashi/Jose Maria Lopez | Toyota GR010 – Hybrid | 1'29.234 | 0.000s |
| 2 | 8 | HYPERCAR | Sébastien Buemi/Brendon Hartley/Ryo Hirakawa | Toyota GR010 – Hybrid | 1'29.254 | 0.020 |
| 3 | 36 | HYPERCAR | Andre Negrao/Nicolas Lapierre/Matthieu Vaxiviere | Alpine A480 | 1'29.446 | 0.212 |
| 4 | 93 | HYPERCAR | Paul di Resta/Mikkel Jensen/Jean-Eric Vergne | Peugeot 9X8 | 1'30.000 | 0.766 |
| 5 | 94 | HYPERCAR | Loic Duval/Gustavo Menezes/James Rossiter | Peugeot 9X8 | 1'30.152 | 0.918 |
| 6 | 38 | LMP2 | Roberto Gonzalez/Antonio Felix da Costa/Will Stevens | Oreca 07 | 1'31.649 | 2.415 |
| 7 | 83 | LMP2 | François Perrodo/Nicklas Nielsen/Alessio Rovera | Oreca 07 | 1'31.929 | 2.695 |
| 8 | 41 | LMP2 | Rui Andrade/Ferdinand Habsburg/Norman Nato | Oreca 07 | 1'32.143 | 2.909 |
| 9 | 31 | LMP2 | Sean Gelael/Robin Frijns/Dries Vanthoor | Oreca 07 | 1'32.210 | 2.976 |
| 10 | 10 | LMP2 | Renger van der Zande/Ryan Cullen/Sébastien Bourdais | Oreca 07 | 1'32.297 | 3.063 |
| 11 | 22 | LMP2 | Philip Hanson/Filipe Albuquerque/Will Owen | Oreca 07 | 1'32.337 | 3.103 |
| 12 | 23 | LMP2 | Alex Lynn/Oliver Jarvis/Josh Pierson | Oreca 07 | 1'32.342 | 3.108 |
| 13 | 28 | LMP2 | Oliver Rasmussen/Ed Jones/Jonathan Aberdein | Oreca 07 | 1'32.439 | 3.205 |
| 14 | 9 | LMP2 | Robert Kubica/Louis Deletraz/Lorenzo Colombo | Oreca 07 | 1'32.479 | 3.245 |
| 15 | 1 | LMP2 | Lilou Wadoux/Paul-Loup Chatin/Charles Milesi | Oreca 07 | 1'32.529 | 3.295 |
| 16 | 34 | LMP2 | Jakub Smiechowski/Alex Brundle/Esteban Gutierrez | Oreca 07 | 1'32.800 | 3.566 |
| 17 | 45 | LMP2 | Thomas Steven/James Allen/Rene Binder | Oreca 07 | 1'32.879 | 3.645 |
| 18 | 35 | LMP2 | Jean Baptiste Lahaye/Matthieu Lahaye/François Heriau | Oreca 07 | 1'33.155 | 3.921 |
| 19 | 92 | LMGTE PRO | Michael Christensen/Kevin Estre | Porsche 911 RSR – 19 | 1'36.371 | 0.000s |
| 20 | 51 | LMGTE PRO | Alessandro Pier Guidi/James Calado | Ferrari 488 GTE EVO | 1'36.566 | 0.195 |
| 21 | 91 | LMGTE PRO | Gianmaria Bruni/Richard Lietz | Porsche 911 RSR – 19 | 1'36.800 | 0.429 |
| 22 | 52 | LMGTE PRO | Miguel Molina/Antonio Fuoco | Ferrari 488 GTE EVO | 1'36.851 | 0.480 |
| 23 | 64 | LMGTE PRO | Tommy Milner/Nick Tandy | Chevrolet Corvette C8.R | 1'37.127 | 0.756 |
| 24 | 33 | LMGTE AM | Ben Keating/Henrique Chaves Jr./Marco Sorensen | Aston Martin Vantage AMR | 1'39.309 | 2.938 |
| 25 | 85 | LMGTE AM | Rahel Frey/Michelle Gatting/Sarah Bovy | Ferrari 488 GTE EVO | 1'39.371 | 3.000 |
| 26 | 71 | LMGTE AM | Franck Dezoteux/Pierre Ragues/Gabriel Aubry | Ferrari 488 GTE EVO | 1'39.461 | 3.090 |
| 27 | 777 | LMGTE AM | Satoshi Hoshino/Tomonobu Fujii/Charlie Fagg | Aston Martin Vantage AMR | 1'39.710 | 3.339 |
| 29 | 46 | LMGTE AM | Matteo Cairoli/Mikkel Pedersen/Nicolas Leutwiler | Porsche 911 RSR – 19 | 1'39.796 | 3.425 |
| 29 | 54 | LMGTE AM | Thomas Flohr/Francesco Castellacci/Davide Rigon | Ferrari 488 GTE EVO | 1'39.809 | 3.438 |
| 30 | 56 | LMGTE AM | Takeshi Kimura/Ollie Millroy/Ben Barnicoat | Porsche 911 RSR – 19 | 1'39.853 | 3.482 |
| 31 | 77 | LMGTE AM | Christian Ried/Sebastian Priaulx/Harry Tincknell | Porsche 911 RSR – 19 | 1'39.874 | 3.503 |
| 32 | 88 | LMGTE AM | Fred Poordad/Patrick Lindsey/Jan Heylen | Porsche 911 RSR – 19 | 1'40.052 | 3.681 |
| 33 | 86 | LMGTE AM | Michael Wainwright/Riccardo Pera/Benjamin Barker | Porsche 911 RSR – 19 | 1'40.271 | 3.900 |
| 34 | 21 | LMGTE AM | Simon Mann/Christoph Ulrich/Toni Vilander | Ferrari 488 GTE EVO | 1'40.418 | 4.047 |
| 35 | 60 | LMGTE AM | Claudio Schiavoni/Matteo Cressoni/Giancarlo Fisichella | Ferrari 488 GTE EVO | 1'40.683 | 4.312 |
| 36 | 98 | LMGTE AM | Paul Dalla Lana/David Pittard/Nicki Thiim | Aston Martin Vantage AMR | No Time | No Time |