F1: Leclerc wins pole for Italian GP
A huge cheer went up from the 100,000 Italians on hand when Charles Leclerc turned the fastest lap in his #16 Ferrari to win pole for the Italian GP at Monza.
Using a tow off his teammate Carlos Sainz Jr., Leclerc's lap of 1m20.161s beat the Red Bull of Max Verstappen by 0.145s to win his 10th pole of the season. Verstappen did not have a tow from his teammate like Leclerc did.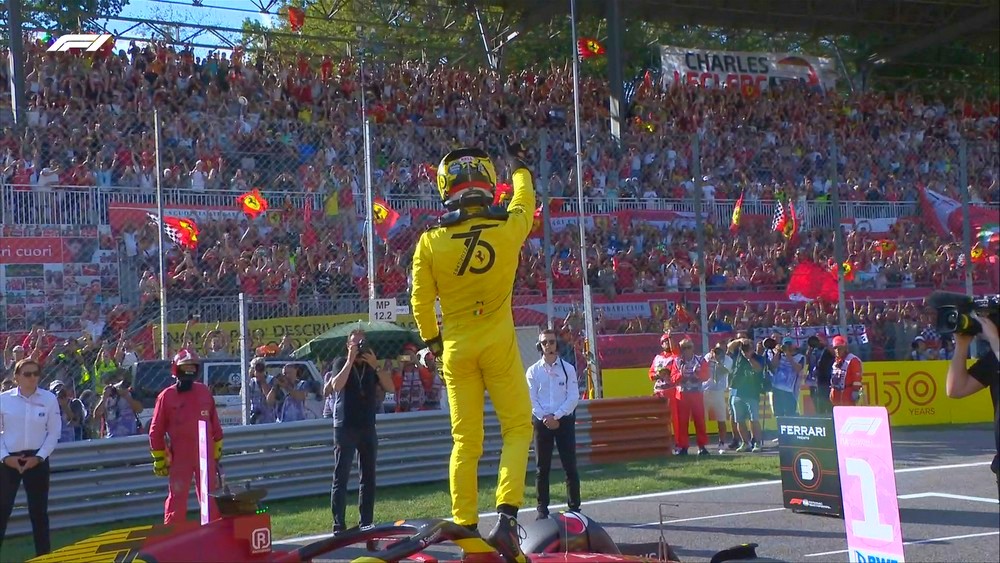 "We chose to go for a little bit more downforce around here, over one lap maybe it's not the best, but for tomorrow it should be strong. I think it will be an interesting battle tomorrow," said Verstappen
Verstappen will take a 5-grid penalty in tomorrow's race.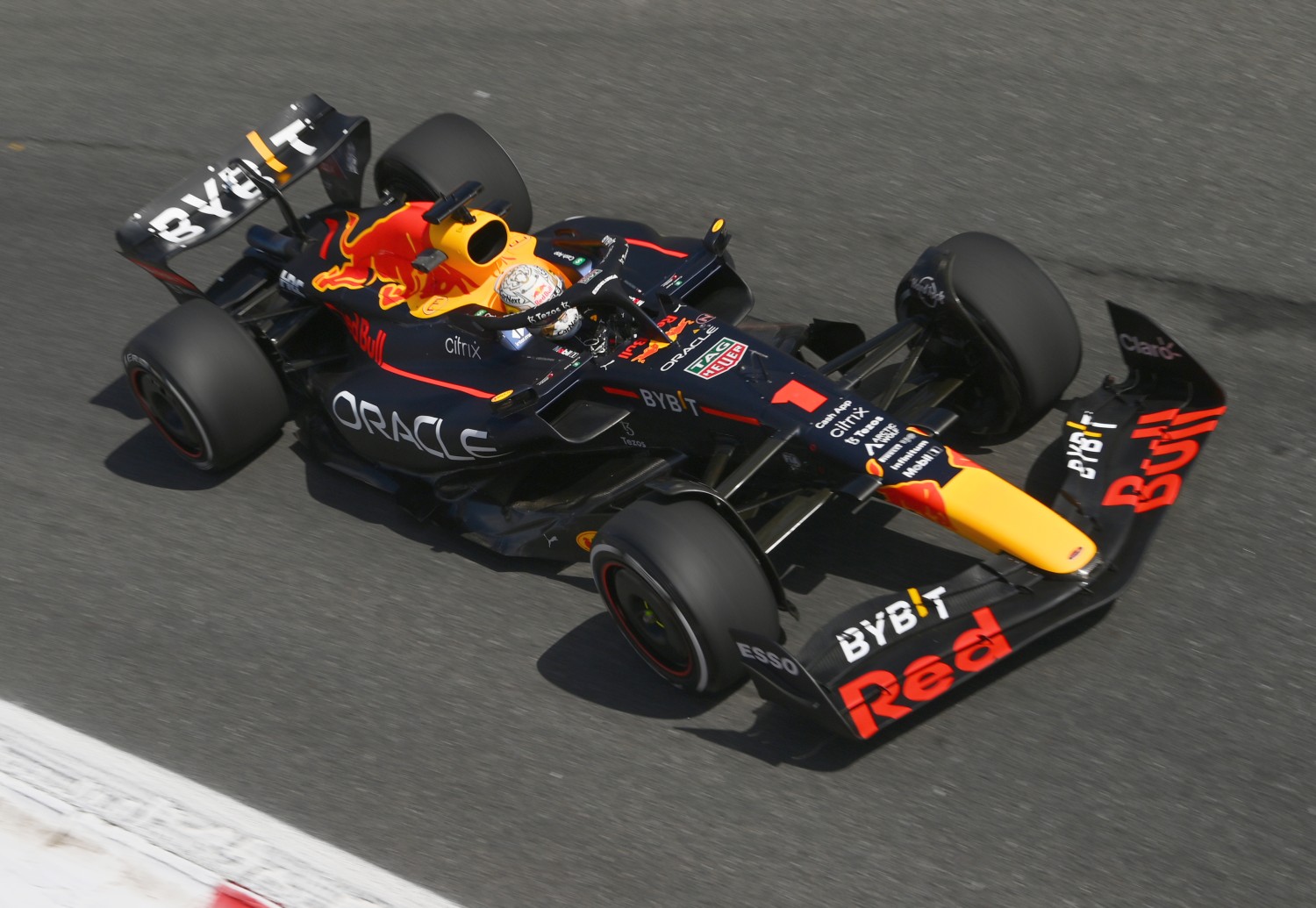 Carlos Sainz Jr. was third fastest in his #55 Ferrari, 0.268s behind, but he will start near the back on Sunday due to grid penalties.
Sergio Perez was 4th quick in the 2nd Red Bull Honda, ahead of Lewis Hamilton in 5th who just nipped his Mercedes teammate George Russell.
Max Verstappen, Sergio Perez, Carlos Sainz and Lewis Hamilton all have grid drops due to engine changes.
Russell in P6 will actually start alongside Leclerc tomorrow, with Norris next up because of grid penalties.
"It's amazing, it wasn't an easy qualifying," said Leclerc.  "I knew there was potential in the car, but I hadn't put everything together. But happy with the [last] lap, I hope we can do just like in 2019 tomorrow. I took many more risks, I knew it was the last lap. I just went for it, and it worked out."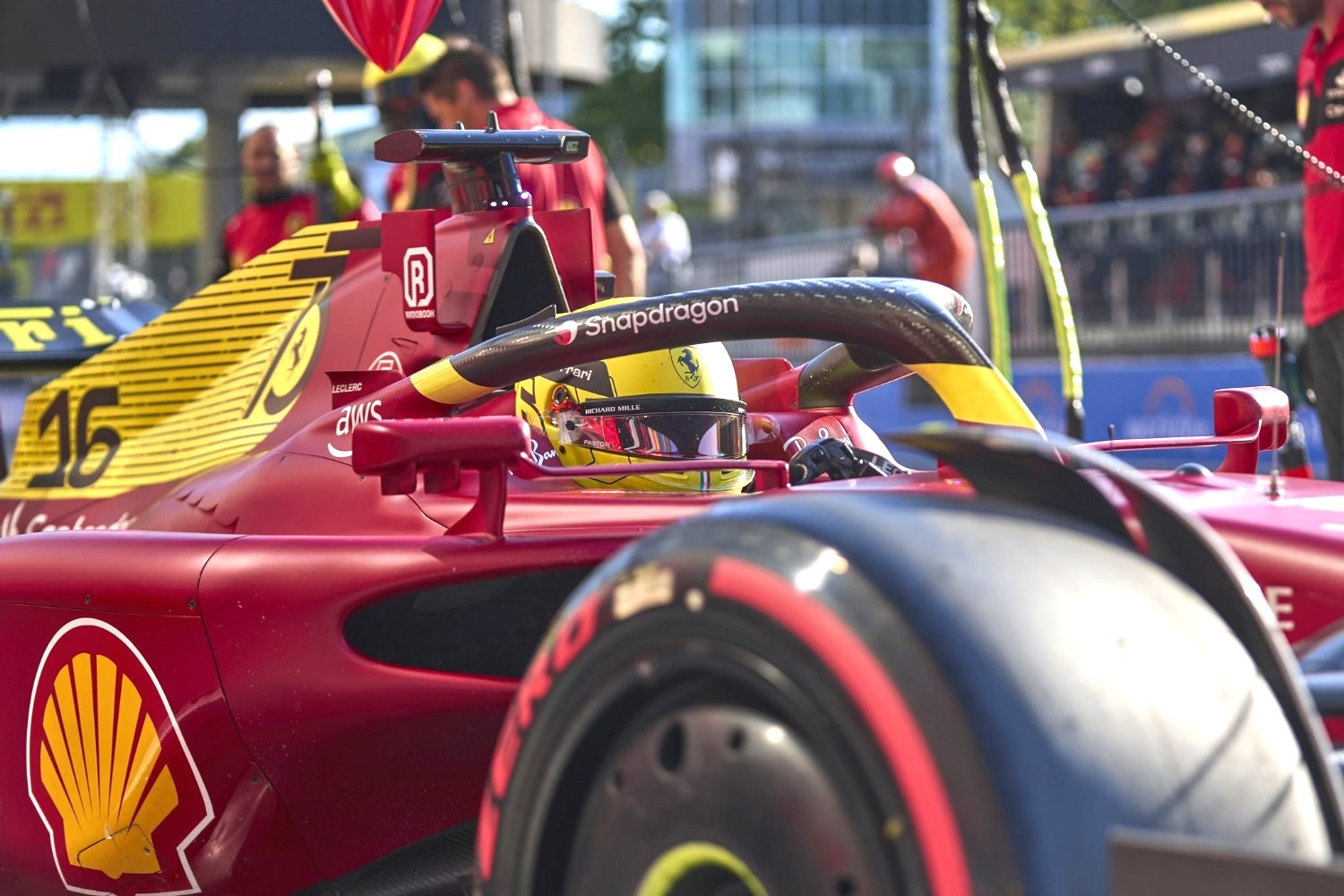 "Honestly, a very good qualifying session, and I was pushing flat out," said Sainz.
"In Q3 I didn't have a tow, so it cost me those two, three tenths, but I'm starting last so in the end it didn't matter. I mean I'm not going to lie, it hurts to be starting from the back especially with how good the car is feeling. I will do my best, the pace is there, but I wish I could be there at the front to try and do a 1-2 for the Tifosi."
McLaren have both cars starting ahead of the Alpine pair, with Alonso's Q3 really not going to plan and the Spaniard winding up without even setting a time. He'll move forward from P10 thanks to penalties for others, but it is still far from ideal for the French team.
Grid penalties for the 2022 Italian Grand Prix
| DRIVER | PENALTY |
| --- | --- |
| Max Verstappen | 5 places |
| Esteban Ocon | 5 places |
| Sergio Perez | 10 places |
| Mick Schumacher | 15 places |
| Valtteri Bottas | 15 places |
| Kevin Magnussen | 15 places |
| Carlos Sainz | Back-of-grid |
| Lewis Hamilton | Back-of-grid |
| Yuki Tsunoda | Back-of-grid |
Qualifying Results
| | | | | | | | |
| --- | --- | --- | --- | --- | --- | --- | --- |
| POS | NO | DRIVER | CAR | Q1 | Q2 | Q3 | LAPS |
| 1 | 16 | Charles Leclerc | Ferrari | 1:21.280 | 1:21.208 | 1:20.161 | 14 |
| 2 | 1 | Max Verstappen | Red Bull Racing Honda | 1:20.922 | 1:21.265 | 1:20.306 | 16 |
| 3 | 55 | Carlos Sainz Jr. | Ferrari | 1:21.348 | 1:20.878 | 1:20.429 | 13 |
| 4 | 11 | Sergio Perez | Red Bull Racing Honda | 1:21.495 | 1:21.358 | 1:21.206 | 15 |
| 5 | 44 | Lewis Hamilton | Mercedes | 1:22.048 | 1:21.708 | 1:21.524 | 17 |
| 6 | 63 | George Russell | Mercedes | 1:21.785 | 1:21.747 | 1:21.542 | 17 |
| 7 | 4 | Lando Norris | McLaren Mercedes | 1:22.130 | 1:21.831 | 1:21.584 | 19 |
| 8 | 3 | Daniel Ricciardo | McLaren Mercedes | 1:22.139 | 1:21.855 | 1:21.925 | 20 |
| 9 | 10 | Pierre Gasly | AlphaTauri Honda | 1:22.010 | 1:22.062 | 1:22.648 | 18 |
| 10 | 14 | Fernando Alonso | Alpine Renault | 1:22.089 | 1:21.861 | – | 17 |
| 11 | 31 | Esteban Ocon | Alpine Renault | 1:22.166 | 1:22.130 | – | 12 |
| 12 | 77 | Valtteri Bottas | Alfa Romeo Ferrari | 1:22.254 | 1:22.235 | – | 12 |
| 13 | 45 | Nyck De Vries | Williams Mercedes | 1:22.567 | 1:22.471 | – | 13 |
| 14 | 24 | Zhou Guanyu | Alfa Romeo Ferrari | 1:22.003 | 1:22.577 | – | 12 |
| 15 | 22 | Yuki Tsunoda | AlphaTauri Honda | 1:22.020 | – | – | 6 |
| 16 | 6 | Nicholas Latifi | Williams Mercedes | 1:22.587 | – | – | 7 |
| 17 | 5 | Sebastian Vettel | Aston Martin Aramco Mercedes | 1:22.636 | – | – | 7 |
| 18 | 18 | Lance Stroll | Aston Martin Aramco Mercedes | 1:22.748 | – | – | 9 |
| 19 | 20 | Kevin Magnussen | Haas Ferrari | 1:22.908 | – | – | 10 |
| 20 | 47 | Mick Schumacher | Haas Ferrari | 1:23.005 | – | – | 9 |
Starting Lineup After Grid Penalties
| | | | | |
| --- | --- | --- | --- | --- |
| Pos | Driver | Chassis | Engine | Time |
| 1 | Charles Leclerc | Ferrari | Ferrari | 1'20.161 |
| 2 | George Russell | Mercedes | Mercedes | 1'21.542 |
| 3 | Lando Norris | McLaren | Mercedes | 1'21.584 |
| 4 | Daniel Ricciardo | McLaren | Mercedes | 1'21.925 |
| 5 | Pierre Gasly | AlphaTauri | Red Bull | 1'22.648 |
| 6 | Fernando Alonso | Alpine | Renault | No Q3 Time |
| 7 | Max Verstappen | Red Bull | Red Bull | 1'20.306 |
| 8 | Nyck de Vries | Williams | Mercedes | 1'22.471 |
| 9 | Zhou Guanyu | Alfa Romeo | Ferrari | 1'22.577 |
| 10 | Nicholas Latifi | Williams | Mercedes | 1'22.587 |
| 11 | Sebastian Vettel | Aston Martin | Mercedes | 1'22.636 |
| 12 | Lance Stroll | Aston Martin | Mercedes | 1'22.748 |
| 13 | Sergio Perez | Red Bull | Red Bull | 1'21.206 |
| 14 | Esteban Ocon | Alpine | Renault | 1'22.130 |
| 15 | Valtteri Bottas | Alfa Romeo | Ferrari | 1'22.235 |
| 16 | Kevin Magnussen | Haas | Ferrari | 1'22.908 |
| 17 | Mick Schumacher | Haas | Ferrari | 1'23.005 |
| 18 | Carlos Sainz Jr. | Ferrari | Ferrari | 1'20.429 |
| 19 | Lewis Hamilton | Mercedes | Mercedes | 1'21.524 |
| 20 | Yuki Tsunoda | AlphaTauri | Red Bull | No Time |