Track News: Traction Compound has ruined racing at Texas Motor Speedway
Fans now avoid Texas Motor Speedway like a plague.
The IndyCar races are so poorly attended, you could shoot a cannon into the grandstands and not hit anyone.
And last weekend's NASCAR Cup race at TMS was by far the poorest attended Cup race to-date (not counting the Covid year).
Certainly, the USGP F1 race at COTA with its 400,000 attendance has put a dent in TMS ticket sales, but that is not the only reason.
The traction compound NASCAR has applied to the upper lane of the TMS track surface has rendered it useless, and the racing has suffered as a result.
Many feel that Texas needs to reconfigure but are divided about how to do that. Some want a short track, some want a bigger oval like Homestead or what Atlanta used to be. If you ask Kyle Larson, he's for tearing everything down and starting over.
Dale Earnhardt Jr. threw his idea into the mix as he made note that something has to be done. Even Dale Jr. thought his idea was "crazy" and "not sure it would work" but said on The Dale Jr. Download that it's worth trying before Marcus Smith makes anymore radical changes.
"The bottom of the racetrack is untreated by two grooves. So the bottom of the racetrack is let's say is two lanes wide. Good old school asphalt. And then we have this very dark treated PJ1 plus resin, multiple applications, bam bam bam for years. And it's a very dark dark part of the racetrack. About, starting at just below the third groove, and all the way up toward the wall, pave all of that.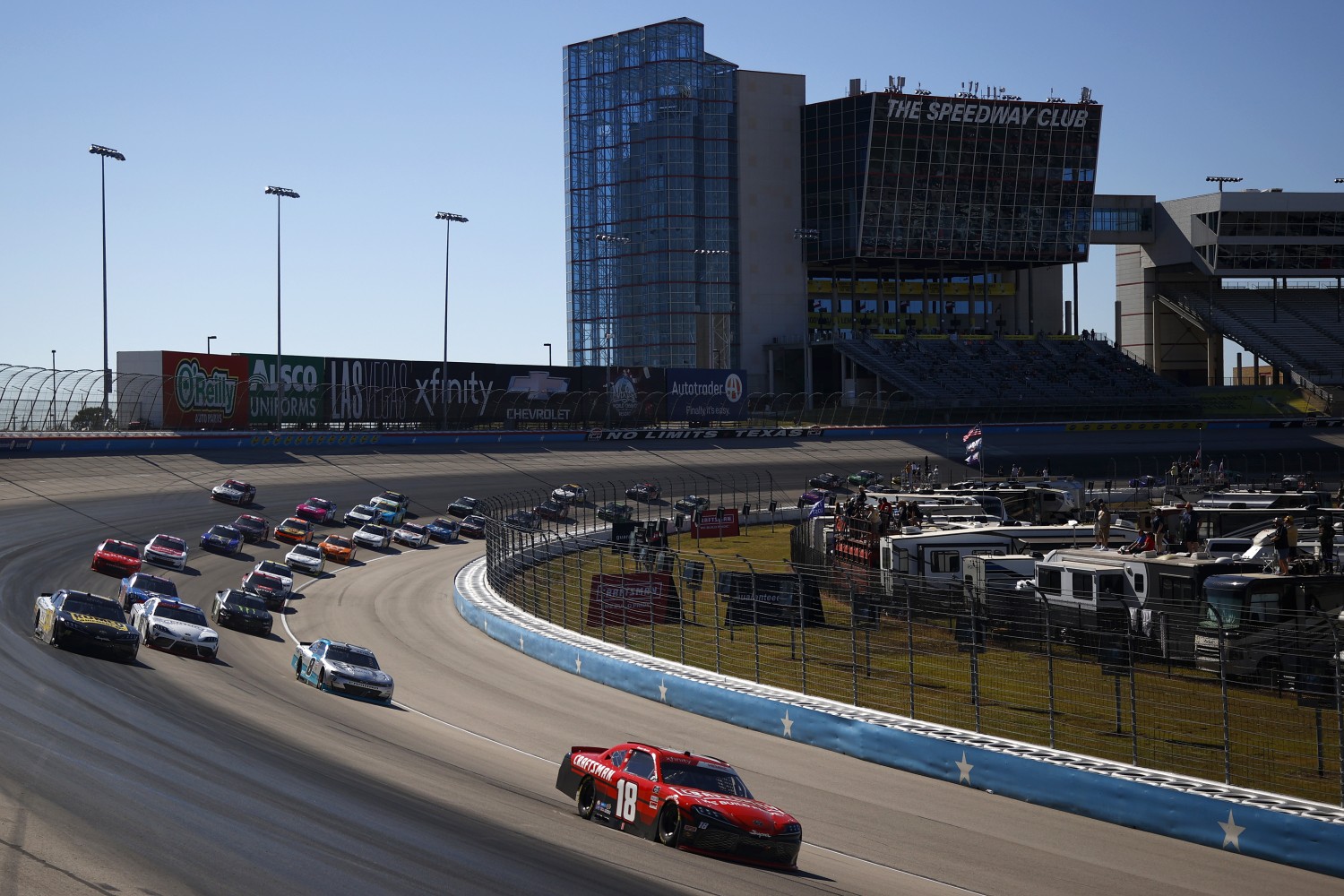 "Take that area up off the racetrack, I think that the treatment is already pretty much ruined that part of the track anyways. If they get anything out of the third groove, they all crash. They tell you it's dirty up there. The adhesion of the resin attracts all of the tire debris like a flytrap, like fly tape. So when you get up out of the groove, you just run on top of all these marbles that are glued to the racetrack. So rip up all of that treated surface, and pave it. And let's just try that before we go spending hundreds of millions of dollars rebuilding this racetrack. Tens of millions just to reconfigure Turns 1 and 2.
"If they wouldn't just pave the treated part of the racetrack, so then you would have different ages of asphalt. I remember we put in a grip strip at Pocono and it was a blast. In Turn 3. Yes, it's possible that all the cars would just attract to that new asphalt and we have basically a one groove track right in the middle of the corner. I don't know if that's a terrible thing to sort of go through for a couple years because once that asphalt starts to age a little bit, I think they start trying to move around a little bit. And then you got those two bottom grooves of asphalt that's several years older, on the lower groove, that'll be a different grip level. You won't have to ever treat this track again, which they shouldn't. Some tracks should be treated, some shouldn't. And so, that's one thing to do. It's either something like that, little bit outside the box that we've never done before, or they only reconfigure Turns 1 and 2."
"I'm not a racetrack designer but it's not the worst idea out there. Earnhardt is correct in that the much of the surface area in the turns are out of bounds due to all the surface gimmicks (my words) that wound up making the racing worse for NASCAR and IndyCar. I personally have always been anti-PJ1 because it's fickle. It needs perfect weather conditions for it to effectively work because if it's too hot, it's like racing on oil. And if it's too cold, it's like racing on ice. Resin is somewhat better, but still not perfect.
"But instead of another big money reconfiguration project that isn't guaranteed to work, it makes sense to at least try this, and maybe it works. Then if not, do like what Larson said and start over."