NASCAR: Elliott wins Talladega thriller
Chase Elliott scored a masterful victory at Talladega Superspeedway on Sunday afternoon, locking his way into the Round of 8 in the NASCAR Cup Series Playoffs.
Elliott surged ahead of playoff rival Ryan Blaney and blocked like a seasoned veteran to score his series-best fifth victory of the 2022 season by a mere 0.046 seconds. It was his second career win at Talladega.
Elliott, the 2020 series champion, charged to the outside lane after restarting fifth on the final green flag of the day, which flew with just two laps to go. A push from Erik Jones launched the No. 9 Chevrolet to the lead and allowed Elliott to control blocks from behind.
Completing the top five behind Elliott and Blaney were Michael McDowell, Ross Chastain and Denny Hamlin. The top 10 was rounded out by Jones, Todd Gilliland, Daniel Suárez, Austin Cindric and Chase Briscoe.
Christopher Bell (17th), Kyle Larson (18th) and Joey Logano (27th) were the only playoff drivers to finish outside the top 10. Bell and Larson started on the front row.
The sixth and final caution of the day flew with eight laps to go when Daniel Hemric's No. 16 Chevrolet stalled on pit road, forcing the green-white-checkered finish. The yellow was the first to stem from an incident since a Lap 45 crash by Corey LaJoie after his No. 7 Chevrolet suffered a right-front tire failure.
Each of the stage finishes came down to the moves made in the tri-oval. Ryan Blaney snatched the Stage 1 victory by just 0.009 seconds over Denny Hamlin with a charge through the outside lane, while Chase Elliott snookered Hendrick Motorsports teammate Kyle Larson exiting the tri-oval for the Stage 2 win.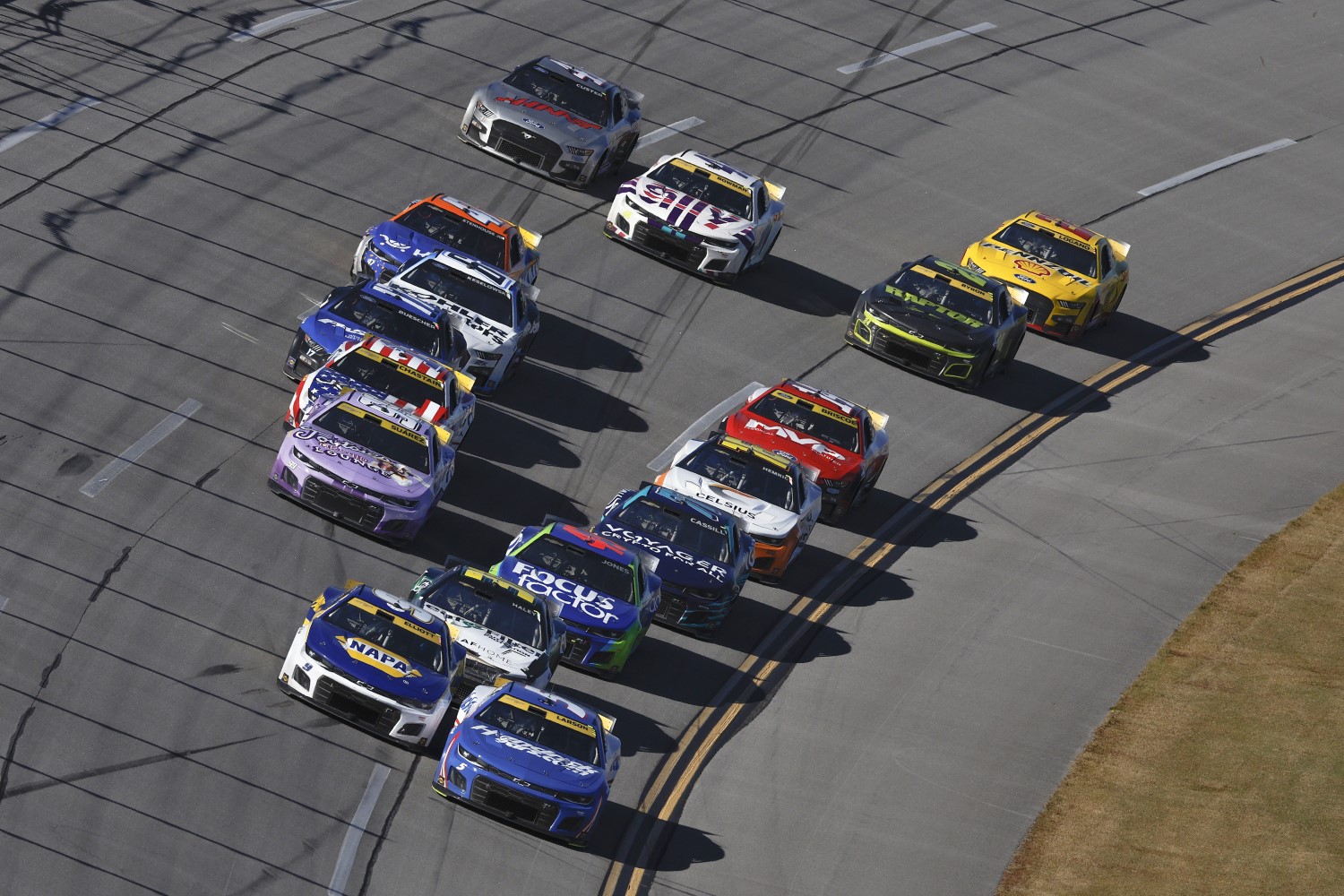 Christopher Bell and William Byron, who both entered Sunday's race beneath the elimination line, failed to score stage points at Talladega. Byron charged to the lead in Stage 1 but ultimately finished the respective stages in 11th and 13th. Bell, who finished 20th in Stage 1, spun entering pit road at Lap 100 and lost a lap before the conclusion of Stage 2, taking the green-checkered flag in 30th before receiving the free pass to get back on the lead lap.
CHASE ELLIOTT, NO. 9 NAPA AUTO PARTS CAMARO ZL1, scores fifth NASCAR Cup Series win of 2022 season and propels himself to next round of playoffs with victory at Talladega Superspeedway:
After the rough race at Texas, you guys kind of needed something like this. Walk me through those final two laps, the push from Erik Jones.
CHASE ELLIOTT: Yeah, first, how about these fans, man? That's unreal. Moments like that, you have to really cherish. You guys are what makes this special to me. So thank you sincerely. I really appreciate it.
Yeah, it was a wild last couple laps. I wasn't super crazy about being on the bottom. Fortunately I got just clear enough off of two to slide up in front of Erik. He gave me some great shoves. Obviously a Team Chevy partner there.
Yeah, just had a good enough run to get out front, then I was able to stay far enough in front of Ryan here at the line to get it done.
These things are so, so hard to win. You got to enjoy 'em. Just appreciate everybody's effort today. NAPA, Chevrolet, all of our partners that make this happen. Everybody at Hendrick Motorsports, the engine shop. The boss is here, so excited to celebrate with him. Get ready to go to the Roval and try to grab another one.
Thank you guys so much for coming out. Great crowd, great show.
You have had a rough Playoff. Darlington, Texas last week. How will this change the momentum for the 9 team?
CHASE ELLIOTT: It gets you through the next one. That's all you can ask for, is to have more opportunities. That's really what this is about. We got six more Playoff points to go with that win today. That's a big deal.
We're excited for these final handful of events. Hopefully we can make it out to Phoenix and give them a run.
You won in front hometown fans at Atlanta and now Talladega.
CHASE ELLIOTT: Yeah, north Georgia is not far from here, so it definitely makes it feel like a home race. Again, always special. Never take that for granted. Thank you so much.
Race Results
| | | | | | | | | |
| --- | --- | --- | --- | --- | --- | --- | --- | --- |
| Fin | Str | No. | Driver | Team | Laps | Behind | Status | Led |
| 1 | 16 | 9 | Chase Elliott (P) | NAPA Auto Parts Chevrolet | 188 | 0.000s | Running | 10 |
| 2 | 19 | 12 | Ryan Blaney (P) | Menards/Dutch Boy Ford | 188 | 0.046 | Running | 31 |
| 3 | 29 | 34 | Michael McDowell | Love's Travel Stops Ford | 188 | 0.094 | Running | 0 |
| 4 | 6 | 1 | Ross Chastain (P) | Jockey Chevrolet | 188 | 0.160 | Running | 36 |
| 5 | 3 | 11 | Denny Hamlin (P) | FedEx Express Toyota | 188 | 0.183 | Running | 20 |
| 6 | 12 | 43 | Erik Jones | FOCUSfactor Chevrolet | 188 | 0.251 | Running | 23 |
| 7 | 34 | 38 | Todd Gilliland # | Georgia Peanuts Ford | 188 | 0.284 | Running | 1 |
| 8 | 14 | 99 | Daniel Suarez (P) | Tootsies Orchid Lounge Chevrolet | 188 | 0.296 | Running | 2 |
| 9 | 17 | 2 | Austin Cindric # (P) | Discount Tire Ford | 188 | 0.312 | Running | 0 |
| 10 | 5 | 14 | Chase Briscoe (P) | Magical Vacation Planner Ford | 188 | 0.322 | Running | 0 |
| 11 | 33 | 77 | Landon Cassill(i) | Voyager: Crypto for All Chevrolet | 188 | 0.344 | Running | 1 |
| 12 | 9 | 24 | William Byron (P) | RaptorTough.com Chevrolet | 188 | 0.381 | Running | 1 |
| 13 | 20 | 3 | Austin Dillon | Bass Pro Shops/TRACKER Off Road Chevrolet | 188 | 0.407 | Running | 0 |
| 14 | 4 | 10 | Aric Almirola | Smithfield Ford | 188 | 0.446 | Running | 36 |
| 15 | 21 | 31 | Justin Haley | LeafFilter Gutter Protection Chevrolet | 188 | 0.463 | Running | 0 |
| 16 | 27 | 45 | Bubba Wallace (P) | Leidos Toyota | 188 | 0.464 | Running | 0 |
| 17 | 1 | 20 | Christopher Bell (P) | Sirius XM Toyota | 188 | 0.531 | Running | 0 |
| 18 | 2 | 5 | Kyle Larson (P) | HendrickCars.com Chevrolet | 188 | 0.534 | Running | 8 |
| 19 | 7 | 48 | Noah Gragson(i) (P) | Ally Chevrolet | 188 | 0.599 | Running | 0 |
| 20 | 26 | 18 | Kyle Busch | M&M's Toyota | 188 | 0.601 | Running | 3 |
| 21 | 28 | 41 | Cole Custer | HaasTooling.com Ford | 188 | 0.915 | Running | 2 |
| 22 | 25 | 47 | Ricky Stenhouse Jr. | Kroger/SunnyD Chevrolet | 188 | 1.376 | Running | 0 |
| 23 | 30 | 42 | Ty Dillon | SunseekerResorts.com Chevrolet | 188 | 1.505 | Running | 0 |
| 24 | 18 | 6 | Brad Keselowski | Kohler Generators Ford | 188 | 1.780 | Running | 0 |
| 25 | 23 | 17 | Chris Buescher | Fastenal Ford | 188 | 1.932 | Running | 1 |
| 26 | 22 | 19 | Martin Truex Jr. | Bass Pro Shops Toyota | 188 | 2.348 | Running | 1 |
| 27 | 11 | 22 | Joey Logano (P) | Shell Pennzoil Ford | 188 | 3.062 | Running | 0 |
| 28 | 8 | 8 | Tyler Reddick | REALTREE Chevrolet | 187 | -1 | Running | 11 |
| 29 | 24 | 4 | Kevin Harvick | Busch Light Ford | 187 | -1 | Running | 0 |
| 30 | 31 | 62 | Justin Allgaier(i) | Beard Oil/South Point Chevrolet | 186 | -2 | Running | 0 |
| 31 | 36 | 15 | JJ Yeley(i) | Summit Racing Equipment Ford | 184 | -4 | Running | 0 |
| 32 | 37 | 51 | Cody Ware | Nurtec ODT UBCF Ford | 184 | -4 | Running | 0 |
| 33 | 35 | 78 | BJ McLeod(i) | NASCAR Rivals Ford | 182 | -6 | Running | 0 |
| 34 | 13 | 16 | Daniel Hemric(i) | Celsius Chevrolet | 180 | -8 | Electrical | 0 |
| 35 | 32 | 7 | Corey LaJoie | Schluter Systems Chevrolet | 44 | -144 | Accident | 1 |
| 36 | 15 | 21 | Harrison Burton # | Dex Imaging Ford | 23 | -165 | Accident | 0 |
| 37 | 10 | 23 | Ty Gibbs(i) | Monster Energy Toyota | 23 | -165 | Accident | 0 |
# DENOTES ROOKIE
(i) NOT ELIGIBLE FOR POINTS
(*) REQUIRED TO QUALIFY ON TIME