F1: Under pressure from Verstappen, Hamilton choked in Singapore
Lewis Hamilton has been pumped up by the British F1 media as some sort of God for winning seven world F1 driving titles, ignoring the fact he was driving a superior unbeatable Mercedes all those years.
This year Hamilton no longer has the best car and he cannot win a race and his inexperienced, new to the team teammate, George Russell, is outscoring him in points, 203 to 170.
The British media would have you think he was the best wet weather driver as well.
He crashed at Imola in 2021 while also making a costly error into the pit lane when looking to switch to slicks at Sochi.
His performances in 2022 in the wet have also been underwhelming as he finished a lowly 13th at Imola, eighth in Monaco before making two errors in Singapore and finishing 9th.
At least he admits his mistakes this weekend.
At one point the Mercedes star also crashed into a wall where he broke the advertising sign after carrying too much speed.
That is when the British Formula One legend reversed out and limped to the pits to regroup and apologize to his team-mates.
Hamilton was heard saying: "I'm so sorry about that guys. I f****d it up big time."
But that wasn't all.
Max Verstappen is the better driver and Hamilton now knows he cannot match the Dutchmen's skill behind the wheel.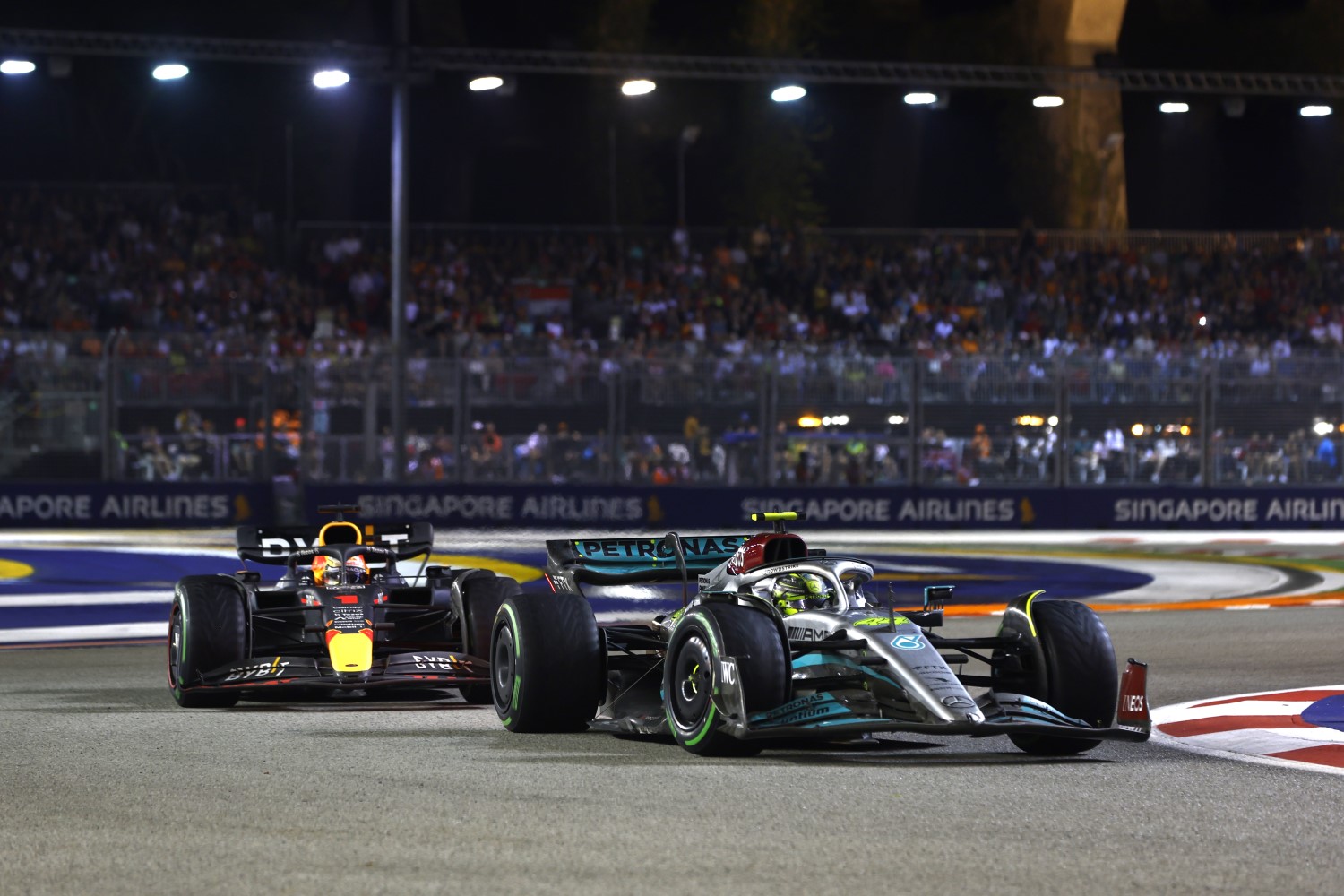 In Singapore on Sunday Verstappen closed on Hamilton late in the going and Hamilton did everything he could to hold off the Dutch Dynamo.  As they came upon the washed up Sebastian Vettel, Hamilton, feeling the heat from Verstappen behind tried to pass the Aston Martin.
Hamilton lost control of his Mercedes for the 2nd time in the race, and Verstappen breezed on past.
On the final lap of the race Verstappen passed Vettel without losing control and scored an extra championship point.
Verstappen takes full toll as Hamilton tries to battle past Vettel 💪#SingaporeGP #F1 pic.twitter.com/vGr4mQGPKC

— Formula 1 (@F1) October 2, 2022