Supercars: Drivers slip, slide and crash in Friday practice for Bathurst 1000
In the final practice session for the Repco Bathurst 1000 before this afternoon's crucial ARMOR ALL Qualifying, drivers have slipped and slid their way across Mount Panorama.
Eleven drivers either slid off or crashed in a practice run that was ended early by a red flag, the third of the session.
Even seven-time Bathurst winner Craig Lowndes went off track coming down towards the final corner, an area of the track that saw every driver struggle to master the wet conditions.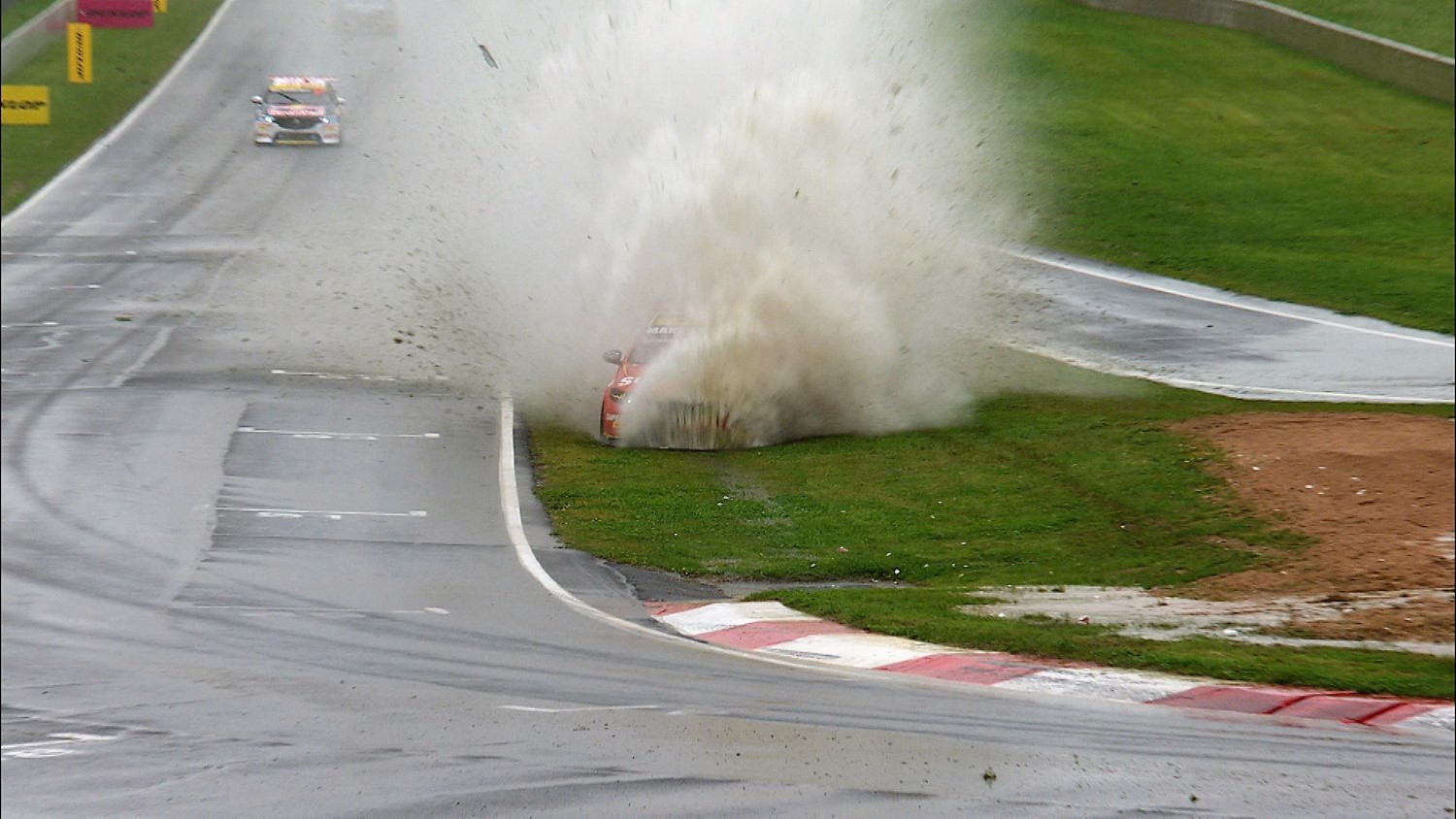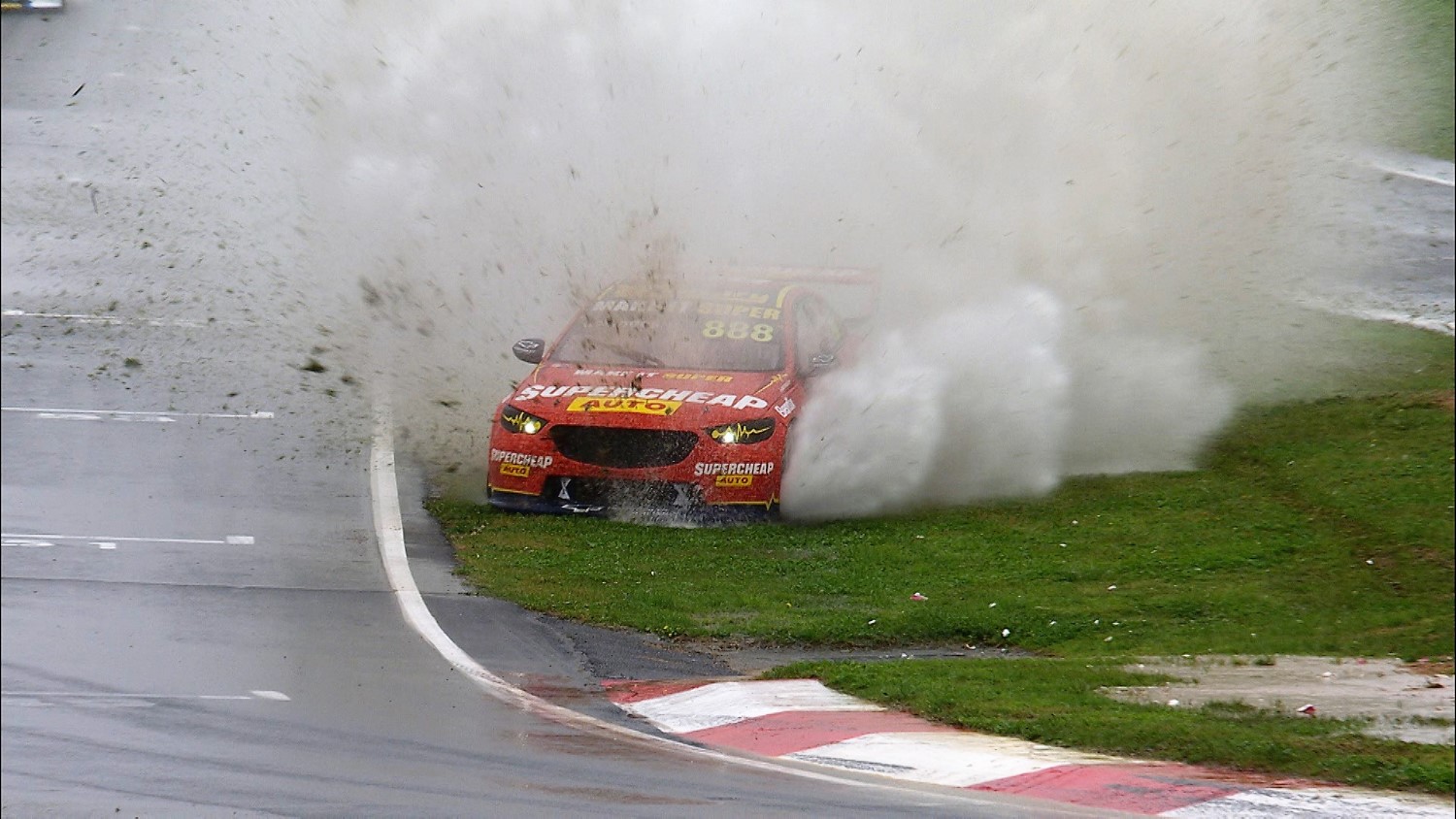 In the end, defending Supercars' Champion Shane van Gisbergen cast aside previous dramas to set the pace as quickest driver in rain-hit Practice 4.
Todd Hazelwood crashed at Griffin's Bend, and Macauley Jones at The Chase. Will Brown's accident at Reid Park, with 13 minutes remaining, saw officials call the session as the car was retrieved.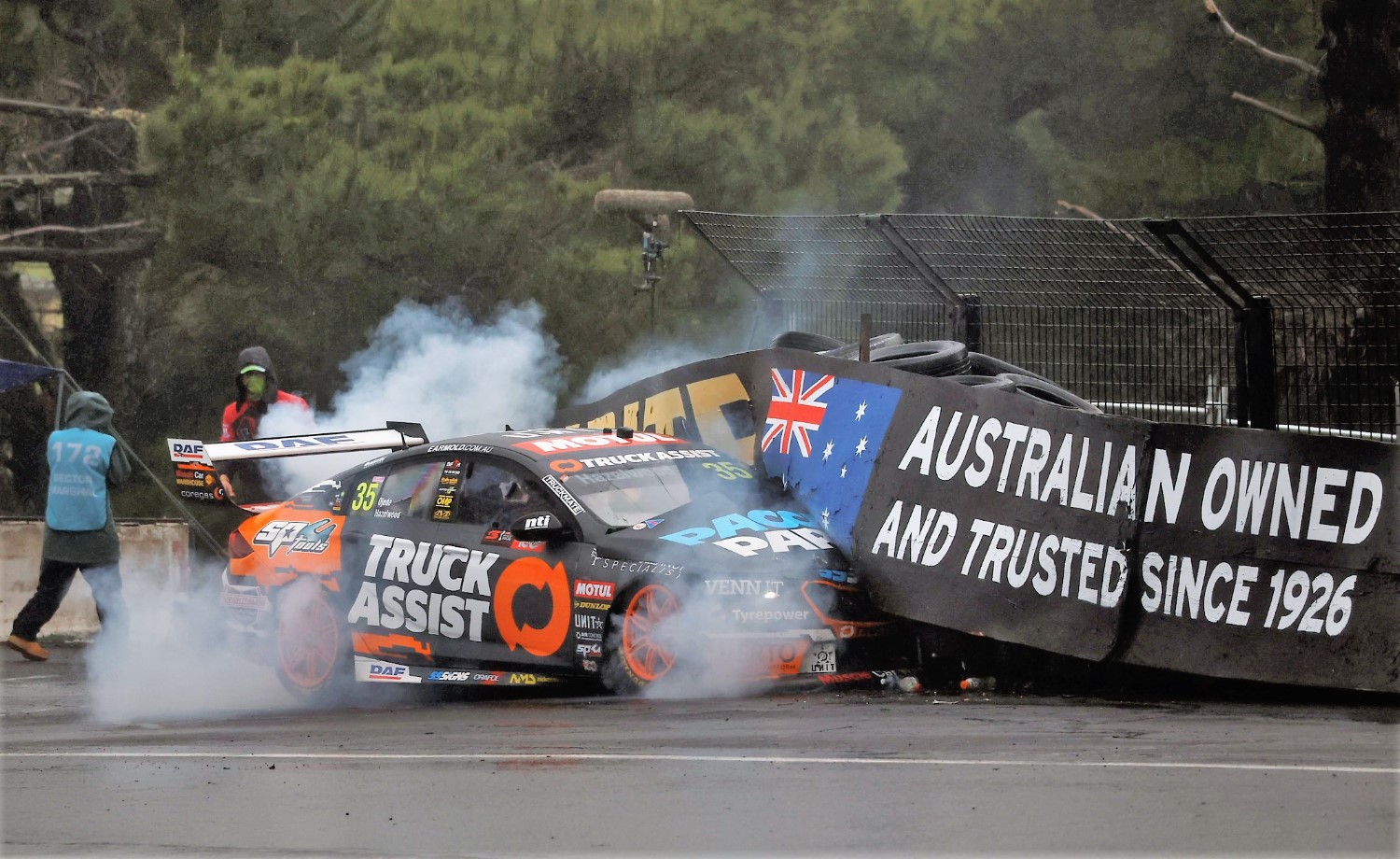 Through it all emerged van Gisbergen, whose 2:30.292s was a full second ahead of the rest.
Jamie Whincup made it a Red Bull Ampol Racing one-two, with James Courtney third.
Noted wet-weather maestro Richie Stanaway was an impressive fourth ahead of Brown.
Stanaway led into the final stanza before countryman van Gisbergen went faster, and faster again.
Anton De Pasquale was sixth from David Reynolds, Heimgartner, Will Davison and Lowndes. Chaz Mostert was 11th, with Cam Waters 12th.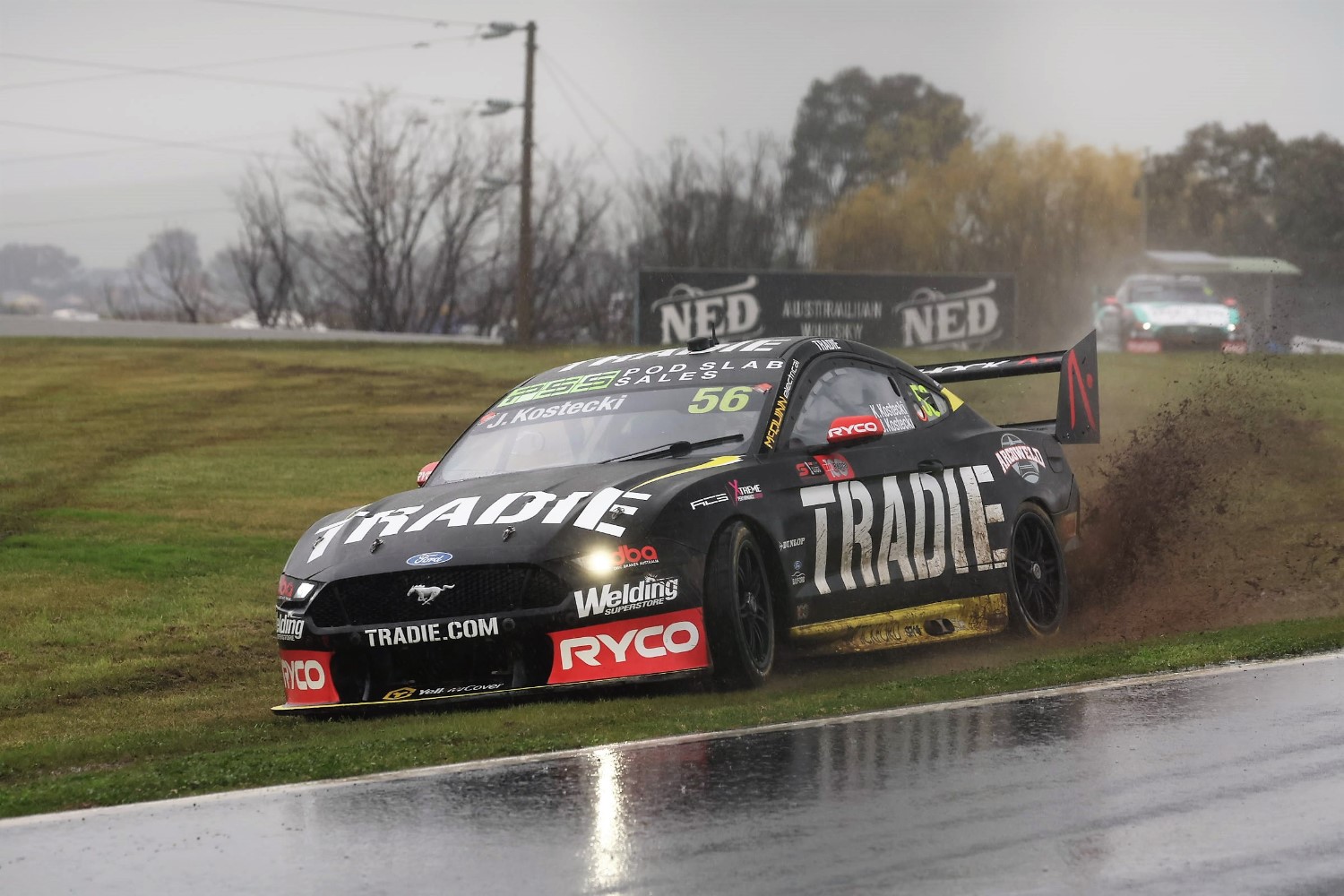 Tony D'Alberto, Cameron Hill and Macauley Jones all came unstuck at Murray's Corner
A number of drivers hit trouble attempting to enter pit lane, with pit entry under heavy standing water.
Craig Lowndes suffered the most dramatic fate as he surfed through water, which he described as a "water tunnel".
Van Gisbergen showed his wet-weather prowess with consecutive fast laps to consolidate top spot.
ARMOR ALL Qualifying is scheduled to commence at 4:15pm local time.
The top ten drivers from this session will fight it out in tomorrow afternoon's famous Top Ten Shootout, that will decide the starting grid for Sunday's Repco Bathurst 1000.
Practice 4 Results
| | | | | | | |
| --- | --- | --- | --- | --- | --- | --- |
| POS | NO. | DRIVER | TEAM | TIME | GAP | LAPS |
| 1 | 97 | Van Gisbergen Tander | Red Bull Holden Racing Team | 2:30.292 | +0.000 | 14 |
| 2 | 88 | B. Feeney Whincup | Red Bull Holden Racing Team | 2:31.296 | +1.004 | 15 |
| 3 | 5 | Courtney Z. Goddard | Tickford Racing 1 | 2:31.769 | +1.477 | 15 |
| 4 | 51 | R. Stanaway G. Murphy | Boost Mobile Racing 51 | 2:31.840 | +1.548 | 13 |
| 5 | 9 | W. Brown J. Perkins | Penrite Racing – Erebus | 2:31.975 | +1.683 | 14 |
| 6 | 100 | A. de Pasquale T. D'Alberto | Shell V-Power Racing Team | 2:31.999 | +1.707 | 14 |
| 7 | 26 | Reynolds M. Campbell | Penrite Racing | 2:32.113 | +1.821 | 12 |
| 8 | 8 | Heimgartner Wood | Brad Jones Racing | 2:32.182 | +1.889 | 14 |
| 9 | 17 | Davison A. Davison | Shell V-Power Racing Team | 2:32.220 | +1.928 | 14 |
| 10 | 888 | Lowndes D. Fraser | Team Vortex | 2:32.452 | +2.160 | 14 |
| 11 | 25 | Mostert Coulthard | WAU Racing Pty Ltd | 2:32.470 | +2.178 | 15 |
| 12 | 6 | C. Waters Moffat | Tickford Racing 1 | 2:32.556 | +2.263 | 14 |
| 13 | 56 | J. Kostecki K. Kostecki | Tickford Racing 2 | 2:32.685 | +2.392 | 14 |
| 14 | 35 | T. Hazelwood J. Ojeda | Matt Stone Racing | 2:32.858 | +2.566 | 3 |
| 15 | 99 | B. Kostecki D. Russell | Penrite Racing – Erebus | 2:32.922 | +2.630 | 12 |
| 16 | 10 | Holdsworth M. Payne | Penrite Racing | 2:33.143 | +2.851 | 12 |
| 17 | 4 | J. Smith J. Evans | SCT Motor Sports | 2:33.315 | +3.023 | 15 |
| 18 | 55 | T. Randle Z. Best | Tickford Racing 2 | 2:33.560 | +3.267 | 12 |
| 19 | 96 | M. Jones J. Boys | SCT Motor Sports | 2:34.310 | +4.018 | 10 |
| 20 | 31 | J. Golding D. O'Keeffe | PremiAir Subway Racing | 2:34.634 | +4.342 | 13 |
| 21 | 2 | Percat W. Luff | WAU Racing Pty Ltd | 2:34.999 | +4.707 | 14 |
| 22 | 14 | B. Fullwood D. Fiore | Brad Jones Racing | 2:35.256 | +4.963 | 12 |
| 23 | 34 | J. Le Brocq A. Seton | Matt Stone Racing | 2:35.751 | +5.459 | 12 |
| 24 | 18 | Winterbottom Caruso | Team 18 | 2:35.754 | +5.461 | 8 |
| 25 | 3 | Slade Blanchard | CoolDrive Racing | 2:35.967 | +5.674 | 6 |
| 26 | 22 | C. Pither C. Hill | PremiAir Coca Cola Racing | 2:36.592 | +6.300 | 12 |
| 27 | 118 | M. Chada J. Robotham | Caltex Young Stars | 2:36.595 | +6.303 | 12 |
| 28 | 20 | S. Pye T. Everingham | Team 18 | 2:37.936 | +7.644 | 8 |