Supercars: Waters tops wet qualifying for Bathurst 1000
Cam Waters has clinched Bathurst provisional pole in a thrilling wet qualifying session Friday afternoon at Mount Panorama
Waters, the 2020 pole-sitter, paced the session on a 2:23.616s.
Defending Repco Bathurst 1000 Champion Lee Holdsworth was a shock second, with fellow 2021 race winner Chaz Mostert third.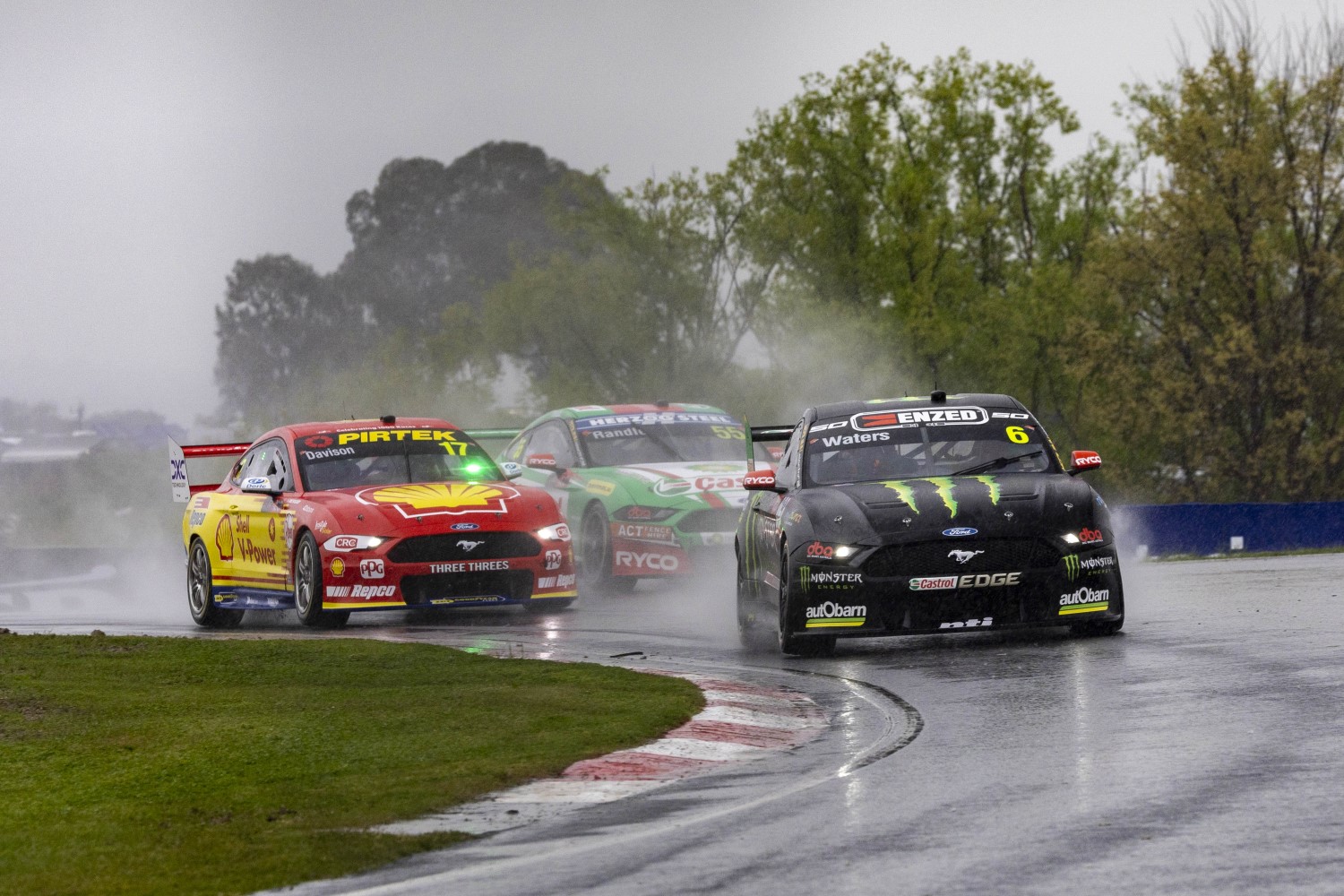 Shane van Gisbergen was fourth, but clashed with Macauley Jones on his final timed lap which could have ramifications with the stewards later this evening.
Van Gisbergen was fastest through the first sector, but caught Jones across Skyline.
The series leader hit Jones, who went into the wall rearwards on approach to the Dipper.
Waters, who is 525 points behind van Gisbergen, was pleased to first survive, and then set the pace.
Waters is desperate to end his bridesmaid's tag after finishing second in the Great Race in 2020 and 2021 and will be last out in Saturday's ARMOR ALL Top Ten Shootout.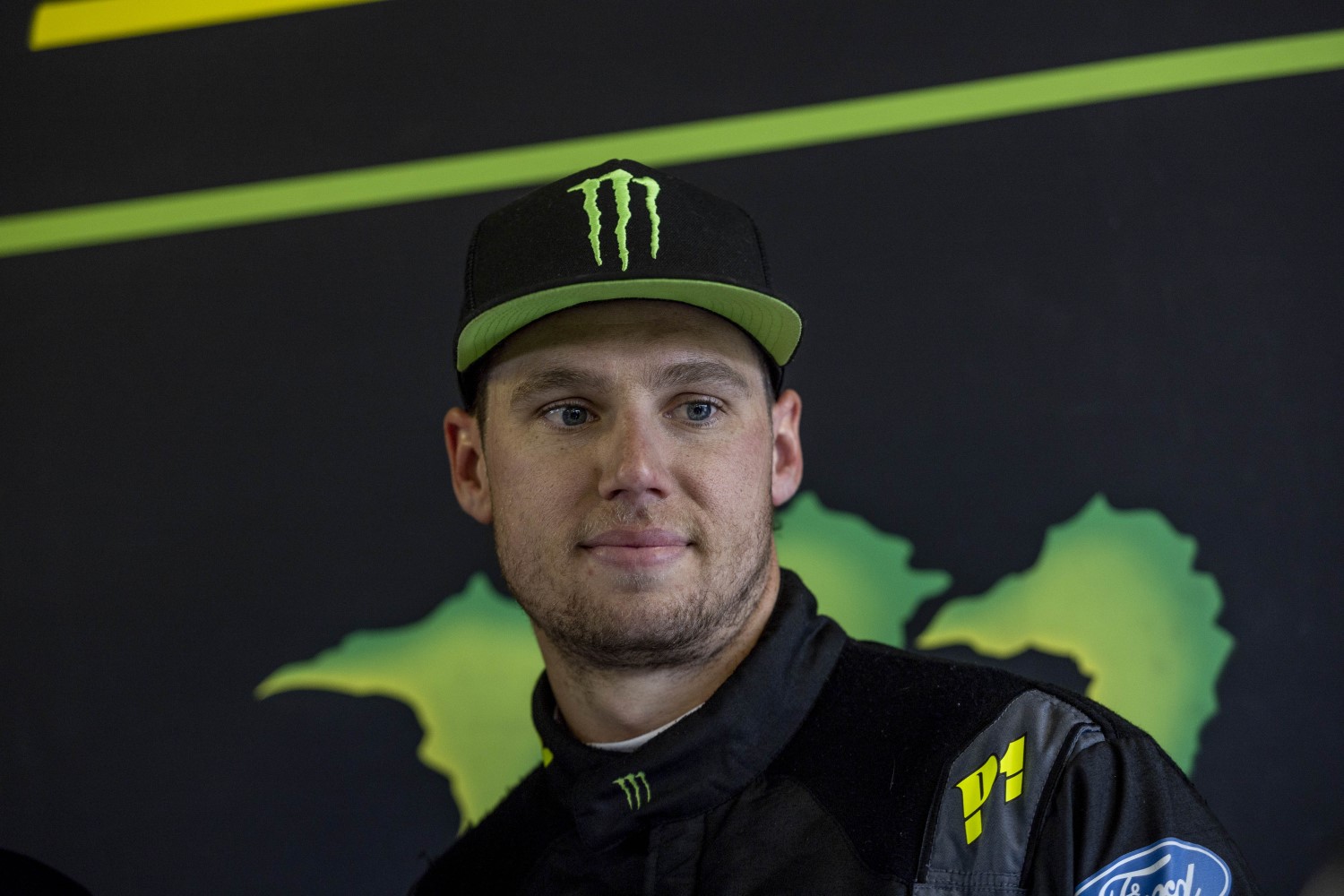 "We're stoked; we just wanted to make sure we're in the 10," Waters said.
"We weren't too bad in the dry earlier in the day… with the rain, we weren't sure.
"We did a good job tuning it up between practice and qualifying.
"The car in general was really nice to drive."
Waters said conditions in qualifying were far better than those earlier in the day in practice, but dangers were still lurking, particularly on the exit of Hell Corner and the kink at The Chase.
"There were a lot less rivers down the straights, and over the top (there) was a lot more grip," he said.
But the prospect of the shootout – with just one out lap to build tire temperature and pressure – was much more daunting.
"It was taking a few laps for the tires to come up, so tomorrow if it is wet it will be a little bit more challenging.
"But … I'll be the last car which will be good. I'll get to see what all the other guys do, how they're going and what the track grip is.
"Hopefully it doesn't rain more at the end – those kind of conditions are a little bit hard for shootout.
"But it is what it is. It's awesome to make (the shootout) and be quickest in that session."
Ambient and track conditions improved as the session wore on.
Red Bull's decision to replace rookie Broc Feeney for qualifying with co-driver, Jamie Whincup didn't go to plan.
Whincup was only good enough for 14th, despite regular driver Broc Feeney standing aside for the session.
Will Davison, who paced Practice 1 and 3, was sixth ahead of Nick Percat and James Courtney.
Erebus Motorsport's frantic effort to repair Will Brown's car paid dividends, with Brown qualifying 10th.
Brodie Kostecki made it three Erebus entries in the 10 with ninth, given Stanaway ended up fifth.
Stanaway, who is paired with the great Greg Murphy, is a wildcard entry into the race after waiting two years to return Supercars. He proved the wait was worth it, taming the wet conditions in an unbelievable display given how little track time he has had over recent years.
Anton De Pasquale was one of the shock omissions from tomorrow's Top Ten Shootout and will start 11th ahead of Andre Heimgartner, with James Golding 13th ahead of Whincup.
Craig Lowndes, aboard the Triple Eight wildcard, was 16th behind Thomas Randle.
Tim Slade brought up the rear of the 28-car field.
Co-drivers will tackle Practice 5 at 10:20am local time on Saturday.
The fan-favorite Top Ten Shootout will commence at 5:05pm.
PROVISIONAL TOP TEN SHOOTOUT RUN ORDER FOR SATURDAY:
10. Will Brown – Boost Mobile Racing Commodore
9. Brodie Kostecki – Boost Mobile Racing Commodore
8. James Courtney – Snowy River Caravans Mustang
7. Nick Percat – Mobil 1 NTI Commodore
6. Will Davison – Shell V-Power Racing Mustang
5. Richie Stanaway – Boost Mobile Racing Wildcard Commodore
4. Shane van Gisbergen – Red Bull Ampol Racing Commodore
3. Chaz Mostert – Mobil 1 Optus Commodore
2. Lee Holdsworth – Penrite Racing Mustang
1. Cam Waters – Monster Energy Mustang
Supercars eyeing F1 undercard in slots
Supercars is eyeing slots on the Formula 1 undercard in the United States and Singapore in years to come, according to a report.
The touring car championship currently supports the Australian Grand Prix at Melbourne's Albert Park and has been a fixture at the circuit since 1996.
However, with new owners at the helm of Supercars, a concerted effort is being made to expand that presence alongside Formula 1.
First Round Qualifying Results
| | | | | | | |
| --- | --- | --- | --- | --- | --- | --- |
| POS | NO. | DRIVER | TEAM | TIME | GAP | LAPS |
| 1 | 6 | C. Waters Moffat | Tickford Racing 1 | 2:23.617 | +0.000 | 15 |
| 2 | 10 | Holdsworth M. Payne | Penrite Racing | 2:23.830 | +0.213 | 15 |
| 3 | 25 | Mostert Coulthard | WAU Racing Pty Ltd | 2:23.836 | +0.219 | 14 |
| 4 | 97 | Van Gisbergen Tander | Red Bull Holden Racing Team | 2:24.067 | +0.450 | 13 |
| 5 | 51 | R. Stanaway G. Murphy | Boost Mobile Racing 51 | 2:24.353 | +0.736 | 14 |
| 6 | 17 | Davison A. Davison | Shell V-Power Racing Team | 2:24.422 | +0.806 | 14 |
| 7 | 2 | Percat W. Luff | WAU Racing Pty Ltd | 2:24.563 | +0.947 | 15 |
| 8 | 5 | Courtney Z. Goddard | Tickford Racing 1 | 2:24.646 | +1.029 | 15 |
| 9 | 99 | B. Kostecki D. Russell | Penrite Racing – Erebus | 2:24.790 | +1.173 | 15 |
| 10 | 9 | W. Brown J. Perkins | Penrite Racing – Erebus | 2:25.000 | +1.384 | 14 |
| 11 | 100 | A. de Pasquale T. D'Alberto | Shell V-Power Racing Team | 2:25.008 | +1.391 | 13 |
| 12 | 8 | Heimgartner Wood | Brad Jones Racing | 2:25.013 | +1.396 | 14 |
| 13 | 31 | J. Golding D. O'Keeffe | PremiAir Subway Racing | 2:25.015 | +1.398 | 14 |
| 14 | 88 | B. Feeney Whincup | Red Bull Holden Racing Team | 2:25.127 | +1.511 | 14 |
| 15 | 55 | T. Randle Z. Best | Tickford Racing 2 | 2:25.152 | +1.535 | 14 |
| 16 | 888 | Lowndes D. Fraser | Team Vortex | 2:25.352 | +1.736 | 14 |
| 17 | 56 | J. Kostecki K. Kostecki | Tickford Racing 2 | 2:25.465 | +1.849 | 14 |
| 18 | 26 | Reynolds M. Campbell | Penrite Racing | 2:25.472 | +1.856 | 14 |
| 19 | 35 | T. Hazelwood J. Ojeda | Matt Stone Racing | 2:26.074 | +2.458 | 14 |
| 20 | 20 | S. Pye T. Everingham | Team 18 | 2:26.076 | +2.460 | 14 |
| 21 | 22 | C. Pither C. Hill | PremiAir Coca Cola Racing | 2:26.408 | +2.791 | 13 |
| 22 | 96 | M. Jones J. Boys | SCT Motor Sports | 2:26.658 | +3.041 | 13 |
| 23 | 18 | Winterbottom Caruso | Team 18 | 2:27.016 | +3.399 | 14 |
| 24 | 14 | B. Fullwood D. Fiore | Brad Jones Racing | 2:27.137 | +3.520 | 14 |
| 25 | 34 | J. Le Brocq A. Seton | Matt Stone Racing | 2:27.524 | +3.907 | 14 |
| 26 | 118 | M. Chada J. Robotham | Caltex Young Stars | 2:28.244 | +4.627 | 12 |
| 27 | 4 | J. Smith J. Evans | SCT Motor Sports | 2:28.381 | +4.765 | 14 |
| 28 | 3 | Slade Blanchard | CoolDrive Racing | 2:31.319 | +7.702 | 13 |