IndyCar: Work progresses on new Detroit GP infrastructure
Work continues on the infrastructure needed to move the Detroit Grand Prix to its new downtown location next year.
Organizers have published new images online showing the laying of concrete slabs in the pit/paddock area, which is located in a car park near the GM Renaissance Center which will be the centerpiece of the circuit.
The new-for-2023 layout will feature 10 corners, predominantly 90 degrees, and total a very short 1.7mi.
Next year's Detroit Grand Prix is scheduled to take place on June 2-4.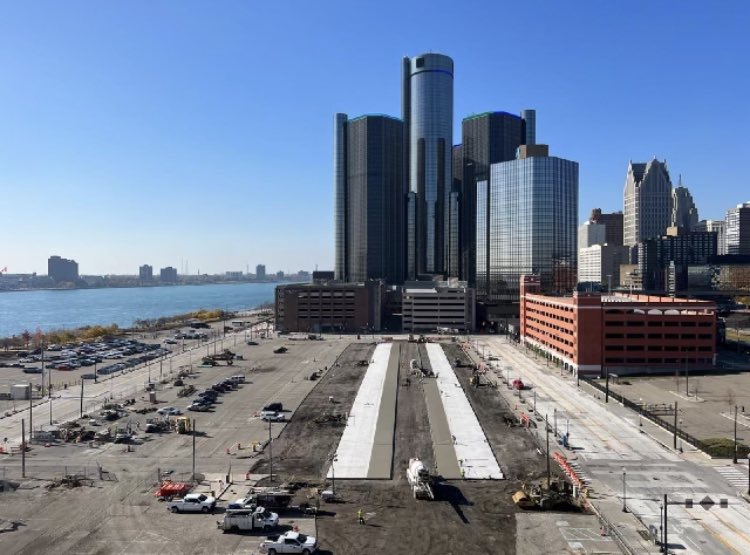 If you go to the race, be careful your car is not stolen in this crime ridden city.  Car theft is up in 2022, but overall crime is down 4%.
As of October 26, 2022
The statistics below reflect the data entered into MPD's records management system (Cobalt) as of 12 am on the date above. The homicide numbers are based on numbers submitted by the Homicide Branch.
| Offense | 2021 | 2022 | Percent Change |
| --- | --- | --- | --- |
| Homicide | 181 | 168 | -7% |
| Sex Abuse | 154 | 123 | -20% |
| Assault w/ a Dangerous Weapon | 1,380 | 1,175 | -15% |
| Robbery | 1,606 | 1,696 | 6% |
| Violent Crime – Total | 3,321 | 3,162 | -5% |
| Burglary | 959 | 876 | -9% |
| Motor Vehicle Theft | 2,848 | 2,893 | 2% |
| Theft from Auto | 7,099 | 6,411 | -10% |
| Theft (Other) | 8,901 | 8,764 | -2% |
| Arson | 4 | 4 | 0% |
| Property Crime – Total | 19,811 | 18,948 | -4% |
| All Crime – Total | 23,132 | 22,110 | -4% |