Supercars: Van Gisbergen crowned Champion, Feeney wins first race
Shane van Gisbergen is a three-time Supercars Champion.
After the most dominant year of racing ever, van Gisbergen claimed the 2022 Repco Supercars Championship crown with one of the most spectacular burnouts the series has ever seen.
In front of a packed crowd, that welcomed back the VALO Adelaide 500 with open arms over the weekend, van Gisbergen celebrated the final ever Holden race with a huge burnout on the main straight.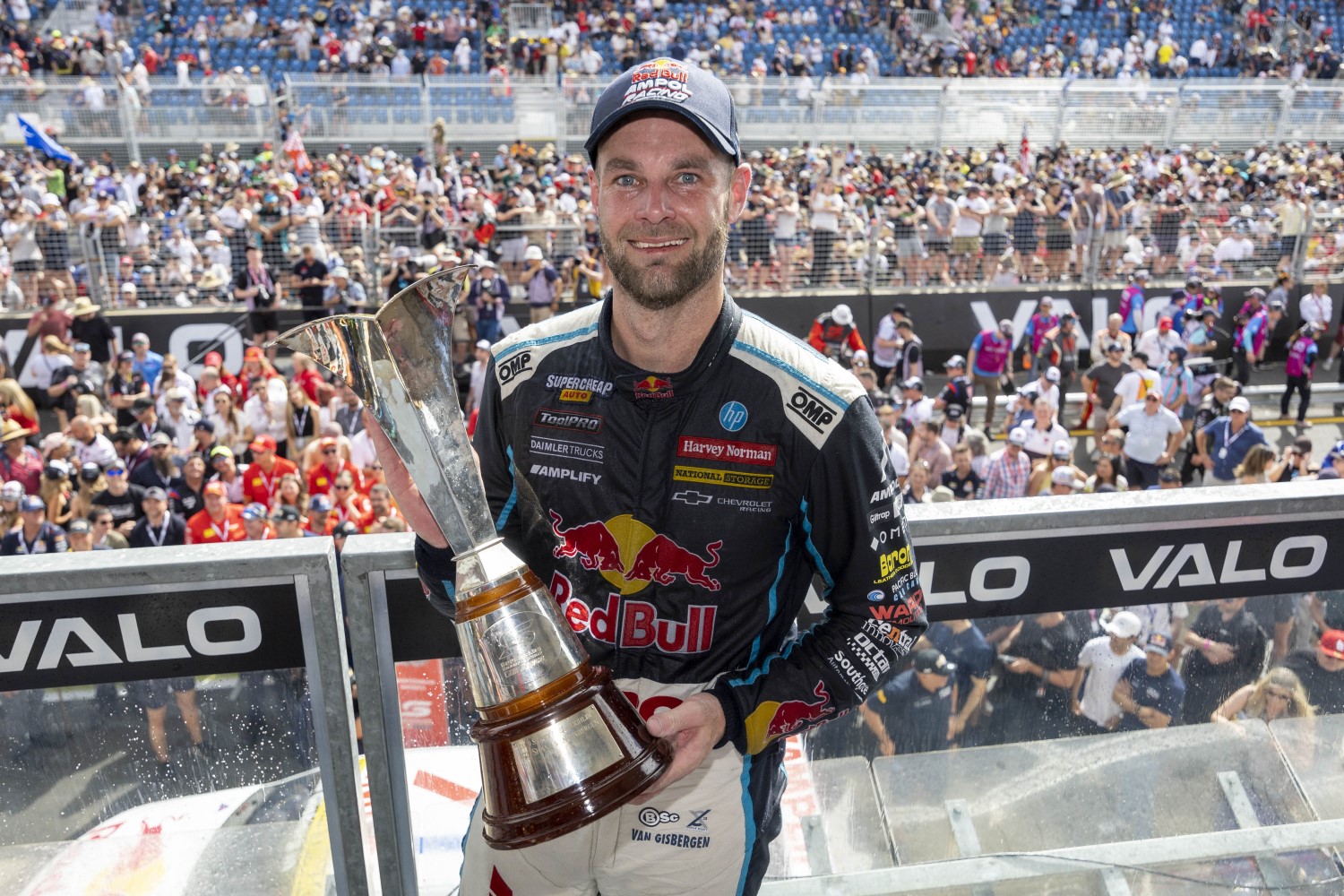 The other headline of the day was van Gisbergen's rookie teammate Broc Feeney winning his first ever career race.
Feeney has outlasted Chaz Mostert to take Holden's last ever win at the VALO Adelaide 500. The end margin between Feeney and Saturday winner Mostert was just 0.9s.
Feeney became the second full-time rookie in as many years to win a race after Will Brown in Sydney in 2021.
The Red Bull Ampol Racing driver — aged just 20 — also became the second youngest driver to win a race.
The 20-year-old, who replaced the great Jamie Whincup held off this year's VALO Adelaide 500 Champion and yesterday's race winner Chaz Mostert who was second, and Ford's Anton De Pasquale who was third.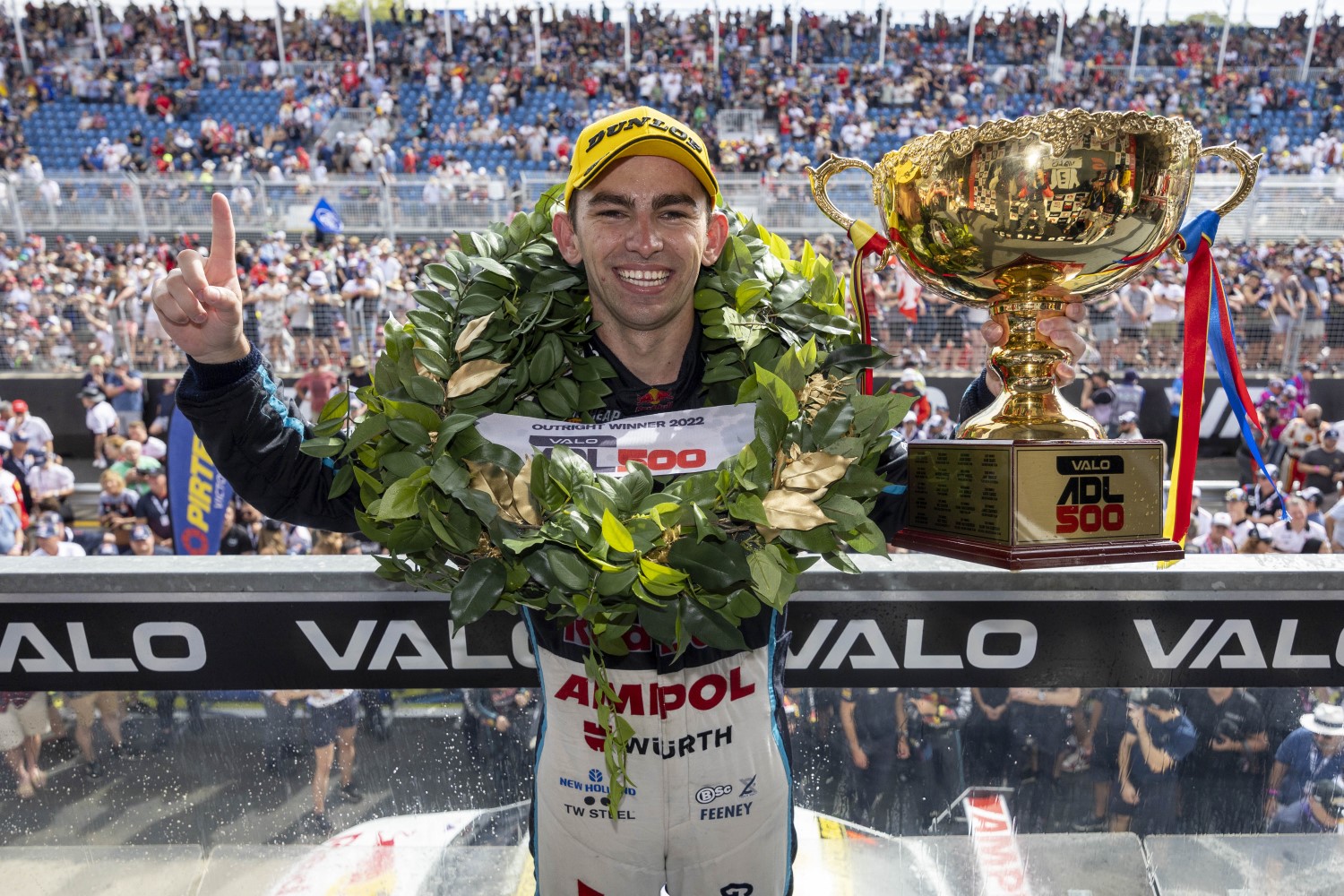 Scott McLaughlin still holds the record for youngest ever race winner in Supercars, beating the Gold Coast whiz kid by just four months, but none of that mattered to Feeney who lapped up his amazing maiden victory.
Van Gisbergen finished the race in 7th place, before his epic burnout rounded out an incredible year of racing.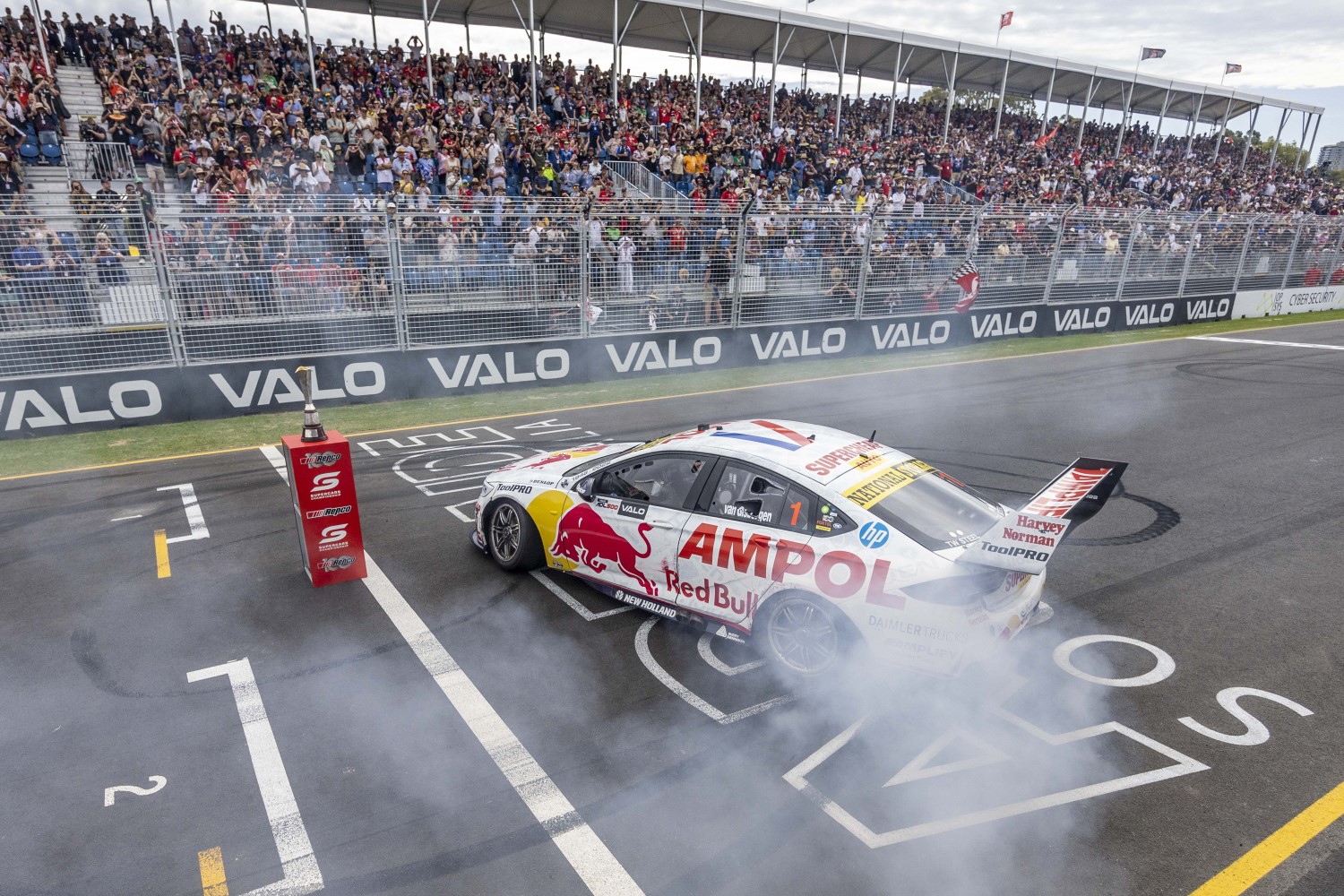 The 33-year-old kiwi became the 11th driver in history to claim three career Championships, the last driver to do so was fellow kiwi Scott McLaughlin.
The Red Bull ace finished the year with a new record haul of 21 victories from 34 races and eight pole positions.
Ford's Cam Waters finished the year in second position, equalling his career-best result of second place in 2020.
Chaz Mostert, was was runner up to van Gisbergen at the Repco Bathurst 1000 finished third in the standings, equalling his result from 2021.
Today's result capped off a remarkable year for the Triple Eight Race Engineering team, co-owned by Jamie Whincup.
Triple Eight has now become the first team to the Bathurst 1000, Supercars drivers' and teams' titles, the Dunlop Super2 Series driver title (Declan Fraser) and Super2 teams' title in the same year.
Fittingly, all of their cars were Commodores in the final year of Holden racing in Supercars.
How Sunday's race unfolded
In Sunday's race Van Gisbergen overhauled Feeney off the line, and took off after Davison. Behind them, Waters picked off Mostert for fifth at Turn 9.
Feeney was first of the leading group to stop on lap 11.
Davison pitted two laps later in response, and emerged ahead — but picked up a warning for exceeding track limits.
Van Gisbergen pushed his performance deep into the stint, and set the fastest lap of the race on lap 16.
Two laps later, Jake Kostecki crashed at Turn 8, and the balance of the field fired into pit lane.
Davison and Feeney jumped De Pasquale, with David Reynolds and Brodie Kostecki short-fuelled into fourth and sixth.
Davison led Feeney, De Pasquale, Reynolds and van Gisbergen to green on lap 22.
Feeney attacked a sliding Davison at Turn 4 — behind them, van Gisbergen dropped to eighth after being hung out wide at Turn 6.
Brodie Kostecki slapped the wall at Turn 8, but somehow avoided a race-ending fate.
Feeney took the lead for the first time at Turn 9 on lap 24 when Davison made a mistake.
Van Gisbergen cleared Mostert into Turn 8 on lap 30, before making respective Turn 9 moves on Waters and Reynolds.
All the while, Feeney had opened a 3.2s gap on Davison, with De Pasquale 0.7s behind his teammate.
On lap 40, Davison made another mistake at Turn 11, tumbled down the order and pitted immediately.
One lap later, De Pasquale bowled a wide at the last corner, and handed second to van Gisbergen on a platter.
The race turned on its head once again when Bryce Fullwood crashed at Turn 8 on lap 43.
Van Gisbergen stacked behind Feeney, while De Pasquale lost position to Mostert in the lane.
Once the field cleansed, van Gisbergen was effective 12th, with Feeney ahead of Mostert, De Pasquale and Waters.
Van Gisbergen's charge began immediately at the restart when he nosed down the inside of the retiring Lee Holdsworth at the last corner.
Feeney led Mostert to green on lap 49, with Thomas Randle sent into a spin at the last corner by Jack Smith.
On lap 51, defending from Brodie Kostecki, Davison careened into Reynolds at Turn 9, with James Courtney also implicated.
Davison was quickly handed a 15-second penalty over the incident.
Waters attacked De Pasquale on lap 58, but bowled a wide at Turn 5 and gifted fourth to the rampant van Gisbergen.
Van Gisbergen cleared De Pasquale on lap 62 at Turn 9, completing the all-Holden podium.
On the next lap, van Gisbergen's worst fears were confirmed over the radio — a drive-through over the Safety Car infringement.
Van Gisbergen took the penalty immediately, and resumed in 13th.
Feeney marched on and kept Mostert at bay, with the two Commodores driving away from De Pasquale.
The 2021 Super2 champion completed the job with a delighted Triple Eight crew hanging over the pit wall.
Brown came home sixth ahead of van Gisbergen, Brodie Kostecki, Holdsworth and Golding.
With the Holden era now over, all eyes turn to 2023 when the Gen3 Ford Mustang will take on the Chevrolet Camaro.
The first race of the 2023 Repco Supercars Championship will be the Thrifty Newcastle 500 from 10-12 March.
Sunday Results: Valo Adelaide 500
| | | | | | |
| --- | --- | --- | --- | --- | --- |
| Pos | Num | Team/Sponsor | Driver | Car | Laps |
| 1 | 88 | Red Bull Ampol Racing | Broc Feeney | Holden Commodore ZB | 78 |
| 2 | 25 | Mobil 1 Optus Racing | Chaz Mostert | Holden Commodore ZB | 78 |
| 3 | 11 | Shell V-Power Racing Team | Anton De Pasquale | Ford Mustang GT | 78 |
| 4 | 6 | Monster Energy Racing | Cameron Waters | Ford Mustang GT | 78 |
| 5 | 8 | R&J Batteries Racing | Andre Heimgartner | Holden Commodore ZB | 78 |
| 6 | 9 | Boost Mobile Racing by Erebus | William Brown | Holden Commodore ZB | 78 |
| 7 | 1 | Red Bull Ampol Racing | Shane van Gisbergen | Holden Commodore ZB | 78 |
| 8 | 99 | Boost Mobile Racing by Erebus | Brodie Kostecki | Holden Commodore ZB | 78 |
| 9 | 10 | Penrite Racing | Lee Holdsworth | Ford Mustang GT | 78 |
| 10 | 31 | Subway PremiAir Racing | James Golding | Holden Commodore ZB | 78 |
| 11 | 18 | IRWIN Racing | Mark Winterbottom | Holden Commodore ZB | 78 |
| 12 | 2 | Mobil 1 NTI Racing | Nick Percat | Holden Commodore ZB | 78 |
| 13 | 3 | CoolDrive Auto Parts | Tim Slade | Ford Mustang GT | 78 |
| 14 | 20 | Toyota Forklifts | Scott Pye | Holden Commodore ZB | 78 |
| 15 | 26 | Penrite Racing | David Reynolds | Ford Mustang GT | 78 |
| 16 | 22 | PremiAir Coca Cola Racing | Chris Pither | Holden Commodore ZB | 78 |
| 17 |  5 | Snowy River Racing | James Courtney | Ford Mustang GT | 78 |
| 18 | 55 | Castrol Racing | Thomas Randle | Ford Mustang GT | 78 |
| 19 | 17 | Shell V-Power Racing Team | Will Davison | Ford Mustang GT | 78 |
| 20 | 4 | SCT Racing | Jack Smith | Holden Commodore ZB | 77 |
| 21 | 35 | Truck Assist Racing | Todd Hazelwood | Holden Commodore ZB | 71 |
| 22 | 96 | TRG Transport Racing | Macauley Jones | Holden Commodore ZB | 67 |
| NC | 14 | Middy's Electrical | Bryce Fullwood | Holden Commodore ZB | 41 |
| NC | 34 | Truck Assist Racing | Jack Le Brocq | Holden Commodore ZB | 37 |
| NC | 56 | Tradie Racing | Jake Kostecki | Ford Mustang GT | 16 |
Drivers' championship
| | | |
| --- | --- | --- |
| Pos | Driver | Pts |
| 1 | Shane van Gisbergen | 3523 |
| 2 | Cameron Waters | 2908 |
| 3 | Chaz Mostert | 2835 |
| 4 | Anton De Pasquale | 2599 |
| 5 | Will Davison | 2573 |
| 6 | Broc Feeney | 2377 |
| 7 | Brodie Kostecki | 2142 |
| 8 | David Reynolds | 2132 |
| 9 | Mark Winterbottom | 1909 |
| 10 | Andre Heimgartner | 1877 |
| 11 | Tim Slade | 1855 |
| 12 | James Courtney | 1748 |
| 13 | Lee Holdsworth | 1734 |
| 14 | William Brown | 1714 |
| 15 | Nick Percat | 1643 |
| 16 | Scott Pye | 1512 |
| 17 | Bryce Fullwood | 1383 |
| 18 | Todd Hazelwood | 1345 |
| 19 | Macauley Jones | 1282 |
| 20 | Chris Pither | 1257 |
| 21 | Jack Le Brocq | 1237 |
| 22 | Jake Kostecki | 1192 |
| 23 | Thomas Randle | 1156 |
| 24 | Jack Smith | 1054 |
| 25 | James Golding | 708 |
| 26 | Garry Jacobson | 513 |
| 27 | Garth Tander | 300 |
| 28 | Jordan Boys | 300 |
| 29 | Fabian Coulthard | 276 |
| 30 | James Moffat | 258 |
| 31 | David Russell | 240 |
| 32 | Jayden Ojeda | 240 |
| 33 | Jamie Whincup | 222 |
| 34 | Matthew Payne | 204 |
| 35 | Tony D'Alberto | 192 |
| 36 | Declan Fraser | 180 |
| 37 | Craig Lowndes | 180 |
| 38 | Dean Fiore | 168 |
| 39 | Zak Best | 162 |
| 40 | Jack Perkins | 156 |
| 41 | Greg Murphy | 144 |
| 42 | Richie Stanaway | 144 |
| 43 | Dylan O'Keeffe | 138 |
| 44 | Aaron Seton | 126 |
| 45 | Michael Caruso | 120 |
| 46 | Tyler Everingham | 114 |
| 47 | Kurt Kostecki | 108 |
| 48 | Matthew Chahda | 102 |
| 49 | Jaylyn Robotham | 102 |
| 50 | Tim Blanchard | 96 |
| 51 | Cameron Hill | 84 |
| 52 | Warren Luff | 78 |
| 53 | Alex Davison | 0 |
| 54 | Jaxon Evans | 0 |
| 55 | Zane Goddard | 0 |
| 56 | Dale Wood | 0 |
| 57 | Matt Campbell | 0 |
Teams championship
Pos
Car(s)
Team
Pts
1
1
88
(97)
Triple Eight Race Engineering
5900
2
11
17
(100)
Dick Johnson Racing
5172
3
5
6
(50)
(500)
Tickford Racing
4656
4
2
25
Walkinshaw Andretti United
4448
5
10
26
(500)
Grove Racing
3866
6
9
99
Erebus Motorsport
3856
7
18
20
Team 18
3401
8
8
14
Brad Jones Racing
3260
9
34
35
Matt Stone Racing
2532
10
22
31
(76)
PremiAir Racing
2418
11
4
96
Brad Jones Racing
2336
12
55
56
Tickford Racing
2318
13
3
Blanchard Racing Team
1855
14
888
Triple Eight Race Engineering
180
15
49
Image Racing
168
16
78
Tickford Racing
162
17
27
Walkinshaw Andretti United
150
18
51
Erebus Motorsport
144
19
118
Matt Chahda Motorsport
102