F1: Series releases update on pursual of Net Zero Carbon by 2030
F1 has given an update on its progress towards being Net Zero Carbon by 2030.
The series has confirmed its commitment to introducing a regionalized calendar in future seasons. As part of its goal of reaching net-zero carbon by 2030 the sport will attempt to rationalize a calendar that is currently inefficient and detrimental in its environmental impact.
By far the greatest part of F1's carbon footprint is generated by air travel to and from race meetings. Next year the calendar is still planned to be 24 races and includes, because of previously agreed contractual arrangements, scheduling that entails unnecessary flying.
It is expected the new schedule would see the sport compete in four regions, each hosting its own "season" comprised of the Middle East, Europe, the Americas and east Asia/Australia.
"We are committed to making Formula 1 more sustainable and increasing diversity and opportunity across this incredible sport. We remain focused on these very important objectives and have continued to make strong progress in 2022," said F1 CEO Stefano Domenicali as part of an update on how F1 has developed over the last 12 months.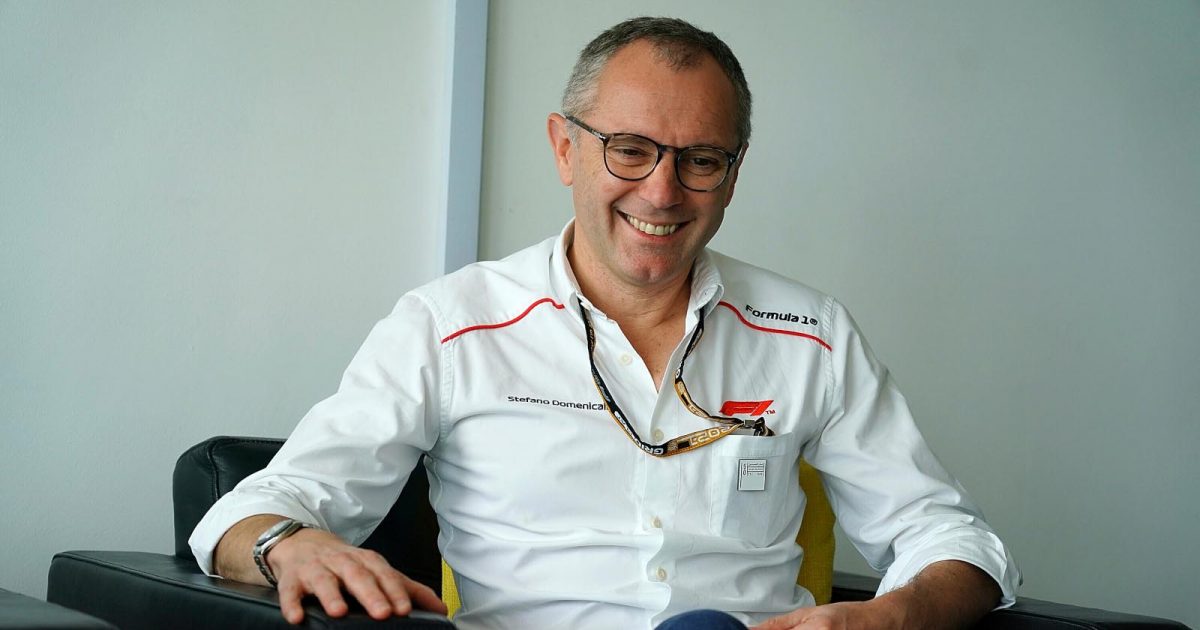 "We have delivered important initiatives on our journey to be Net Zero Carbon by 2030, expanded our scholarship program for underrepresented groups and announced the F1 Academy that will provide opportunities for young female drivers to begin their journeys to the highest levels of our sport.
"We are proud of what we are delivering, but we know we must continue to make progress and deliver positive lasting change for Formula 1."
Ellen Jones, Head of Sustainability at Formula 1, said:
"We're now three years into our journey to Net Zero by 2030 and it's fantastic to see the progress that's been made already. The work that's going on behind the scenes to bring this strategy to life is tireless and we are confident that we are building strong foundations for the future of our business and sport. Thank you to everyone across Formula 1, from our fans, teams, race promoters, and many more, for your efforts this year as we build a more sustainable and inclusive business. We look forward to working with you even more in the next year."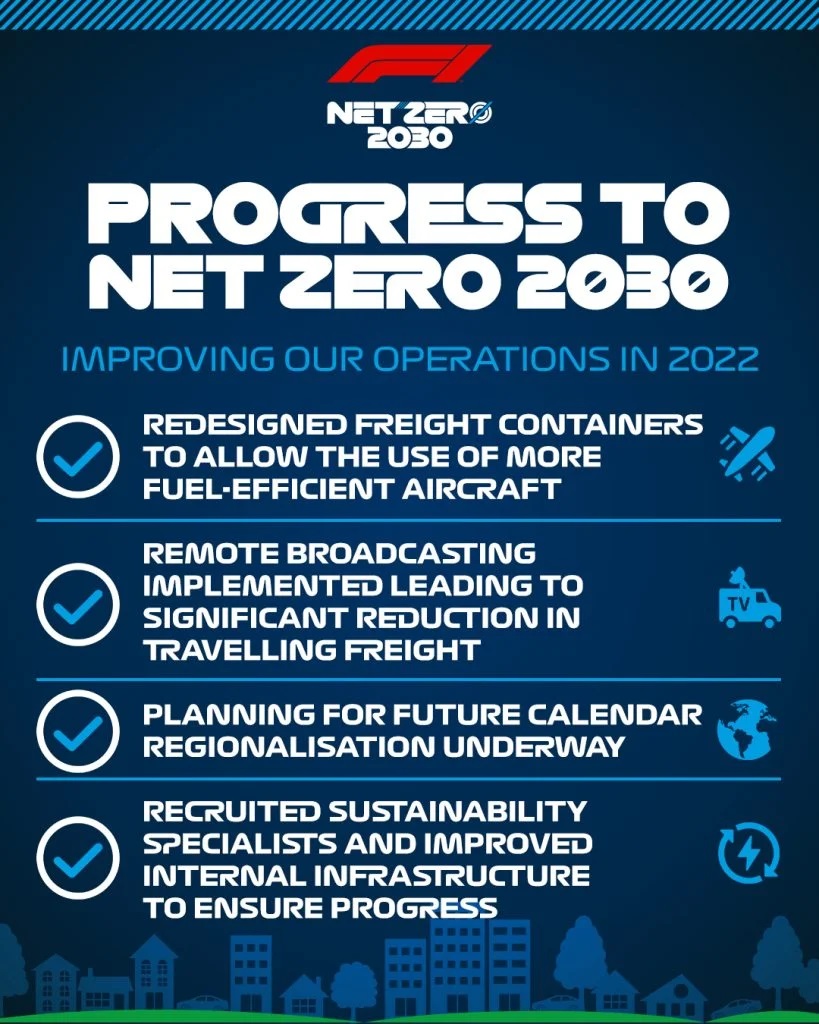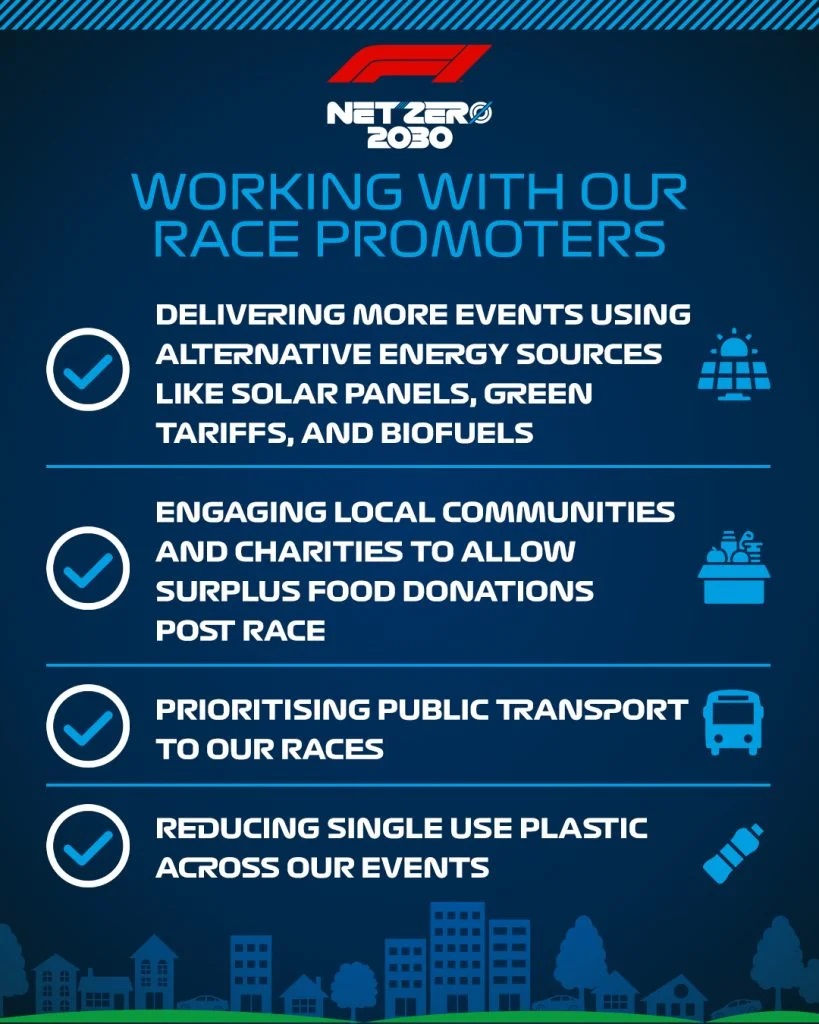 As for racing fuel, while its use represents less than 1% of F1's emissions, developments in this area can have a significant effect on the global transportation sector. And, after creating the most efficient hybrid engine in the world, F1 and the FIA are leading in the development of a sustainable fuel solution for 2026 and beyond – when new engine regulations will come into play.
Designed with a 'drop-in' feature to accelerate adoption and reduce costs for use in existing road cars (both internal combustion engines and hybrids), the fuel will be carbon neutral and has the potential to impact the entire global car parc.
By 2030, there will be an estimated 1.4 billion cars on the road globally, with only 8% pure Battery Electric Vehicles, leaving more than 1.2bn Internal Combustion Engine (ICE) vehicles. F1's sustainable fuel would be available for use in all of these existing vehicles, reducing emissions globally, while it could also filter through to heavy road transport, shipping and aviation.