F1: Breaking down the cost impact to F1 teams if Andretti team admitted
(2nd Update)
It would seem that the existing F1 team owners need to read our article below because they are all saying that they like the idea of Andretti and Cadillac coming into F1, but they want to understand how their prize money won't be reduced.
As we showed with the examples below, as F1 becomes increasingly successful, the prize money for all teams will rise and an all-American team like Andretti/Cadillac is certain to increase not only TV viewership and hence TV revenue, but also more sponsors entering the sport.
And entering an all-Asian team like Panthera Asia, would have a similar positive impact.
The more money Liberty Media makes, the more each team gets. Current Revenue = $2.5b.  If the Andretti team helps to raise revenue to $3b after the first two years, all the teams will be swimming in huge profits – the negative impact of the 11th team totally wiped out.
"Like all these things it all comes down to money, and I think there would be a tipping point," Christian Horner told RACER. "If the teams' prize fund was compensated to a value where you weren't materially losing out, then of course it's, what is that number? And then would that be prohibitive for a new entrant to come in?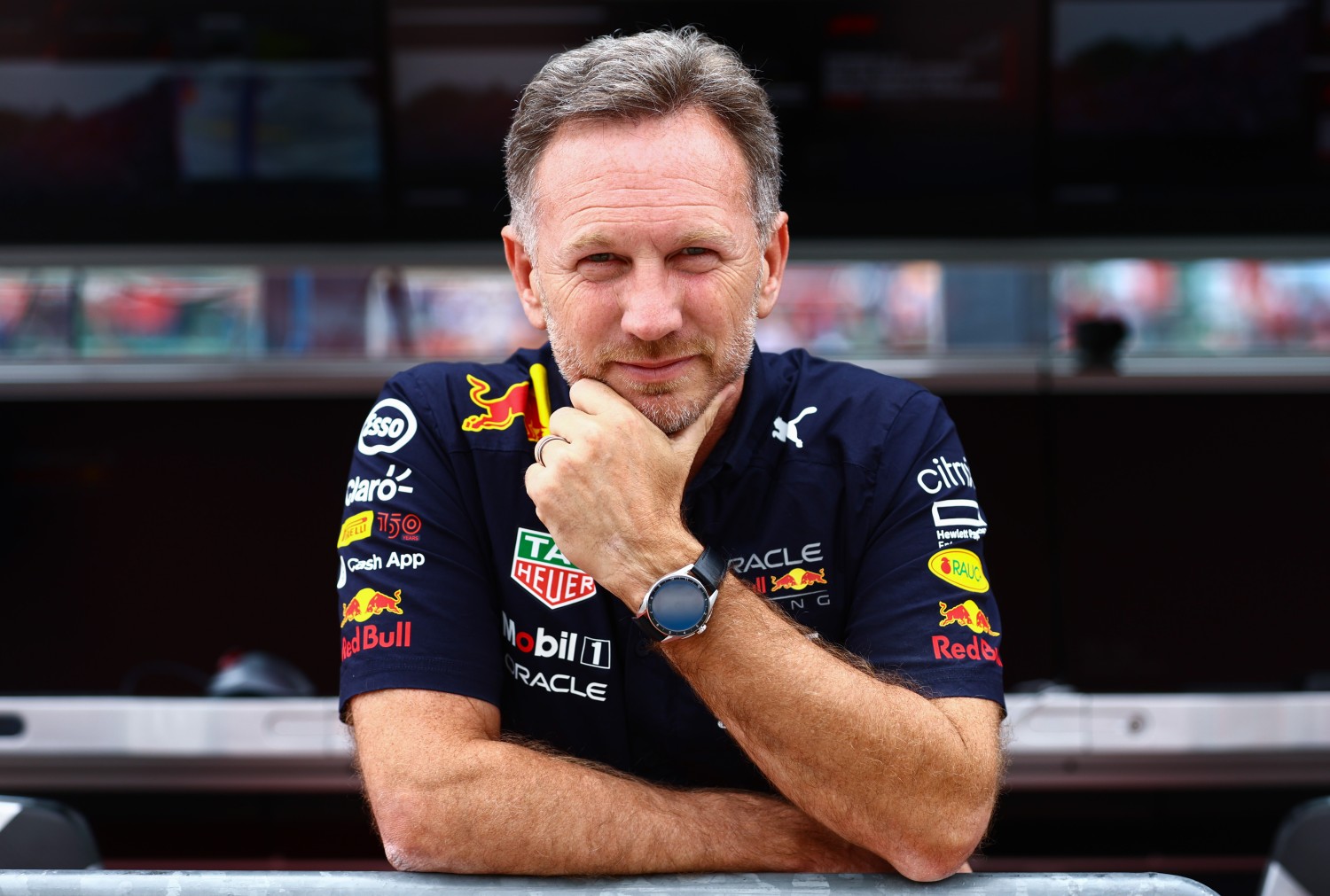 "In the 18 years that I've been involved I've seen certain teams come and go, and I think it's the first time ever in the last couple of years that all 10 teams have had solid financial footing. There's usually one or two teams that have been on the brink of insolvency or bankruptcy. I think all 10 teams are in great shape, and that's in part due to the popularity of the sport, but also the budget cap and the fact that there are only 10 tickets and 10 franchises.
"I think Formula 1 will be very conscious of diluting that if they could be giving themselves problems further down the line."
"Look, Andretti is a great brand, a great team," Horner continued. "Mario, what he did in Formula 1 — as an American as well — is fantastic. Obviously, GM with Cadillac as well would be two phenomenal brands to have in the sport, and I don't think there can be any dispute about that.
"As with all these things though, it ultimately boils down to, 'Well, who's going to pay for it?' And you can assume that the teams, if they're perceived to be the ones who are paying for it –– or diluting their payments to accommodate it — of course it's not going to sit that well."
"The two teams that are supporting it (McLaren and Alpine) either have a partnership in the U.S. with them, or are going to supply them an engine. The other eight are saying, 'Well hang on, why should we dilute our element of the prize fund?'
"Then on the other side you've got the Liberty (Media) guys saying, 'Well we're not going to pay for it, we're happy with 10 healthy, competitive franchises from an operational perspective — garages, logistics, motorhomes — it's all more to accommodate.' I'm sure they would prefer the Audi model, where they come in and acquire an existing franchise.
"If you introduce another one or two teams, you dilute the value of the current 10 franchises, which of course teams — particularly down towards the bottom end of the grid — have got a very inflated inherent value at the moment.
"I hope a solution can be found. What would be cleaner would be if they were able to take on one of the existing teams or franchises, but they are certainly both great brands that would be very, very welcome in Formula 1."
"You can understand the FIA, they've got no financial consequence of this because they don't participate in the prize fund, and they'd receive further entry fees for more teams coming in. So you can understand the FIA potentially wanting more teams on the grid. But I think they need to find alignment with the commercial rights holder, and the 2026 Concorde Agreement would seem the right place to deal with that.
"It just needs all parties to have a sensible conversation and agree something that is practical and workable."
---
January 14, 2023
Some color coding has been added to the tables below to make it easier to follow the breakdown of monies.
A lot of people have written to thank us for giving them a better understanding of how F1 teams get paid. They had no idea it was so complicated.
---
January 14, 2023
There is a concern from the existing 10 Formula 1 teams that the $200 million anti-dilution fee Andretti would have to pay to enter his team in F1 is not enough.
Formula One is a hugely profitable sport, with revenue over $2.5 billion and climbing.
The Liberty Media-owned sports venture has seen 20% growth in key fan bases in countries like Brazil, China, France, Germany, Italy, Russia, South Korea, Spain, the United Kingdom, and the United States. It has also the greatest increase in engagement (99%) compared to 48% of Bundesliga across Twitter, Facebook, Instagram, and Youtube. A single race's revenue might range from $100 million to $140 million.
Let's examine how F1 teams are paid.
Money Earned through Revenue:
The Formula 1 revenue, which is about 47.5% of the total profit, is divided into two categories equally 50%:
50% goes to the 10 Teams/Constructors.
The other 50% to the F1 Shareholders
The 50% received by the teams is then divided into two separate columns:
Column 1 payment (Equal Money) = F1 divide 23.7% equally for top 10 teams
Column 2 payment (Merit Money) 23.7% for teams according to how they finish in the constructor championship. (Mercedes will get paid more in comparison to the last standing Haas)
An exception to this rule is Ferrari. They get paid an additional 2.5% as they have signed a special contract with Formula One.
Historically successful teams (Ferrari, Williams, McLaren, Renault) and the teams which have been in the Top 3 of the constructor's championship (Mercedes, Red Bull, Ferrari) earn an additional income. This income is generated out of a threshold (20% of what F1 makes over $650 Million).
Assuming, F1's generated income is $850 million, as per the threshold : $850 – $650 Millions = $200 Million.
For example, assuming it was a $200 million number, the top three teams in the Constructors Championship and the historically successful teams will split 20% of the $200 million among each other = $40 million / 7 Teams = $5.71 per slice with some getting 1 slice, and others 2, if they are both a top-3 team and a Historically successful team
Prize Money
The Prize Money is made up of the money left over after the revenue, additional income and special payment to Ferrari. Since the start of the 2021 season is split much more equally than before.
The share of prize money depends upon the team's finishing positions in the Constructors' Championship and is distributed on a scale of – 0.9%.
Mercedes, who finished first in 2021, should have received 14% of the prize money, Red Bull 12.9%—lowering down to Haas, who should have received 6% of the prize money.
Red Bull themselves should have received around $66 Million in prize money from Formula. Mercedes have earned above $73 Million (66Million multiplied by 14% + 66 Million).
Ferrari, on the other hand, was given a 2.5% ($68 million bonus) just for agreeing to stay in the racing league despite finishing 3rd in the final Constructors Standings. Due to their high-profile status and history in the league, securing Ferrari staying in F1 is a high priority for the FIA.  Ferrari has reached a special deal with F1 that secures them a 2.5% bonus of the prize money.
Prior Example of FOM Payout to Teams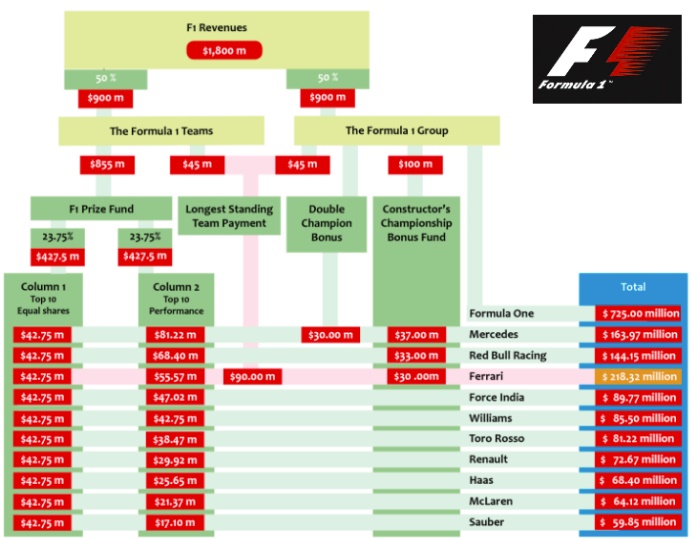 Revenue will continue increasing for years to come with the ever growing increase of viewership with the help of Netflix's Drive to Survive, Merchandise sales, Social media presence.
Estimated 2023 Payout 'without' Andretti Team
With F1 doing to well, it is expected total 2022 F1 Revenue is estimated to be $2.5 billion, not the $1.8 billion shown in the breakdown above. Hence, the payouts are going to jump substantially.
Q1 Actual $360m
Q2 Actual $744m
Q3 Actual $715m
Q4 Estimated $750m
Total 2022 Revenue Estimated $2.5 Billion
Keep in mind that we are not aware of all the financial minutia in the Concorde Agreement, just the methodology that is used.
2022 Constructor Standings
| | | |
| --- | --- | --- |
| POS | TEAM | PTS |
| 1 | Red Bull | 759 |
| 2 | Ferrari | 554 |
| 3 | Mercedes | 515 |
| 4 | Alpine | 173 |
| 5 | McLaren | 159 |
| 6 | Alfa Romeo | 55 |
| 7 | Aston Martin | 55 |
| 8 | Haas | 37 |
| 9 | AlphaTauri | 35 |
| 10 | Williams | 8 |
Estimated 2023 Payout Table With Existing 10 Teams
F1 Revenue
       

$2,500,000,000

50%

50%

$1,250,000,000

$1,250,000,000

 

95%

The Formula 1 Teams

 5% 

 5% 

The FOM Group

$1,187,500,000

$62,500,000

$62,500,000

$100,000,000

23.75%

F1 Prize Fund

23.75%

$62.5m + $62.5m

|
 

$593,750,000

 

$593,750,000

$125,000,000

|
Column 1 Top 10 Equal Shares
Column 2
Column 2 Top-10 Performance
Longest Standing Team Payment $62.5m x 2
From The FOM
Double Champion Bonus
|
|
∨
Constructor's Championship Bonus Fund
Total Payout
Red Bull

 $59,375,000

14.00%

 $83,125,000

50,000,000

 $37,000,000

 $229,500,000

Ferrari

 $59,375,000

13.11%

 $77,847,222

 

$125,000,000

 $33,000,000

 $295,222,222

Mercedes

 $59,375,000

12.22%

 $72,569,444

 $30,000,000

 $161,944,444

Alpine

 $59,375,000

11.33%

 $67,291,666

 $126,666,666

Mclaren

 $59,375,000

10.44%

 $62,013,889

 $121,388,889

Alfa Romeo

 $59,375,000

9.56%

 $56,736,111

 $116,111,111

Aston Martin

 $59,375,000

8.67%

 $51,458,333

 $110,833,333

Haas

 $59,375,000

7.78%

 $46,180,555

 $105,555,555

AlphaTauri

 $59,375,000

6.89%

 $40,902,778

 $100,277,778

Williams

 $59,375,000

6.00%

 $35,625,000

 $95,000,000

Totals
 $593,750,000

100%

$593,750,000
 $125,000,000
 $50,000,000
 $100,000,000
$1,462,500,000
Estimated 2023 Payout 'with' Andretti Global Team
Everyone assumes that because there would be 11 teams, each team would lose 10%.  That is incorrect.
First off, a team like Ferrari is guaranteed a bonus.  Column 1 and Column 2 money would be affected, Column 3, 4 and 5 money would not change.
For arguments sake, the following table assumes the Andretti Global Team would finish last of the 11 teams in their first year
2023 Payout Table Assuming Andretti Global as 11th Team
F1 Revenue

$2,500,000,000

50%

50%

         

$1,250,000,000

       

$1,250,000,000

95%

The Formula 1 Teams

 5% 

 5% 

The FOM Group

          

$1,187,500,000

$62,500,000

$62,500,000

$100,000,000

23.75%

F1 Prize Fund

23.75%

$62.5m + $62.5m

|
 

$593,750,000

 

$593,750,000

$125,000,000

|

Column 1 Top 11 Equal Shares

Column 2

Column 2 Top-11 Performance

Longest Standing Team Payment $62.5m x 2

From the FOM
Double Champion Bonus
|
|
∨
Constructor's Championship Bonus Fund

Total Payout

Red Bull

 $53,977,273

13.09%

 $77,727,273

 $50,000,000

 $37,000,000

 $218,704,545

Ferrari

 $53,977,273

12.29%

 $72,977,273

 

$125,000,000

 $33,000,000

 $284,954,545

Mercedes

 $53,977,273

11.49%

 $68,227,273

 $30,000,000

 $152,204,545

Alpine

 $53,977,273

10.69%

 $63,477,273

 $117,454,545

Mclaren

 $53,977,273

9.89%

 $58,727,273

 $112,704,545

Alfa Romeo

 $53,977,273

9.09%

 $53,977,273

 $107,954,545

Aston Martin

 $53,977,273

8.29%

 $49,227,273

 $103,204,545

Haas

 $53,977,273

7.49%

 $44,477,273

 $98,454,545

AlphaTauri

 $53,977,273

6.69%

 $39,727,273

 $93,704,545

Williams

 $53,977,273

5.89%

 $34,977,273

 $88,954,545

Andretti

 $53,977,273

5.09%

 $30,227,273

 $84,204,545

Totals

 $593,750,000

100%

 $593,750,000

 $125,000,000

 $50,000,000

 $100,000,000

 $1,462,500,000
Impact of 11th Team on Existing 10 Teams
Assuming the Andretti Team brought zero extra value to F1, we can get the negative impact on the existing 10 teams by subtracting the two tables above. If the Andretti Team helps Revenue grow to $3 billion, which we expect will happen rather quickly, the teams will be making a lot more money as shown below.
As you can see, if the Andretti team brings an additional $500 million in value to F1 the initial loss to the 10 teams becomes a gain that is more than the loss.
Team
Annual Impact of 11th Team
Impact after $200m Andretti anti-dilution money ($10m/Team x 2 years)
Years 1 & 2 of Andretti Entry
*Annual Impact of 11th Team if Revenue =$3billion
Red Bull

$(10,795,454)

$(795,454)

+$15,545,455
Ferrari

$(10,267,676)

$(267,676) 

+$15,123,233
Mercedes

$(9,739,899)

+$260,101
+$14,701,010
Alpine

$(9,212,121)

+$787,879
+$14,278,788
Mclaren

$(8,684,343)

+$1,315,657
+$13,856,566
Alfa Romeo

$(8,156,565)

+$1,843,435
+$13,434,344
Aston Martin

$(7,628,788)

+$2,371,212
+$13,012,121
Haas

$(7,101,010)

+$2,898,990
+$12,589,899
AlphaTauri

$(6,573,232)

+$3,426,768
+$12,167,677
Williams

$(6,045,455)

+$3,954,545
+$11,745,455
Andretti
N/A
N/A
+$16,840,910
Red = Negative Impact or loss
* Amounts computed by plugging in $3b in place of $2.5b Revenue in the spreadsheet above
With the Andretti team coming by 2026, the total F1 revenue will easily exceed $3 billion as popularity in the USA will explode.
In the first year of Andretti entering, each team will get a bonus of $200 million/10  teams = $20 million per team, completely offsetting all their losses for the first two years of Andretti's participation.
None of this includes sponsor money each team takes in.
All the F1 teams are profitable now thanks to Liberty Media.
Conclusion
There will be zero negative financial impact on the 10 existing F1 teams with Andretti Global joining the grid if my assumptions are correct.
Mark Cipolloni (aka Mark C.) reporting for AutoRacing1.com