F1: Saudis tried to buy F1, Americans would not sell
(4th Update)
While FIA president Mohammed Ben Sulayem questions whether F1 is worth $20 billion that the Saudi's reportedly offered Liberty Media to buy it, it's currently valued at around $15 billion – still a far cry above the $4 billion Liberty Media paid for it back in 2017.
The Public Investment Fund—which is chaired by Crown Prince Mohammed bin Salman—has significantly stepped up its presence in sport in recent years. That's after the sovereign wealth fund acquired Premier League outfit Newcastle United for £300million in October 2021, around the same time LIV Golf had its official launch.
Jeddah already hosts one of the 23 races on the F1 calendar, while there have been rumors regarding a Saudi-owned team joining the circuit in the coming years. However, it appears the Kingdom is in search of a bigger piece of the pie – or rather, the pie itself – if word of its takeover bid rings true.
Its investments are certain to not stop there; however, they will have to pay even more after 2027.
Why 2027?
Because we do not see Liberty Media selling it before then because by then:
The F1 calendar will feature the maximum of 25 races, up from the current 23
All the new manufacturers will have entered the series – in addition to Cadillac (assuming Andretti Global is accepted) and Audi, rumored are Ford, Porsche and Hyundai to name a few. If they all come to fruition, F1 will have 8 OEMs involved in the series – 1) Ferrari, 2) Mercedes, 3) Renault, 4) Audi, 5) Cadillac, 6) Ford/Red Bull, 7) Hyundai and 8) Porsche.
Andretti Global and one other new team (rumored to be the Panthera Asian team, possibly with Hyundai) will round out the maximum allowed of 12 teams
If it all happens, the valuation of F1 will be well over $20 billion – all as the result of Americans taking over the sport from the British and its Anti-America dictator Bernie Ecclestone.
---
January 23, 2023
FIA president Mohammed Ben Sulayem has warned of potential risks for Formula 1 if Liberty Media sold it for an estimated $20 billion after spending just $4.4 billion to buy it several years ago.
In a post on Twitter on Monday, Ben Sulayem voiced his concerns about the implications of such a big-money buyout.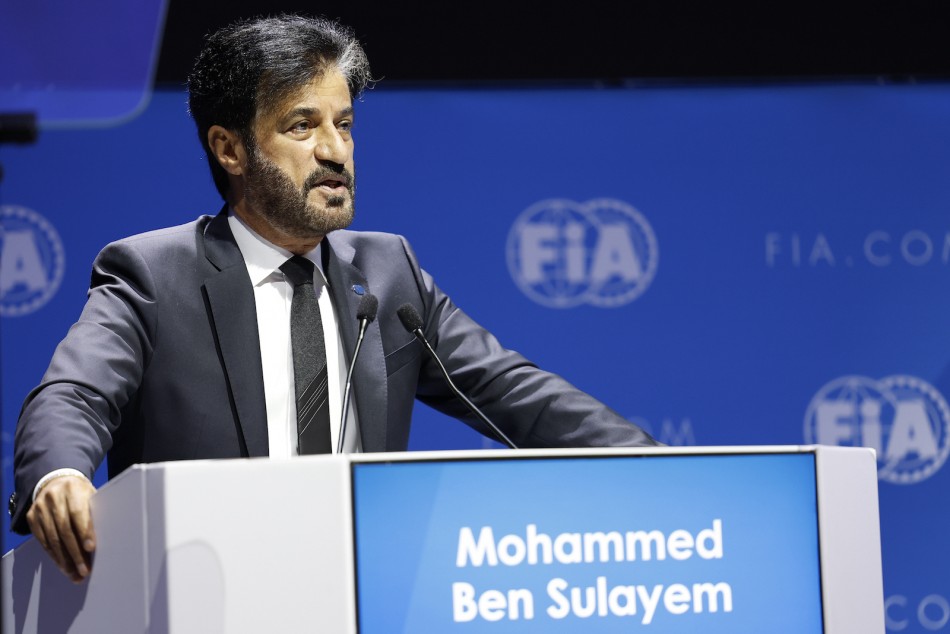 "As the custodians of motorsport, the FIA, as a non-profit organization, is cautious about alleged inflated price tags of $20bn being put on F1," he said.
"Any potential buyer is advised to apply common sense, consider the greater good of the sport and come with a clear, sustainable plan – not just a lot of money.
"It is our duty to consider what the future impact will be for promoters in terms of increased hosting fees and other commercial costs, and any adverse impact that it could have on fans."
Ben Sulayem felt a $20 billion valuation of F1 was not accurate.
"Is it value for money?" he asked. "I think, honestly, it is inflated. It's exaggerated. Talking with common sense, is it worth that much?
"[If it is] then what do we do? We would have to charge to recover that money. How much would we charge the local promoter?
"I'm just looking at the rationale behind it, the logic. Because you have to have a plan."
"I think they should have a plan, also," he said. "Whoever it is should have a plan, not just the money. I'm just looking at the rationale behind it, the logic. You have to have a plan.
"Up to now though, it's rumours. But I believe also the FIA should be part of talks, or offer advice, because the FIA owns the championship.
"We lease it, it is true. But I just want to ensure we have clarity so we can go forward."
---
January 22, 2023
(GMM) Liberty Media, Formula 1's current commercial rights holder, turned down an offer to sell the sport for an impressive profit.
Citing sources, Bloomberg reports that Saudi Arabia's Public Investment Fund looked at a potential $20 billion takeover, but Liberty Media "was not interested in selling".
Saudi officials and US-based Liberty Media did not comment, but Saudi Arabia appears determined to keep adding to its impressive portfolio including a premier league football team and potentially the WWE wrestling.
Liberty Media bought Formula 1 with a $4.6 billion deal that settled in 2017, but tracking stock currently values the sport at well over $15 billion.
Saudi Arabia has a long-term deal to keep hosting a grand prix in Jeddah, although work on a more permanent venue in Qiddiya is underway.
Race boss Martin Whitaker confirmed reports that the Kingdom of Saudi Arabia could even become Formula 1's season-opening host from 2024.
"Ultimately any decision on the timings of the race next year is in the hands of Formula 1 and the FIA," he said.
---
January 20, 2023
The Saudi PIF, which funds LIV Golf and owns Premier League team Newcastle, valued F1 at well above $20 billion, including debt.
Liberty Media bought F1 for $4.4 billion in 2017 and wasn't interested in selling, which would have been close to a 400% profit.
Liberty Media's F1 tracking stock jumped around 6.9% in early trading on Friday and is up 12.6% over the last 12 months. The stock's value has more than doubled since the beginning of 2019 and has a current market cap of $30.2 billion.
---
January 20, 2023
After the Americans saved Formula 1 from the mess it was in under British ownership and control, they have no intent on selling it to someone else who may destroy what they have built.
Saudi Arabia's sovereign wealth fund considered an attempt to add Formula 1 motor racing to its growing portfolio of sports investments, people familiar with the matter said.
A potential deal faltered in the early stages last year as F1's owner American Liberty Media Corp. was not interested in selling the high-profile franchise, which Saudi Arabia's Public Investment Fund valued at well above $20 billion including debt, the people said.
The PIF remains interested in the asset and would be a serious bidder should Liberty Media change its mind and decide to sell, the people said, asking not to be identified discussing confidential information.
Representatives for PIF and Liberty Media didn't respond to requests for comment.
F1 would represent a flagship acquisition. The sport has risen in popularity since being acquired by billionaire John Malone's Liberty Media in a $4.4 billion deal in 2017. Liberty Media has sought to cultivate a new generation of fans by extending F1's reach in Asia and the US and launching a direct-to-consumer streaming service.
The Middle East has been another area of focus for F1's owners. The region will host four races in the 2023 season, with the first two set to take place in Bahrain and Saudi Arabia in March. Saudi Aramco, the world's biggest oil producer, struck a landmark sponsorship deal with F1 in 2020. GulfNews.com