IMSA: Campbell Puts Porsche on Top in Thursday Evening Rolex 24 Practice
Matt Campbell went quickest overall for Porsche Penske Motorsport in Thursday evening practice session for the Rolex 24 at Daytona.
The Australian driver of the No. 7 Porsche 963 topped the charts with a time of 1:35.802,  0.172 seconds faster than the #10 Acura of Felipe Albuquerque, while Alex Lynn ranked third in the No. 02 Chip Ganassi Racing Cadillac V-LMDh.
Richard Westbrook clocked the field's best lap of the day in Practice 2 at 1:35.185. The No. 02 Cadillac V-LMDh, driven by Earl Bamber, Alex Lynn and Westbrook, found success in Practice 1, as well, placing P2 with their time of 1:35.632.
Matthieu Vaxiviere set the pace in the all-Oreca LMP2 class for AF Corse.
In GTD Pro, #79 Maro Engel turned a lap of 1:46.011 in the WeatherTech Racing Mercedes-AMG.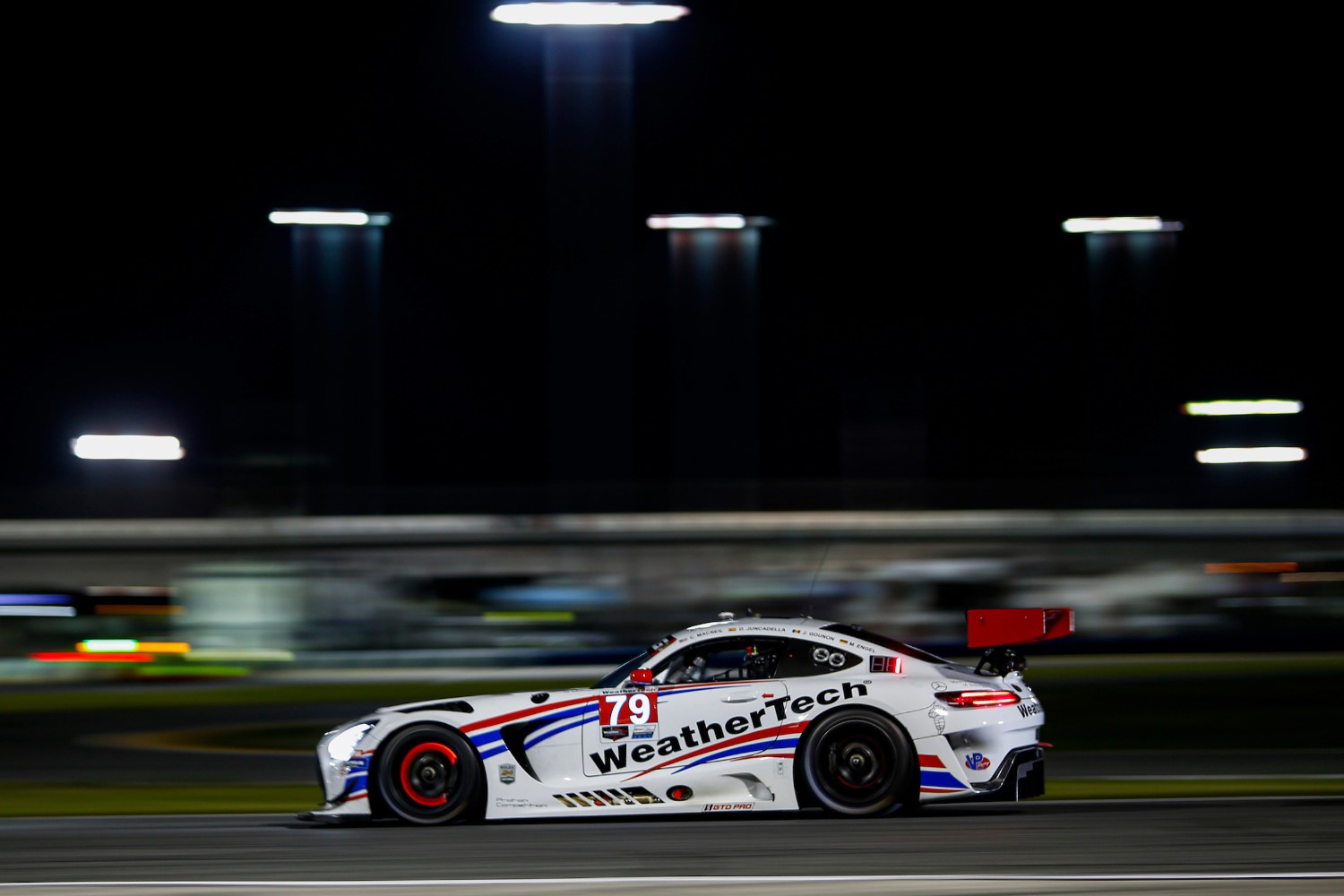 The next Rolex 24 practice session is scheduled for 11:20 a.m. ET on Friday morning.
Practice 3 Results
Pos

Pic

No.

Class

Drivers*

Team

Car

Time

Behind/Gap/Mph

1

1

7

GTP

M. Campbell / F. Nasr

M. Christensen

Porsche Penske Motorsports

Porsche 963

1:35.802

+0.000 +0.000 133.776

2

2

10

GTP

R. Taylor / F. Albuquerque

L. Deletraz / B. Hartley

Konica Minolta Acura ARX-06

Acura ARX-06

1:35.974

+0.172 +0.172 133.536

3

3

02

GTP

E. Bamber / A. Lynn / R. Westbrook

Cadillac Racing

Cadillac V-LMDh

1:36.179

+0.377 +0.205 133.251

4

4

01

GTP

S. Bourdais / R. van der Zande

S. Dixon

Cadillac Racing

Cadillac V-LMDh

1:36.214

+0.412 +0.035 133.203

5

5

31

GTP

P. Derani / A. Sims / J. Aitken

Whelen Engineering Racing Cadillac V-LMDh

Cadillac V-LMDh

1:36.270

+0.468 +0.056 133.125

6

6

25

GTP

C. De Phillippi / N. Yelloly

S. van der Linde / C. Herta

BMW M Team RLL

BMW M Hybrid V8

1:36.462

+0.660 +0.192 132.860

7

7

6

GTP

M. Jaminet / N. Tandy / D. Cameron

Porsche Penske Motorsports

Porsche 963

1:36.498

+0.696 +0.036 132.811

8

8

60

GTP

T. Blomqvist / C. Braun

H. Castroneves / S. Pagenaud

Meyer Shank Racing w/ Curb Agajanian

Acura ARX-06

1:36.909

+1.107 +0.411 132.248

9

9

24

GTP

P. Eng / A. Farfus / M. Wittmann

C. Herta

BMW M Team RLL

BMW M Hybrid V8

1:37.152

+1.350 +0.243 131.917

10

1

88

LMP2

F. Perrodo / M. Vaxiviere / J. Canal

N. Nielsen

AF Corse

ORECA LMP2 07

1:38.416

+2.614 +1.264 130.222

11

2

52

LMP2

B. Keating / P. Chatin / A. Quinn

N. Lapierre

PR1 Mathiasen Motorsports

ORECA LMP2 07

1:38.555

+2.753 +0.139 130.039

12

3

04

LMP2

G. Kurtz / B. Hanley / M. McMurry

E. Gutierrez

Crowdstrike Racing by APR

ORECA LMP2 07

1:38.663

+2.861 +0.108 129.896

13

4

8

LMP2

J. Farano / S. McLaughlin

J. Newgarden / K. Simpson

Tower Motorsports

ORECA LMP2 07

1:38.997

+3.195 +0.334 129.458

14

5

18

LMP2

D. Merriman / R. Dalziel

C. Rasmussen / O. Jarvis

Era Motorsport

ORECA LMP2 07

1:39.112

+3.310 +0.115 129.308

15

6

11

LMP2

S. Thomas / M. Jensen / S. Huffaker

R. VeeKay

TDS Racing

ORECA LMP2 07

1:39.167

+3.365 +0.055 129.236

16

7

20

LMP2

D. Andersen / E. Jones / A. Fjordbach

R. Marciello

High Class Racing

ORECA LMP2 07

1:39.257

+3.455 +0.090 129.119

17

8

35

LMP2

F. Heriau / G. van der Garde

J. Pierson / J. Van Uitert

TDS Racing

ORECA LMP2 07

1:39.491

+3.689 +0.234 128.815

18

1

36

LMP3

J. Andretti / G. Chaves / D. Dickerson

R. Lindh

Andretti Autosport

Ligier JS P320

1:42.559

+6.757 +3.068 124.962

19

2

17

LMP3

A. Mantella / W. Boyd / N. Varrone

T. Merrill

AWA

Duqueine D08

1:42.884

+7.082 +0.325 124.567

20

9

51

LMP2

E. Lux / D. Defrancesco / A. Cindric

P. Fittipaldi

Rick Ware Racing

ORECA LMP2 07

1:43.004

+7.202 +0.120 124.422

21

3

13

LMP3

O. Fidani / M. Bell / L. Kern / M. Kranz

AWA

Duqueine D08

1:43.053

+7.251 +0.049 124.363

22

4

43

LMP3

S. Alvarez / J. French / G. de Oliveira

D. Frost

MRS GT-Racing

Ligier JS P320

1:43.370

+7.568 +0.317 123.982

23

5

74

LMP3

G. Robinson / F. Fraga / J. Burdon

G. van Berlo

Riley

Ligier JS P320

1:43.480

+7.678 +0.110 123.850

24

6

85

LMP3

T. Bechtolsheimer / T. van der Helm

L. Mars / M. Filippi

JDC Miller MotorSports

Duqueine D08

1:43.663

+7.861 +0.183 123.631

25

7

87

LMP3

Y. Kanamaru / A. Serravalle

N. Boulle / J. Vance

FastMD Racing

Duqueine D08

1:44.048

+8.246 +0.385 123.174

26

8

38

LMP3

J. DeAngelis / C. Allen / C. Bloum

C. Shields

Performance Tech Motorsports

Ligier JS P320

1:45.366

+9.564 +1.318 121.633

27

1

79

GTDPRO

C. MacNeil / D. Juncadella / J. Gounon

M. Engel

WeatherTech Racing

Mercedes-AMG GT3

1:46.011

+10.209 +0.645 120.893

28

1

32

GTD

M. Skeen / M. Grenier / K. Koch

M. Goetz

Team Korthoff Motorsports

Mercedes-AMG GT3

1:46.177

+10.375 +0.166 120.704

29

2

70

GTD

B. Iribe / F. Schandorff / O. Millroy

M. Kirchhofer

Inception Racing

McLaren 720S GT3

1:46.433

+10.631 +0.256 120.413

30

3

12

GTD

A. Telitz / F. Montecalvo / K. Kirkwood

P. Thompson

VasserSullivan

Lexus RC F GT3

1:46.481

+10.679 +0.048 120.359

31

4

66

GTD

S. Monk / K. Legge / M. Farnbacher

M. Miller

Gradient Racing

Acura NSX GT3

1:46.514

+10.712 +0.033 120.322

32

2

14

GTDPRO

J. Hawksworth / B. Barnicoat

M. Conway

Vasser Sullivan

Lexus RC F GT3

1:46.577

+10.775 +0.063 120.251

33

5

44

GTD

J. Potter / A. Lally / S. Pumpelly

N. Thiim

Magnus Racing

Aston Martin Vantage GT3

1:46.600

+10.798 +0.023 120.225

34

6

75

GTD

K. Habul / L. Stolz / F. Schiller

A. Jefferies

Sun Energy 1

Mercedes-AMG GT3

1:46.626

+10.824 +0.026 120.196

35

7

93

GTD

A. Harrison / D. Formal / K. Marcelli

R. Briscoe

Racers Edge Motorsports with WTR

Acura NSX GT3

1:46.638

+10.836 +0.012 120.182

36

3

63

GTDPRO

A. Caldarelli / M. Bortolotti / J. Pepper

R. Grosjean

Iron Lynx

Lamborghini Huracan GT3 EVO2

1:46.741

+10.939 +0.103 120.066

37

4

3

GTDPRO

A. Garcia / J. Taylor / T. Milner

Corvette Racing

Chevrolet Corvette C8.R GTD

1:46.776

+10.974 +0.035 120.027

38

5

64

GTDPRO

T. Giovanis / H. Plumb / M. Plumb

O. Trinkler

TGM/TF Sport

Aston Martin Vantage GT3

1:46.862

+11.060 +0.086 119.930

39

6

23

GTDPRO

R. Gunn / A. Riberas / D. Pittard

Heart of Racing Team

Aston Martin Vantage GT3

1:47.015

+11.213 +0.153 119.759

40

8

27

GTD

R. De Angelis / M. Sorensen / I. James

D. Turner

Heart of Racing Team

Aston Martin Vantage GT3

1:47.077

+11.275 +0.062 119.689

41

9

96

GTD

P. Gallagher / R. Foley / M. Dinan

J. Klingmann

Turner Motorsport

BMW M4 GT3

1:47.244

+11.442 +0.167 119.503

42

10

47

GTD

R. Lacorte / G. Sernagiotto / A. Fuoco

A. Balzan

CETILAR RACING

Ferrari 296 GT3

1:47.281

+0.037 119.462

43

11

78

GTD

M. Goikhberg / L. Spinelli / B. Hites

M. Mapelli

US RaceTronics

Lamborghini Huracan GT3 EVO2

1:47.305

+0.024 119.435

44

12

83

GTD

R. Frey / S. Bovy / M. Gatting / D. Pin

Iron Dames

Lamborghini Huracan GT3 EVO2

1:47.308

+0.003 119.432

45

7

62

GTDPRO

A. Pier Guidi / J. Calado / D. Serra

D. Rigon

Risi Competizione

Ferrari 296 GT3

1:47.320

+0.012 119.418

46

13

21

GTD

S. Mann / L. Perez Companc

M. Molina / F. Castellacci

AF Corse

Ferrari 296 GT3

1:47.485

+0.165 119.235

47

14

19

GTD

C. Schiavoni / R. Ineichen

R. Giammaria / F. Perera

Iron Lynx

Lamborghini Huracan GT3 EVO2

1:47.656

+0.171 119.046

48

15

1

GTD

B. Sellers / M. Snow / C. Lewis

M. Martin

Paul Miller Racing

BMW M4 GT3

1:48.013

+0.357 118.652

49

16

023

GTD

O. Triarsi / C. Scardina / A. Rovera

A. Bertolini

Triarsi Competizione

Ferrari 296 GT3

1:48.147

+0.134 118.505

50

17

16

GTD

R. Hardwick / J. Heylen / Z. Robichon

D. Olsen

Wright Motorsports

Porsche 911 GT3 R (992)

1:48.319

+0.172 118.317

51

8

95

GTDPRO

B. Auberlen / C. Hull / B. Spengler

J. Edwards

Turner Motorsport

BMW M4 GT3

1:48.460

+0.141 118.163

52

18

91

GTD

A. Metni / K. van Berlo / J. Evans

J. Andlauer

Kellymoss with Riley

Porsche 911 GT3 R (992)

1:48.546

+0.086 118.069

53

19

77

GTD

A. Brynjolfsson / T. Hindman / M. Root

K. Estre

Wright Motorsports

Porsche 911 GT3 R (992)

1:48.594

+0.048 118.017

54

20

92

GTD

D. Brule / A. Udell / A. Davis

J. Bleekemolen

Kellymoss with Riley

Porsche 911 GT3 R (992)

1:48.752

+0.158 117.846

55

9

53

GTDPRO

M. Kvamme / T. Estep / J. Magnussen

J. Hart

MDK Motorsports

Porsche 911 GT3 R (992)

1:48.911

+0.159 117.674

56

21

80

GTD

P. Hyett / S. Priaulx / G. Jeannette

H. Tincknell

AO Racing

Porsche 911 GT3 R (992)

1:49.110

+0.199 117.459

57

10

9

GTDPRO

K. Bachler / P. Pilet / L. Vanthoor

Pfaff Motorsports

Porsche 911 GT3 R (992)

58

9

33

LMP3

L. Willsey / J. Barbosa / N. Pino

N. Siegel

Sean Creech Motorsport

Ligier JS P320

59

22

42

GTD

D. Yount / J. Conwright / K. Li

A. Deledda

NTE Sport

Lamborghini Huracan GT3 EVO2

60

10

55

LMP2

Poordad / F. Pizzi / J. Allen

Bruni

Proton Competition

ORECA LMP2 07

61

23

57

GTD

R. Ward / P. Ellis / I. Dontje / L. Auer

Winward Racing

Mercedes-AMG GT3