F1: Pierre Gasly races Dolphins' Tyreek Hill in 100-yard sprint
To celebrate 100 days until the FORMULA 1 CRYPTO.COM MIAMI GRAND PRIX 2023, Formula 1® race winner Pierre Gasly paid a visit to the Miami International Autodrome. He took part in a 100-yard dash with Miami Dolphins wide receiver Tyreek Hill — one of the fastest players in the NFL who is known as the 'Cheetah' for his speed.
Hill beat Gasly in the 100-yard sprint at the Dolphins' Baptist Health Training Complex – where the Miami Dolphins train adjacent to the track and Hard Rock Stadium – and afterwards presented the Alpine driver with a signed Dolphins jersey featuring the number 10, which is both the Frenchman's race number and Hill's jersey number. Hill also signed the jersey with the message: "Beat you in a race!" And "My feet… faster than your car!"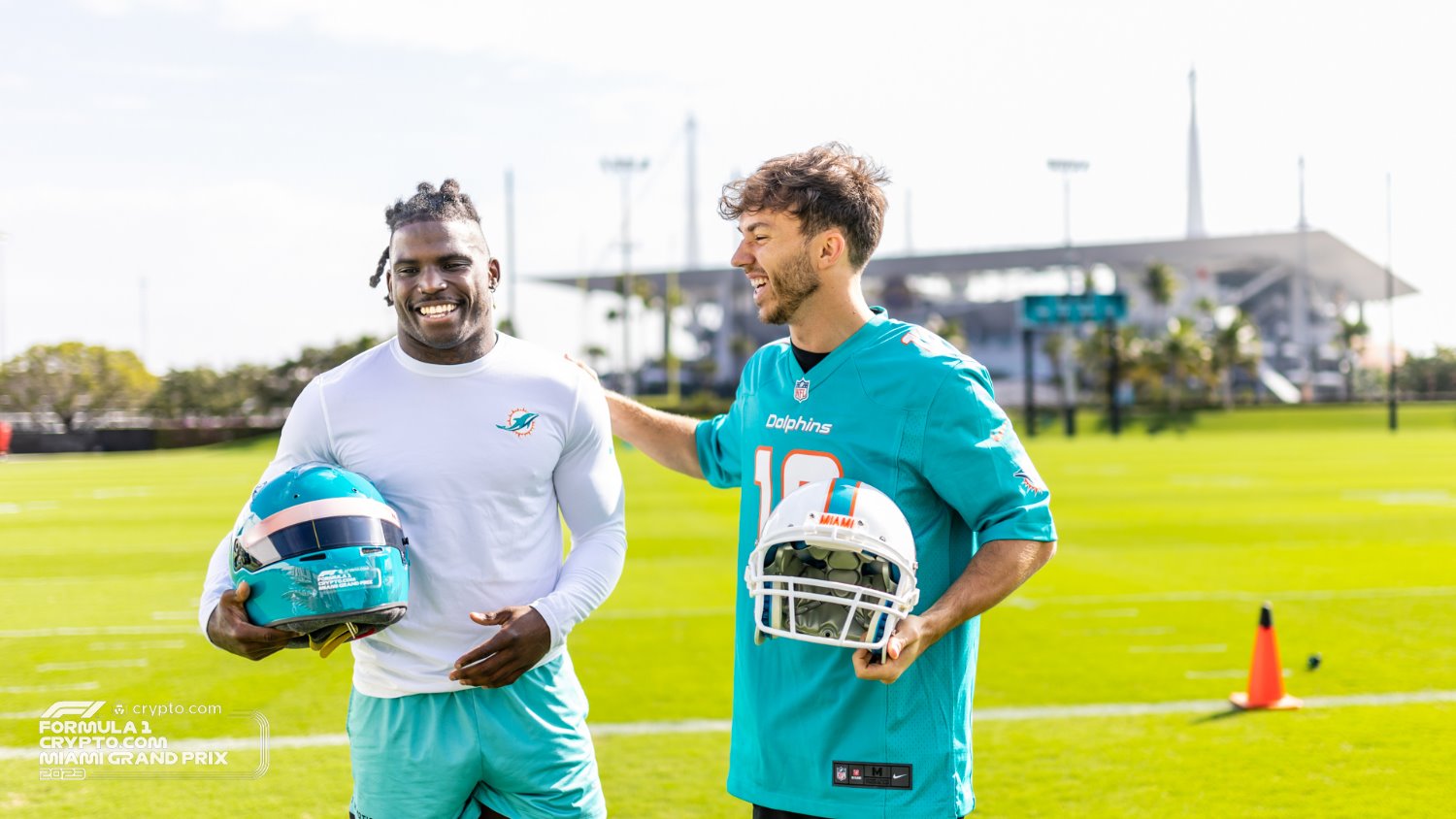 Gasly's visit to the Miami International Autodrome marked 100 days until the second FORMULA 1 CRYPTO.COM MIAMI GRAND PRIX gets underway in Miami Gardens on May 7, 2023. The 26-year-old is already looking forward to event in May.
"I'm super excited as last year this was one of the most epic races on the calendar," said Gasly. "There is a great hype around the event, as it's not just about the race — it's the whole weekend — the energy and the atmosphere. The race track is cool, very technical and what matters to me is winning, so I'm getting prepared to hopefully leave Miami in May with a trophy in our hands."
After taking part in the 100-yard sprint alongside Tyreek Hill, Gasly was given a tour of and took part in a workout at the Baptist Health Training Complex where he learned about the workout programs undertaken by the Dolphins players.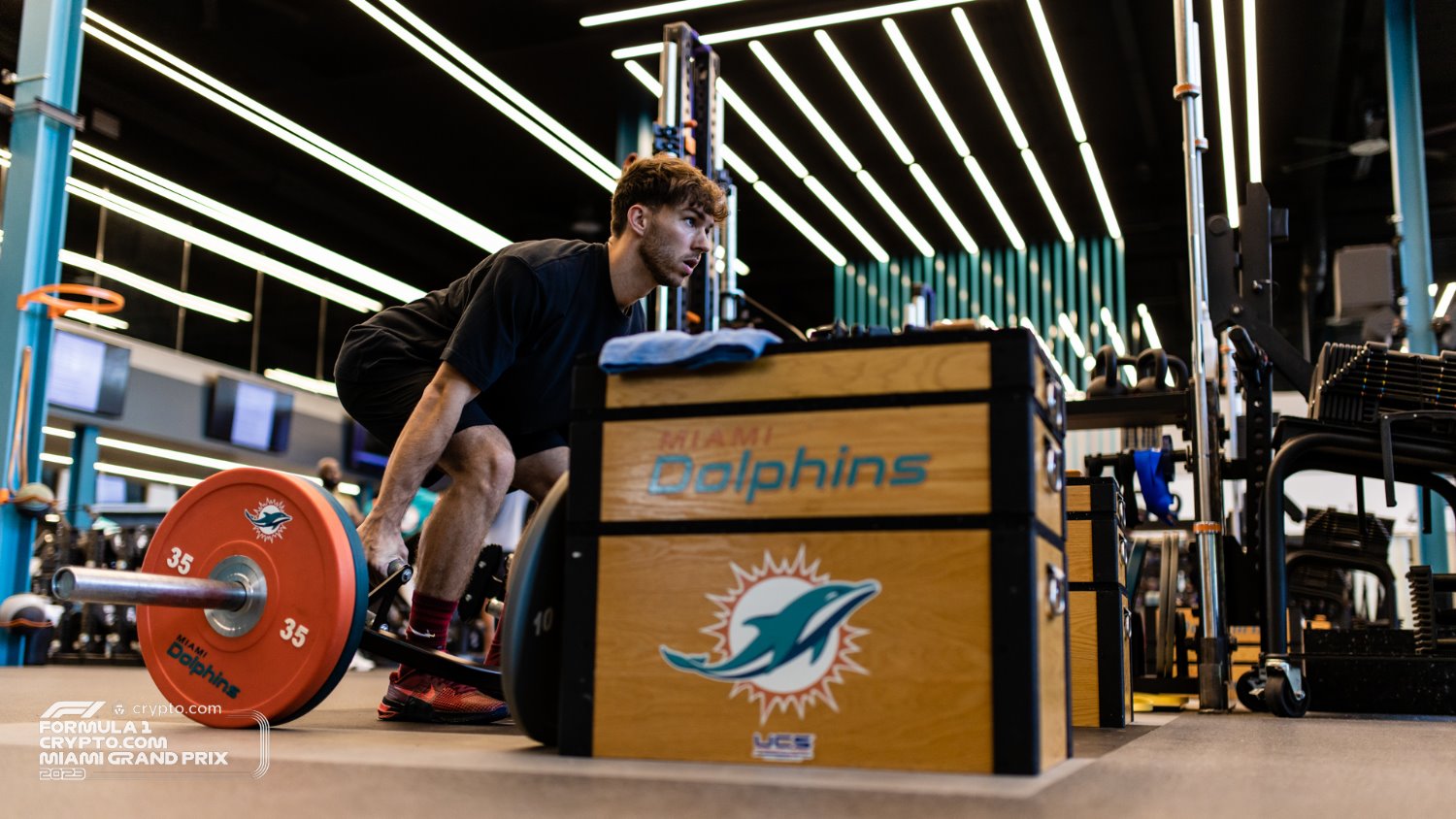 "Although I don't like to lose, I liked meeting Tyreek as I have so much respect for him and all the other guys as I know what it takes to be a top athlete," said Gasly.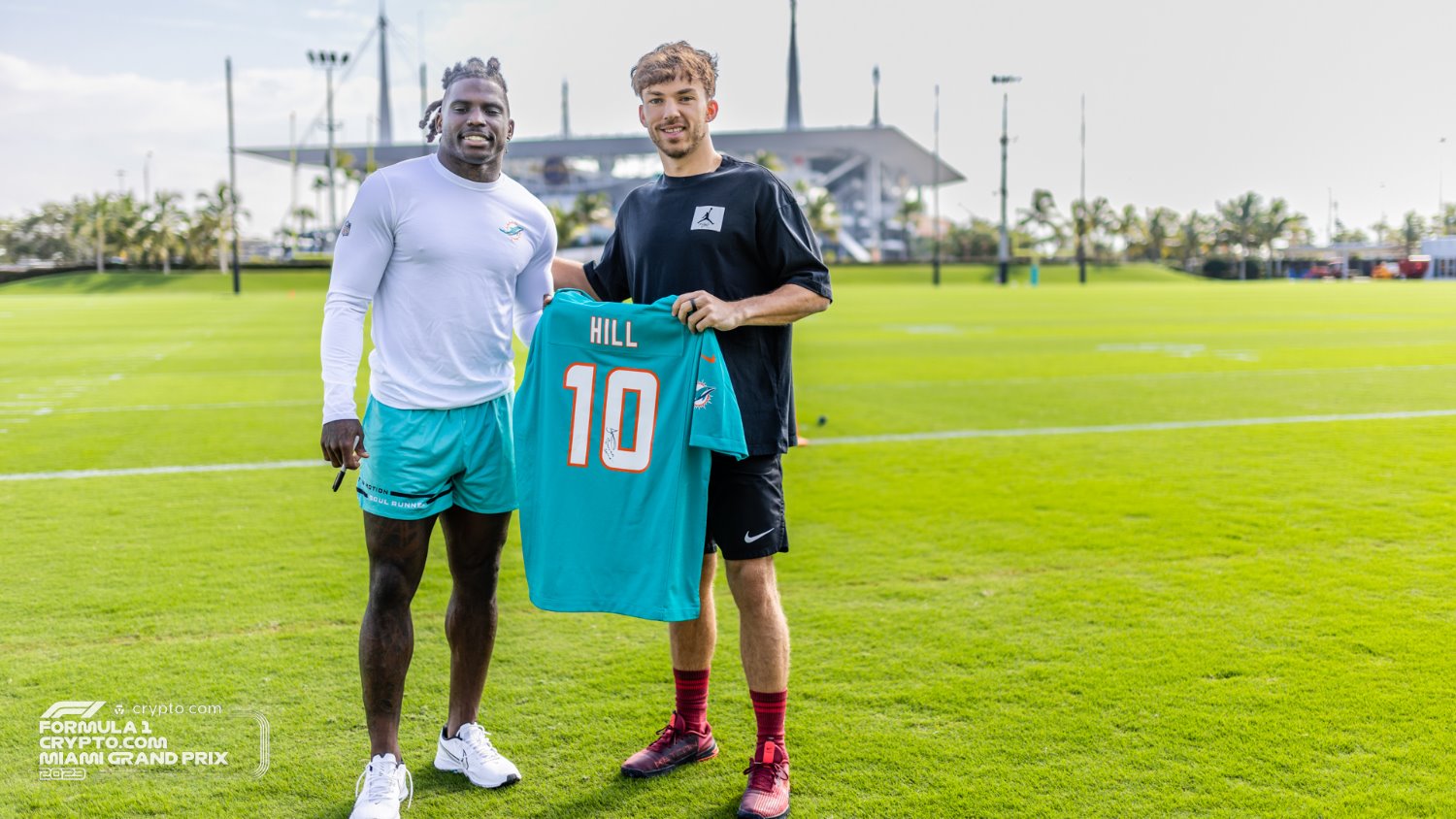 "Personally, I always like coming here and interacting with the Miami Dolphins and being able to exchange gifts with some of the players. You really feel the team spirit, because when you compare this to Formula 1 we are just two drivers in a team. Here is a much bigger facility and I really like this environment and these vibes."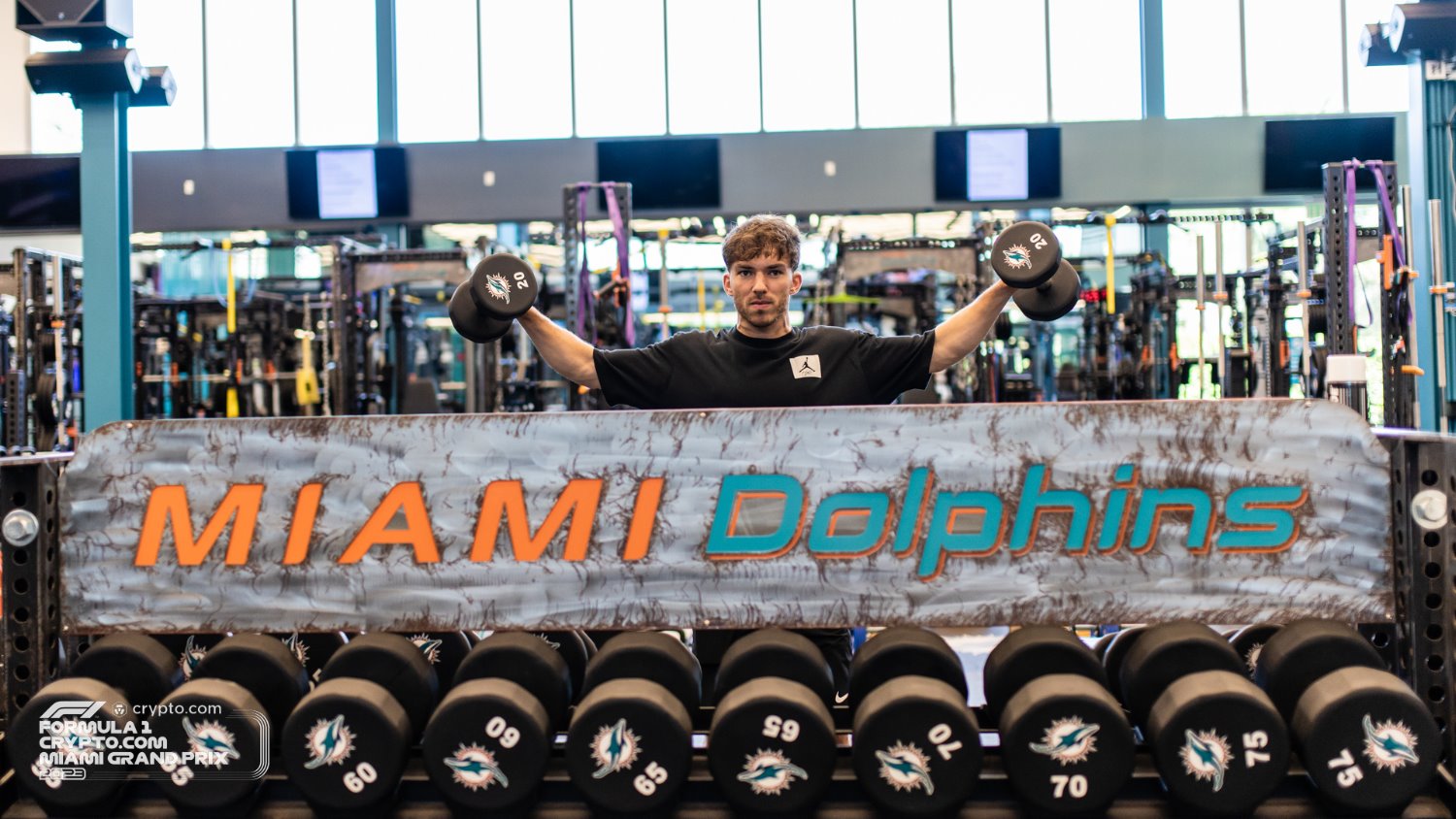 While in Miami Gardens, Gasly surprised the vendors of two local minority-owned restaurants by presenting them with a set of golden tickets to this year's race. The first lucky recipients were the owners of Reggae Beets, an outlet that specializes in Jamaican cuisine, while the second was Italian Vice, Italian ice vendor. Gasly also participated in a tasting of the local businesses' featured menu that will be offered to patrons at the event. In total, 14 minority-owned restaurants local to Miami Gardens and surrounding communities have been selected to participate as a food vendor at this year's event in May.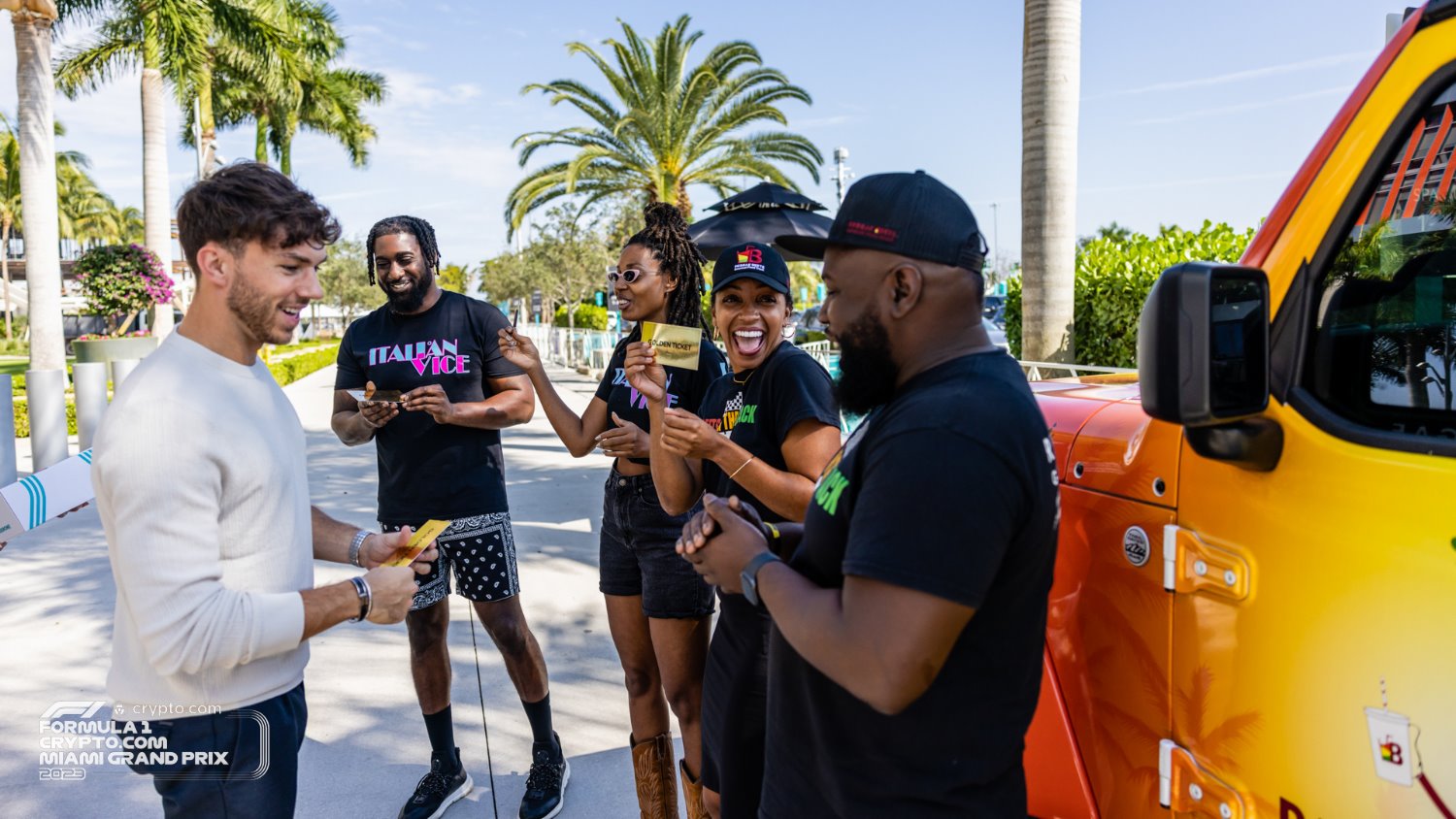 "I'm always happy to help support people and local businesses here and to bring them a bit of excitement by surprising them with a golden ticket," added Gasly. "It's important to recognize the positive impact this has and I'm sure they'll have a great time at the race. Last year was a huge success and definitely I'm looking forward to racing in Miami again this season."