Formula E: Wehrlein holds off Dennis for a Porsche 1-2 in Diriyah
Porsche factory driver Pascal Wehrlein held off Avalanche Andretti Porsche driver Jake Dennis, who won the opening round, to win the first race of the Diriyah eprix weekend in Saudi Arabia.
Dennis started 11th and came through the field, but ran out of time to get Wehrlein who started just ahead in 9th. Dennis was fastest on the track and recorded the 2nd fastest lap of the race.
The result was a reversal of the one-two we saw back in Mexico City – and both TAG Heuer Porsche and Avalanche Andretti look to have thrown down the challenge in a big way to the rest of the field as the GEN3 development race continues at pace.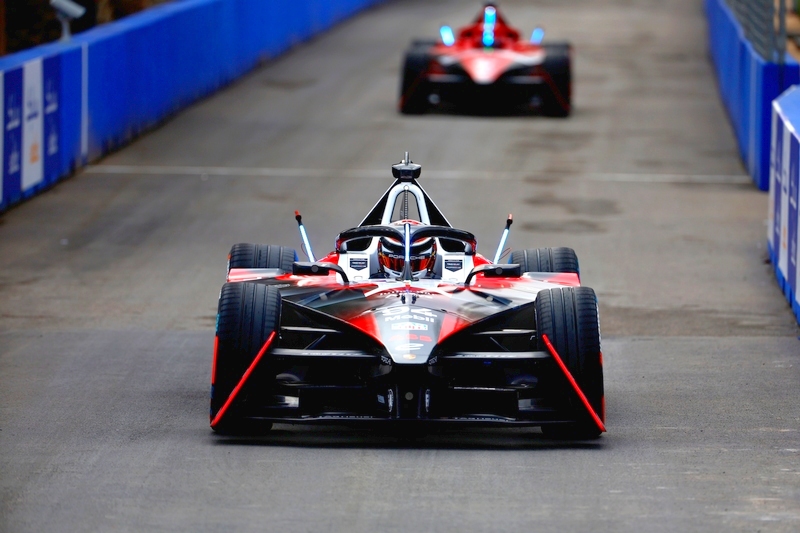 Polesitter Sebastien Buemi led early, but was then passed by Sam Bird's Jaguar.  Bird held onto the lead until Wehrlein stalked Bird and made the pass for the lead on lap 30 of 39.
Wehrlein led the rest of the way for his first win of the season, his second Formula E win on his 50th start, and he moved up to 2nd in the point standings behind Dennis 44 to 43 points.
The Avalanche Andretti Porsche team retain their Teams' advantage over TAG Heuer Porsche, 58 to 49 points, with Envision Racing third.
"What a great race. I knew we had a good car, even though not everything went to plan in qualifying with P9. Still, I was confident that I could make up a few positions," said Wehrlein. "But I didn't expect to win! We had a perfect strategy. I managed to conserve energy behind other cars and then use it to overtake. I'm extremely happy and grateful for this awesome car. I'd like to thank everyone in the team who has worked so hard over the past few months to make such successes possible."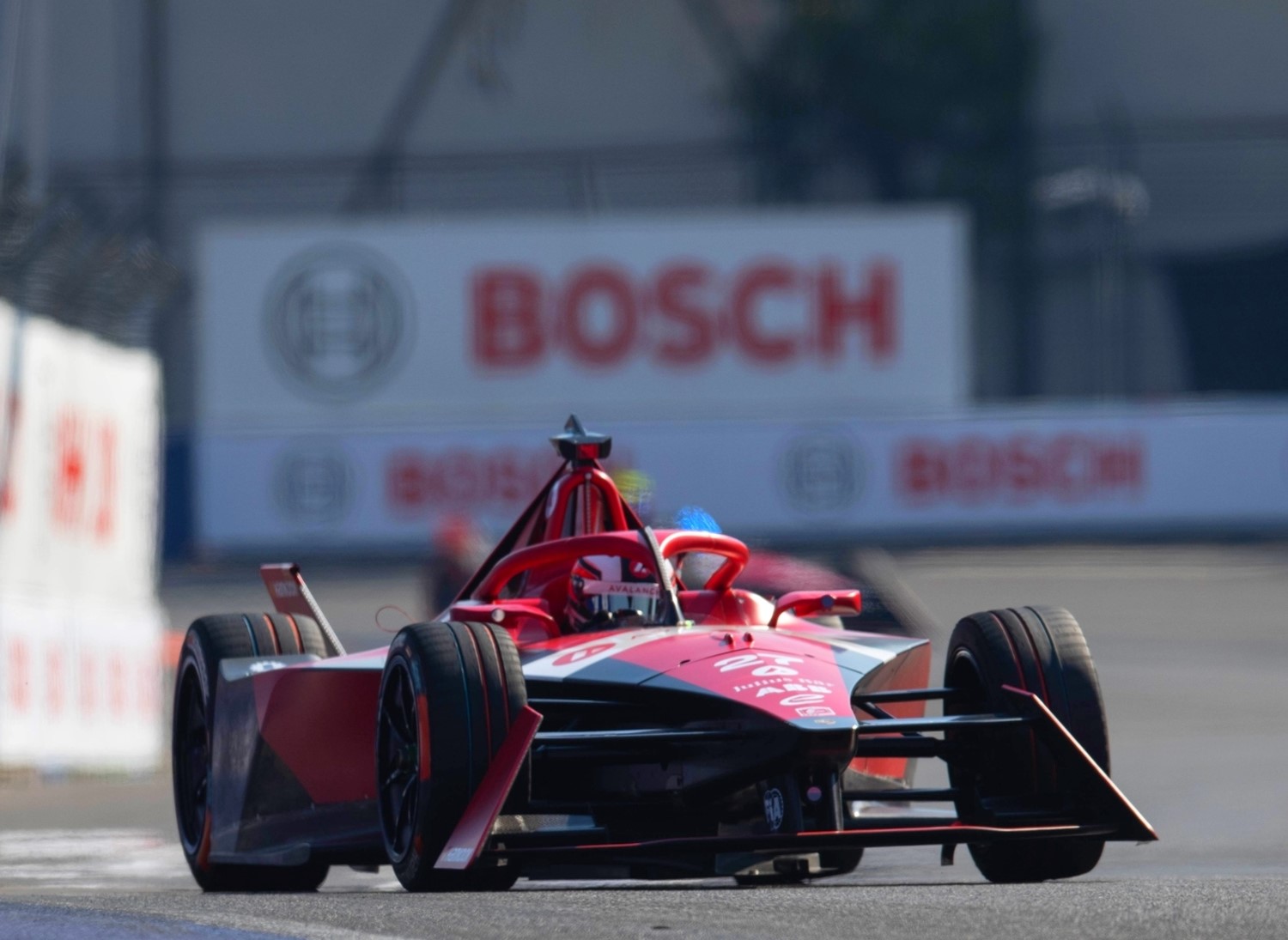 As it happened…
After the tire smoke cleared from the pre-race burnouts, Buemi got a boot full of wheelspin but managed to hold the lead from Hughes while Bird held off Ticktum's advances. The field bunched and Antonio Felix da Costa (TAG Heuer Porsche) was crowded into the wall as Evans and Rast scrapped at the second bend. The Portuguese did manage to return to the fray after running repairs in the pits but a lap down at the back.
On Lap 4 Bird was making moves, with a pass on Hughes' McLaren for second at Turn 16. It didn't take the Brit long to home in on leader Buemi, either. Neither of this front two led a lap last season – and Bird spied his chance on Lap 8 – at Turn 16 once again, diving up the inside of the Swiss for the lead.
Fourth, Fifth, sixth and seventh of Ticktum, Rast, Wehrlein and Evans were all nose to gearbox while Hughes in third pulled a second clear of the bunch. On Lap 9, Rast slipped up and sent it too deep at the chicane – Wehrlein pounced for fifth and needed no second invitation. At the same spot, standings leader Dennis pinched ninth from di Grassi.
NIO 333's Ticktum was first to jump for ATTACK MODE, dropping him to seventh on Lap 12, before Evans overcooked it at Turn 16 and handed him a spot back – Cassidy and Dennis also sneaking by. Sacha Fenestraz swiped the nose off his Nissan, meanwhile, jumping through the ATTACK MODE loop and running wide into the wall on the dust off-line.
Energy management looked good for Bird, with his engineer telling him to push – the Brit already 1.8 seconds to the good on Buemi, which was enough of a cushion to hold P1 through his first, three-minute, ATTACK MODE boost.
Sixth to second and now ninth to fourth for Wehrlein in the race come Lap 15 – that Porsche 99X Electric Gen3 looks handy in race trim.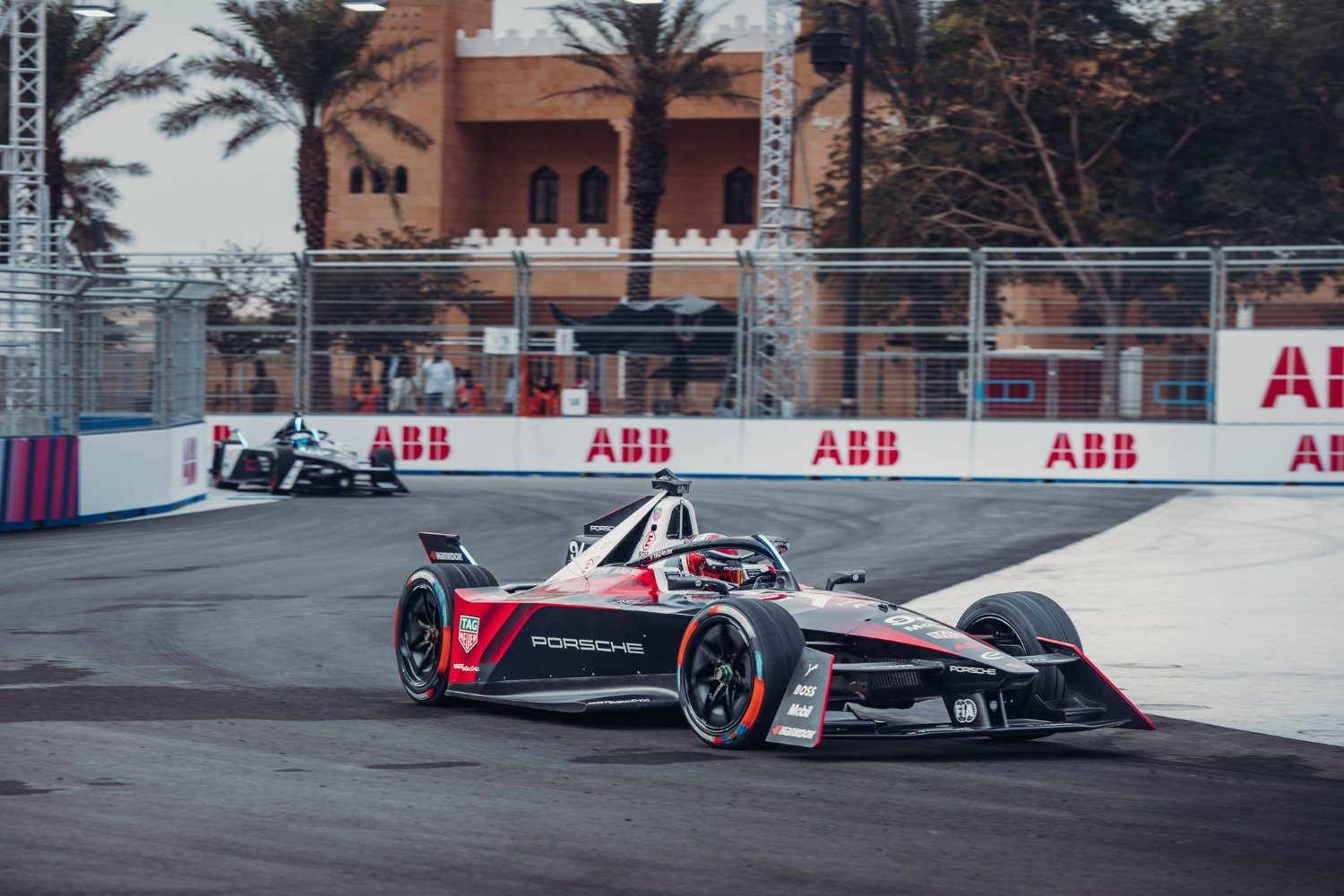 Once the ATTACK MODE activations started to shake out at the half-way stage, Bird was the big winner – holding and extending his lead over Buemi. Wehrlein continued to climb, now up to third, and Jake Dennis' progress saw him rise from 11th to sixth. Bird led Buemi, Wehrlein, Rast, Hughes, Dennis, Cassidy, Ticktum, Evans and Vergne completed the top 10 – reigning champion Stoffel Vandoorne was just 14th in his DS PENSKE.
As the race settled into its second half, on Lap 24, Bird and Buemi jumped for ATTACK MODE. Wehrlein dispatched Buemi for second, and was right on the Jaguar's rear wing – almost making a dive at Turn 16 a lap later. The Porsche was two percent to the good on energy, with an ATTACK MODE remaining. On Lap 26, Wehrlein did try his luck for the lead but went too deep into the chicane – he'd go again, though.
Dennis' climb continued, too, as on Lap 27 Dennis moved by Hughes and Cassidy for a net fifth.
Four laps after his last effort on Bird, Wehrlein did make it stick – again down at Turn 16. A textbook pass and with usable energy in-hand on those around him. Dennis continued his formation flying with the Porsche's manoeuvres – taking fourth from Rast then third from Buemi as the Envision took his second ATTACK MODE. That 99X Electric Gen3 looked monstrous – again.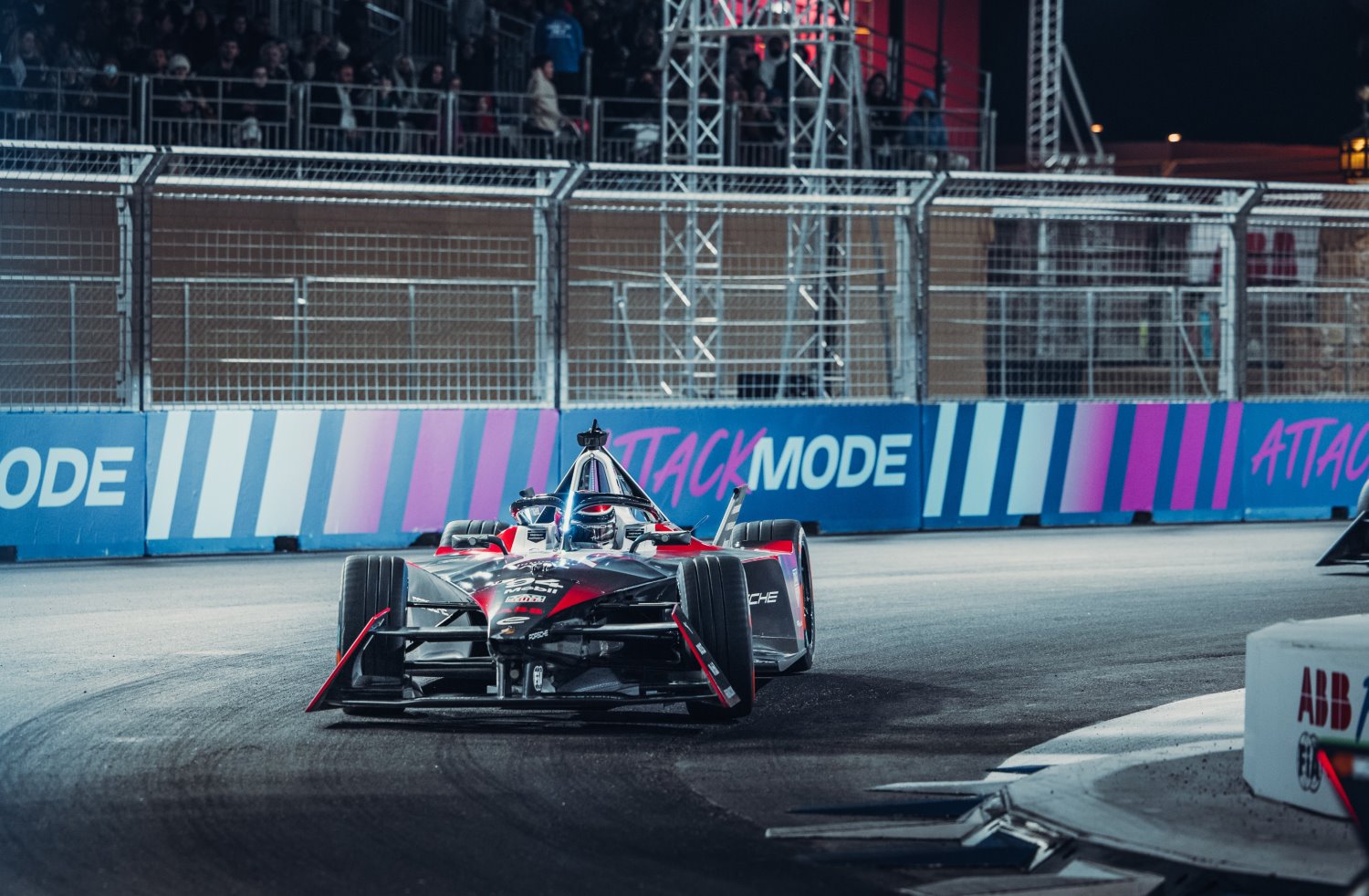 Race Results – 39 Laps
| | | | | | | |
| --- | --- | --- | --- | --- | --- | --- |
| POS | DRIVER | TEAM | No. | BEHIND | GAP | BEST |
| 1 | P. Wehrlein | Tag Heuer Porsche Formula E Team | 94 | 0.000 | 0.000 | 1:10.378 |
| 2 | J. Dennis | Avalanche Andretti Formula E | 27 | 0.531 | 0.531 | 1:10.160 |
| 3 | S. Bird | Jaguar Tcs Racing | 10 | 3.526 | 2.995 | 1:10.844 |
| 4 | S. Buemi | Envision Racing | 16 | 6.048 | 2.522 | 1:10.911 |
| 5 | R. Rast | Neom Mclaren Formula E Team | 58 | 7.471 | 1.423 | 1:10.117 |
| 6 | N. Cassidy | Envision Racing | 37 | 7.614 | 0.143 | 1:10.229 |
| 7 | J. Vergne | Ds Penske | 25 | 12.394 | 4.780 | 1:10.524 |
| 8 | J. Hughes | Neom Mclaren Formula E Team | 5 | 15.187 | 2.793 | 1:10.776 |
| 9 | A. Lotterer | Avalanche Andretti Formula E | 36 | 15.563 | 0.376 | 1:10.514 |
| 10 | M. Evans | Jaguar Tcs Racing | 9 | 17.914 | 7.649 | 1:10.708 |
| 11 | S. Vandoorne | Ds Penske | 1 | 26.307 | 13.393 | 1:10.759 |
| 12 | N. Nato | Nissan Formula E Team | 17 | 27.070 | 0.763 | 1:10.418 |
| 13 | L. Di Grassi | Mahindra Racing | 11 | 28.799 | 1.729 | 1:11.099 |
| 14 | D. Ticktum | Nio 333 Racing Fe Team | 33 | 37.318 | 8.519 | 1:11.387 |
| 15 | S. Sette Câmara | Nio 333 Racing Fe Team | 3 | 45.034 | 7.716 | 1:11.203 |
| 16 | K. Van Der Linde | Abt Cupra Formula E Team | 4 | 1:00.135 | 15.101 | 1:11.344 |
| 17 | S. Fenestraz | Nissan Formula E Team | 23 | 1:09.547 | 9.412 | 1:11.014 |
| 18 | A. Da Costa | Tag Heuer Porsche Formula E Team | 13 | 1 L | 39.655 | 1:10.922 |
| 19 | O. Rowland | Mahindra Racing | 8 | 1 L | 16.067 | 1:11.418 |
| 20 | E. Mortara | Maserati Msg Racing | 48 | NR | NR | 1:11.364 |
| 21 | N. Müller | Abt Cupra Formula E Team | 51 | NR | NR | 1:12.350 |