Rolex 24 Hour 3: Bourdais out front in #01 Ganassi Cadillac
Sebastien Bourdais put the #01 Chip Ganassi Racing Cadillac out front at the 3-Hour mark of the Rolex 24 at Daytona.
Bourdais held a 4.3s lead over the pole sitting #60 Acura of Tom Blomqvist.  Ricky Taylor held third in the #10 Wayne Taylor Racing/Andretti Acura.
Blomqvist in the #60 Meyer Shank Racing Acura, has the fastest lap of the race so far. Early on lap 6 he turned a 1m35.616s fastest lap of the race.
Ricky Tandy ran 4th in the #6 Penske Porsche, some 9-seconds behind the leader and just ahead of the #31 Whelan Engineering Cadillac with Pipo Derani at the wheel.
In GTD-Pro Antonio Garcia brought the #3 Chevy Corvette to the lead for the first time, some 8 laps behind the GTP cars.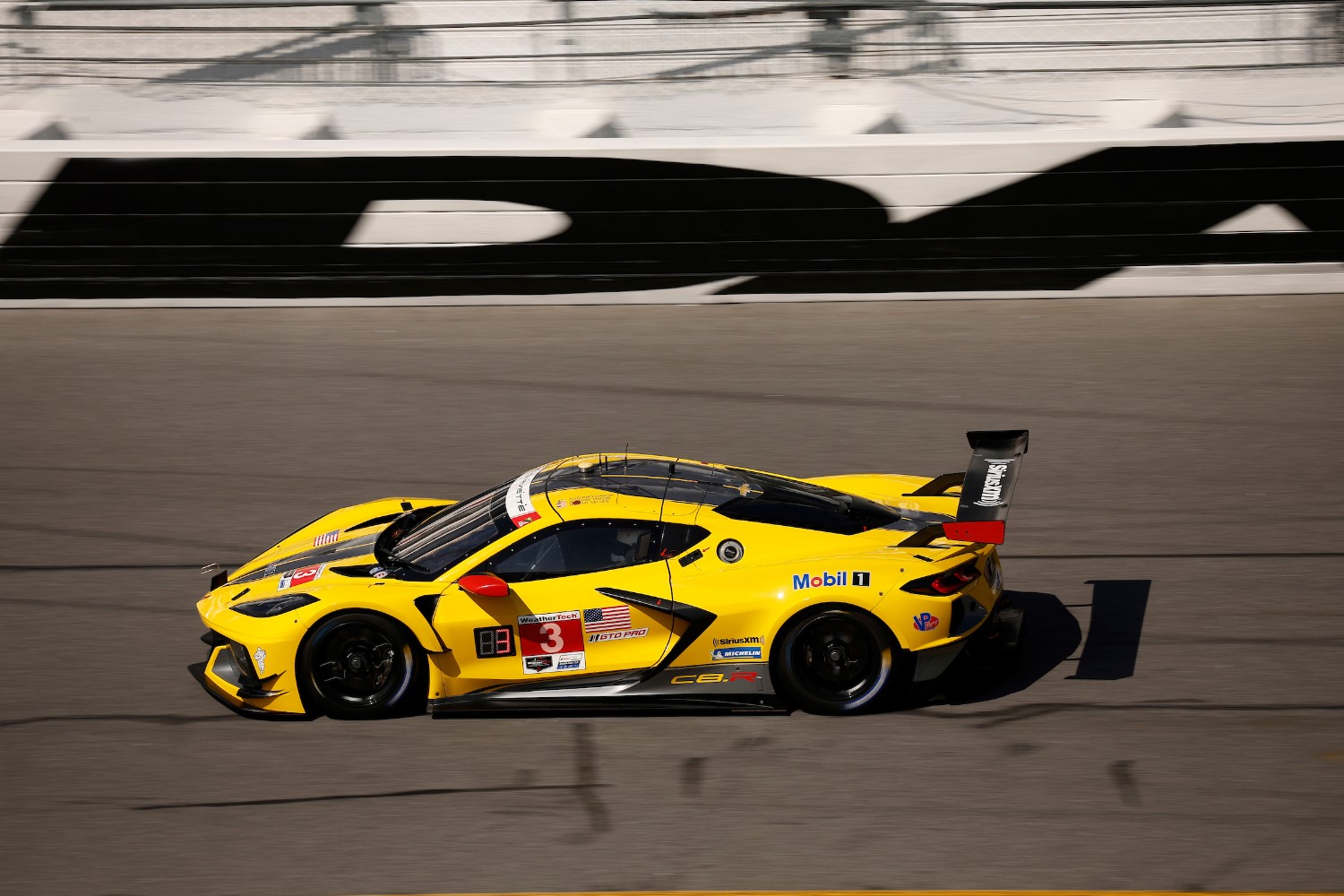 Rolex 24 Hour 3 Standings
Pos

Pic

No.

Class

Drivers*

Team

Car

Laps

Behind/Gap

1

1

01

GTP

S. Bourdais / R. van der Zande

S. Dixon

Cadillac Racing

Cadillac V-LMDh

100

0.000 0.000

2

2

60

GTP

T. Blomqvist / C. Braun

H. Castroneves / S. Pagenaud

Meyer Shank Racing w/ Curb Agajanian

Acura ARX-06

100

4.354 4.354

3

3

10

GTP

R. Taylor / F. Albuquerque / L. Deletraz

B. Hartley

Konica Minolta Acura ARX-06

Acura ARX-06

100

7.377 3.023

4

4

6

GTP

M. Jaminet / N. Tandy / D. Cameron

Porsche Penske Motorsports

Porsche 963

100

9.014 1.637

5

5

31

GTP

P. Derani / A. Sims / J. Aitken

Whelen Engineering Racing Cadillac V-LMDh

Cadillac V-LMDh

100

9.531 0.517

6

6

02

GTP

E. Bamber / A. Lynn / R. Westbrook

Cadillac Racing

Cadillac V-LMDh

100

10.897 1.366

7

7

7

GTP

M. Campbell / F. Nasr

M. Christensen

Porsche Penske Motorsports

Porsche 963

100

11.204 0.307

8

8

24

GTP

P. Eng / A. Farfus / M. Wittmann

C. Herta

BMW M Team RLL

BMW M Hybrid V8

100

31.081 19.877

9

1

11

LMP2

S. Thomas / M. Jensen / S. Huffaker

R. VeeKay

TDS Racing

ORECA LMP2 07

97

3 Laps 3 Laps

10

2

18

LMP2

D. Merriman / R. Dalziel

C. Rasmussen / O. Jarvis

Era Motorsport

ORECA LMP2 07

97

3 Laps 1.042

11

3

35

LMP2

F. Heriau / G. van der Garde

J. Pierson / J. Van Uitert

TDS Racing

ORECA LMP2 07

96

4 Laps 1 Lap

12

4

04

LMP2

G. Kurtz / B. Hanley / M. McMurry

E. Gutierrez

Crowdstrike Racing by APR

ORECA LMP2 07

96

4 Laps 2.178

13

5

88

LMP2

F. Perrodo / M. Vaxiviere / J. Canal

N. Nielsen

AF Corse

ORECA LMP2 07

96

4 Laps 19.074

14

6

52

LMP2

B. Keating / P. Chatin / A. Quinn

N. Lapierre

PR1 Mathiasen Motorsports

ORECA LMP2 07

96

4 Laps 18.558

15

7

55

LMP2

Poordad / F. Pizzi / J. Allen

Bruni

Proton Competition

ORECA LMP2 07

96

4 Laps 34.215

16

8

51

LMP2

E. Lux / D. Defrancesco / A. Cindric

P. Fittipaldi

Rick Ware Racing

ORECA LMP2 07

95

5 Laps 1 Lap

17

9

20

LMP2

D. Andersen / E. Jones / A. Fjordbach

R. Marciello

High Class Racing

ORECA LMP2 07

95

5 Laps 1.595

18

1

13

LMP3

O. Fidani / M. Bell / L. Kern / M. Kranz

AWA

Duqueine D08

94

6 Laps 1 Lap

19

2

85

LMP3

T. Bechtolsheimer / T. van der Helm/L. Mars / M. Filippi

JDC Miller MotorSports

Duqueine D08

94

6 Laps 33.621

20

3

33

LMP3

L. Willsey / J. Barbosa / N. Pino

N. Siegel

Sean Creech Motorsport

Ligier JS P320

94

6 Laps 6.957

21

4

43

LMP3

S. Alvarez / J. French / G. de Oliveira

D. Frost

MRS GT-Racing

Ligier JS P320

94

6 Laps 7.818

22

5

36

LMP3

J. Andretti / G. Chaves / D. Dickerson

R. Lindh

Andretti Autosport

Ligier JS P320

93

7 Laps 1 Lap

23

6

17

LMP3

A. Mantella / W. Boyd / N. Varrone

T. Merrill

AWA

Duqueine D08

93

7 Laps 13.796

24

1

3

GTDPRO

A. Garcia / J. Taylor / T. Milner

Corvette Racing

Chevrolet Corvette C8.R GTD

92

8 Laps 1 Lap

25

2

14

GTDPRO

J. Hawksworth / B. Barnicoat

M. Conway

Vasser Sullivan

Lexus RC F GT3

92

8 Laps 0.799

26

3

23

GTDPRO

R. Gunn / A. Riberas / D. Pittard

Heart of Racing Team

Aston Martin Vantage GT3

92

8 Laps 0.921

27

1

32

GTD

M. Skeen / M. Grenier / K. Koch

M. Goetz

Team Korthoff Motorsports

Mercedes-AMG GT3

92

8 Laps 7.102

28

2

57

GTD

R. Ward / P. Ellis / I. Dontje / D. Morad

Winward Racing

Mercedes-AMG GT3

92

8 Laps 3.061

29

3

12

GTD

A. Telitz / F. Montecalvo / K. Kirkwood

P. Thompson

VasserSullivan

Lexus RC F GT3

92

8 Laps 0.018

30

4

79

GTDPRO

C. MacNeil / D. Juncadella / J. Gounon

M. Engel

WeatherTech Racing

Mercedes-AMG GT3

92

8 Laps 5.224

31

4

70

GTD

B. Iribe / F. Schandorff / O. Millroy

M. Kirchhofer

Inception Racing

McLaren 720S GT3

92

8 Laps 1.658

32

5

63

GTDPRO

A. Caldarelli / M. Bortolotti / J. Pepper

R. Grosjean

Iron Lynx

Lamborghini Huracan GT3 EVO2

92

8 Laps 6.963

33

5

44

GTD

J. Potter / A. Lally / S. Pumpelly

N. Thiim

Magnus Racing

Aston Martin Vantage GT3

92

8 Laps 2.124

34

6

27

GTD

R. De Angelis / M. Sorensen / I. James

D. Turner

Heart of Racing Team

Aston Martin Vantage GT3

92

8 Laps 0.832

35

7

93

GTD

A. Harrison / D. Formal / K. Marcelli

R. Briscoe

Racers Edge Motorsports with WTR

Acura NSX GT3

92

8 Laps 2.004

36

8

75

GTD

K. Habul / L. Stolz / F. Schiller

A. Jefferies

Sun Energy 1

Mercedes-AMG GT3

92

8 Laps 0.530

37

7

87

LMP3

Y. Kanamaru / A. Serravalle

N. Boulle / J. Vance

FastMD Racing

Duqueine D08

92

8 Laps 0.126

38

9

66

GTD

S. Monk / K. Legge / M. Farnbacher

M. Miller

Gradient Racing

Acura NSX GT3

92

8 Laps 0.364

39

10

78

GTD

M. Goikhberg / L. Spinelli / B. Hites

M. Mapelli

US RaceTronics

Lamborghini Huracan GT3 EVO2

92

8 Laps

40

11

1

GTD

B. Sellers / M. Snow / C. Lewis

M. Martin

Paul Miller Racing

BMW M4 GT3

92

8 Laps

41

12

96

GTD

P. Gallagher / R. Foley / M. Dinan

J. Klingmann

Turner Motorsport

BMW M4 GT3

92

8 Laps

42

6

62

GTDPRO

A. Pier Guidi / J. Calado / D. Serra

D. Rigon

Risi Competizione

Ferrari 296 GT3

92

8 Laps

43

7

9

GTDPRO

K. Bachler / P. Pilet / L. Vanthoor

Pfaff Motorsports

Porsche 911 GT3 R (992)

91

9 Laps

44

13

91

GTD

A. Metni / K. van Berlo / J. Evans

J. Andlauer

Kellymoss with Riley

Porsche 911 GT3 R (992)

91

9 Laps

45

8

53

GTDPRO

M. Kvamme / T. Estep / J. Magnussen

J. Hart

MDK Motorsports

Porsche 911 GT3 R (992)

91

9 Laps

46

14

16

GTD

R. Hardwick / J. Heylen / Z. Robichon

D. Olsen

Wright Motorsports

Porsche 911 GT3 R (992)

91

9 Laps

47

8

38

LMP3

J. DeAngelis / C. Allen / C. Bloum

C. Shields

Performance Tech Motorsports

Ligier JS P320

91

9 Laps

48

15

83

GTD

R. Frey / S. Bovy / M. Gatting / D. Pin

Iron Dames

Lamborghini Huracan GT3 EVO2

91

9 Laps

49

16

023

GTD

O. Triarsi / C. Scardina / A. Rovera

A. Bertolini

Triarsi Competizione

Ferrari 296 GT3

91

9 Laps

50

17

21

GTD

S. Mann / L. Perez Companc

M. Molina / F. Castellacci

AF Corse

Ferrari 296 GT3

91

9 Laps

51

9

95

GTDPRO

B. Auberlen / C. Hull / B. Spengler

J. Edwards

Turner Motorsport

BMW M4 GT3

90

10 Laps

52

18

77

GTD

A. Brynjolfsson / T. Hindman / M. Root

K. Estre

Wright Motorsports

Porsche 911 GT3 R (992)

90

10 Laps

53

9

74

LMP3

G. Robinson / F. Fraga / J. Burdon

G. van Berlo

Riley

Ligier JS P320

89

11 Laps

54

19

19

GTD

C. Schiavoni / R. Ineichen

R. Giammaria / F. Perera

Iron Lynx

Lamborghini Huracan GT3 EVO2

89

11 Laps

55

10

64

GTDPRO

T. Giovanis / H. Plumb / M. Plumb

O. Trinkler

TGM/TF Sport

Aston Martin Vantage GT3

89

11 Laps 

56

20

92

GTD

D. Brule / A. Udell / A. Davis

J. Bleekemolen

Kellymoss with Riley

Porsche 911 GT3 R (992)

89

11 Laps

57

21

80

GTD

P. Hyett / S. Priaulx / G. Jeannette

H. Tincknell

AO Racing

Porsche 911 GT3 R (992)

87

13 Laps 2 Laps

58

10

8

LMP2

J. Farano / S. McLaughlin

J. Newgarden / K. Simpson

Tower Motorsports

ORECA LMP2 07

86

14 Laps 1 Lap

59

22

42

GTD

R. Megenis / J. Conwright / K. Li

A. Deledda

NTE Sport

Lamborghini Huracan GT3 EVO2

64

36 Laps 22 Laps

60

23

47

GTD

R. Lacorte / G. Sernagiotto / A. Fuoco

A. Balzan

CETILAR RACING

Ferrari 296 GT3

44

Not Running

61

9

25

GTP

C. De Phillippi / N. Yelloly

S. van der Linde / C. Herta

BMW M Team RLL

BMW M Hybrid V8

30

70 Laps 14 Laps