IMSA: Acura's detuned Honda IndyCar engine too much for Cadillac
Before the Rolex 24 Hour race, Cadillac team owner Chip Ganassi tweeted out, "There is no replacement for displacement!" referring to the fact that at 5.5 liters, the power plant in his Cadillac VSeries' V-LMDh is the largest capacity engine to compete in the top series in IMSA and WEC this year.
After the two Acura cars with their much smaller 2.4L engines beat the pants off Ganassi's two 5.5 liter Cadillacs in the Rolex 24 this past weekend, the 'Chipster' was silent on Twitter.
Perhaps the Acura engine should be dubbed "The little Engine That Could."
Ganassi driver Sebastien Bourdais said he was surprised that the victorious Acura ARX-06 outperformed his new V-LMDh in the Daytona 24 Hours.
"I'm really surprised that the competition beat us on performance and everybody ended up having a very clean race," said Bourdais.
"At the end of the day, we didn't have the pace to win, and we didn't have the speed on the straights to win.
"It's time to collect and see where we can improve as a team. I think it's a tribute to GM and to Dallara and Ganassi to build a car that lasts for 24 hours."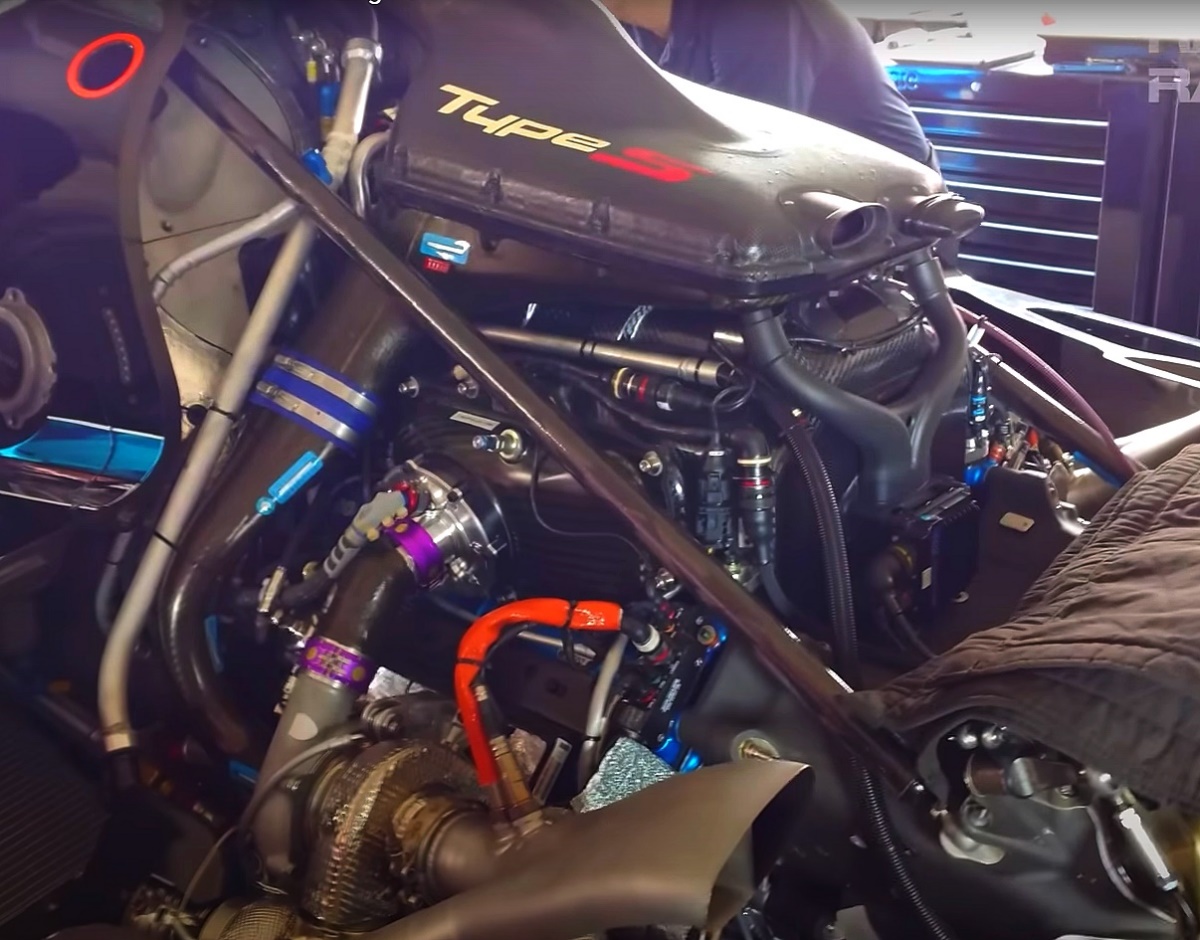 What Bourdais may not know is that the engine that powered the fast Acuras was really a detuned version of Honda's planned new IndyCar engine.
Dubbed the 'AR24e,' the American-made 2.4-liter twin-turbo V6 IndyCar engine – designed and manufactured at HPD's Southern California base – has been tailored to the needs of Acura in endurance racing.
Honda Performance Development's new 2.4-liter twin-turbo V6 NTT IndyCar Series engine was track tested last year and almost ready to race in the IndyCar before the series decided to stick with the current 2.2L engine when the hybrid system is added on next year.
"We came up with a brand-new racing engine, and it shares our IndyCar heritage," HPD president David Salters told RACER.
Where IndyCar sets a maximum rev limit at 12,000, the new GTP regulations call for a cap at 10,000, which places less stress on the valve train and other key rotating items within the engine.
"We have pushed the limit of the rules," Salters said. "We're trying to make the most compact, most efficient [engine], and we have to match this to the electrified part. So we did lots of thinking about what we needed this is a pinnacle-level sports car, basically an LMP1 car underneath to be really honest with you.
"So we started to think what do we need? So you have to package this to give you the best racing, and so we thought about that, and for us, a small-displacement, high-revving V6 engine is the best option.
"And also, if you look at Acura's heritage, Honda's heritage, what we do racing engines, we have a lot of experience in that arena. If you look at what happens now, with F1 engines and IndyCar engines, they last a long time. So we have a lot of knowledge in that area. We have a lot of work to do, but we felt that was the best we could do. And we want to show our technology."
"Energy management, from our F1 side, we actually a while ago embedded one of our engineers on the F1 program" he said. "He did the energy management for Red Bull, so he's back in our factory. We also have some guys that came over from the F1 program. So we're using what we learned. The brain inside this [ARX-06] is an F1 ECU, so we have the ability to manage the powertrain and we wrote all our own software, which now seems a bit nuts.
"But we wrote with some very smart people inside HPD all the energy management software, all the ICE and control software and also the vehicle [software]. It's got brake by wire. We've written all that software inside so we've used all our knowledge from energy management. That's why actually why we go racing. So yeah, it's legit."
Mark Cipolloni reporting for AutoRacing1.com