IndyCar: Notebook from Palm Springs -Tuesday Part 2
Here are the notes from the second half of Tuesday's driver interviews.
Devlin DeFrancesco – #29 Andretti Steinbrenner Autosport Honda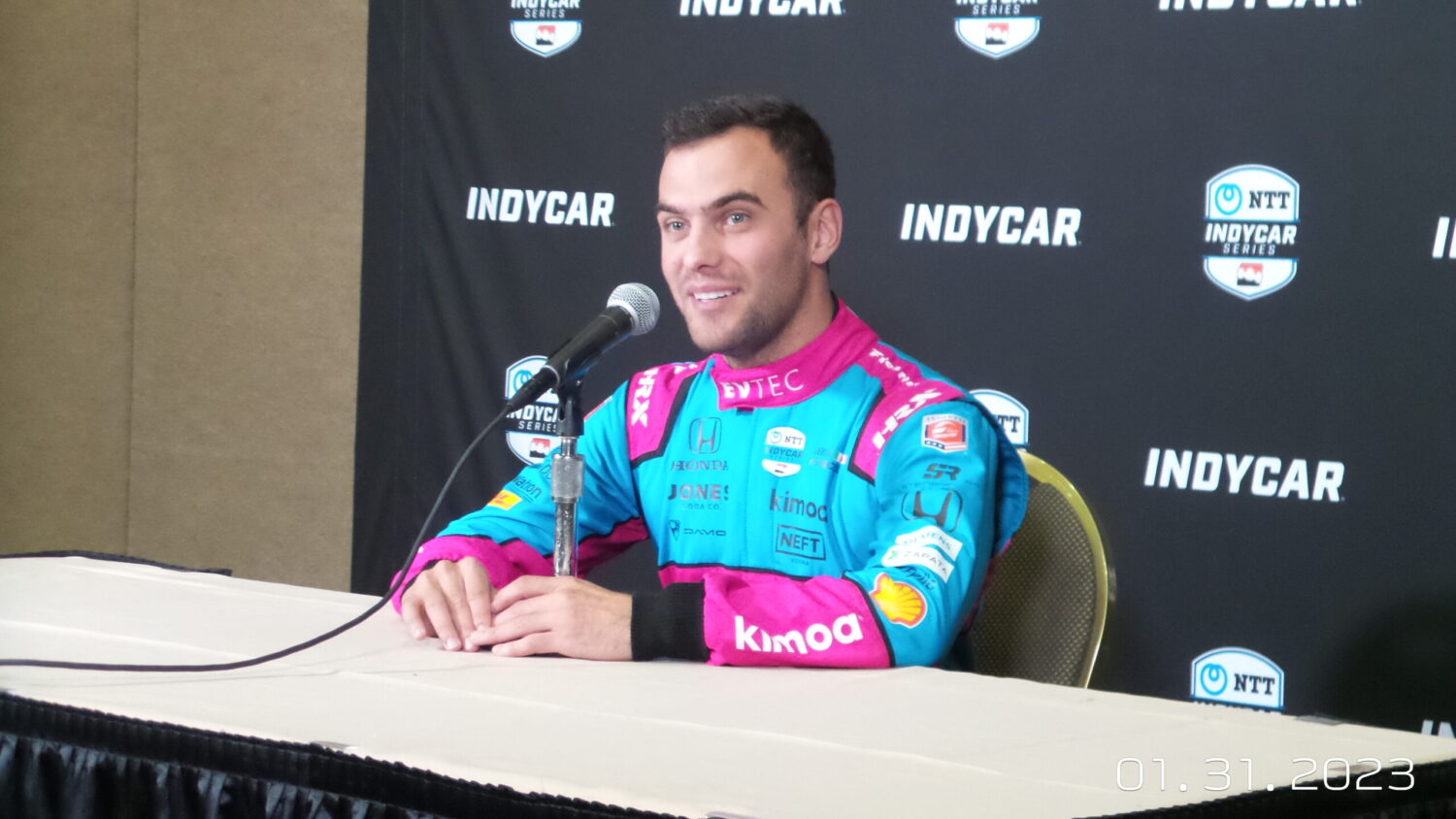 Devlin DeFrancesco will drive the #29 Andretti Steinbrenner Autosport Honda for his second season.
"I am very much looking forward to the season. I've anticipated coming here for quite a while now and have done my studying and reading. I'm really looking forward to getting back to it after a long off-season. A lot of work has gone into everything across the board during this long off-season, and I think we're going to be quite strong this year."
DeFrancesco was asked about the engineering department at Andretti and how that would affect this season's race results.
"For sure we looked at the events where we were strong and were not so strong and we've analyzed why, and I think we've all gotten on top of those. I think it's going to be a very good year for this team, and I can't wait to get going."
"You know, I want to be fighting at the front. I want to be fighting in the Fast 12 and Fast Sixes much more often. I transferred once last year and qualified in the top 12 twice. I want to make it a regular occurrence, and I think that's just going to make Sundays much, much easier."
"When I look back at a lot of races last year there were a lot of what could have been, and I very much intend on changing that to that's what we achieved."
Benjamin Pedersen – #55 AJ Foyt Enterprises Chevy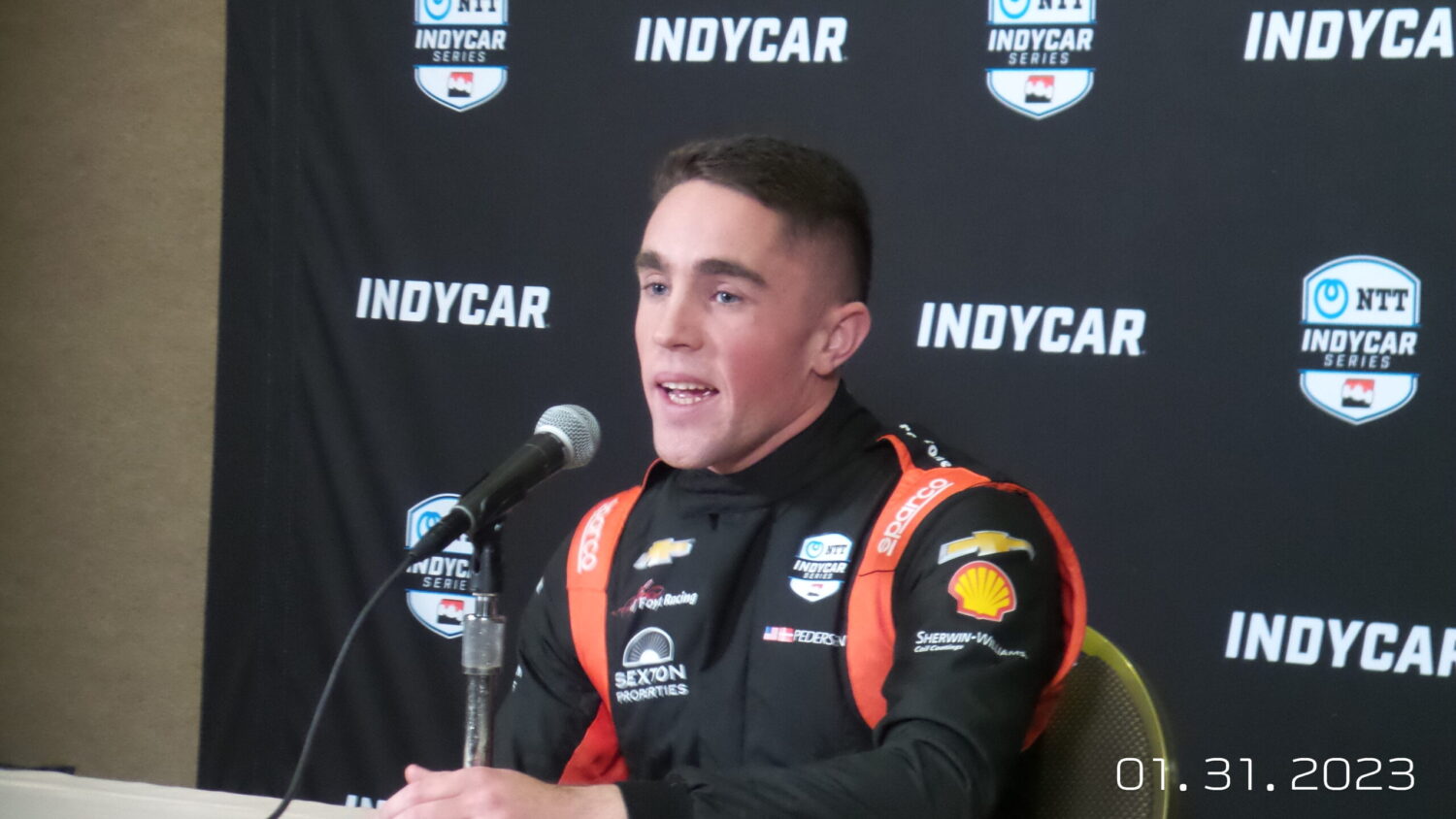 Benjamin Pedersen is one of the four rookies in the series this season.  The 23-year-old Danish driver of the #55 AJ Foyt Enterprises Chevy has moved up from the Indy NXT (formerly Indy Lights) series, in which he drove for AJ Foyt Enterprises.
Pedersen was asked about his debut in an IndyCar at the Thermal Club this week.  He replied, "I'm just so excited, even just being here today, driving here. This is how desperate we've been to get on track, just driving to content day felt like kind of getting ready to go on track, but we're just here talking with people, so it was a glimpse of hope to be on track."
"But luckily we're on track already this week at a new track (Thermal Club) that I think everyone is very excited to be at."
"It's been very exciting times at AJ Foyt Racing, new people, new organization, new structure, new methods. People are so hungry right now to be there and to improve. I think it's been a lot of time, but before my time there, of people wanting it but not necessarily knowing how to get there. But now there is a very good path with as a team how we can accomplish things that we have as goals."
"People are staying extra during the weekends to practice pit stops when they don't have to be. People don't have to be there to help them are showing up to help with that, and it's just really special to be a part of."
Sting Ray Robb – #51 Dale Coyne with Rick Ware Racing Honda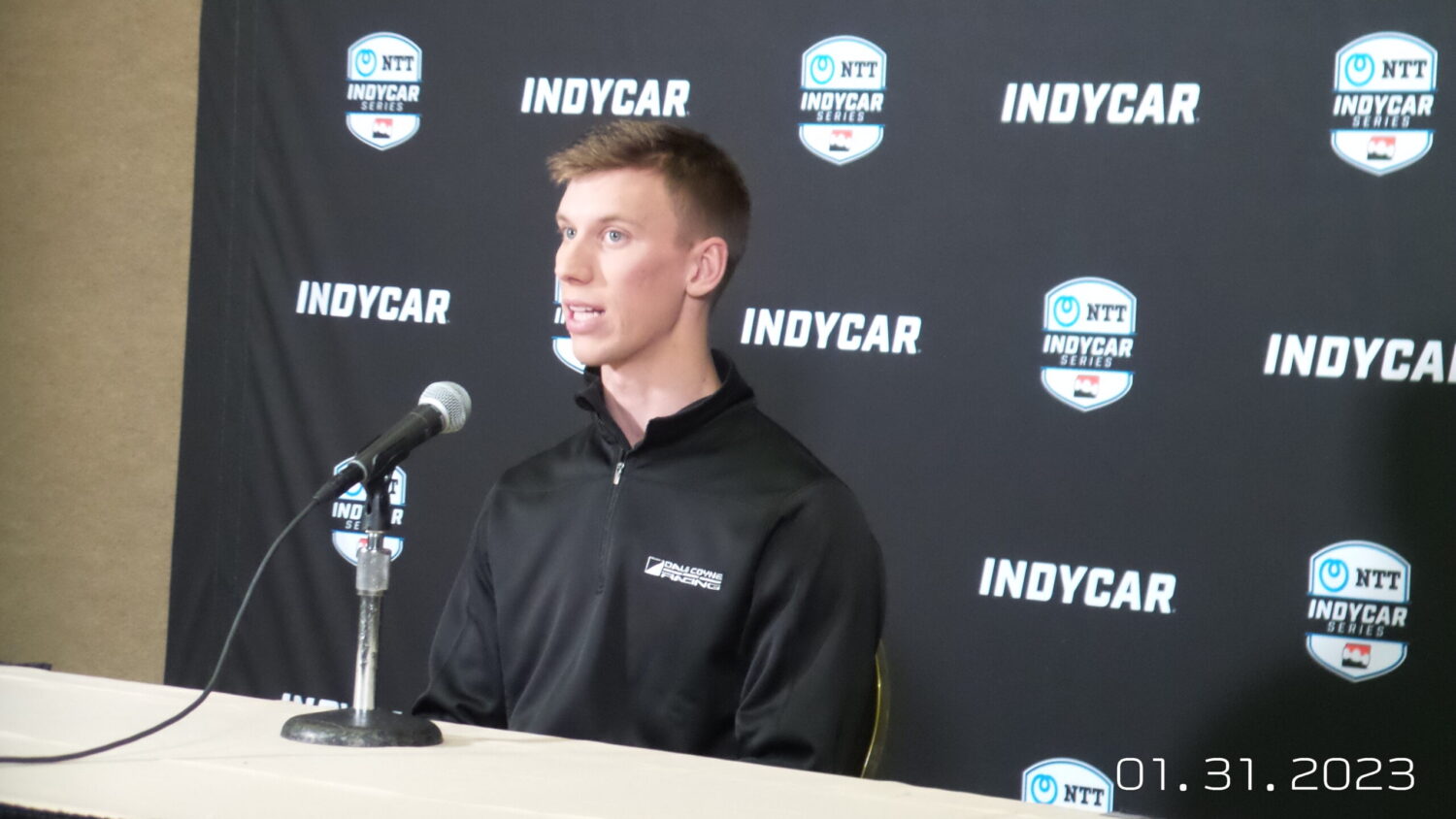 Sting Ray Robb, another rookie this season, will be driving for Dale Coyne Racing with Rick Ware Racing in the #51 entry.  The 21-year-old finished second in the Indy NXT series in 2022 and is excited to start his IndyCar career.
The young American started racing go-karts and started in the ladder series in 2017.
Robb was asked how he was able to obtain the ride at Coyne.  "It was a busy off-season. I'll say that right now. Lots of talks between different teams. Obviously, I didn't know what I was going to be doing at the end of the year. We took a leap of faith when I stepped into the role of not having a ride and not committing to the Indy NXT Series and just committing to going to INDYCAR."
"There was a few teams that we were talking to, and Dale's team was not the one that was at the top of the list because we thought they already had a driver. Obviously, with Linus winning the Indy NXT Championship, we assumed with the HMD association there that there would be a straight shoe-in for him."
"But I actually was at PitFit Training one day with Linus and discovered that was not the case. That created an opportunity for us that allowed me to call up my manager, Peter Rossi, and get him on the phone, and he immediately called Dale and said, hey, we're available."
"I think there was a mutual understanding of what availability was for either one of us. That's when conversations began with testing options, et cetera, because at that point he had already committed to testing Marcus in the car and Daniel in the car at the Sebring test in the late off-season last year in 2022."
"Then we had a really good test in 2023 right at the beginning of January, and I think that was kind of the one that set the tone that allowed me to get in the seat."
Colton Herta – #26 Andretti Autosport with Curb-Agajanian Honda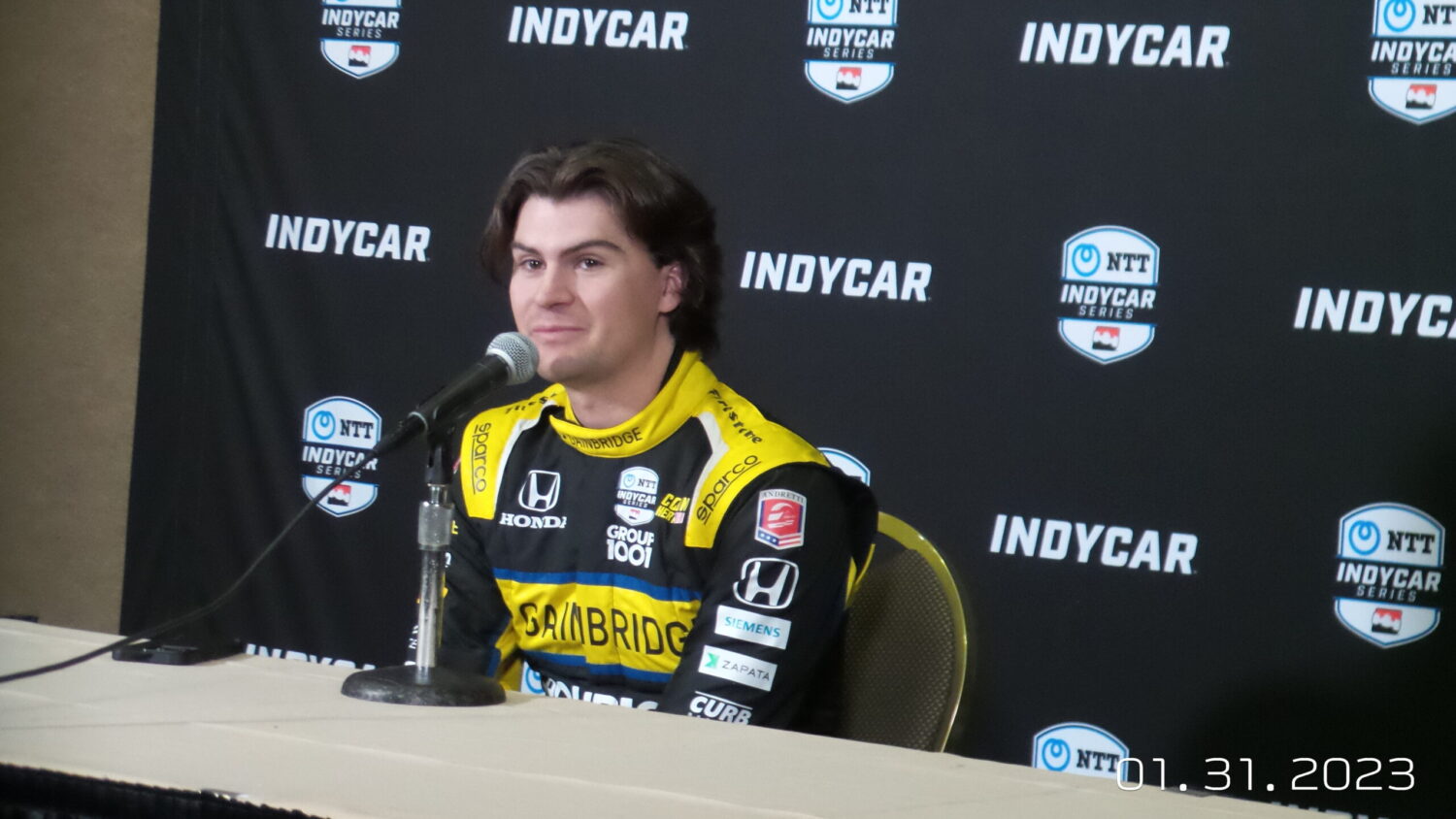 Colton Herta will have big shoes to fill at Andretti Autosport this season with the loss of veteran Alexander Rossi.  The 22-year-old, driver of the #26 Gainbridge Honda for Andretti Autosport with Curb-Agajanian, will now be the veteran driver for the team, having driven for the team for the last three years.
"It's not much of a difference for me. Maybe they'll rely a little bit more on my feedback and I might have to do a little bit more, but for me, it's kind of business as usual."
Herta admits that last year was not the best performance for his team.
"Yeah, it's no secret that last year was not a good one for us. We need to do better on all fronts. That's what the main part of the off-season has been. It's been looking at everything and just trying to improve everything."
"We just need mistake-free weekends, and that's the goal, one by one."
Herta was asked about his new teammate, Kyle Kirkwood and what he thought he would bring to the team.
"He was always a little bit behind me in cars, but I raced against him in go-karts. I believe last year was the first time I ever raced against him in a car."
"But yeah, seems like a really quick driver. He's won a lot of stuff on his way up to INDYCAR, and it's hard to judge off of what he did last year, right. This year you'll have a better understanding of how fast he is, I think."
Kyle Kirkwood – #27 Andretti Autosport Honda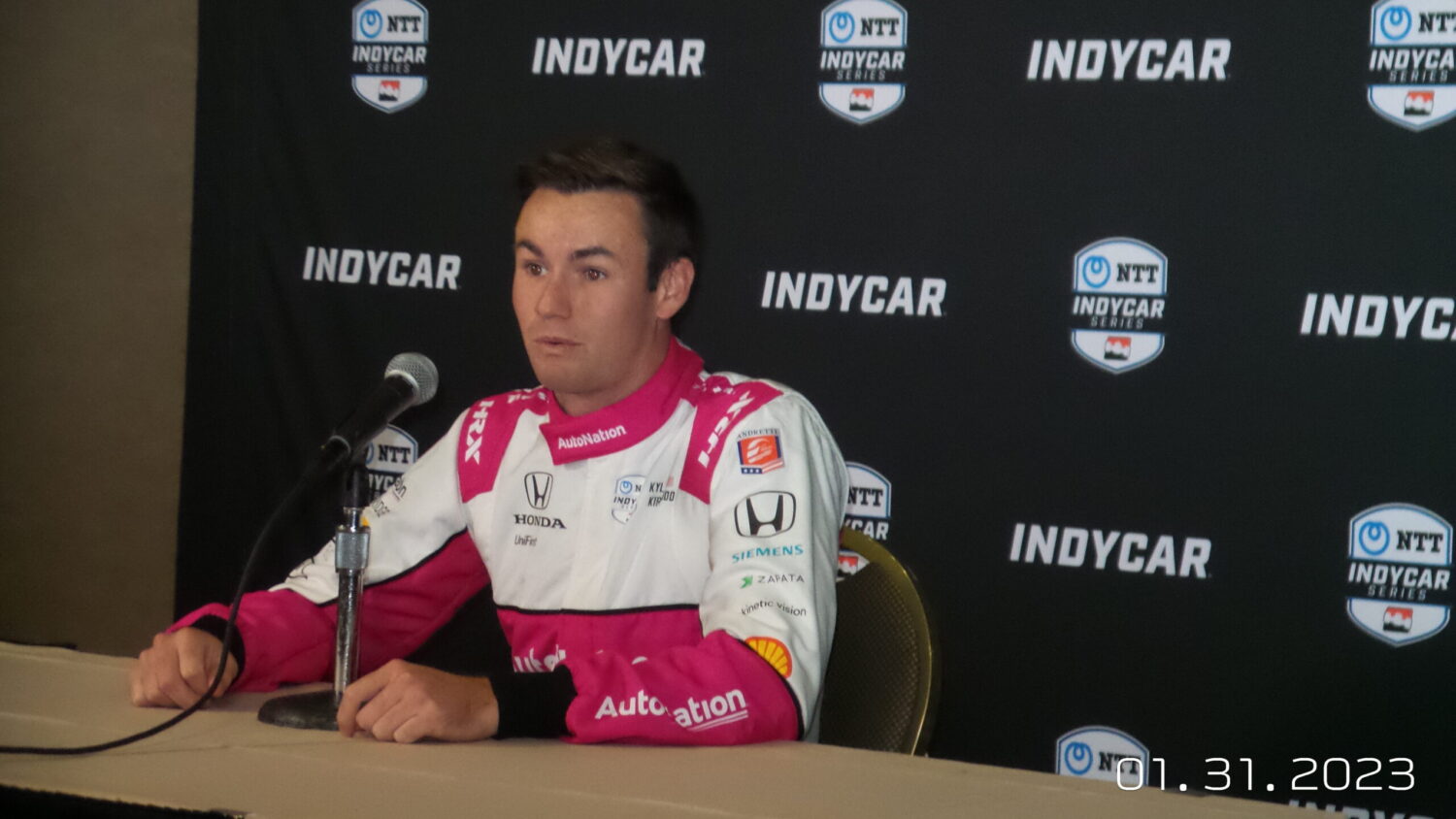 Kyle Kirkwood returns to the Andretti Autosport team to drive the #27 Andretti Autosport Honda for 2023, after driving his rookie season in the NTT INDYCAR Series for AJ Foyt Enterprises.
No stranger to the Andretti team, Kirkwood drove for their Indy NXT (formerly Indy Lights) team in 2021 and won the championship.
"I mean, just joining with the team and kind of seeing how they work and operate and what not, they've obviously got all the fundamentals and go and win championships. I think that that was a sure thing, no doubt. It just seems like things, stars needed to align a little bit better for them last year, whether it was a pit stop mistake here or a small error here or a wreck here, whatever it might have been, it kind of hindered them from winning a lot more races than I think they should have."
"I think the team has recognized that we must be on our "A" game to make sure that these small little mistakes don't happen."
"We know we're going to have a fast car at a lot of tracks. Obviously the street courses are probably a strong suit for Andretti Autosport as well as like Indy GP and whatnot, so we expect to be extremely fast there and be able to win races, but we need to make sure we get all the fundamentals together and make sure the stars align, but that's within our control, too."
"That's the important thing."
David Malukas – #18 Dale Coyne Racing with HMD Motorsports Honda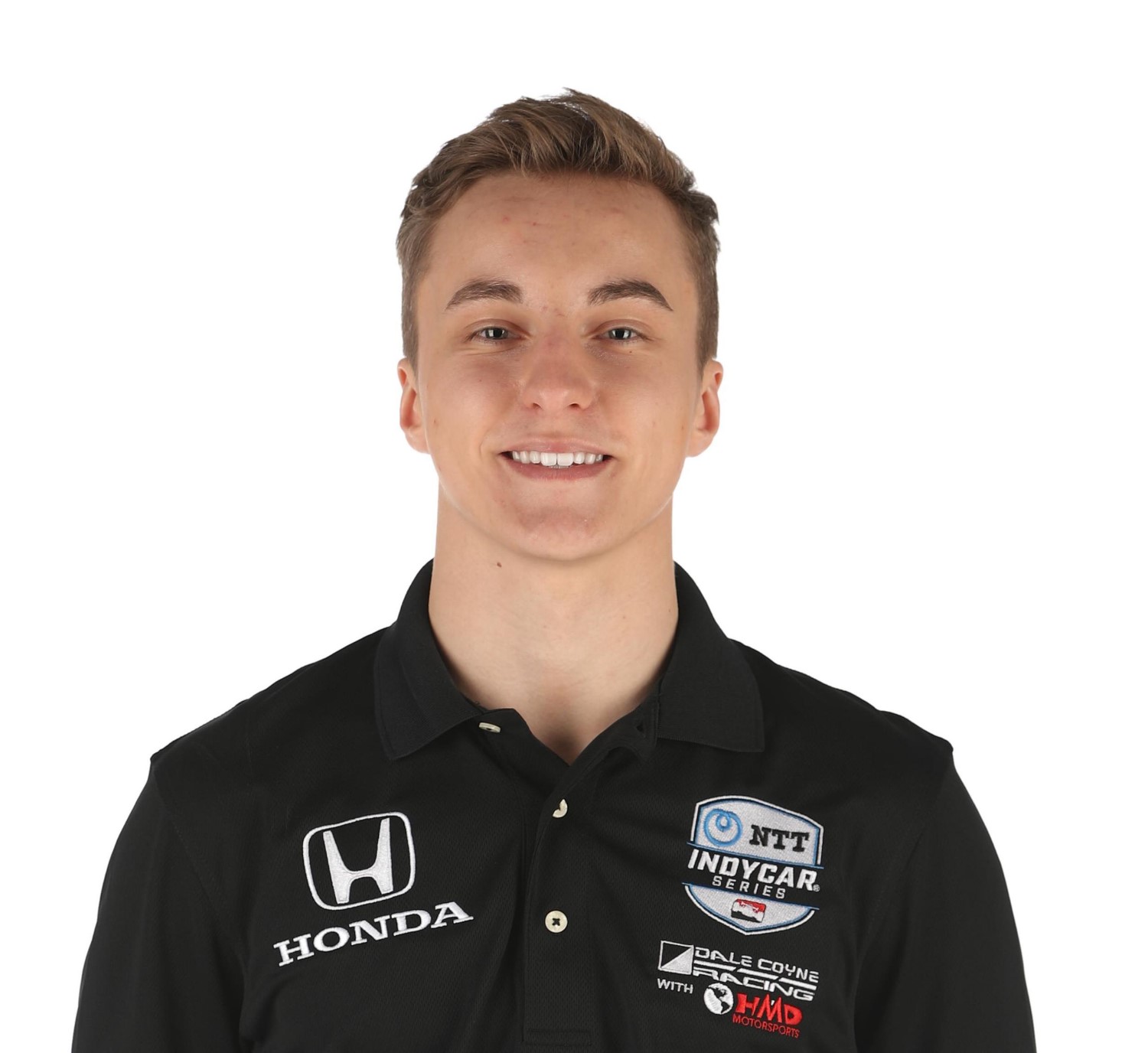 David Malukas will be back at Dale Coyne Racing with HMD Motorsports in the #18 entry.   With his rookie season behind him, Malukas was joined by rookie Sting Ray Robb as his teammate for 2023.
The 21-year-old American had a promising rookie season with a podium finish at World Wide Technology Raceway (formerly Gateway).  Rumors at the end of the season were where would the young driver find a ride for 2023.  But Dale Coyne secured the upcoming driver by signing him for 2023 before he left for another team.
Malukas was asked about how he felt going into the coming season.
" Yeah, the off-season is very long. I've forgotten how to drive. I mean, I haven't touched anything — I've only been able to hug my car at the shop, but that's it. I did a seat fit and everything felt so fresh and new. I don't know, I'm really excited for Thermal to come because I've been overthinking, I've been having nightmares I don't know how to drive anymore, like really funny nightmares where we go out, and I don't know how to turn left or right, and it's pretty funny dreams."
"I think once I get in the seat, I think everything will come back, but I cannot wait to go back to racing. When the season ended, I was like, that was so much so quick, and I was like, finally I can get a break, and one week later I was already like, I want to get back into a car."
Having a younger teammate will also be a change for Malukas, who had Takuma Sato as his teammate last year.
" I think we're the youngest duo, right? It's definitely a different dynamic from what I had last year with Takuma, but I think it's going to be good."
"From what I've heard, his driving style is very similar to mine. He used a very similar setup in Sebring when he tested. I think we'll work very well together, and I've had little moments where we've raced with each other in the past, so I'm really excited to get the season forward. It's just interesting to me that I'm supposedly now the veteran of the group. I definitely don't feel like one."
Lucille Dust Reporting live from Palm Springs, California