IndyCar: Notebook from Palm Springs – Wednesday Part 2
Here are the notes from the second half of Wednesday's driver interviews.
Augustine Canapino – #78 Juncos Hollinger Racing Chevrolet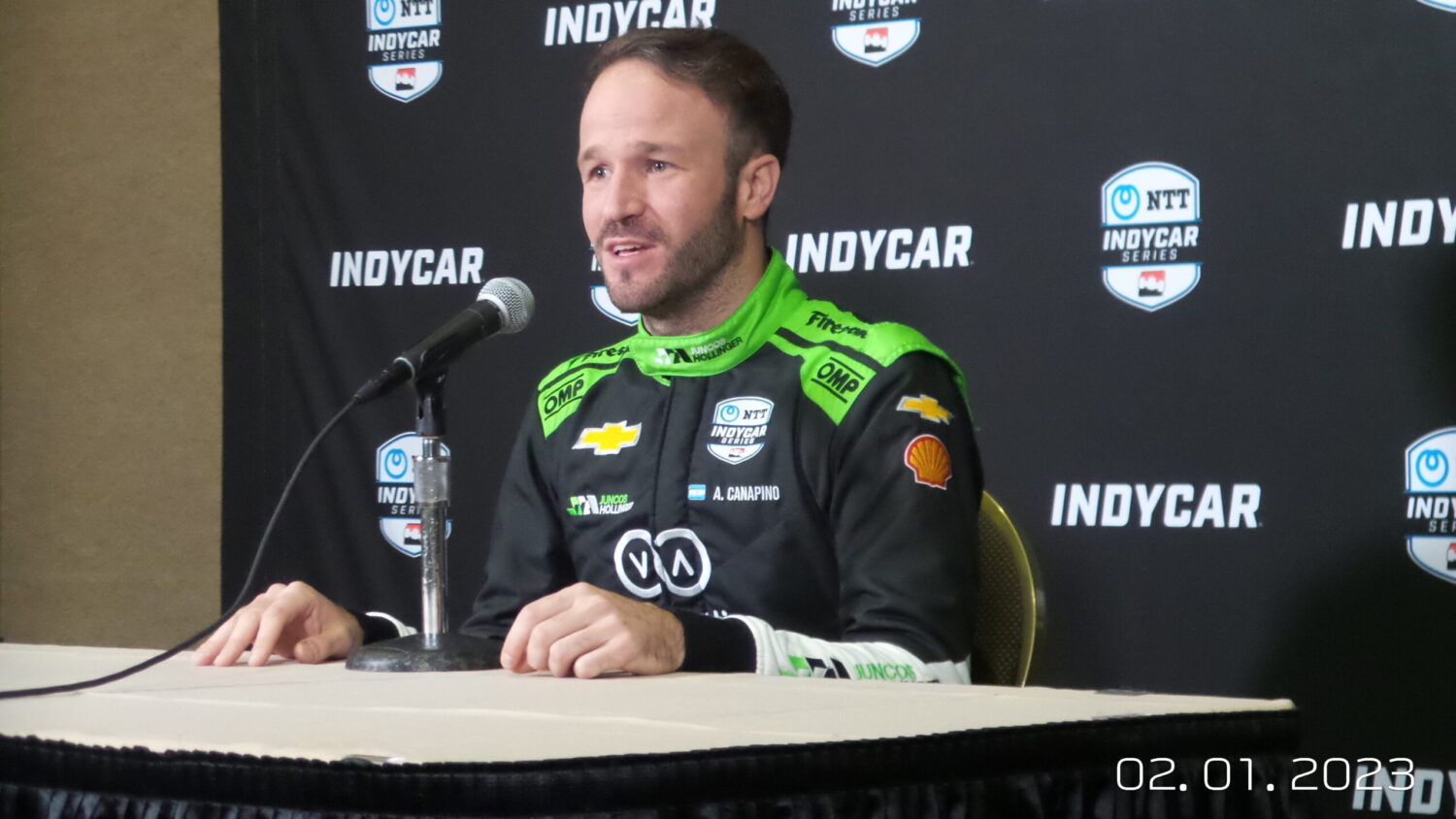 Augustine Canapino is the rookie driving for Juncos Hollinger Racing this season.  Arriving in the US just ten days ago, this is the first time the native of Argentina will live outside his country.
Speaking in English, which he took lessons to learn before coming to the states, the 33-year-old rookie talked about how he got this opportunity to drive for JHR.
"I am very happy to be here. Of course it's my first time outside my country, outside my language. I never speak English all the time, so sorry for my English for everybody, but I'm trying to learn day by day, and I'm excited about this opportunity."
"Everything started in the test because we did exhibitions in Argentina in November of 2022. We had a lot of people watching the exhibitions, very successful event. It all started there in Sebring and I started the exhibitions."
"Honestly, I didn't expect that, so I have all of my 2023 ready in my series in Argentina, and Ricardo called me in December, we have a chance to do that, so of course I need to change everything, to talk with my team owner in Argentina, make a new life very different."
"But I take this opportunity because for me it's my first opportunity outside my country. Of course I know, it's very difficult to me. I never did any full season in a single seat car, but I'm very excited and I will do my best. I will do my best."
" INDYCAR is in my opinion the most demanding and competitive category in the world. For me it's a big opportunity to try something outside, something in international level. We are here with Grosjean, with Dixon, with Power, of course Callum (Ilott), one of the best drivers in the world, so for me it's a big opportunity."
"Of course we are in trouble because I don't know the cars, the tracks, the ovals, but I love the challenge. I love the situation. So I know it's very difficult to me, but I have confidence. Of course I need time. I need time. I need to learn day by day, test by test. That's it."
"It's very important, but I need to practice. Need to practice the conversation, need to practice to hear the engineer. Ricardo helped me, of course. Tomorrow and on Friday and of course in St. Pete. But I need practice. I need to do laps. I need to hear my engineer in English. I need to speak with you in English. I need to practice and keep my focus on everything."
Jack Harvey – #45 Rahal Letterman Lanigan Racing Honda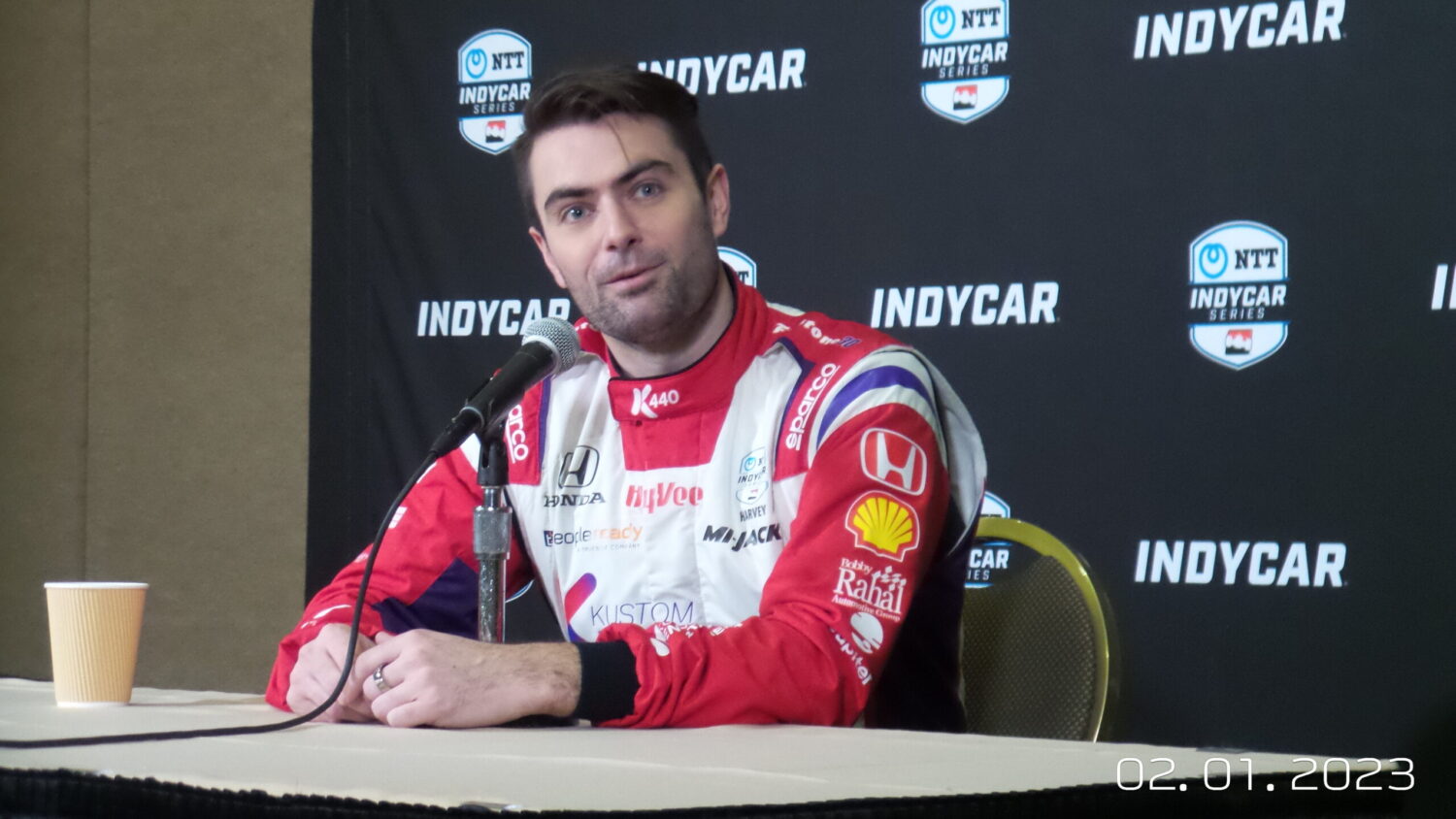 Jack Harvey is starting his second season with RLL.   Last year was not the best season the British driver could have hoped for but the outlook for this season is what he talked about.
"I think it's been a really good off-season for us. When the season finished, I went back to the UK for a bit, which was productive for me. It was just like a two-week trip."
"I came back ready to get back to work with a little bit of mental capacity to really dive into what went wrong in '22, and one of the best feelings that I kind of left all of that with was feeling like there's a light at the end of the tunnel and we were aware of what we want to work on and put solutions in place to try and do that, and obviously we'll see how well we've done that come race time."
"But one of the best things about the atmosphere of the team was that level of reciprocation of accountability, whether it was with me and what I felt like I needed to improve, from the engineers, to the mechanics."
"The thing was in that moment, because everybody was willing to look inward and just honestly try and do their part better — that's not to lay any more blame at anyone's door. This was a team effort. If we've got something we need to improve, let's go and do it. But that radiated through the building. Suddenly, because it's that reciprocated, it makes you want to do it more, and then you dive in deeper and deeper."
"At the end of the day, the common goal between all of us on the team, through all the drivers, all the mechanics, engineers, everybody across commercial, all the sponsors, all the team owners, is how do we go and win, and at its core it's probably the same for all race teams, but after the season we had I think it would have been easy for everybody to still feel a little down, and that wasn't the case at all."
"These are the reasons why I love being a part of RLL, because I was excited that everybody's attitude and outlook was one of really just positivity and I think a really healthy approach to trying to have a better season."
"I think the off-season was great, and then in terms of 2023, what we're hoping to achieve, it's probably going out and just getting the results that we know we have the talent to get, whether it's hopefully my talent, the team's talent, then go out there and say we want it to work with each other for these reasons."
"So then we looked back at '22 and we go, that was an anomaly year. We don't know what happened — well, we do know what happened, but it's not going to happen again."
"Every year it's a different challenge, and I think ultimately a lot of the great drivers in the series are able to adapt and grow and evolve and change, and I want to be one of them drivers."
"I think one of the frustrating things that was a little frustrating about last year is at times I felt like I was driving well, and when the result doesn't come, then it's a little frustrating. I think really being at peace with all that like I am now just gives us a really great foundation to try and just have a good year."
"The best thing about starting a new year is you get a new opportunity, and there's while there is an opportunity for me to be a driver in this series, I'm going to go out and try and just be better than I was the previous year."
Tony Kanaan – #XX Arrow McLaren
Tony Kanaan is driving in his 25th Indy 500 this year, for a new team, Arrow McLaren.  The 2013 Indy 500 winner is looking forward to working with the team.
"Obviously a great opportunity that's came up off such a great run last year. I'm excited."
"It's been a long winter until we got here, obviously, doing one race only you see people — Rossi's side was in the shop and I was in the shop a few times, and I was like, where is my car. There is no car yet because obviously there are priorities there until we get there."
"Really excited, and hopefully we have as good a run as we did last year."
"I've actually been to the shop quite a bit. There's obviously a lot of familiar faces there. When you're in the series for 26 years you've worked with everybody from — people shuffle around."
"I was there at least, I would say, the past two months once a week, bothering people, talking about my seat fit, which they're like, dude, you're only here in May to drive, so what do you want."
"We had a bunch of engineering meetings trying to help with all of my experience, as well. Once like Rossi came in and he brings something. I came in and I bring something. It's always like we're trying to make this team what Zak (Brown) asked me to do when he hired me."
The mature veteran was asked how he would retire since he seems to come back every year.
'That's a good question because Dixon makes fun of me until this day. This is the last, last, last, last lap, the very last lap, what it is. So the answer honestly will be I think I will definitely make a decision, which is not just all up to me."
"I mean, it's up to me if I say this is it, but if not, I think I'll make the decision when we cross the start-finish line on that Sunday. When I win, if I win, I'll put everybody on the spot and I'll say, I'm coming back. This is exactly what happened last year."
"Right now I think the focus is this 500. "
" Let me put it this way: You are totally right, and no disrespect for any teams because I think we have a pretty good group of teams that can win the 500. But at this point, if I don't think it's the right opportunity for me then I wouldn't do it. I don't want to be at the 500 just to participate."
"Actually even last year that was part of my decision when I said, I want to come back this year."
"Yeah, I mean, winning, it's all. I would rather see a young gun coming in, taking place for his first Indy 500, than me just participating just to add a car."
Christian Lundgaard – #30 Rahal Letterman Lanigan Honda
Christian Lundgaard is starting his second year with RLL.  Disappointed with his rookie season, he talked about what the theme is for this season.
"I think the way the team is moving forward, I think the journey that we're on, we've got to stick to it and make sure that we keep improving the way we are. I think it's taking baby steps. There's no point of trying too hard because I think that's also one of the reasons we had the beginning of the season last year, because we followed a lead that we didn't investigate enough that put us on the wrong track."
"Now having that in mind, I'm pretty sure we know where to go and take baby steps forward. We have a better package already. Where we ended 2022, across the three cars, already way better than we started. We were competitive. I don't see a reason why we can't be competitive this year."
"Overall, I think what Stefano has done is making the best of the people we have. I saw that at times last year where I said, This guy could be in this position, it will be a better outcome. Me saying that as the new guy (smiling)."
"But, you know, there was points last year where it was pretty easy to pinpoint what we could have done different. Now we have a new year. Everything is reset. We've put things in place and in order. Everything has changed."
"I guess we got to see tomorrow where we're at, if we've done the right thing, or think we've done the right thing."
Rinus VeeKay – #21 Ed Carpenter Racing Chevrolet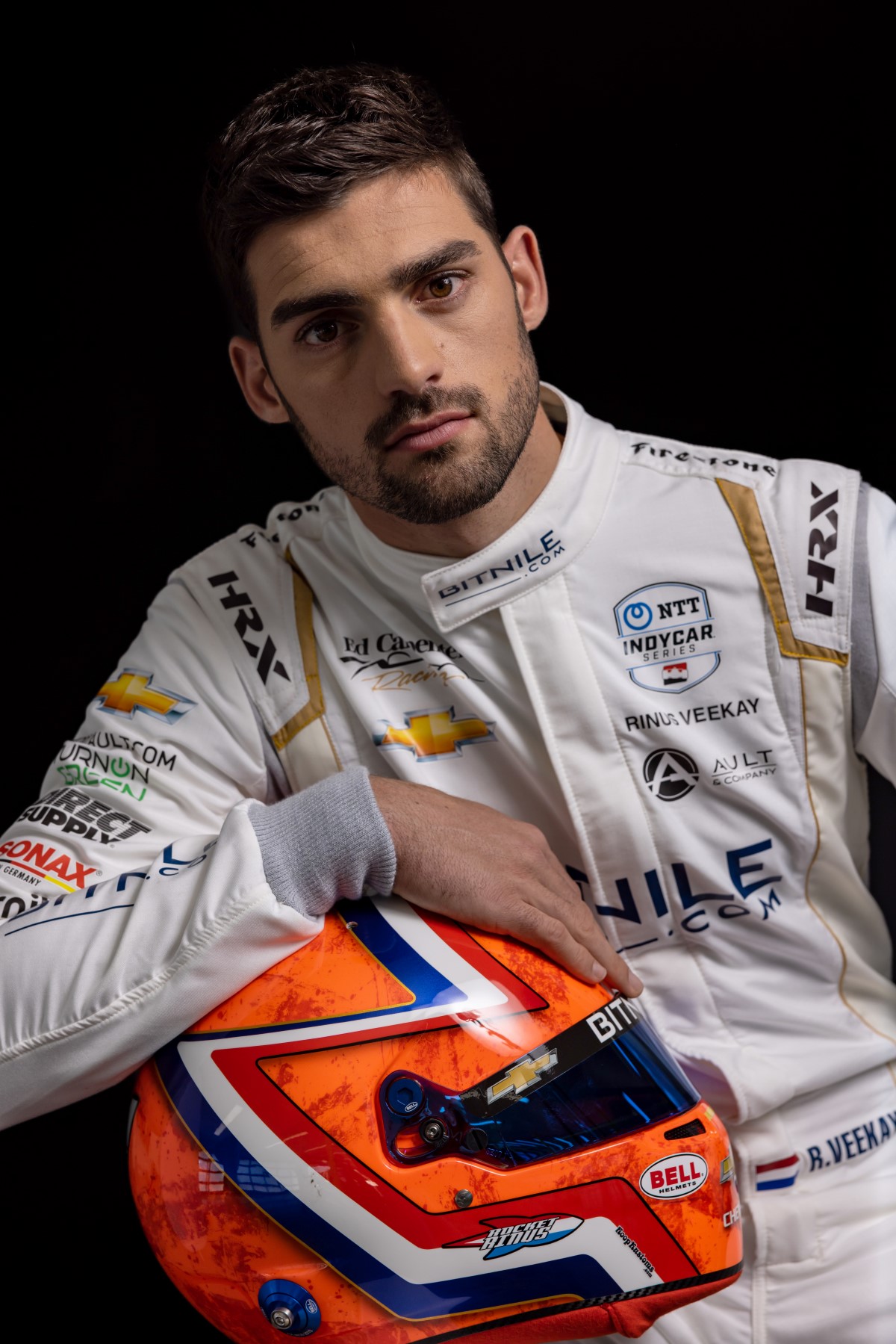 Rinus VeeKay will be driving for Ed Carpenter Racing for his third season.  Their cars were really good on the ovals last season but VeeKay is looking to win on all the tracks this coming season.
"That's definitely something we focused on. We've had great pace at races, but we've been too up and down, exactly."
"With the engineers, we kind of took apart every full race weekend with practice one, practice two, like everything with the feedback, what I gave. Lap for lap, we looked everything back. We tried to find stuff that should have gone right but didn't go right. Kind of kept going the whole weekend."
"Sometimes in practice one something happens, that kind of carries over throughout the whole weekend. Sometimes something goes very well in practice, and it carries out throughout the weekend."
"Yeah, we found a lot of stuff that I could prepare better in some ways. I feel like I can prepare a bit better in some ways. I found ways, different ways, to prepare, so…"
"Yeah, I'm focusing on that now. Also within the team, they also found a few things they can improve so we can start off better."
"Yeah, I think just a few different minds just to switch up the way of thinking, coming to a few tracks where we struggle."
"There's tracks where, like Road America, we struggled, and we kind of always struggle, so it's kind of a trend. Some new suggestions from new people, new ways of thinking."
"Hopefully, yeah, end that."
Conor Daly – #20 Ed Carpenter Racing Chevrolet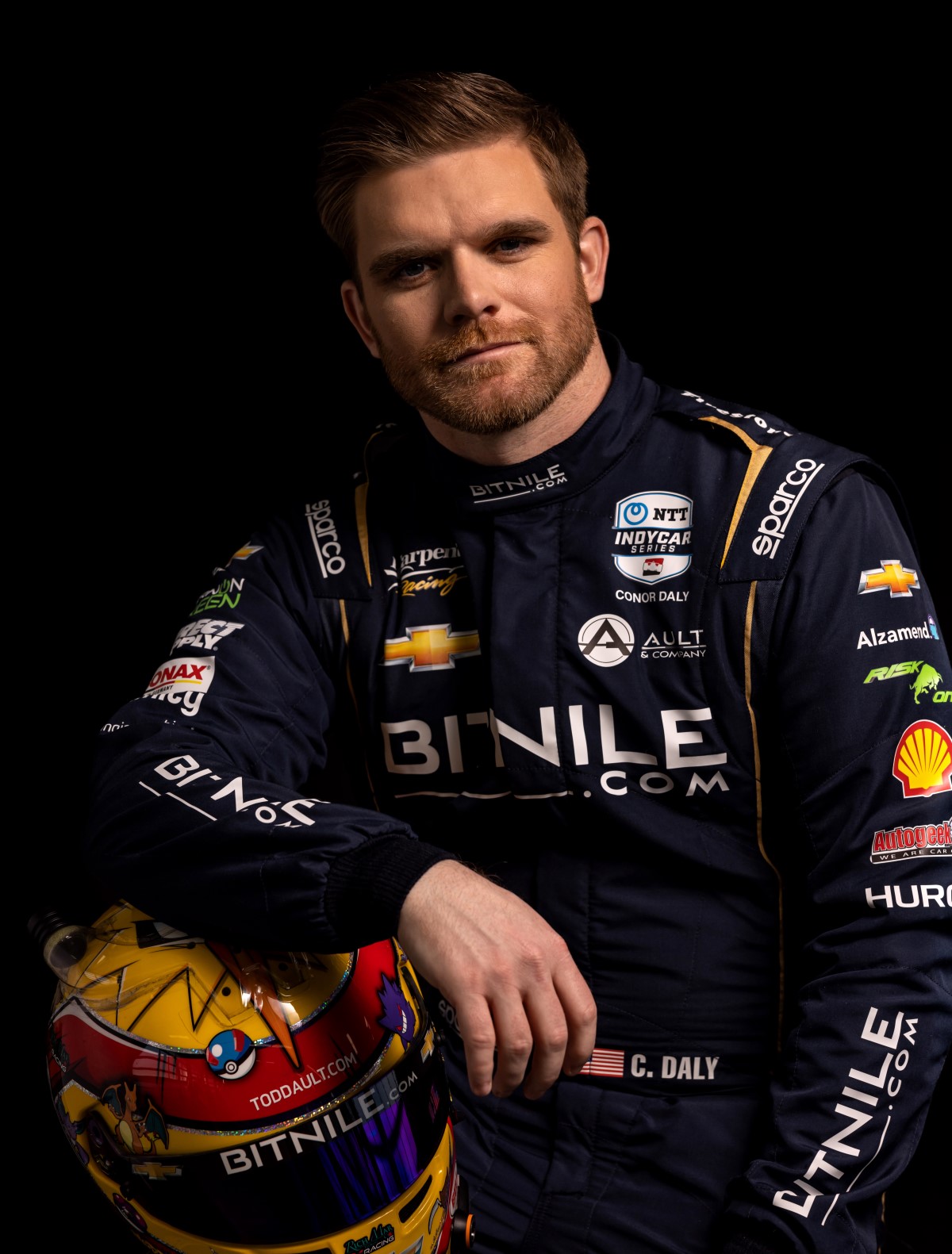 Conor Daly is starting his fourth season with ECR.  His best finish of fifth in the 2022 Indy 500 was his only podium of last season.
"We can train all we want, and I've had the most consistent training regime of any off-season thankfully, so it feels good what we've been doing in the gym, but there's nothing like getting in these cars to drive to really prepare yourself for the first race."
"It's going to be important. Try to do as many laps as possible this week at the Thermal Club."
The American was asked what kind of information the team and driver will get out of  the next two days of testing since the series will not race at this track this season.
"I'm trying to think back to I guess the last time we all had to learn a new track. It's probably Nashville. We're going to have to do it again at Detroit, right, because Detroit will be a new one for us this year."
"We've done it before. But when it comes to Nashville, it was very, very time condensed, then we went racing. This is just two full days of testing."
"It's hard when it comes to just two full days of testing because obviously some people will adapt to it quicker than others. You might feel like a hero, then you might feel like a zero the next day because some people have caught up."
"Is really kind of funny to see. It's kind of a shame that it's all officially timed and judged upon day one because it could be a complete flip in day two."
"But these days are important because hopefully it is an indication for us on all the permanent road circuits that we go to, right? This is a permanent road circuit that we get to test at which is important for a number of tracks: Mid-Ohio, Laguna Seca, Indy GP, all the permanent tracks we go to."
"Hopefully it's helpful for us in all those scenarios. We'll see what happens, I guess."
ED Carpenter – #33 Ed Carpenter Racing Chevrolet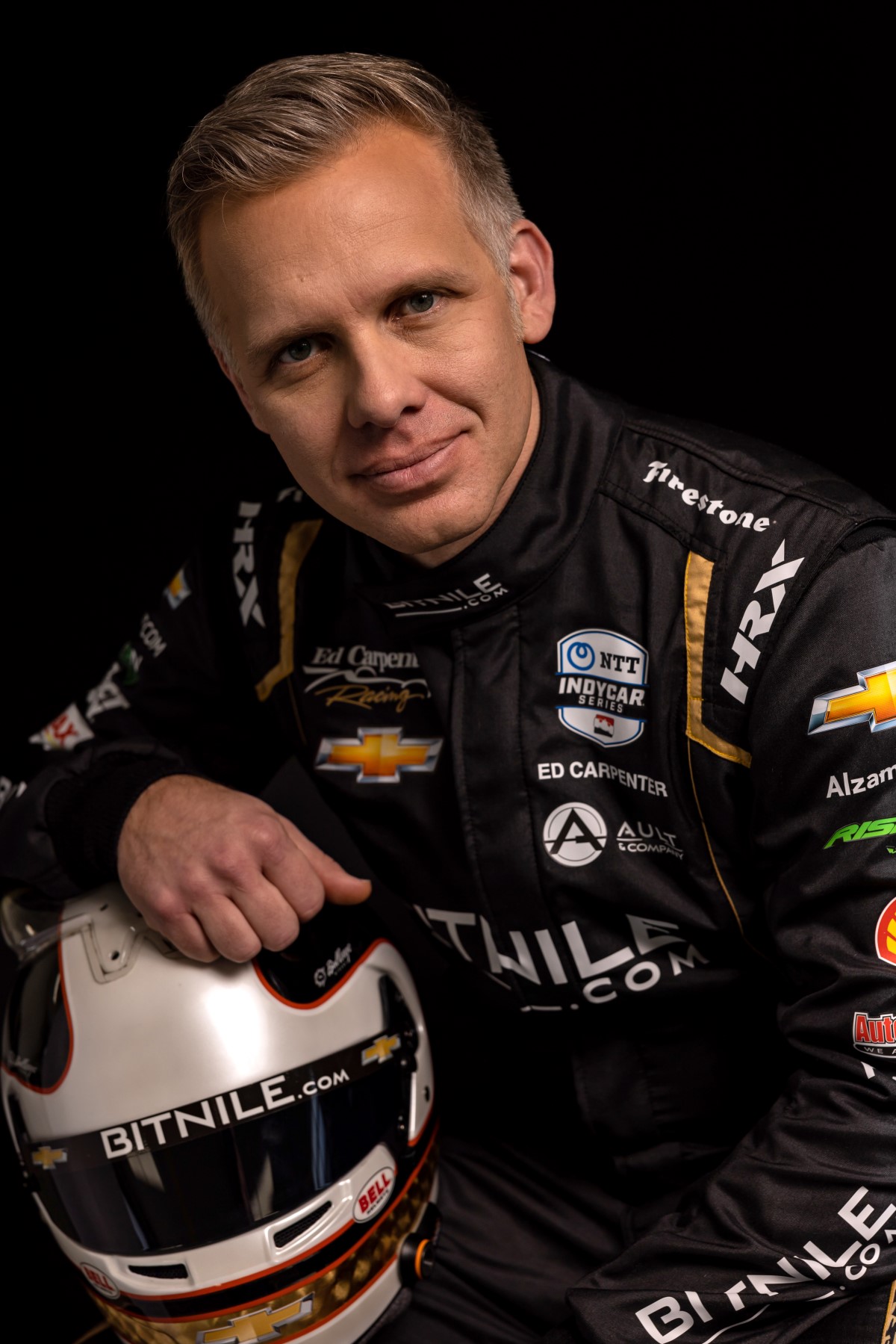 Ed Carpenter will be driving the five oval races again this season.  The only team owner who drives some races is please with his team's performance.
"There's a lot of great things going on with the team. You hear about it, you hear about plans. But we spent a whole day yesterday doing basically what we're doing today just with our partner. They had a whole team there."
"For Conor and Rinus, I think it was the first time they were able to hear and see a lot of the plans that are in place for this year."
"It is an exciting and encouraging time just to lead into this weekend or this week, really kicking off the season."
"We've been able to bring in some new people. We lost a couple. All things considered, I would say our turnover was low."
"For a year and a half we've been trying to add a couple positions that we didn't have. I think we're happy with the people we've been able to bring in. Some new faces in engineering, some new faces out on the car. Hopefully have a deeper team, a little bit of a restructure at the shop, but minor relative to other teams."
"Really the biggest thing is all of what I consider key essential employees at Ed Carpenter Racing have been with us from essentially day one. We've just built it together. It's very much a family, but also very serious, goal oriented. We continue making progress."
" My number one goal is the same every year, and that's to win the Indianapolis 500, whether it's in my car would be best, or the other team cars. After that, be as competitive as possible, win as many other races as possible, place our cars hopefully in championship contention at Laguna."
Josef Newgarden – #2 Team Penske Chevrolet
"Honestly, I don't feel that different leaving Laguna, where I was kind of at mentally there, my statements, what I was projecting. I feel very similar to that place. Not a lot's transpired between now and then. Just in the same spot, ready to get back going, improve where we can, be better in areas where we need to be, put a good season together."
"I don't think we're going to change much. I don't know that we need to change anything as far as our approach or process. I think everything that we're doing is what we need to be doing."
"INDYCAR just has that intangible side to it where you just can't predict everything. You do need a little bit of I don't want say lock but you need the tides to favor you at times. It's preparation, hard work, maximizing each day, then timing needs to be on your side. Sort of the tides need to flow for you."
"I think most of everything went well for us last year. There were just too many events, just a couple too many races that didn't go our way that we needed to."
The American was asked if finishing second in the points for the last three years bothers him.
"It gnaws at me for sure. It's annoying, there's no doubt. How could you not be frustrated by it, right? I think it's normal, very frustrating."
"I try and take the frustration and just put it into motivation. How are we going to build a bigger gap where that's not even possible? I don't even want to be messing with it at the end of the year. In an ideal world, if we get to the end of a season where we don't have to mess with the gap, if we can just get that out of the way, that would be ideal. That's where my mindset is at, how do we get to that place where it's not even on the table, it's just done."
"I think I'm not arrogant enough to believe that that's easy. It seems near impossible these days to do that. I think that's valid. It's very difficult to do that. I understand that. But I still want to find a way where we can get to a place where we don't have to mess with it."
Scott McLaughlin – #3 Team Penske Chevrolet
Scott McLaughlin is starting his third season with Team Penske.  After having a remarkable 2022 season with three wins , three poles, seven podiums, eight top fives, 12 top 10s, the Kiwi reflected on the challenges for this season.
" Look, absolutely. I know that we made a massive step personally for me last year. That was due to a number of things, things clicking, working out really good."
"But now what we know of INDYCAR racing, you just need to continue stepping up a little. McLaren is going to be fast, Andretti, Ganassi as we know is unreal. We need to continue to build as a team, myself. I've certainly looked at negatives that I can improve on. Hopefully that bodes me well for the rest of the season."
" I made a couple mistakes mid-season. My Indy crash, Detroit going down the escape road, a few things that just sort of put me on the back foot championship-wise."
"If you looked at my season from maybe Road America on, I felt like everything sort of clicked. I just took races as they came. The way I finished the season last year, I've got to start and continue to do every race of the year like that. I can't afford mistakes. You can't afford mistakes in INDYCAR and be on the back foot."
"For me, it's rewarding when you can beat my teammates. You know that they're at the top of their game. They're probably the best INDYCAR drivers, some of the best INDYCAR drivers around right now. You know when you're beating them, you're doing a good job."
"As a team, we push each other. The competitiveness between us all, we hate losing to each other, but we also know the reward in beating each other, for the team to win. It's just good camaraderie, the boys and girls push each other on the mechanics side. Whose cars get done the fastest. Good, competitive rivalry between everyone."
"That starts from how we interact, the three of us. Yeah, it's a lot of fun."
"I wouldn't say it's frustrating that I have them as teammates. I think it's like — I just want to chase something, if I'm better than them on the day, you have to be somewhere thereabouts."
"I think right now I feel comfortable with where I'm at. I know, I believe I'm fast enough to win the championship. It also comes up to me executing and doing what I can to perform on the day."
"What I tried to do last year was sometimes when I had, like, an eighth-place car, I tried to make it a second-place car and I'd crash or go down the escape road or something like that. That's what I changed towards the end of the season. It's just about letting it happen, letting the pace come, hopefully it bodes us well towards the end of the season."
"I know I have the speed to win a championship, but I've got to put it together. That's the same for Indy 500. I've learnt a lot over the years that I know I've got the right ingredients around me, I feel like I've learnt enough to be a force come May. At the same time it's about executing at the moments that you really need to and not risk too much in the moments you don't need to."
"Yeah, I get a lot of enjoyment out of that. It's a tough series in that regard."
Lucille Dust reporting live from Palm Springs, California