F1: Jewish racer inches closer to F1 ride
It's the morning of January 24th shortly after 10 o'clock, Robert Shwartzman drove out of the Fiorano pit garage at the wheel of a Ferrari SF21, the F1 car raced two seasons ago, thus kicking off Scuderia Ferrari's track activity for this year.
The end of January "wake-up" test has been a regular feature for the team over the past few years, proving useful for drivers, mechanics and engineers to get back into the swing of things on track.
Despite the less-than-ideal conditions, the Russian-Israeli racer ended the afternoon last Tuesday having completed 87 laps equalling a total of nearly 161 miles. Shwartzman's ride marked the first of three season-opening test days for Ferrari, which took place last week at the team's private development track in Fiorano Modenese, Italy, in preparation for the first official race of 2023 in early March.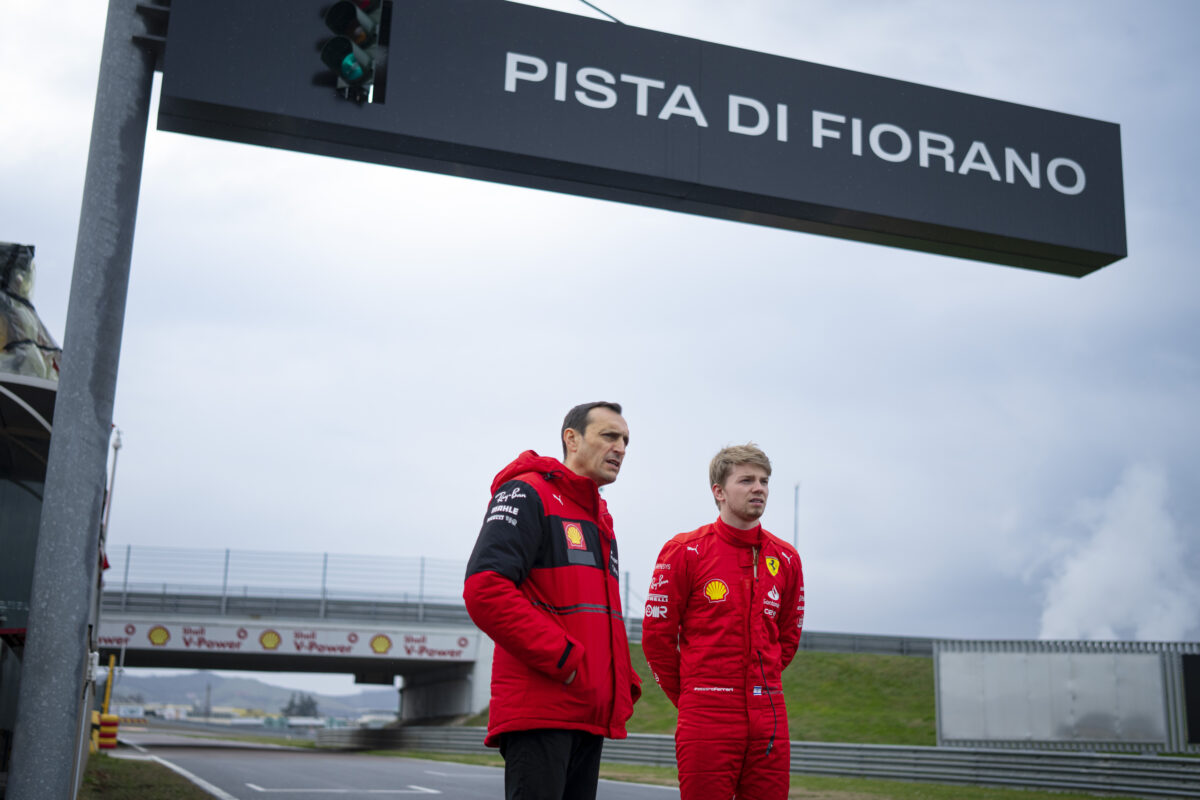 Shwartzman, who this year shares the role of development and reserve driver with Antonio Giovinazzi, completed only a few laps in the morning, as the track was far from being at its best in the wet and extremely cold conditions.
By lunchtime, he had completed 35 laps on rain tires. In the afternoon another short spell of rain slowed the program again, but Robert still managed to do a further 52 laps, also on rain tires for his final run, making a total of 77 laps for the day, equal to 259 kilometers.
"It was a bit more challenging because of the wet conditions of the track…but still just a good experience because I've never experienced driving an F1 car in the rain," Shwartzman, 23, told Jewish Insider of his first drive since his promotion. "Overall, I think it was a very positive test for me to learn new stuff, new things."
Since the instant he jumped into the driver's seat at age 4, Robert Shwartzman loved to race, a passion he'd inherited from his father, Mikhail, who died in April 2020 after contracting COVID-19. Only a few months later, Shwartzman would debut in Formula Two, where he would go on to end the season in second place.
"Basically, from the moment I [was] born I got that passion too, and [then] it was just me and him," Shwartzman recalled. "We were fully dedicated and fully obsessed [with racing], me and my dad, no one else from the family."
Three years later, Shwartzman has kept pushing in his pursuit of their shared dream — to become a competitive Formula One driver. He took one step closer to that goal on Jan. 19, when Scuderia Ferrari, the luxury brand's F1 team, announced that Shwartzman had been promoted to reserve driver, a role he shares with Italian driver Antonio Giovinazzi.
"I'm very happy and honored that this year I became a reserve driver for Ferrari," Shwartzman said of his promotion. "I'm very thankful for Ferrari, and also for the part of [the Ferrari Driver Academy] for pushing and giving their experience and everything they could to me to develop and to grow…It's a very important role I have for this year, so my target is just to do my best and to deliver the best job as possible."
Shwartzman's history with Ferrari goes back to 2017, when he joined the FDA ahead of his rookie Formula Three season driving for Prema Racing — he was released from the academy last month after attaining reserve driver status. Most recently, Shwartzman was a test driver for the team throughout the 2022 season, during which he made his official F1 debut in two rookie free practice sessions in Austin, Texas, and Abu Dhabi, United Arab Emirates.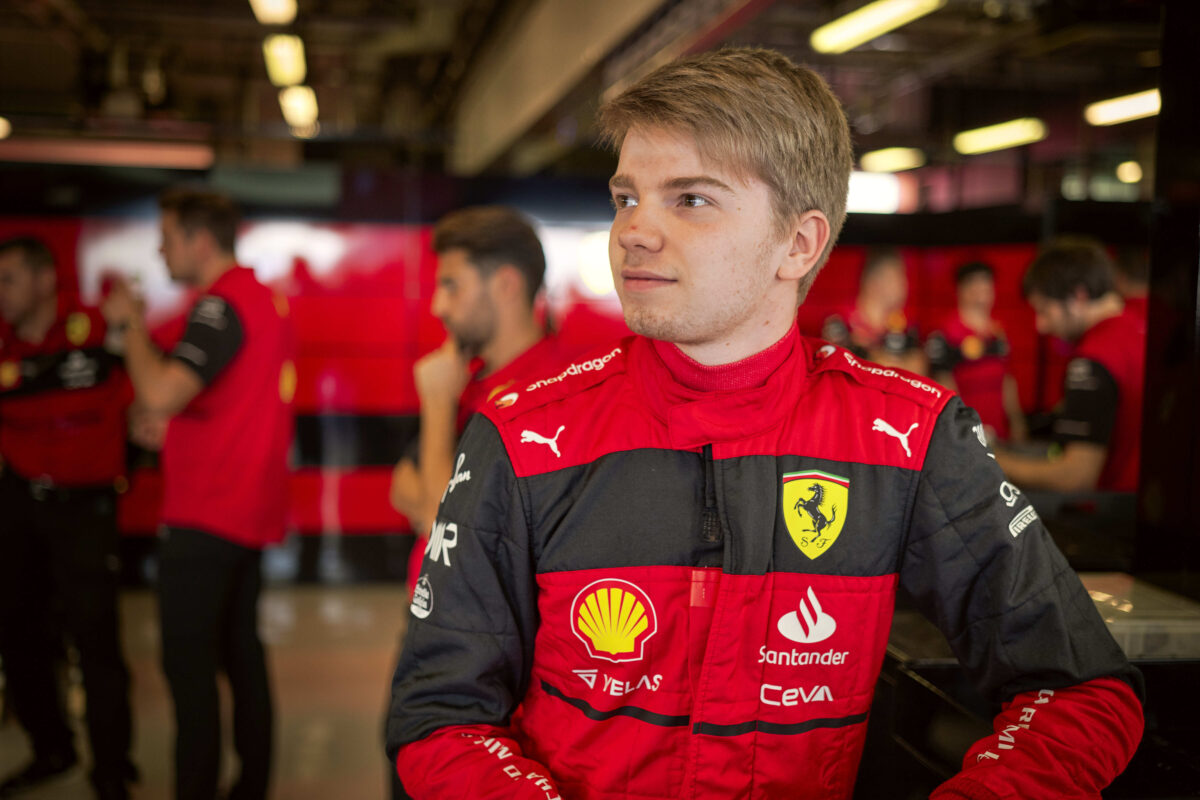 Shwartzman's advancement to F1 was a welcome move for the young hopeful; however, as a test driver and not a starter, it also means his days of competition are over for the time being. Shwartzman spent most of 2022 at Ferrari's headquarters in Maranello, Italy, working mainly in the simulator, or testing new cars and features to help perfect them for the team's competing drivers.
"In the regulations, the [competing] drivers on the teams can't test the real car," Shwartzman said. "There is a very short, limited amount of testing that they [are able to do within the rules], so therefore, all the teams [have] simulators where they're doing, sort of, homework to prepare the car in the best shape as possible."
Now, with Shwartzman's new position as a reserve driver, comes the promise of more track time. In addition to racing in two more rookie free practices in 2023, as a reserve driver, Shwartzman will need to be on site at most Grand Prix races in case one of Ferrari's current starters, Charles Leclerc and Carlos Sainz, can't compete. He will also join team Ferrari for this year's GT World Challenge Europe Endurance Cup, his first competition since 2021 and his sportscar-racing debut.
Shwartzman, who holds Russian and Israeli citizenships, began operating under an Israeli racing license ahead of the 2022 season. He had previously been driving under a Russian license, but in light of Russia's invasion of Ukraine, the FIA began requiring all competitors to "run under a neutral flag."
The change felt natural to Shwartzman, who was born in Tel Aviv and spent the first three years of his life in Israel, before moving to Russia for six years. He moved to Italy when he was 9, where he has spent most of the last decade.
"I knew, always, that I was born in Israel and that I have Jewish blood inside me… I never said I'm only this or only that," Shwartzman said. "[Switching to an Israeli license] just gave me a good feeling… It felt comfortable, like it was always there."
"The goal is still the same: to arrive to Formula One [as a starter]. Obviously, I have a bit more job to do and a bit more learning, which is always good," Shwartzman said. "I just try to learn as quickly as possible, and improve everything I have to improve as quickly and as better as possible to be fully prepared for hopefully future next steps." As told to Jewish Insider