IndyCar: Thursday Morning Practice at the Thermal Club
Good day from the beautiful grounds of the Thermal Club in Thermal, California, where the NTT INDYCAR Series is holding a two-day open test for all team entries for the 2023 season.
Quite an impressive track out here in the middle of the desert, with a small airport next door for all the private jets to land.  To join the club, you have an $85,000 initiation fee, and then you have to purchase property and build a home to the club's specifications on the property.   There is also a $1,200 monthly fee for unlimited use of the track.
View from Pit Lane                     Photo by Lucille Dust/AR1
The business is advertised as "a temple to motorsports crossed with a ritzy country club."  The homes are two or three stories high with a Spanish flavor—and massive garages for their prized collection of cars.
The IndyCars took the green flag at 9 am PST this morning.  Most teams did one installation lap and then returned to the pits for debriefing.  Not sure how much time is needed to figure out this 17-turn track, but the turns are tight and trickly.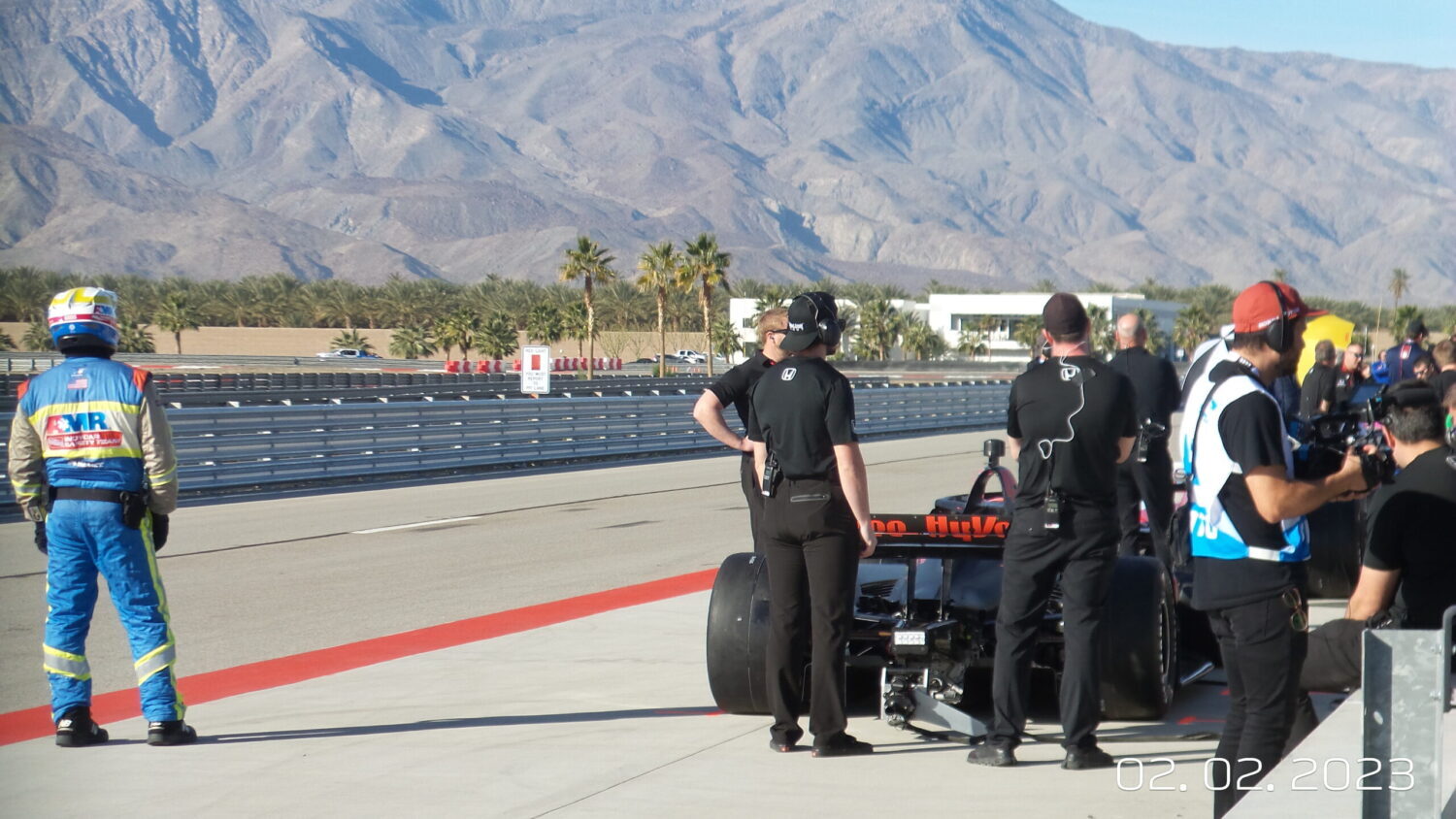 AR1 spoke with the AJ Foyt Racing Rookie Benjamin Pedersen after he ran four laps.
"It was great out there.  I can't wait to actually push it around here.  It feels like  a lot of grip, but it is only going to get a lot more grip up as we run."
"That was kind of a preliminary  procedures for multiple items on the car.  So now we will get things changed over and I will start pushing it a bit."
"I just can't wait to push it."
Each team is allowed eight sets of Firestone Firehawks for the two-day test.  The four rookies are allowed one extra set for the test.
New IndyCar Medical Center                   Photo by Lucille Dust/AR1
Lucille Dust reporting live from the Thermal Club