IndyCar: Herta stays on top in 2nd Pre-Season test session
Picking up where he left off in the morning session, Andretti Autosport Honda driver Colton Herta turned a lap of 1m39.3721s to top the 2nd pre-season test session at the Thermal Club in Thermal, CA.
Herta led a Honda 1-2-3-4 with RLL's Christian Lundgaard, Ganassi's Alex Palou and Andretti Autosport's Romain Grosjean all within 0.11s of Herta's quick time.
"Just a lot of knocking the rust off," Herta said. "It's really good to get the team back into it, get all the boys working again and just get everybody back into the flow. It's nice to be back in a car. It's a fun track to drive."
The fastest Chevy-powered car was that of Will Power in the #12 Penske Chevy.
Less than one second separated the top 18 drivers today overall.
Thirty minutes into the session, the Juncos Hollinger Racing rookie, Augustine Canapino, went off course in Turn 8.  With no damage to the car,  the #78 proceeded to the pit lane to serve a five-minute penalty for causing the red flag.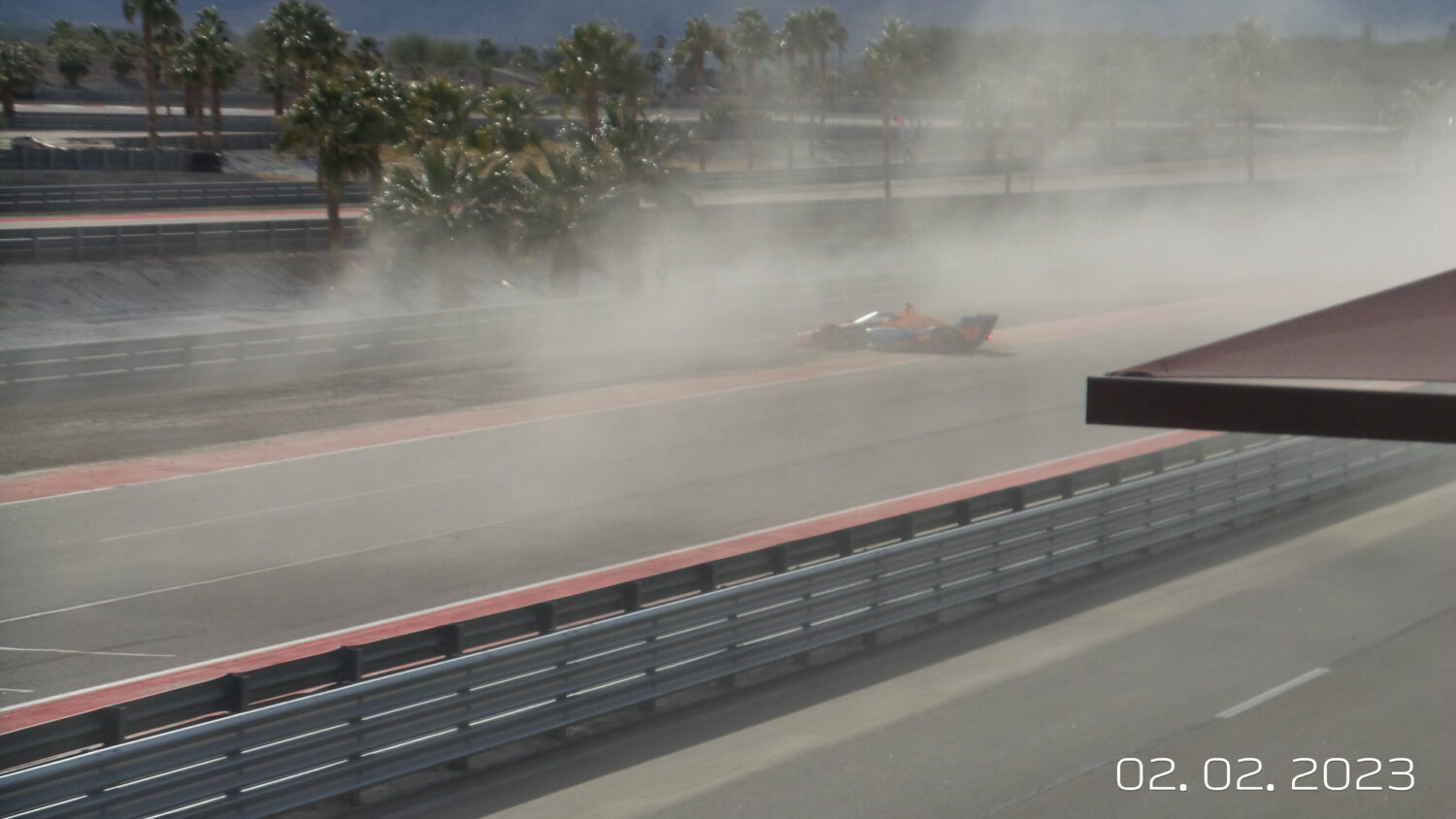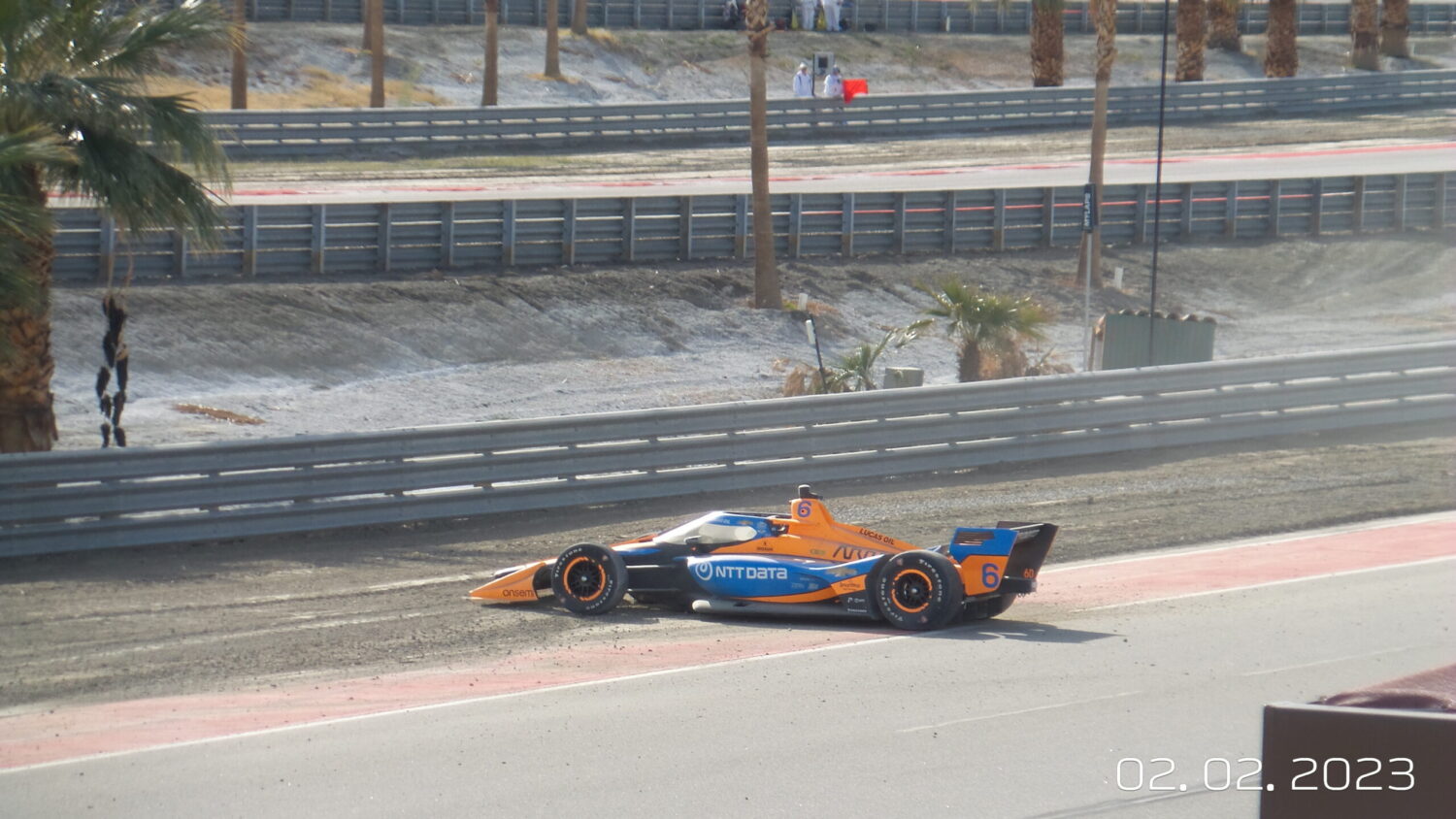 Felix Rosenqvist, the Arrow McLaren #6 entry, had an off course excursion and skidded down the side of the track just shy of an hour into the session.  The Swede managed to stay off the Armco barrier and the car came to rest halfway on the track.  He was also assessed a five-minute penalty.
Later in the session, Andretti Autosport's Devlin DeFrancesco went off course but survived no worse for wear.
Kyle Kirkwood was second quickest in the morning session at 1:40.0236 as he made an impressive debut in the No. 27 Andretti Autosport Honda after driving for AJ Foyt Racing as a rookie in 2022. But Kirkwood turned no laps in the afternoon session due to a clutch change by the Andretti Autosport crew.
Pit stop practice for all the teams was directly after the session ended.
Session 2 Times
| | | | | | | | | | |
| --- | --- | --- | --- | --- | --- | --- | --- | --- | --- |
| Pos | No | Name | Time | Diff | Gap | Laps | Speed | Engine | Team |
| 1 | 26 | Colton Herta | 1:39.3721 | 0.000s | 0.000s | 23 | 111.110 | Honda | Andretti Autosport w/Curb-Agajanian |
| 2 | 45 | Christian Lundgaard | 1:39.3767 | 0.0046 | 0.0046 | 29 | 111.105 | Honda | Rahal Letterman Lanigan Racing |
| 3 | 10 | Alex Palou | 1:39.3970 | 0.0249 | 0.0203 | 28 | 111.082 | Honda | Chip Ganassi Racing |
| 4 | 28 | Romain Grosjean | 1:39.4826 | 0.1105 | 0.0856 | 25 | 110.986 | Honda | Andretti Autosport |
| 5 | 12 | Will Power | 1:39.5690 | 0.1969 | 0.0864 | 26 | 110.890 | Chevy | Team Penske |
| 6 | 9 | Scott Dixon | 1:39.6211 | 0.2490 | 0.0521 | 18 | 110.832 | Honda | Chip Ganassi Racing |
| 7 | 77 | Callum Ilott | 1:39.6673 | 0.2952 | 0.0462 | 25 | 110.781 | Chevy | Juncos Hollinger Racing |
| 8 | 3 | Scott McLaughlin | 1:39.7657 | 0.3936 | 0.0984 | 23 | 110.671 | Chevy | Team Penske |
| 9 | 60 | Simon Pagenaud | 1:39.7862 | 0.4141 | 0.0205 | 23 | 110.649 | Honda | Meyer Shank Racing |
| 10 | 11 | Marcus Armstrong | 1:39.9077 | 0.5356 | 0.1215 | 21 | 110.514 | Honda | Chip Ganassi Racing |
| 11 | 21 | Rinus VeeKay | 1:39.9408 | 0.5687 | 0.0331 | 21 | 110.477 | Chevy | Ed Carpenter Racing |
| 12 | 8 | Marcus Ericsson | 1:39.9746 | 0.6025 | 0.0338 | 24 | 110.440 | Honda | Chip Ganassi Racing |
| 13 | 29 | Devlin DeFrancesco | 1:39.9805 | 0.6084 | 0.0059 | 29 | 110.434 | Honda | Andretti Steinbrenner Autosport |
| 14 | 18 | David Malukas | 1:40.0088 | 0.6367 | 0.0283 | 26 | 110.402 | Honda | Dale Coyne Racing with HMD |
| 15 | 5 | Pato O'Ward | 1:40.0468 | 0.6747 | 0.0380 | 24 | 110.360 | Chevy | Arrow McLaren |
| 16 | 7 | Alexander Rossi | 1:40.1446 | 0.7725 | 0.0978 | 11 | 110.253 | Chevy | Arrow McLaren |
| 17 | 2 | Josef Newgarden | 1:40.3516 | 0.9795 | 0.2070 | 26 | 110.025 | Chevy | Team Penske |
| 18 | 30 | Jack Harvey | 1:40.3712 | 0.9991 | 0.0196 | 21 | 110.004 | Honda | Rahal Letterman Lanigan Racing |
| 19 | 6 | Felix Rosenqvist | 1:40.3928 | 1.0207 | 0.0216 | 18 | 109.980 | Chevy | Arrow McLaren |
| 20 | 78 | Agustin Canapino | 1:40.4464 | 1.0743 | 0.0536 | 30 | 109.921 | Chevy | Juncos Holling Racing |
| 21 | 15 | Graham Rahal | 1:40.5516 | 1.1795 | 0.1052 | 22 | 109.806 | Honda | Rahal Letterman Lanigan Racing |
| 22 | 20 | Conor Daly | 1:40.5622 | 1.1901 | 0.0106 | 21 | 109.795 | Chevy | Ed Carpenter Racing |
| 23 | 14 | Santino Ferrucci | 1:40.5724 | 1.2003 | 0.0102 | 15 | 109.784 | Chevy | AJ Foyt Enterprises |
| 24 | 06 | Helio Castroneves | 1:40.7349 | 1.3628 | 0.1625 | 32 | 109.607 | Honda | Meyer Shank Racing |
| 25 | 51 | Sting Ray Robb | 1:41.1557 | 1.7836 | 0.4208 | 31 | 109.151 | Honda | Dale Coyne Racing w/RWR |
| 26 | 55 | Benjamin Pedersen | 1:41.5312 | 2.1591 | 0.3755 | 25 | 108.747 | Chevy | AJ Foyt Enterprises |
| 27 | 27 | Kyle Kirkwood | 2:01.4916 | 0.0000 | 0.0000 | 1 | 90.880 | Honda | Andretti Autosport |