IndyCar: Kirkwood Tops the Charts in Friday Afternoon Pre-Season test session
Kyle Kirkwood set the fastest time of 1m38.8279s in the afternoon session, even after he sat out half of the session due to going off course an hour and 15 minutes into the session.
His #27 Andretti Autosport Honda did not suffer any body damage, but the sand and rocks did hamper his running.
"It's a new team for me, new group of guys, kind of jelling with them to see how everyone operates," Kirkwood said. "I wouldn't say that we found something here that is going to translate to anywhere, right? This is a very unique track, although it was a lot of fun to drive, and it kind of surprised me in the amount of grip that it actually produced."
"Honestly, it felt pretty easy to get to the top in this car. It's not really needed to try and overextend anything."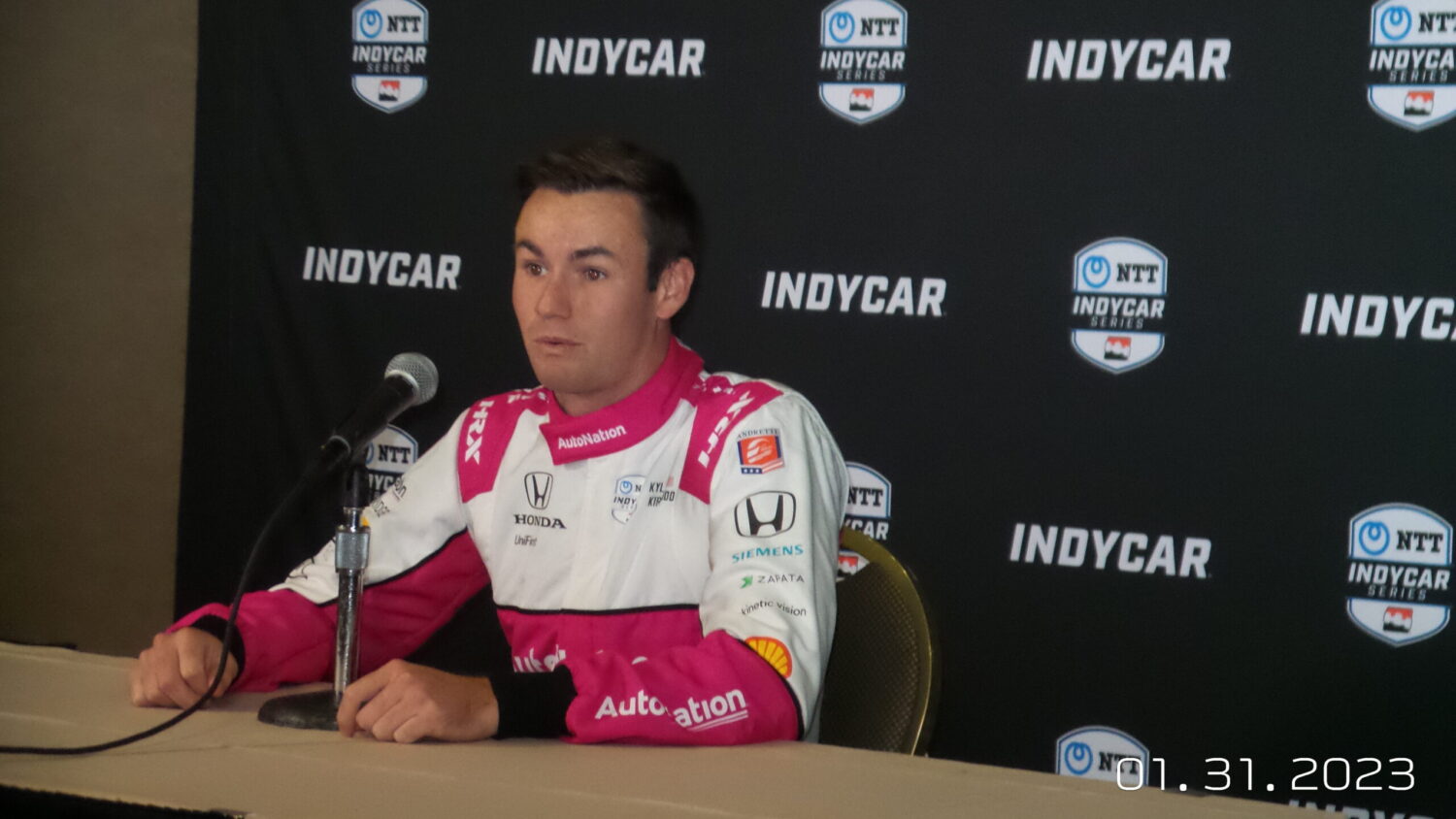 Callum Ilott, Juncos Hollinger Racing #78 Chevy, was second, 0.0125s behind after having a smoother session than the morning.
Driving the #11 Chip Ganassi Racing Honda, former F2 driver Marcus Armstrong finished a close third, 0.0130s behind and the fastest rookie.
Alex Palou in the #10 Ganassi Honda was 4th, while Will Power rounded out the top-5 with a time of 1m38.9341s in his #12 Penske Chevy.
The top-21 cars were within 1 second of each other.
Marcus Armstrong, #11 Chip Ganassi Racing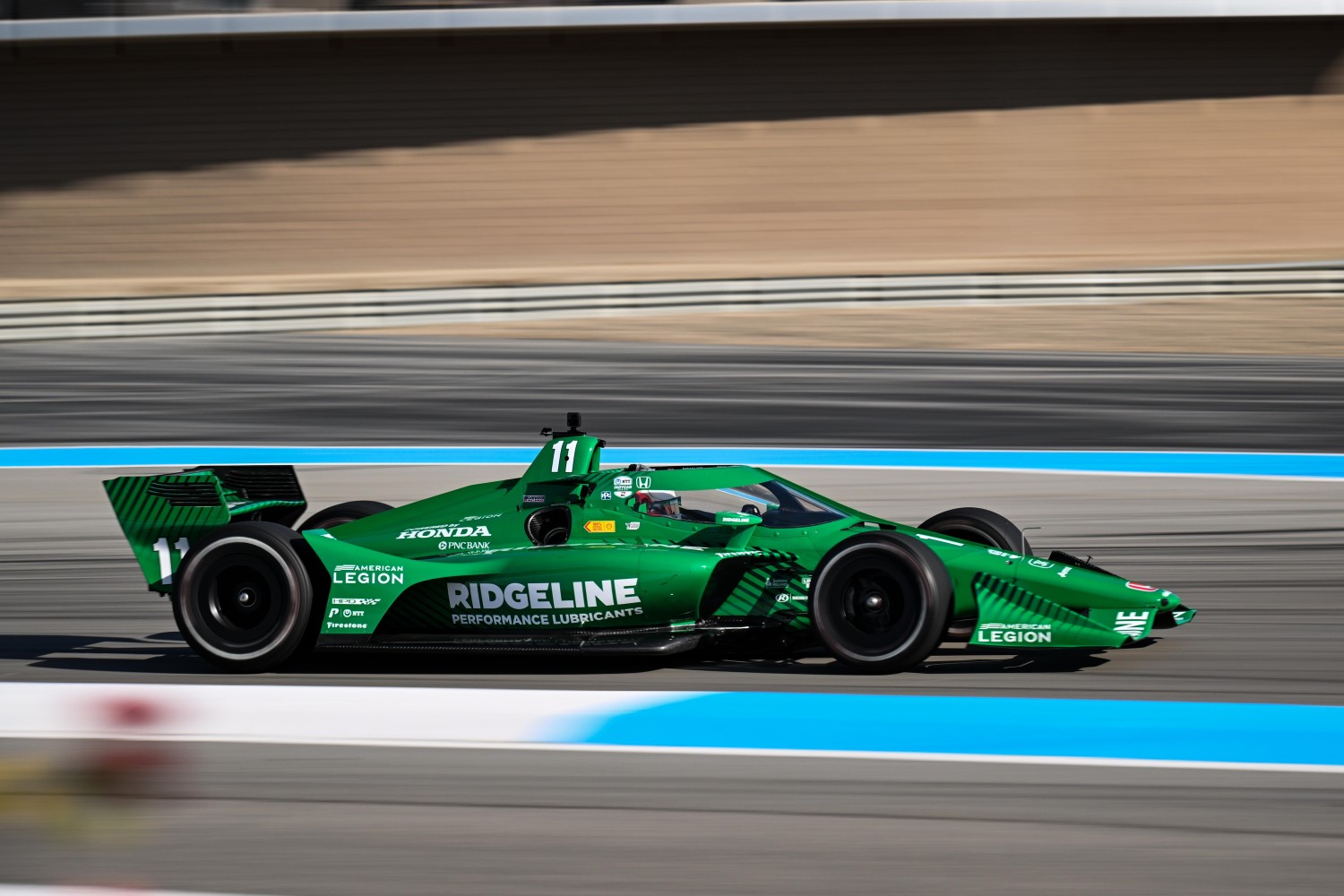 AR1 talked with the rookie after the finish of the two days running on this track.
"The two-day test was great.  I enjoyed it a lot.  It was cool to experience the new track, environment, car, and people.  And you name it, new."
"My body feels good.  That is obviously the first test back after a winter.  I feel good."
"I learned how my team works and how the car behaves.  It was very interesting and it is nice to finally be in action."
String Ray Robb, #51 Dale Coyne Racing with RWR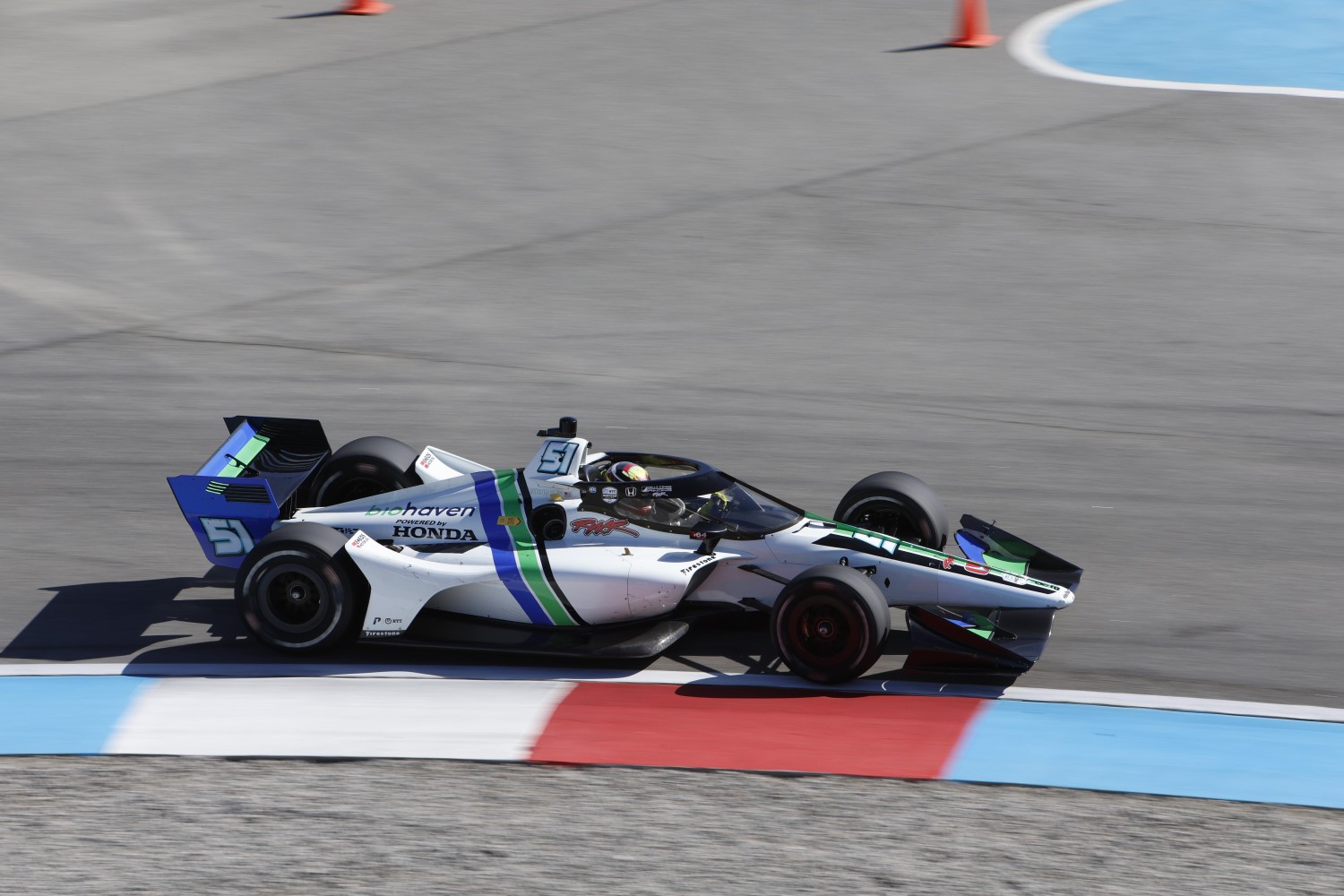 AR1 spoke with Sting Ray Robb, the rookie driving the no 51 Dale Coyne Racing with RWR, this afternoon before the day's final session.
The 21-year-old American talked about his first experience in the IndyCar for two days.  "The track is good.  It is very physical.  My neck is trash.  I feel like I am coming out of retirement now.  This track is hard on the neck, due to the high G load."
"The second half of the track, where it is all high speed, is crazy.   Most definitely figuring things out as we go.  I am not sure this will apply to future events, but it is interesting."
"I wish we were at a track that I am more familiar with, that way I could get seat time with a better baseline.  I feel like I am starting at zero on all fronts.  Being a rookie, I feel it would be better to be somewhere where I had been before."
Lucille Dust reporting from the Thermal Club
Session 4 Results
| | | | | | | | | | |
| --- | --- | --- | --- | --- | --- | --- | --- | --- | --- |
| Pos | No | Name | Time | Behind | Gap | Laps | Speed | Engine | Team |
| 1 | 27 | Kyle Kirkwood | 1:38.8279 | 0.000s | 0.000s | 10 | 111.721 | Honda | Andretti Autosport |
| 2 | 77 | Callum Ilott | 1:38.8404 | 0.0125 | 0.0125 | 23 | 111.707 | Chevy | Juncos Hollinger Racing |
| 3 | 11 | Marcus Armstrong | 1:38.8409 | 0.0130 | 0.0005 | 24 | 111.707 | Honda | Chip Ganassi Racing |
| 4 | 10 | Alex Palou | 1:38.8718 | 0.0439 | 0.0309 | 31 | 111.672 | Honda | Chip Ganassi Racing |
| 5 | 12 | Will Power | 1:38.9341 | 0.1062 | 0.0623 | 23 | 111.602 | Chevy | Team Penske |
| 6 | 60 | Simon Pagenaud | 1:38.9769 | 0.1490 | 0.0428 | 22 | 111.553 | Honda | Meyer Shank Racing |
| 7 | 26 | Colton Herta | 1:39.1047 | 0.2768 | 0.1278 | 16 | 111.409 | Honda | Andretti Autosport w/Curb-Agajanian |
| 8 | 2 | Josef Newgarden | 1:39.1739 | 0.3460 | 0.0692 | 19 | 111.332 | Chevy | Team Penske |
| 9 | 9 | Scott Dixon | 1:39.2377 | 0.4098 | 0.0638 | 35 | 111.260 | Honda | Chip Ganassi Racing |
| 10 | 7 | Alexander Rossi | 1:39.2500 | 0.4221 | 0.0123 | 19 | 111.246 | Chevy | Arrow McLaren |
| 11 | 45 | Christian Lundgaard | 1:39.2842 | 0.4563 | 0.0342 | 28 | 111.208 | Honda | Rahal Letterman Lanigan Racing |
| 12 | 8 | Marcus Ericsson | 1:39.3425 | 0.5146 | 0.0583 | 28 | 111.143 | Honda | Chip Ganassi Racing |
| 13 | 28 | Romain Grosjean | 1:39.3547 | 0.5268 | 0.0122 | 34 | 111.129 | Honda | Andretti Autosport |
| 14 | 18 | David Malukas | 1:39.3668 | 0.5389 | 0.0121 | 33 | 111.116 | Honda | Dale Coyne Racing with HMD |
| 15 | 06 | Helio Castroneves | 1:39.4114 | 0.5835 | 0.0446 | 31 | 111.066 | Honda | Meyer Shank Racing |
| 16 | 3 | Scott McLaughlin | 1:39.4290 | 0.6011 | 0.0176 | 33 | 111.046 | Chevy | Team Penske |
| 17 | 5 | Pato O'Ward | 1:39.4310 | 0.6031 | 0.0020 | 26 | 111.044 | Chevy | Arrow McLaren |
| 18 | 29 | Devlin DeFrancesco | 1:39.6640 | 0.8361 | 0.2330 | 27 | 110.784 | Honda | Andretti Steinbrenner Autosport |
| 19 | 6 | Felix Rosenqvist | 1:39.6821 | 0.8542 | 0.0181 | 20 | 110.764 | Chevy | Arrow McLaren |
| 20 | 78 | Agustin Canapino | 1:39.7039 | 0.8760 | 0.0218 | 25 | 110.740 | Chevy | Juncos Holling Racing |
| 21 | 15 | Graham Rahal | 1:39.7432 | 0.9153 | 0.0393 | 25 | 110.696 | Honda | Rahal Letterman Lanigan Racing |
| 22 | 30 | Jack Harvey | 1:39.8567 | 1.0288 | 0.1135 | 25 | 110.570 | Honda | Rahal Letterman Lanigan Racing |
| 23 | 51 | Sting Ray Robb | 1:39.8983 | 1.0704 | 0.0416 | 27 | 110.524 | Honda | Dale Coyne Racing w/RWR |
| 24 | 21 | Rinus VeeKay | 1:40.0806 | 1.2527 | 0.1823 | 28 | 110.323 | Chevy | Ed Carpenter Racing |
| 25 | 55 | Benjamin Pedersen | 1:40.1297 | 1.3018 | 0.0491 | 27 | 110.269 | Chevy | AJ Foyt Enterprises |
| 26 | 20 | Conor Daly | 1:40.2270 | 1.3991 | 0.0973 | 27 | 110.162 | Chevy | Ed Carpenter Racing |
| 27 | 14 | Santino Ferrucci | 1:40.2833 | 1.4554 | 0.0563 | 26 | 110.100 | Chevy | AJ Foyt Enterprises |
Combined Results – All Sessions
| | | | | | | | |
| --- | --- | --- | --- | --- | --- | --- | --- |
| Rank | Car | Driver Name | Engine | Session | Time | Speed | Total Laps |
| 1 | 8 | Ericsson, Marcus | Honda | Practice 3 | 01:38.4223 | 112.182 | 79 |
| 2 | 45 | Lundgaard, Christian | Honda | Practice 3 | 01:38.5682 | 112.016 | 103 |
| 3 | 27 | Kirkwood, Kyle | Honda | Practice 3 | 01:38.7885 | 111.766 | 66 |
| 4 | 77 | Ilott, Callum | Chevy | Practice 4 | 01:38.8404 | 111.707 | 89 |
| 5 | 11 | Armstrong, Marcus (R) | Honda | Practice 4 | 01:38.8409 | 111.707 | 101 |
| 6 | 12 | Power, Will | Chevy | Practice 3 | 01:38.8702 | 111.674 | 97 |
| 7 | 10 | Palou, Alex | Honda | Practice 4 | 01:38.8718 | 111.672 | 98 |
| 8 | 3 | McLaughlin, Scott | Chevy | Practice 3 | 01:38.9052 | 111.634 | 111 |
| 9 | 6 | Rosenqvist, Felix | Chevy | Practice 3 | 01:38.9410 | 111.594 | 85 |
| 10 | 9 | Dixon, Scott | Honda | Practice 3 | 01:38.9762 | 111.554 | 101 |
| 11 | 60 | Pagenaud, Simon | Honda | Practice 4 | 01:38.9769 | 111.553 | 93 |
| 12 | 2 | Newgarden, Josef | Chevy | Practice 3 | 01:39.0301 | 111.493 | 98 |
| 13 | 7 | Rossi, Alexander | Chevy | Practice 3 | 01:39.0913 | 111.425 | 83 |
| 14 | 28 | Grosjean, Romain | Honda | Practice 3 | 01:39.0944 | 111.421 | 92 |
| 15 | 26 | Herta, Colton | Honda | Practice 4 | 01:39.1047 | 111.409 | 87 |
| 16 | 5 | O'Ward, Pato | Chevy | Practice 3 | 01:39.1486 | 111.360 | 80 |
| 17 | 18 | Malukas, David | Honda | Practice 4 | 01:39.3668 | 111.116 | 122 |
| 18 | 06 | Castroneves, Helio | Honda | Practice 3 | 01:39.3803 | 111.100 | 99 |
| 19 | 29 | DeFrancesco, Devlin | Honda | Practice 3 | 01:39.5308 | 110.932 | 99 |
| 20 | 30 | Harvey, Jack | Honda | Practice 3 | 01:39.6960 | 110.749 | 97 |
| 21 | 78 | Canapino, Agustin (R) | Chevy | Practice 4 | 01:39.7039 | 110.740 | 97 |
| 22 | 15 | Rahal, Graham | Honda | Practice 4 | 01:39.7432 | 110.696 | 95 |
| 23 | 21 | VeeKay, Rinus | Chevy | Practice 3 | 01:39.8912 | 110.532 | 110 |
| 24 | 51 | Robb, Sting Ray (R) | Honda | Practice 4 | 01:39.8983 | 110.524 | 122 |
| 25 | 14 | Ferrucci, Santino | Chevy | Practice 3 | 01:39.9366 | 110.482 | 70 |
| 26 | 20 | Daly, Conor | Chevy | Practice 3 | 01:40.1192 | 110.281 | 94 |
| 27 | 55 | Pedersen, Benjamin (R) | Chevy | Practice 4 | 01:40.1297 | 110.269 | 92 |
| | | (R) Rookie | | | | | |