Bathurst 12H: Mercedes driver Engel claims pole with record lap
A record-breaking Maro Engel has powered to pole position to secure his second Allan Simonsen Trophy.
Engel secured pole position for Mercedes-AMG, with Supercars racer Broc Feeney taking second place just two tenths of a second behind.
Australian endurance specialist Matt Campbell placed third, followed by defending champion Jules Gounon in fourth.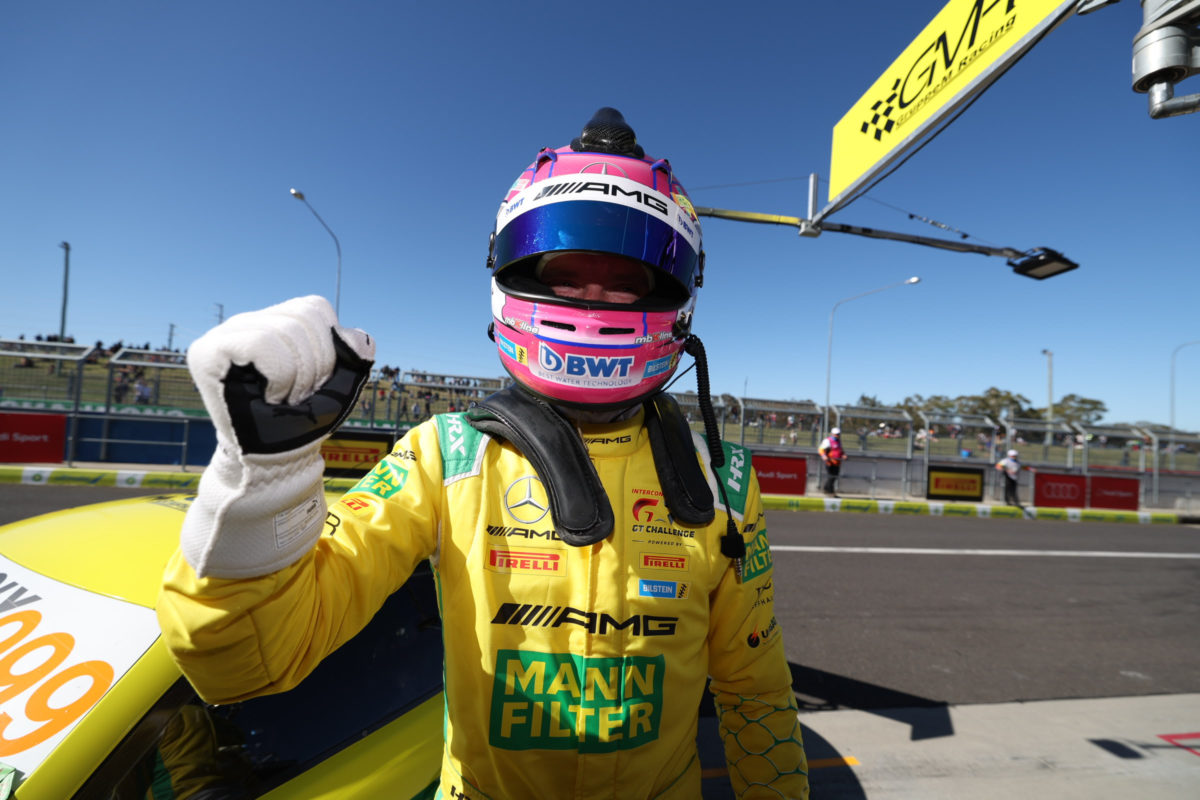 Valentino Rossi, who impressed in his debut run on Friday, handed over qualifying duties to Belgian driver Maxime Martin who set the eighth-fastest time.
Chaz Mostert, who set the pace in the first part of the shootout, secured sixth place with a lap time of 2 minutes and 1.86 seconds.
Engel's record-breaking lap was more than two seconds faster than the previous Bathurst 12 Hour benchmark, set by Shane Van Gisbergen in 2016.
His time was also two tenths of a second faster than the previous Supercars benchmark set by Chaz Mostert in 2021.
The #999 GruppeM Mercedes-AMG driver reset his own 12 Hour lap record en route to pole.
Engel clocked a stunning 2:00.8819s to undercut his qualifying record — a 2:01.0836s — set earlier on Saturday.
The German driver was forced to stave off an impressive riposte from Feeney, who had to reins of the #888 Supercheap Auto Mercedes.
Campbell, the 2020 pole winner, threw his name into the discussion late on.
Prior to Engel's final flyer, the top three were covered by just 0.08s.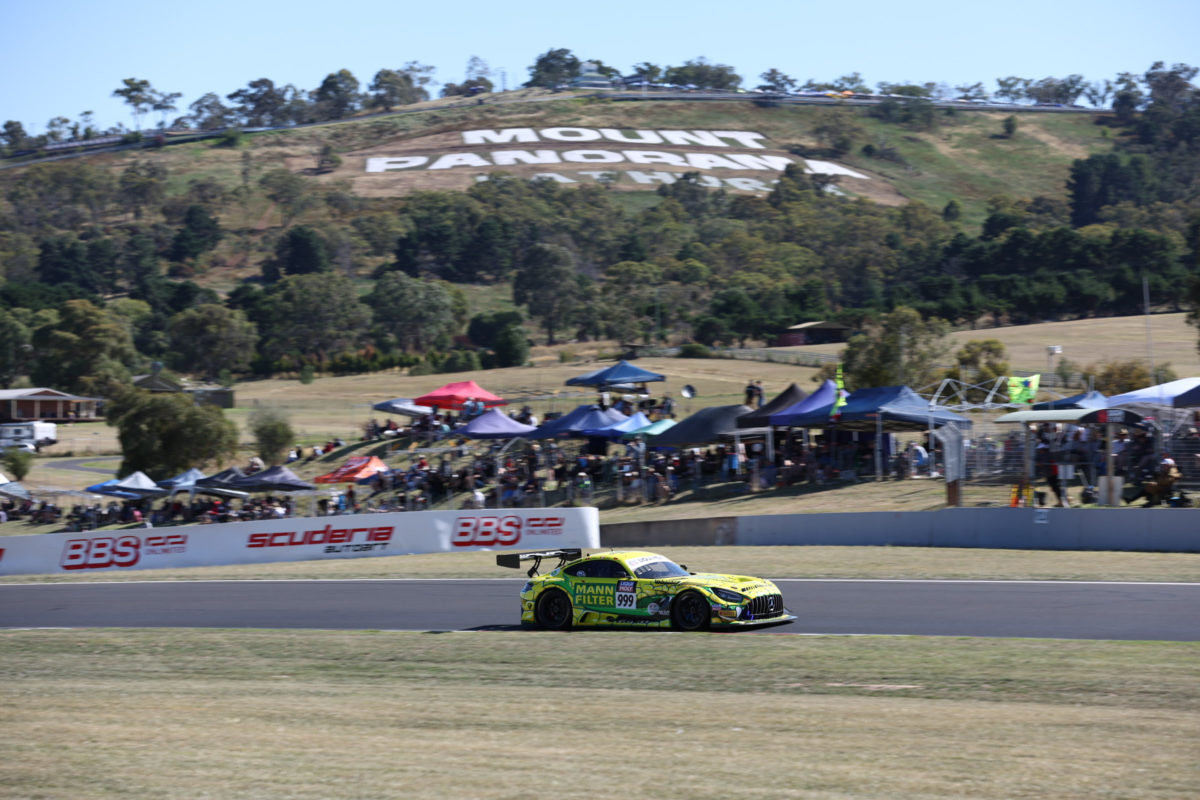 However, Engel turned up the wick and clocked the first 2:00s lap in 12 Hour history.
"It's amazing," Engel said.
"I'm lost for words. The grip level this weekend has been amazing.
"Big, big thank you to the team, to these guys [co-drivers Raffaele Marciello and Mikael Grenier] for trusting me.
"And to the team for an amazing car, it was a pleasure."
Sunday's LIQUI MOLY Bathurst 12 Hour will commence at 5:45am local time.
Results: Top Ten Shootout
| | | | | | | | |
| --- | --- | --- | --- | --- | --- | --- | --- |
| Pos | Num | Team/Sponsor | Driver(s) | Car | Cls | Time | Behind |
| 1 | 999 | GruppeM Racing | Maro Engel | Mercedes-AMG GT3 EVO | PRO | 2:00.8819 | |
| 2 | 888 | Supercheap Auto Racing | Broc Feeney | Mercedes Benz AMG GT | PRO | 2:01.0983 | 0:00.2164 |
| 3 | 912 | Manthey EMA | Matt Campbell | Porsche GT3 R Spec 2 | PRO | 2:01.1730 | 0:00.2911 |
| 4 | 75 | Sun Energy 1 | Jules Gounon | Mercedes Benz AMG GT | PRO | 2:01.2916 | 0:00.4097 |
| 5 | 32 | Team WRT | Dries Vanthoor | BMW M4GT3 | PRO | 2:01.7241 | 0:00.8422 |
| 6 | 65 | Sportsbet Team MPC | Chaz Mostert | Audi R8 LMS Evo 2 | PAM | 2:01.8694 | 0:00.9875 |
| 7 | 74 | The Bend Motorsport Park / MPC | Mattia Drudi | Audi R8 LMS Evo 2 | PRO | 2:02.2197 | 0:01.3378 |
| 8 | 46 | Team WRT | Maxime Martin | BMW M4GT3 | PRO | 2:02.5083 | 0:01.6264 |
| 9 | 44 | Valmont Racing | Aaron Cameron | Mercedes Benz AMG GT | SIL | 2:02.5482 | 0:01.6663 |
| 10 | 77 | Mercedes-AMG Craft-Bamboo | Daniel Juncadella | Mercedes-AMG GT3 | PRO | 2:03.0311 | 0:02.1492 |
Results: Qualifying – Part 2 Individual drivers
| | | | | | | | |
| --- | --- | --- | --- | --- | --- | --- | --- |
| Pos | Num | Team/Sponsor | Driver | Car | Cls | Time | Behind |
| 1 | 999 | GruppeM Racing | Maro Engel | Mercedes-AMG GT3 EVO | PRO | 2:01.0536 | |
| 2 | 75 | Sun Energy 1 | Luca Stolz | Mercedes Benz AMG GT | PRO | 2:01.3210 | 0:00.2674 |
| 3 | 888 | Supercheap Auto Racing | Broc Feeney | Mercedes Benz AMG GT | PRO | 2:01.4359 | 0:00.3823 |
| 4 | 999 | GruppeM Racing | Raffaele Marciello | Mercedes-AMG GT3 EVO | PRO | 2:01.5130 | 0:00.4594 |
| 5 | 65 | Sportsbet Team MPC | Chaz Mostert | Audi R8 LMS Evo 2 | PAM | 2:01.5647 | 0:00.5111 |
| 6 | 912 | Manthey EMA | Matt Campbell | Porsche GT3 R Spec 2 | PRO | 2:01.6146 | 0:00.5610 |
| 7 | 32 | Team WRT | S van der Linde | BMW M4GT3 | PRO | 2:01.7072 | 0:00.6536 |
| 8 | 75 | Sun Energy 1 | Jules Gounon | Mercedes Benz AMG GT | PRO | 2:01.7452 | 0:00.6916 |
| 9 | 99 | Boost Mobile Racing | Richie Stanaway | Mercedes Benz AMG GT | PAM | 2:01.8933 | 0:00.8397 |
| 10 | 55 | FUCHS Lubricants Racing | Frederic Vervisch | Audi R8 LMS Evo 2 | PAM | 2:02.0265 | 0:00.9729 |
| 11 | 888 | Supercheap Auto Racing | Maximillian Goetz | Mercedes Benz AMG GT | PRO | 2:02.0471 | 0:00.9935 |
| 12 | 46 | Team WRT | Augusto Farfus | BMW M4GT3 | PRO | 2:02.1258 | 0:01.0722 |
| 13 | 46 | Team WRT | Maxime Martin | BMW M4GT3 | PRO | 2:02.3308 | 0:01.2772 |
| 14 | 32 | Team WRT | Dries Vanthoor | BMW M4GT3 | PRO | 2:02.4081 | 0:01.3545 |
| 15 | 777 | The Bend Motorsport Park / MPC | Ricardo Feller | Audi R8 LMS Evo 2 | PAM | 2:02.4323 | 0:01.3787 |
| 16 | 912 | Manthey EMA | Mathieu Jaminet | Porsche GT3 R Spec 2 | PRO | 2:02.4647 | 0:01.4111 |
| 17 | 77 | Mercedes-AMG Craft-Bamboo | Nicky Catsburg | Mercedes-AMG GT3 | PRO | 2:02.5738 | 0:01.5202 |
| 18 | 74 | The Bend Motorsport Park / MPC | Mattia Drudi | Audi R8 LMS Evo 2 | PRO | 2:02.6417 | 0:01.5881 |
| 19 | 6 | Wall Racing | Tony D'Alberto | Lamborghini Huracan | SIL | 2:02.7131 | 0:01.6595 |
| 20 | 74 | The Bend Motorsport Park / MPC | Christopher Haase | Audi R8 LMS Evo 2 | PRO | 2:02.7621 | 0:01.7085 |
| 21 | 77 | Mercedes-AMG Craft-Bamboo | Daniel Juncadella | Mercedes-AMG GT3 | PRO | 2:02.9423 | 0:01.8887 |
| 22 | 44 | Valmont Racing | Duvashen Padayachee | Mercedes Benz AMG GT | SIL | 2:03.0143 | 0:01.9607 |
| 23 | 47 | Supabarn Team MPC | David Russell | Audi R8 LMS Evo 2 | SIL | 2:03.0624 | 0:02.0088 |
| 24 | 4 | Grove Racing | Anton De Pasquale | Porsche  911 GT3R | PAM | 2:03.1355 | 0:02.0819 |
| 25 | 222 | Scott Taylor Motorsport | Alex Davison | Mercedes Benz AMG GT | PAM | 2:03.1530 | 0:02.0994 |
| 26 | 9 | Hallmarc Team MPC | Lee Holdsworth | Audi R8 LMS Evo 2 | PAM | 2:03.2004 | 0:02.1468 |
| 27 | 24 | Tony Bates Racing /Makita | Jordan Love | Mercedes-AMG GT3 | PAM | 2:03.2028 | 0:02.1492 |
| 28 | 777 | The Bend Motorsport Park / MPC | Chris Mies | Audi R8 LMS Evo 2 | PAM | 2:03.7293 | 0:02.6757 |
| 29 | 10 | MYLAND Team IMS | Daniel Gaunt | Audi R8 LMS Evo 2 | SIL | 2:03.7741 | 0:02.7205 |
| 30 | 50 | MMotorsport /Vantage Racing | Glen Wood | Audi R8 LMS Evo 2 | SIL | 2:03.7782 | 0:02.7246 |
| 31 | 24 | Tony Bates Racing /Makita | David Reynolds | Mercedes-AMG GT3 | PAM | 2:04.4174 | 0:03.3638 |
| 32 | 101 | Harrolds Volante Rosso M'Sport | Josh Hunt | Mercedes Benz AMG GT | SIL | 2:04.5395 | 0:03.4859 |
| 33 | 101 | Harrolds Volante Rosso M'Sport | Ross Poulakis | Mercedes Benz AMG GT | SIL | 2:09.4853 | 0:08.4317 |
| 34 | 19 | Nineteen Corporation | Christan Pancione | Mercedes Benz | INV | 2:12.5411 | 0:11.4875 |