Bathurst 12H: SunEnergy1 Mercedes team wins back-to-back crowns
The SunEnergy1 Mercedes team, headed by Mount Panorama resident Kenny Habul, has won the 2023 LIQUI MOLY Bathurst 12 Hour race, making it back-to-back crowns for the hometown favorites.
Australian Habul, Frenchman Jules Gounon and German Lucas Stolz claimed the win after 12 Hours of grueling racing at Australia's spiritual home of motorsport, Mount Panorama.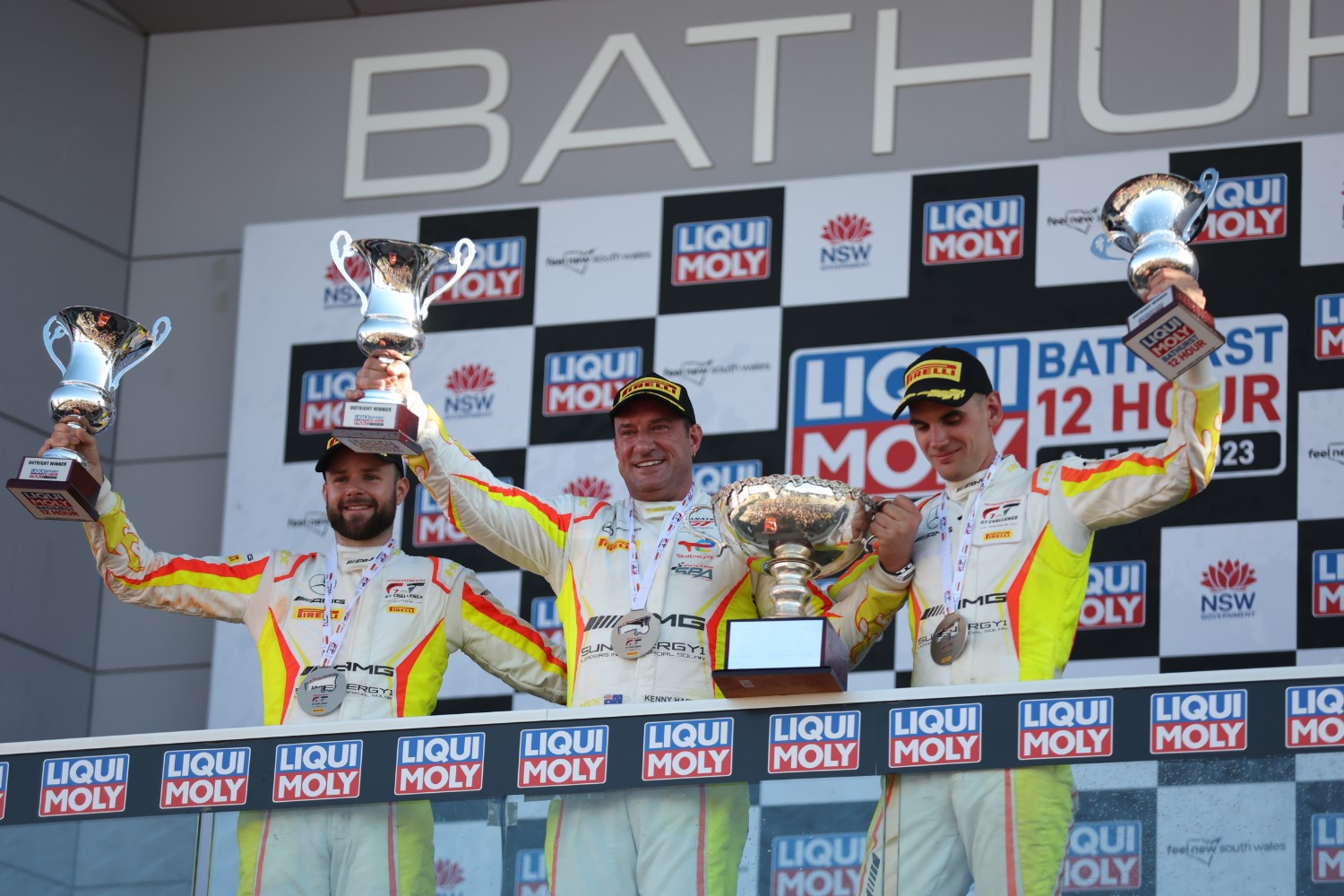 The 2023 race was filled with drama until the very end, with Mercedes squad GruppeM Racing holding a 30-second lead until a faulty modem caused data logging issues in Car #999.
The team changed the modem during their final pit stop, but that stopped allowed SunEnergy1 to take advantage and race away, only to hold on and win after a late surge from rivals.
Jules Gounon, driving for SunEnergy1, inherited the lead after GruppeM's Maro Engel was forced to serve a drive-through penalty. Gounon held off pressure from Matt Campbell, driving the #912 Porsche, to win the race by 0.9267s after 323 laps covering more than 2000 km.
Luca Stolz and Kenny Habul also secured their second straight win at Mount Panorama, while Gounon secured his third consecutive win after being part of the Bentley crew in 2020. Campbell, Mathieu Jaminet, and Thomas Preining took second place, and Engel took third.
Team WRT finished in fourth and sixth place with Moto GP great Valentino Rossi playing a critical role in his teams 6th placing on his impressive debut behind the wheel at Mount Panorama.
Triple Eight Race Engineering's team headed by Supercars Champion Shane van Gisbergen, finished in fifth place after serving a drive-through penalty.
Melbourne Performance Center won the Pro-Am class with Chaz Mostert finishing seventh, and Craft-Bamboo Racing slipped to eighth after Daniel Juncadella crashed late in the race.
The top 10 was rounded out by MPC Audi, Triple Eight Mercedes-AMG, and MPC also won the Silver class.
Record Attendance
Organizers of the Liqui Moly Bathurst 12 Hour have announced a record attendance for the event.
This year's three-day event boasted an attendance of 53,446 – higher than the previous record of 49,495 set in 2019, which was a four-day event.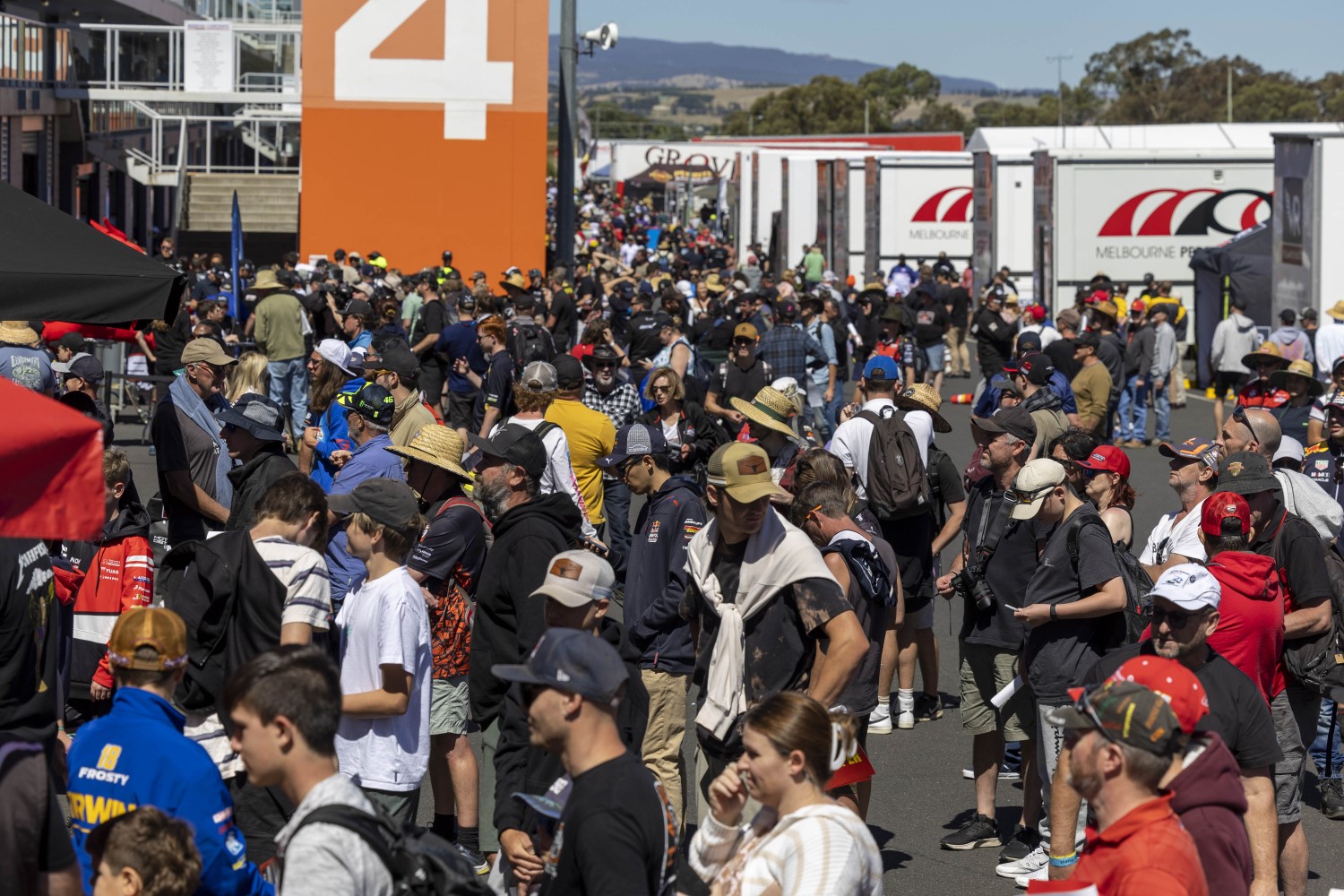 "We would like to thank the event's major stakeholders SRO, DNSW, Liqui Moly, and Bathurst Regional Council, who came together to make this year's event the biggest and best yet.
"I would also like to thank our volunteers, dedicated officials, and the hospitable people of Bathurst for creating an unforgettable experience for fans.
"From the track to the skies, we made some key additions to the entertainment package in 2023, which we want to build on next year and in the future.
"Fans saw a reinvigorated Harris Park precinct and we would like to thank the manufacturers for engaging with fans in ways like never before.
"Not only was the event a thrilling experience for fans, but it also raised significant funds for Ronald McDonald House, the event's official Charity partner.
"The main attraction was of course the racing of 26 of the world's best endurance GT entries representing seven of the world's biggest manufacturers.
"To be here and see that lap record get shattered during qualifying on Saturday was a special moment," added Rudzis.
"The racing on Sunday was world-class and the pictures of sunrise as a backdrop to the Mount Panorama circuit are part of the unique moments that make this circuit one of the most iconic in the world."
Race Results – 12 Hours
| | | | | | | | |
| --- | --- | --- | --- | --- | --- | --- | --- |
| Pos | Num | Team/Sponsor | Driver(s) | Car | Cls | Laps | Behind |
| 1 | 75 | Sun Energy 1 | K.Habul/J.Gounon/L.Stolz | Mercedes-AMG GT3 | PRO | 323 | 0.000s |
| 2 | 912 | Manthey EMA | M.Campbell/M.Jaminet/T.Preining | Porsche GT3 R Spec 2 | PRO | 323 | 0.9267 |
| 3 | 999 | Mercedes-AMG Team GruppeM | M.Engel/M.Grenier/R.Marciello | Mercedes-AMG GT3 | PRO | 323 | 1.4177 |
| 4 | 32 | Team WRT | S.van der Linde/D.Vanthoor/C.Weerts | BMW M4GT3 | PRO | 323 | 44.7457 |
| 5 | 888 | Supercheap Auto Racing | S.van Gisbergen/B.Feeney/M.Goetz | Mercedes-AMG GT3 | PRO | 322 | 1 Laps |
| 6 | 46 | Team WRT | A.Farfus/M.Martin/V.Rossi | BMW M4GT3 | PRO | 322 | 1 Laps |
| 7 | 65 | Sportsbet Team MPC | C.Mostert/F.Ross/L.Talbot | Audi R8 LMS Evo 2 | PAM | 321 | 2 Laps |
| 8 | 77 | Mercedes-AMG Craft-Bamboo | D.Juncadella/P.Ellis/N.Catsburg | Mercedes-AMG GT3 | PRO | 321 | 2 Laps |
| 9 | 777 | The Bend Motorsport Park / MPC | C.Mies/R.Feller/Y.Shahin | Audi R8 LMS Evo 2 | PAM | 320 | 3 Laps |
| 10 | 99 | Boost Mobile Racing | J.Whincup/R.Stanaway/J.Ibrahim | Mercedes-AMG GT3 | PAM | 319 | 4 Laps |
| 11 | 24 | Tony Bates Racing /Makita | T.Bates/J.Love/D.Reynolds | Mercedes-AMG GT3 | PAM | 316 | 7 Laps |
| 12 | 10 | MYLAND Team IMS | D.Gaunt/A.Fawcet/D.O'Keeffe | Audi R8 LMS Evo 2 | SIL | 316 | 7 Laps |
| 13 | 9 | Hallmarc Team MPC | L.Holdsworth/D.Fiore/M.Cini | Audi R8 LMS Evo 2 | PAM | 316 | 7 Laps |
| 14 | 101 | Harrolds Volante Rosso M'Sport | R.Poulakis/J.Hunt/J.Hui/K.Tse | Mercedes-AMG GT3 | SIL | 310 | 13 Laps |
| 15 | 50 | MMotorsport /Vantage Racing | T.Harrison/J.Ojeda/G.Wood/D.Crampton | Audi R8 LMS Evo 2 | SIL | 309 | 14 Laps |
| 16 | 47 | Supabarn Team MPC | D.Russell/J.Webb/T.Koundouris/J.Koundouris | Audi R8 LMS Evo 2 | SIL | 301 | 22 Laps |
| 17 | 111 | 111Racing/MRA Motorsport | G.Taunton/D.Currie/G.Donaldson | MARC I Mazda | INV | 283 | 40 Laps |
| NC | 55 | FUCHS Lubricants Racing | B.Schumacher/J.Golding/F.Vervisch | Audi R8 LMS Evo 2 | PAM | 243 |  DNF |
| NC | 19 | Nineteen Corporation | C.Pancione/F.Schiller/M.Griffith | Mercedes Benz | INV | 210 | DNF |
| NC | 222 | Scott Taylor Motorsport | C.Lowndes/A.Davison/G.Emery/S.Taylor | Mercedes-AMG GT3 | PAM | 177 | DNF |
| NC | 44 | Valmont Racing | M.Zalloua/D.Padayachee/S.Pires/A.Cameron | Mercedes-AMG GT3 | SIL | 89 | DNF |
| NC | 6 | Wall Racing | T.D'Alberto/D.Wall/G.Denyer/A.Deitz | Lamborghini Huracan | SIL | 70 | DNF |
| NC | 4 | Grove Racing | A.De Pasquale/B.Grove/S.Grove | Porsche 911 GT3R | PAM | 56 | DNF |
| NC | 74 | The Bend Motorsport Park / MPC | C.Haase/P.Niederhauser/M.Drudi | Audi R8 LMS Evo 2 | PRO | 13 | DNF |