NASCAR: Truex Jr. wins Busch Light Clash in LA
Martin Truex Jr. won the Busch Light Clash at The Coliseum, pulling away from late-race chaos Sunday evening to prevail in the second edition of the preseason exhibition at the historic Los Angeles venue.
Truex's No. 19 Joe Gibbs Racing Toyota led the final 25 laps in the 150-lap main event on the temporary quarter-mile oval, bumping past contender Ryan Preece to take command. The victory was Truex's first in the non-points event, which was slowed by 16 caution periods.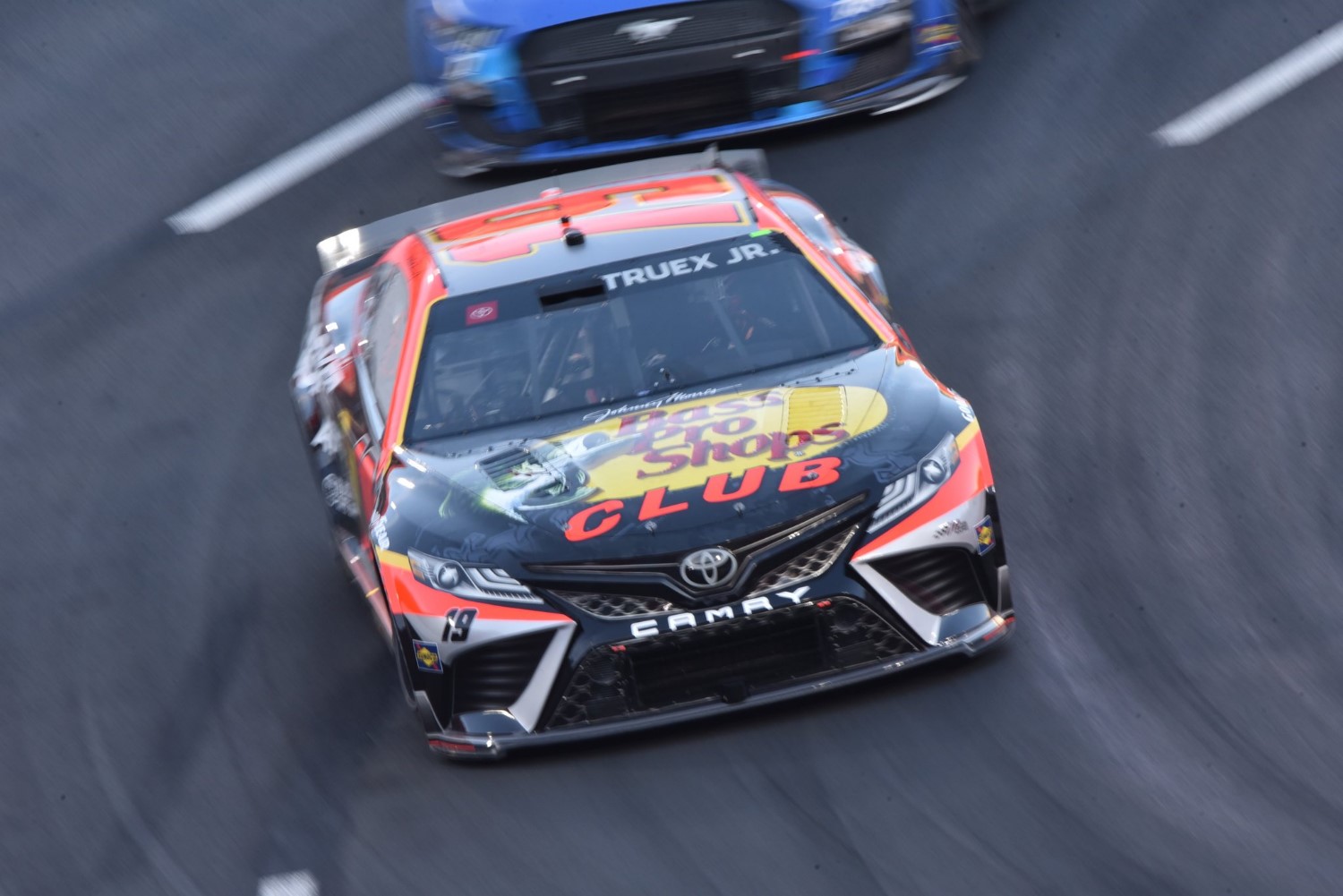 Austin Dillon was the runner-up, with new Richard Childress Racing teammate Kyle Busch behind him in third. Hendrick Motorsports teammates Alex Bowman and Kyle Larson rounded out the top five in that order.
Bubba Wallace was the leader at the halftime break on Lap 75, but the two other first-half leaders found early trouble. Aric Almirola started from the pole position after winning the first qualifying heat, but he was shuffled out of line during a Lap 17 restart. His No. 10 Ford fell dramatically through the order, and he was a lap down with 10 to go before the halfway point.
Denny Hamlin, winner of Heat No. 3, took control and led the next 26 laps before a nudge from Wallace triggered a lead change. Hamlin faded, and his No. 11 Toyota later spun after another bump, this time from rival Ross Chastain on Lap 74.
The NASCAR Cup Series officially opens the season with the 65th annual Daytona 500 on Feb. 19.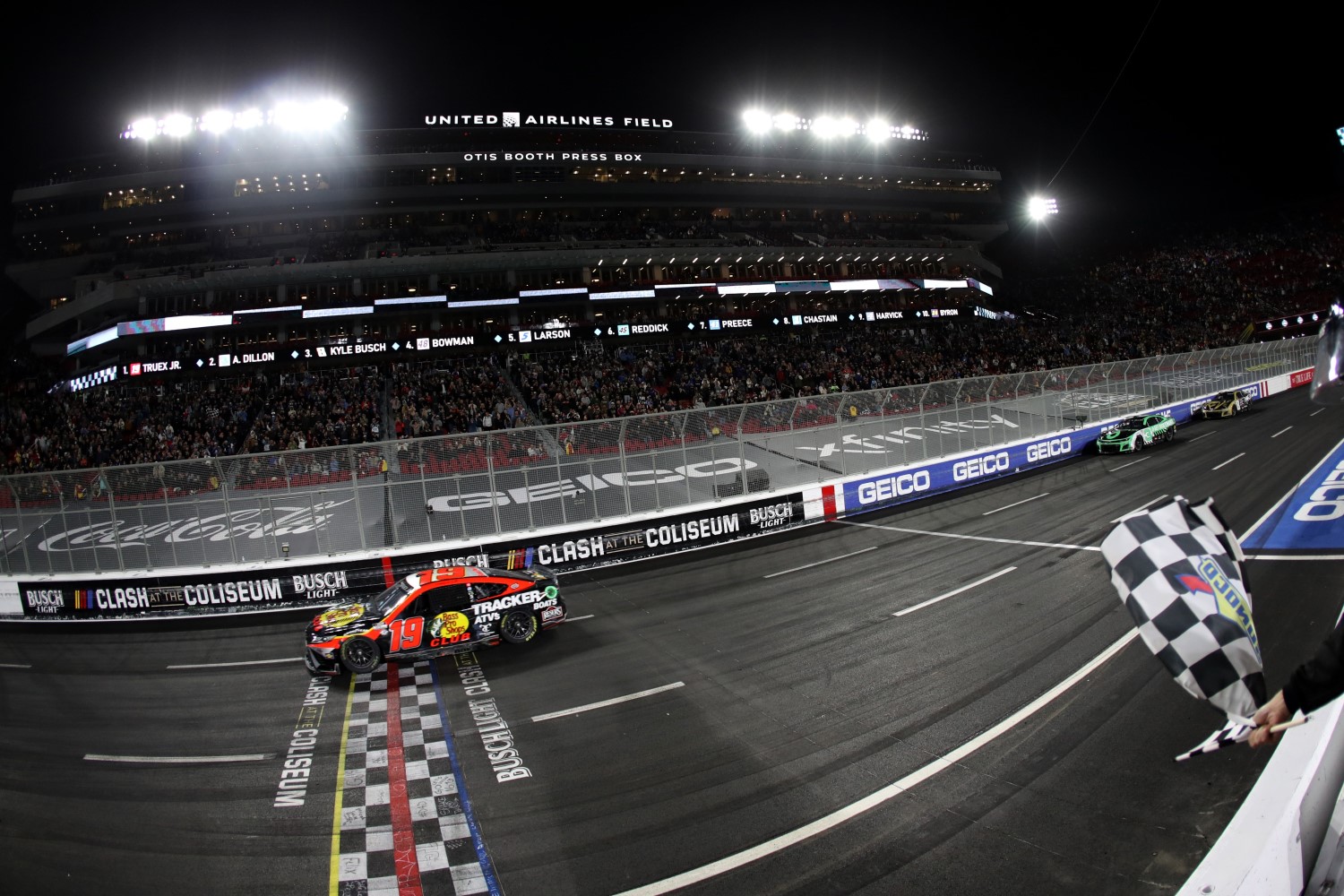 QUOTES
Q. Martin Truex Jr. has done a lot of things in his career, but winning the Clash is one that you never accomplished until now. What a mess it was for you guys here last year, but what was the difference tonight? You guys were good from the time you unloaded.
MARTIN TRUEX JR: Yeah, just a really good race car, but the guys did a great job with this Bass Pro Shops CLUB Toyota Camry, Tracker Boats, Reser Fine Foods, Auto-Owners, True Timber, Rocks, Cessna, just all of our partners that let us do this.
Last year was a pretty rough season for us with no wins, and to come out here and kick it off this way, really proud of all these guys. Tonight was kind of persevere, not give up, just battle through and we found ourself in the right spot at the end.
Sometimes they work out your way and sometimes they don't. Tonight it went our way, and we made some good adjustments, too.
Race Results
| | | | | | | |
| --- | --- | --- | --- | --- | --- | --- |
| POS | CAR | DRIVER | MANUF | CAR | BEHIND | LAPS |
| 1 | 19 | Martin Truex Jr. | | Bass Pro Shops Toyota | — | 150 |
| 2 | 3 | Austin Dillon | | Get Bioethanol Chevrolet | 0.786 | 150 |
| 3 | 8 | Kyle Busch | | BetMGM Chevrolet | 1.144 | 150 |
| 4 | 48 | Alex Bowman | | Ally Chevrolet | 1.842 | 150 |
| 5 | 5 | Kyle Larson | | HendrickCars.com Chevrolet | 2.458 | 150 |
| 6 | 45 | Tyler Reddick | | MoneyLion Toyota | 2.961 | 150 |
| 7 | 41 | Ryan Preece | | United Rentals Ford | 3.531 | 150 |
| 8 | 1 | Ross Chastain | | Worldwide Express Chevrolet | 5.021 | 150 |
| 9 | 11 | Denny Hamlin | | Sport Clips Haircuts Toyota | 5.741 | 150 |
| 10 | 24 | William Byron | | RaptorTough.com Chevrolet | 6.205 | 150 |
| 11 | 31 | Justin Haley | | Celsius Chevrolet | 6.250 | 150 |
| 12 | 4 | Kevin Harvick | | Busch Light Ford | 6.402 | 150 |
| 13 | 20 | Christopher Bell | | Interstate Batteries Toyota | 6.624 | 150 |
| 14 | 42 | Noah Gragson # | | Sunseeker Resort Chevrolet | 6.894 | 150 |
| 15 | 14 | Chase Briscoe | | Mahindra Tractors Ford | 6.903 | 150 |
| 16 | 22 | Joey Logano | | Shell Pennzoil Ford | 6.939 | 150 |
| 17 | 12 | Ryan Blaney | | Menards/Great Lakes Flooring Ford | 7.591 | 150 |
| 18 | 10 | Aric Almirola | | Smithfield Ford | 7.622 | 150 |
| 19 | 99 | Daniel Suarez | | Jockey Chevrolet | 7.971 | 150 |
| 20 | 16 | AJ Allmendinger | | Action Industries Chevrolet | 8.177 | 150 |
| 21 | 9 | Chase Elliott | | NAPA Auto Parts Chevrolet | 8.442 | 150 |
| 22 | 23 | Bubba Wallace | | DoorDash Toyota | 10.297 | 150 |
| 23 | 38 | Todd Gilliland | | gener8tor Skills Ford | -10 | 140 |
| 24 | 34 | Michael McDowell | | FR8Auctions.com Ford | -13 | 137 |
| 25 | 2 | Austin Cindric | | Freightliner Ford | -44 | 106 |
| 26 | 54 | Ty Gibbs # | | Monster Energy Toyota | -69 | 81 |
| 27 | 43 | Erik Jones | | Allegiant Chevrolet | -134 | 16 |
# DENOTES ROOKIE
(I) NOT ELIGIBLE FOR POINTS
(*) REQUIRED TO QUALIFY ON TIME