NASCAR: Busch Light Clash Post-Race Q&A
Martin Truex Jr
I asked James this before he came in, but how satisfying was it for you that with all of those late cautions you were still able to get the job done after last year and all those crazy situations that unfolded?
MARTIN TRUEX JR: Yeah, it was definitely satisfying. Anytime you win it's obviously satisfying.
I had some good guys around me. Austin and Kyle raced clean, and for the most part I've never had really any big issues with those guys.
You come to a track like this, it's pretty easy to just blow the corner and knock the guy out of the way in front of you. It's just easy to do.
Thankfully they didn't do that. They gave me a lap to get going, and obviously we were fast enough to drive away from them.
Over the years you and Kyle might have gotten along the best or raced each other the best of all the JGR teammates; like you guys seemed to get it with each other. On that restart I was kind of like, are things going to change now? Did that go through your head at all? Were you worried he would race you any differently now that you're not on the same team?
MARTIN TRUEX JR: No. I never thought about it once. We had a really good race in our heat race today, and we talked about it after, and it was like, hey, that was pretty fun. We put on a little bit of a show for a heat race, running side by side for the lead and swapping back and forth two or three times.
We've raced together for a long time. We understand the sport. I've got a ton of respect for Kyle, obviously, and I feel like he's one of the guys that gives it back to me. It goes all the way back to '04 when we ran for a championship against each other, and we probably didn't get along very well then or we didn't cut each other many breaks then.
But I think we've all grown up around the sport and raced together a lot and understand that we're going to be racing together a lot, and it's a lot easier to do things the right way and have that respect.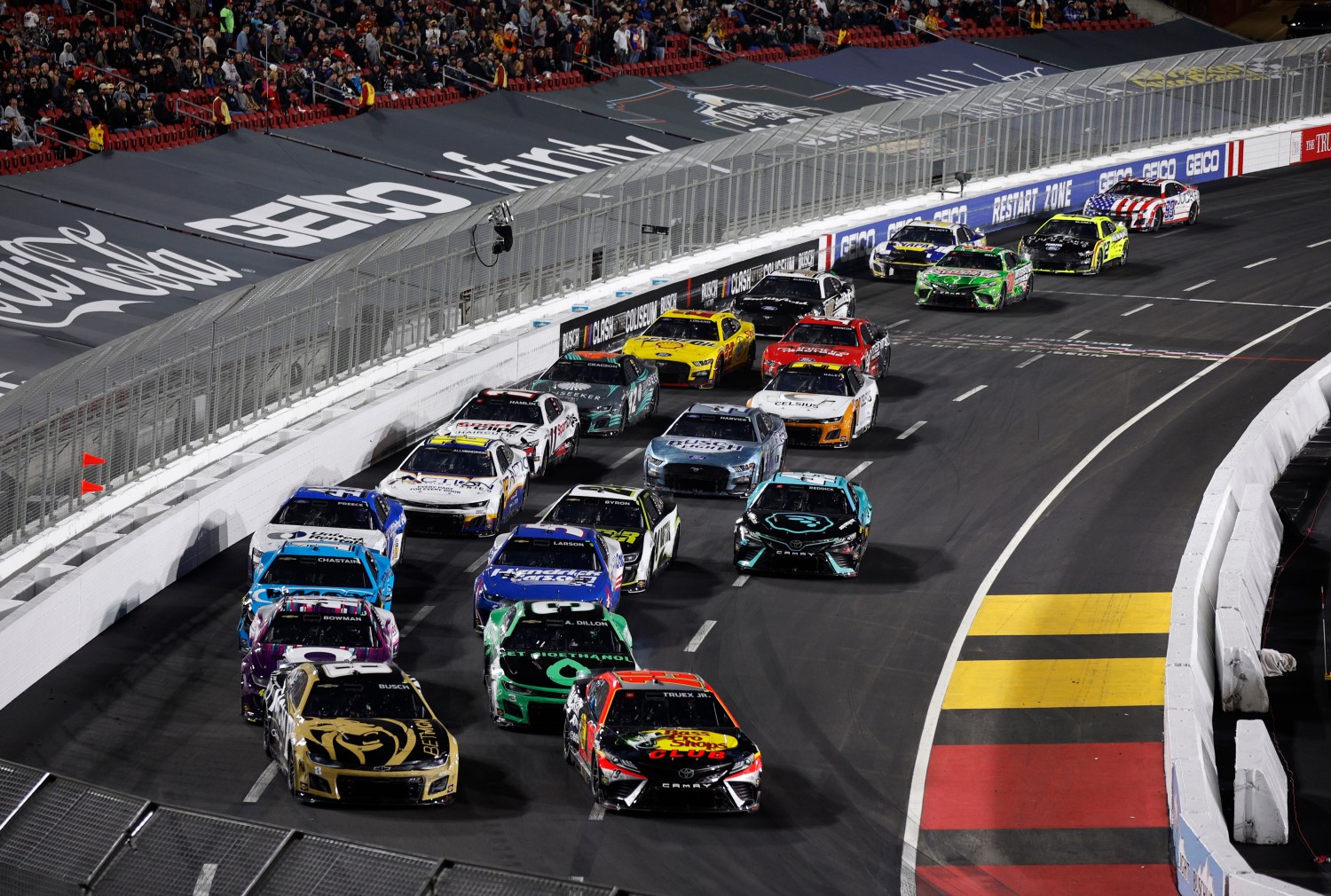 Your crew chief, James Small, said that you were different this off-season. I'm wondering if you are different, and if so, how?
MARTIN TRUEX JR: Mad.
Because of last year?
MARTIN TRUEX JR: Yeah. Just determined. Just have a lot of fire in my belly to go out and change what we did last year.
If you look at all the statistics, we had a decent year. We were consistent. We scored a lot of points. We struggled on short tracks and road courses, which ultimately is what kept us out of the playoffs.
Just so many times that we felt like we were doing the right things and probably should have won a couple races, and they got away from us. That was very, very frustrating. Knowing that we were doing everything we needed to do to win, it sucked.
Just wanting to go out and show them what we can do. We've been very fired up this off-season, working very hard, all of us. It's just nice when it all works out and you can come to the track and things go the way you hope they will.
Hopefully we can do a lot more of that. We've got a lot going on good in our camp, at Toyota. I've got a great team, and I knew they were great last year, and we'll just see how far we can go, but I feel really good about things. Fired up and excited, and it's just a good feeling to be able to win a race, and even though it's not points or anything, it's just good momentum.
You kind of touched on it there, but is this a statement in some way?
MARTIN TRUEX JR: No, I just think for us it reminds us that we're doing the right stuff and we can still go out and win any given weekend. We felt that way last year, but it never happened.
You always get those questions, right, like are we fooling ourselves or whatever, but it's just always nice when you finish the deal.
And racing is funny. We didn't really change anything, the way we do stuff. We just tried to focus and buckle down and say, okay, these are things we've got to look at and work on, and that's what we did, and we had a little fortune tonight.
The 41 was really strong. He had some issues. We've certainly been in that position a lot, as well. Not sure how that would have worked out if he didn't have issues. He was really strong. Then like the restarts just worked our way.
I was having tons of brake issues all night and throughout the second half of the race, so just lucky to be able to put it all together and hang on to those restarts and put it all together with the brake issues I was having.
Kind of along the same lines, what can a win like this, despite it being an exhibition race, do as far as momentum to carry in to Daytona and to start the season on the right foot?
MARTIN TRUEX JR: It's huge. It's a huge confidence booster. Just reminds you that you're doing the right stuff. Honestly, we were probably the worst car here last year, literally, besides maybe the guys that didn't have charters. We were just God awful. We barely made the race. Rode around the back and I spun out by myself on the last lap it was so bad, you know, trying to pass one car.
To come back this year and be first in practice, I was really honestly nervous last night. I went to bed thinking today was going to suck. It was going to be a long day because it's going to be hard to pass and we were starting sixth in our heat on the outside.
They only take five. It's like, well, if you finish fifth you're still going to suck in the race because you're going to start 20th. To be able to drive up through the field in the heat and win that was just huge. It was a huge confidence builder.
I knew after that if we could just be smart tonight and stay up front all night we'd have a shot at it. But it's a big deal. Any of these races are hard to win. All of them are hard to win. Doesn't matter if there's points or not. We're proud of this one. It's a big deal.
At or about 24 laps left to go is when you took the lead, and despite a lot of restarts, really fought off the pack. Can you take us through what you were going through mentally and emotionally when you dropped the hammer? And also, now that you won this tight quarter mile track, do you feel more comfortable driving through LA traffic?
MARTIN TRUEX JR: (Laughs) LA traffic is no problem. It's just like Jersey traffic.
But I hate traffic. Hate all of it. If I see it, I'm like, oh, this sucks. Just want to hide, pull off the road, drive through them.
But on the restarts at the end, it's frustrating when you've got a big lead, and like the 34 was trying to — he rode around at like 10 miles an hour for three or four laps; he should've just got off the damn track, you know what I mean? Obviously he wasn't going to finish the race, so why was he just riding around? So that was frustrating.
Then the other stuff, it's just guys getting into each other on a tiny little track and getting spun out and things. The restarts you're just trying to get a good jump and then not screw it up. Like I said earlier, I was having lots of brake issues. I'm not sure what was going on. Our rear brakes got too hot or we did something and lost all the rear braking and start locking up front tires getting into the corner, and I just kept putting more rear brake in and I was about to be out of adjustment. I've never, ever in my whole entire career put that many rounds of rear brake in a car, so I was a little nervous about that. I was kind of locking up all four tires getting into the corner I and just trying to make the corner.
It was a little sketchy at the end, but everybody was out of tires and we had so many restarts and so much air in our tires that everybody just kind of was slipping and sliding.
Luckily I was just able to get a good enough jump and get cleared, and then just tried not to give it away and totally miss a corner.
This is a very exciting event even though it's preseason. What does it mean to you that you're participating in this event?
MARTIN TRUEX JR: It's fun to come here, but it's a lot more fun to win it. Last year wasn't all that fun. This weekend was a blast.
Earlier you also said you're more determined. Is there any event that you have sort of a checklist so far this season?
MARTIN TRUEX JR: You know, we'd like to win them all. We're 1 for 1 right now, so that's a good way to start. Daytona 500 is a huge race. It's the biggest race of the year for us, and going there with momentum is great. Been really close there before; it would be an awesome one to check off the list.
Apart from all the hard driving and hard work you've put in today, just over the couple days of preparation, even Friday and Saturday and Sunday, culminating your today, your perspective on the fans that turned out for the event tonight?
MARTIN TRUEX JR: Yeah, it's definitely exciting. It's a different venue for us and it's kind of got a different vibe with all the things going on and the history around this place, like giving the medals and doing the podium, and it's a unique event.
It's a one-off deal and it's fun. We've done the Clash for a long time and it's never really been hyped up like it is now being its own standalone event, and I think that's really neat, especially doing it somewhere totally different like here with a lot of history.
It's definitely a lot of fun, and hopefully the fans keep supporting it and coming out. There's no telling what we can make this thing into.
With you being competitive this time around, did it in any way remind you of the Busch North days back then with the beating and banging on a short track like this?
MARTIN TRUEX JR: Yeah, it was funny. After Victory Lane, I was like, I've raced a lot of races that are 150 laps, because most of our races back then were 150s, and I don't ever remember one taking that long.
That felt like a 400-mile race. It was forever and ever, caution, caution, caution. Yeah, we raced on a lot of tracks that there was a lot of beating and banging like that, especially for me up front on those restarts, you know, how many times we'd kind of go back and forth. It definitely reminded me a lot of those short tracks back in those days.
Not really taking each other out, just running hard, rubbing a lot, and kind of getting out of shape. It was a ton of fun.
You've said a couple times you had fun tonight. In the moment, the way that race was, as choppy as it was, the beating and the banging, is that fun?
MARTIN TRUEX JR: When you're not getting spun around, turned around backwards, yes. When you're up front and you're just kind of banging and beating and guys are sliding into the corner making mistakes and all that, that's fun.
It's no fun when you just get run over and turned around, which I feel like is a lot of what was going on with all the cautions. Luckily we weren't involved in that. We had a few instances where it got close, but we were able to hang on.
Yeah. It's always fun it be up front and have a shot at the win.
Had you not won, would you still think it's fun?
MARTIN TRUEX JR: Yeah. I feel like if I would have finished up front, which I — there's a lot of points in the race where I felt like I didn't really have the car where I needed it to be to win, and I was still enjoying it.
To answer your question, yeah, as long as nothing really stupid happened, I think I would have had fun most of the time.
You mentioned Ryan Preece, the 41 car, kind of being the only one that gave you a run for your money pretty much. How shocking was that to see a driver you didn't race against last year, a car that's not typically up there, be the one that you're struggling to track down?
MARTIN TRUEX JR: I'm not shocked at all really. He's a great short track driver. Won tons of short track races, modifieds, et cetera. He's run a lot of races in tracks like this or a similar to this.
I wasn't surprised at all, and I've raced with him before, and he's in really probably better equipment now than he's ever been, and I'm sure he's got a really good team.
I wasn't surprised, and at that point in the race I felt like my car was off when he got the lead from us there and — or, let's see, he didn't get the lead from me. I think I was second at the time and he got by me on a restart then got the lead.
He was just really strong at that point in the race, and I didn't feel like my car was that good. For whatever reason the second half of the race it really took a long, long time for my car to get going, which it's kind of been that way the whole weekend, but it felt like the second half of the race was even more so.
I think just because it was cooling off outside and the track temp was dropping and it was taking longer to come in. We were starting to get real equal to him, maybe a little faster, when he started having his issues.
No telling what would have happened, but it was fun to race with him. He's a great kid and he's a great talent.
Could this race be a points race here?
MARTIN TRUEX JR: No. How are you going to put all the cars out there? How are you going to do pit stops?
Bristol you don't have pit stops.
MARTIN TRUEX JR: It's dirt. Different. I mean, I don't know. I don't think we can get 36 cars — you're going to put 36 cars out there? 38? Hell yeah. I think you do. Maybe somebody doesn't think you do. I don't make those decisions, but in my opinion, I don't think it should be, but it's such a great event.
Why would you want to screw it up and make it a points race? It's like a one-off deal, the Clash. The Clash used to — since I've been doing it, it just kind of got boring, from back in the day when it was just pole winners from last year, then it was champions, and then it was everybody that made the playoffs. It just got all weird, and now this is really cool. It's got its own identity, fun race, all the way out here in a cool venue that's got a lot of history.
I don't know, I think it's kind of got a good vibe to it now. Let's not maybe screw that up. And we have enough points races. How many are we going to have? Where are you going to take it from?
You mentioned track temps when talking about Preece. How much of a difference do you think it taking longer for tires to come in in the second half, how much of a contribution do you think that was to all the chaos in those first 10 laps?
MARTIN TRUEX JR: Yeah, I would say that it was probably a big factor. The restarts, I mean, I felt like I was John Force out there all night just smoking the rear tires during the cautions, two or three times every straight away, just trying to keep them warm, and everybody was doing that because the tires are so hard, the track is brand new pavement. These tires don't like to cool off.
Yeah, I would say that's a lot of it. You're just sliding so bad on restarts that guys would get in the corner and they're locking the brakes, they can't turn, can't get the rear to hook up. So they're just sliding into each other, and that was, I'm sure, a big factor. Daytime racing probably would have been a little bit less as far as cautions go, I think.
THE MODERATOR: Martin, thanks for the time. Congratulations.
Winning Crew Chief James Small
THE MODERATOR: We'll start our winning team press conference. We're joined by the crew chief of the No. 19 winning team, and that's James Small.
What's this off-season been like for you guys after last year? While you didn't have any wins, you had speed, but again, no wins?
JAMES SMALL: Yeah, we've just been like super excited to get going. Like the team, it's hard to explain. We never get down on ourselves, but everybody has just been super motivated to get back to the track.
We know what we're capable of, and Martin is a different person right now, and he's super motivated, and we're all behind him. We knew we could do this, and we just needed to hit it right.
I think we learned a lot last year. We had races where we had a lot of speed and things didn't go right, but we also had races where we made poor decisions, and I think we learned a lot. You saw when we get it right today this is what we're capable of.
You said Martin is different; how so?
JAMES SMALL: He's just super excited. I think last year was a big disappointment for all of us. He knew he's way better than that, and he's just ready to get going. We all just want to prove everyone wrong.
Is this a statement or anything like that?
JAMES SMALL: I guess. You know, especially the way we started last year here. We were a bag of dicks. To come back and turn it around like that, that gives us motivation for all the tracks we go to.
James, how different, if at all, was the track this year compared to last year, and how much different did you have to set up the car just knowing what you learned throughout the entirety of the season last year?
JAMES SMALL: Well, for us last year, throw it out the window, but looking at the good cars last year versus the way it was today, it was very different just going into the night. It's way cooler, track was a lot freer, which is kind of what we thought would happen when it cooled down, and just it never got into those long runs until maybe a little bit at the end there, but it was hard with all those refires.
You set your car up in one way, and that's the trouble with the Next-Gen car — well, any car. But you can work on your setup and have a philosophy, but depending on how the race unfolds, sometimes that might be completely wrong if it's all short run versus long run.
Thankfully at the end we got into a little bit more of a long run scenario. Yeah, I think we just learnt a lot. The whole field has learned a lot you can see. Everybody is a lot closer and handling better. Yeah, it's one year, and I'm sure in another year we'll learn a lot more.
Following up, with the way last year unfolded with there being constant late cautions that would disrupt strong runs and then lead to a different person taking the lead, how satisfying was it for you guys that you were just able to survive all of these constant restarts and still get to Victory Lane?
JAMES SMALL: Yeah, no, it was. It came across my mind there when the 34 brought the caution out at the end. I'm like, oh, here we go. It just seems like it's just the story of our life on the 19 car.
Yeah, no, he did great. You know, we were battling a lot at the end with our brakes and things like that. Very satisfying to save all those restarts, and he did awesome.
Is there room for this kind of racing for an actual points race, not just an exhibition, or should a track this small always be an exhibition?
JAMES SMALL: I think it should always be an exhibition. I'm not sure how — the way our championship works and everything, I don't know how you could structure it to be fair to everybody, how you're going to do competitive pit stops. You can't even pit the whole field on here.
Yeah, I think it's better in my opinion, whether that's right or wrong – it's probably wrong – that it stays an exhibition race.
James, NASCAR used to have at one point an exhibition race like this in your home country. Could you ever see a venue or anything there where they could do that again?
JAMES SMALL: That would be really cool, but obviously the Thunderdome is there. That is almost an a tear-down point. They still run cars around it, but I think the expense would kill it.
It's hard to even get an international music star to go out there. It's just so expensive to get out there. As much as I'd love it, I don't think it'll ever happen in my day.
THE MODERATOR: James, congratulations. Thank you for your time.
Kyle Busch and Austin Dillon
KYLE BUSCH: Yeah. I mean, it's good. It's cool. You know, Rick would get on the radio just a little tiny bit when I was at Hendrick, and then Joe, he never got on the radio. I think they disconnected his button. A long time ago they did that.
But yeah, Richard, I know he's prone to key up a little bit here now and again. That was fine. He come on the radio and he goes, he just flat out drove through you, and I'm like, well, what do you want me to do about it?
Trust me, I started behind him a couple times on restarts and never really got a great chance. I probably could have, but it was more important to go forward than retaliate. I don't think there's a lot of others that thought that way. Look at where they finished.
Q. Austin, did you and Bubba get a chance to talk before you came in here?
AUSTIN DILLON: No, uh-uh. I'm sure we will. I hate it for him because he was really good. We were a little better on the long run and I got by him pretty clean the first time, and I chose to restart there behind Martin thinking that if we could get off 2 and then I could just race, but it just doesn't go that way.
You're just getting beat and beat, and then when we went through 1 and 2, I mean, I got crossed up. I thought I was going to wreck into the inside wall and I got hit, and my spotter told me, release the brake, release the brake, got shoved all the way to the third lane outside.
So after that he said, three wide, I think, one time, two wide, and then, I mean, yeah, I was probably pretty frustrated at that point.
Q. Bubba got hit in the back of the car early in the race and he complained over his radio. He said, hey, NASCAR, it still hurts, with some expletives. I'm wondering if you guys took any hits in the back and what it felt like, if it felt any better, worse, different, anything?
KYLE BUSCH: I mean, truthfully, it didn't really feel much different at that speed and just the bumper car action that you get through the middle of the corner. Yeah, like Austin said, when you get hit a few times, your head is getting jacked into the back of the head rest and you're getting the whiplash effect. But what the damage to the cars looks like front and rear, underneath, you have no idea, but it's still a brunt of a hit.
But if we had the old cars that we used to have, nobody would have a radiator left. I think half the field would be parked in the infield. Might not be a bad thought, but get some of those squirrels out of there, but yeah, it's a necessary evil to the fronts, for as hard of a shots as some of the guys were taking, Bubba's bumper, you could see the damage that he had to it, so he might have been one of the ones that got hit the hardest.
AUSTIN DILLON: Yeah, it still doesn't feel good. I think the positive part is NASCAR has showed us things that they're trying to do to help that area of the car, for the low speed impacts, the lower speed impacts. We're making progress. That's the biggest thing.
Q. I just want to clarify, so you feel like there were so many more cautions tonight because the field was so much more even and the only way to pass someone was to move somebody out of the way? That's the primary reason?
AUSTIN DILLON: I would say yeah. Everybody has learned a lot from last year. There was quite a bit of bad cars last year.
KYLE BUSCH: And I'd be one of them.
AUSTIN DILLON: Yeah, the 19 is a great example, last to first. When the field is that tight and you have a little bit of advantage, the only way to do something is to kind of — you can try and cross them up, but then they can pinch you down the straightaway here, and then you'll lose whatever run you had.
THE MODERATOR: Austin, Kyle, congratulations on your medals. Great run. Appreciate your time.
Alex Bowman
How did you avoid the chaos and the carnage?
ALEX BOWMAN: Yeah, I think there was a couple good restarts from the outside the beginning of the second half of the race when we had a restart every half a lap. That helped us. I think we went from eighth to second there pretty quickly. Obviously that was a big gain for us, and then just kind of got put back a little bit. I had one bad restart from the outside of the front row, and that hurt our finishing position.
But yeah, really good race car, and those couple restarts kind of got us out of the mess.
Following up, how was the first race with Blake?
ALEX BOWMAN: Yeah, I think it went pretty well. We struggled here last year; didn't have a good weekend. I was nervous a little bit and didn't know what to expect.
Yesterday went really well; today went pretty well.
Definitely when you come out of here with a fourth, kind of bummed about it. It's a good weekend. Yeah, I think the whole team is working really well together, and Blake is fitting in really, really well.
What did you think of this year's event versus compared to last year in terms of the overall scope of it?
ALEX BOWMAN: It's pretty cool to be in it this year instead of on the way to the airport.
Yeah, I mean, I think it's a great event. It's a great atmosphere. It's tough when it takes 45 minutes to make like six laps or whatever that was. That was pretty bad when we were just crashing and crashing and crashing.
But I feel like last year's feature was a little bit cleaner than this year's for whatever reason, but yeah, I think it's a great event, and cool to be part of it.
What was the reason for the rash of cautions in your opinion? Last year was cleaner but this year there was an abundance of yellows.
ALEX BOWMAN: Yeah, fortunately we were in front of it, so I don't know. Guys running over each other is probably the answer you're looking for, though. I just don't know who to tell you.
At what point does it become obvious that everybody is just going to run into each other for the entire night? How early in the race does that become obvious to you?
ALEX BOWMAN: When they build a racetrack in a football field. That's what we're here to do. We're here to put on a show and be exciting. Maybe it got a little out of hand at times there with how rough it got, but yeah, we all knew when we heard about this event, whenever it was the first time that we were going to come here, people were going to run over each other. It's too easy.
It's funny, I don't know if guys are just okay with it, or if that carries over to the rest of the season or people forget about it or if that's situational. But yeah, I tried to race super clean. I don't feel like we used anybody up. Really nobody used us up.
Glad I don't have — I don't feel like I'm on anybody's list, and I don't have a list leaving here.
Kyle Larson
THE MODERATOR: We are now joined by Kyle Larson, the fifth-place finisher tonight.
It seemed like throughout the night you were trying to battle very hard to get to that top 5, so how gratifying is it to leave LA getting that accomplished?
KYLE LARSON: Yeah, no, it feels good to get to fifth. I didn't really work my way forward to fifth, it was kind of a battle of attrition.
I was just kind of stuck, which I'm sure a lot of people felt stuck and always wanted to choose the outside on the restarts, but everybody in the middle of the pack figured out that the outside was better at the same time.
Then it just never worked out where I could choose the outside lane and just kind of got stuck in 10th for a while, and yeah, kind of just got slammed from behind forward. Never really passed but one or two cars and came from 14th to fifth.
Last year when the race was in the daytime, obviously this year it was at night, do you feel like as a result of the conditions changing, it brought the intensity level, or is there something else to that intensity?
KYLE LARSON: Was it more intense? I don't know.
Let me clarify. Compared to the conditions, was it more treacherous because it was night or not necessarily?
KYLE LARSON: I don't think it really made a difference. The track surface felt a little grippier than I thought it would be at nighttime. I don't know, there was just a lot more slamming around this time, and I think — I was telling my PR people on the way down, last year was the first race for this car and we didn't know how tough they were at the time. There was not as much slamming. I think people didn't quite know how strong the noses and rear bumpers were.
This year it was just like everybody just ran through the person in front of them. If you got a hole to get down, somewhere to get down, then the three or four cars behind would just shove them through the two in front of them. A lot of accordion, and just difficult on the restarts, especially where I was, middle of the pack.
Some of that slamming you were talking about, some of the other guys have said that the hits still feel the same as they did last year. I don't know what your thoughts are on any hits you took tonight.
KYLE LARSON: Yeah, definitely. I didn't really — I only had like one moment last year that I remember where it was like, wow, like that was a hard hit.
I think we stacked up on a restart at like Sonoma or something, and this was like every restart you would check up with the guy in front of you and just get clobbered from behind and your head whipping around and slamming off the back of the seat.
I don't have a headache, but I could see how if others do, it's no surprise because it was very violent for the majority of the race. We had so many restarts, and like I said, every restart you're getting just clobbered and then you're clobbering the guy in front of you. You feel it a lot.
I know you were critical of the wall riding when that happened, but what was going on out there tonight, is that racing? Are you critical of that at all, or do you think that's good short track racing?
KYLE LARSON: I don't know. I mean, just a product of this track and this car. I don't think you would see that style of racing with the previous generation car just because they wouldn't be as strong. You'd knock the radiators out racing like that.
I think the cars are just so stiff that that's just kind of how it goes. Not saying it's right, but the cars are built that way. Yeah, I don't really know how to answer it other than that.
THE MODERATOR: Thank you, Kyle. Appreciate the time.