IMSA/WEC: BMW afraid to enter F1 and get beaten like a drum again
BMW motorsport boss Andreas Roos (shown above) makes every excuse imaginable for why BMW is not planning to enter F1.
F1 broadcasts average 75 million viewers globally per race while endurance racing might get 1 or 2 million. The commercial bang for the buck in F1 has no comparison.
You would think BMW brass would want to get their product and name in front of all those eyeballs.
However, last time BMW was in F1 they won 10 races over 6 seasons with Williams, but no titles.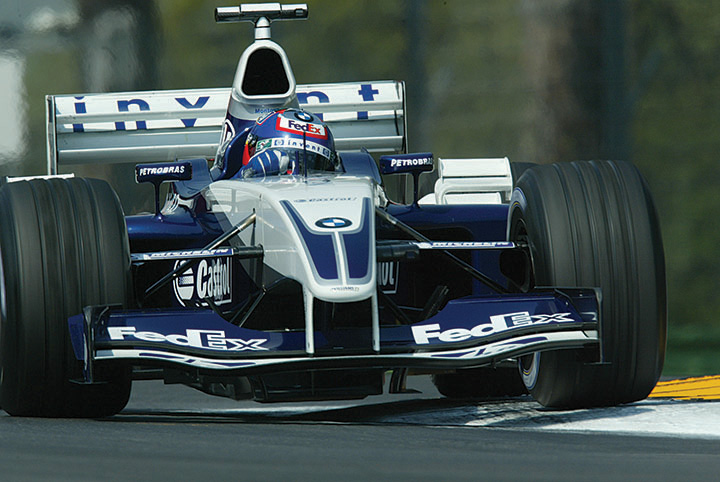 BMW hasn't been involved with Formula 1 since 2009, when it ended its partnership with the Sauber F1 team. However, BMW fans have been hoping for a Bavarian return to the sport ever since. Despite fans calls for a return to F1, BMW has remained committed to other forms of motorsport instead.
BMW History in F1
| | | |
| --- | --- | --- |
| Constructor | Season(s) | Total wins |
| Frazer Nash | 1952 | 0 |
| Ernst Klodwig | 1952–1953 | 0 |
| Rudolf Krause | 1952 | 0 |
| "Bernhard Nacke" | 1952 | 0 |
| Willi Krakau | 1952 | 0 |
| Marcel Balsa | 1952 | 0 |
| Dora Greifzu | 1953 | 0 |
| Hans Klenk | 1954 | 0 |
| Bayerische Motoren Werke | 1967–1969 | 0 |
| Lola Racing Ltd | 1967 | 0 |
| Brabham | 1981–1987 | 8 |
| ATS | 1983–1984 | 0 |
| Arrows | 1984–1988† | 0 |
| Benetton | 1986 | 1 |
| Ligier | 1987† | 0 |
| Williams | 2000–2005 | 10 |
| Total | 1952–2005 | 19 |
In 2026, Formula 1 will look very different than it does today. For starters, it's going to sport different powertrains than it currently does, with far more hybrid assistance and sustainable fuels. So when it comes to alternative powertrain technologies, F1 is going to be the sport to be in. There are other forms of motorsport with hybrid and electric power, of course, but none of them have the prestige of F1. And since BMW is looking to introduce far more electric technology in the coming years, having its hybrid tech in F1 would go a long way to increase brand recognition. It would also lend genuine motorsport credibility to its hybrid and electric cars.
For 2026, Ferrari, Renault, Audi, Porsche, Ford, and potentially even Cadillac will be competing in the world's most exciting motorsport. Audi and Porsche announced they'd enter F1 for 2026, with Audi even partnering with BMW's old flame, Sauber. Ford announced that it would be joining Red Bull Racing as an EV tech supplier, too.
It's obvious BMW should join F1, however, read all the excuses Roos make as to why BMW is not considering F1.  He ignores the fact that the 2026 F1 hybrid engine requirements are far harder to achieve than what is required in IMSA and WEC.
BMW took the easy route because the 2026 F1 engine requirements would be too difficult for them.  They are not capable of beating Mercedes, Ferrari, Honda and the like.
F1 is too hard for BMW – they prefer IMSA and WEC where they know a balance of power adjustment will be made to make their inferior cars competitive.
With that said, here are Andreas Roos excuses:
"When we're honest, Formula 1 goes hybrid 2026, they are at the moment already but with a hybrid system which has no relevance at all," Roos, Head of BMW M Motorsport, told Speedcafe.com.
"And so 2026, they go to a hybrid system which you already see in cars. But this happens 2026.
"We do the IMSA championship already and the WEC [World Endurance] next year on with a hybrid system, which has road relevance.
"So this is for us already, basically three years earlier.
"And this is why it's at the moment, perfectly fitting to us, as I said to our road cars.
"And then this is why, for us, to be honest Formula 1, the change is too late to go in this direction.
"It's a similar story with sustainable fuel, which is already in use in sportscar racing but will only be introduced to F1 for 2026.
A BMW entry then is not on the cards any time soon, with Roos not interested in the championship.
"It's not a topic for us at all," he reaffirmed.
"There's nothing really at the moment where we look really into Formula 1."
Mark Cipolloni reporting for AutoRacing1.com