F1: Baku looks ahead to another unpredictable race
Baku, Azerbaijan. Organizers of the FORMULA 1 AZERBAIJAN GRAND PRIX 2023 are gearing up to host the seventh race on the Baku City Circuit on April 28th – 30th, 2023. With a change in management and the appointment of Maqsud Farzullayev as General Director of Baku City Circuit, organizers are hopeful that Baku becomes a must-visit Grand Prix destination for many years to come.
2024 is the final year of their contract to host F1.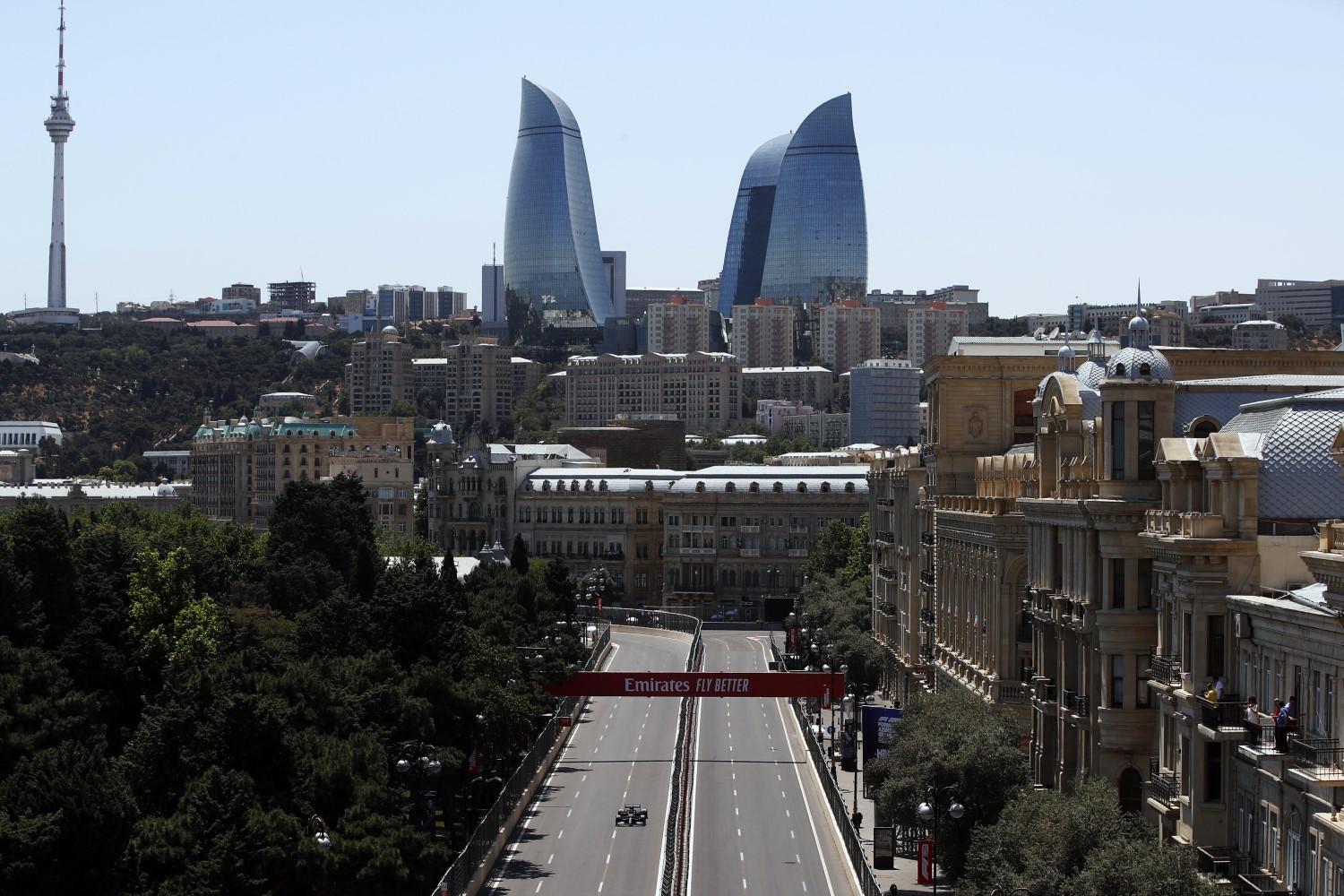 Known by local fans as having the 'Baku Factor' the FORMULA 1 AZERBAIJAN GRAND PRIX is renowned for being one of the most unpredictable races on the calendar — with six different winners in the six races held on the city streets so far. More drama is expected at this year's event as Baku becomes the first round on the 2023 schedule to host a Qualifying Sprint race on the Saturday. The addition of an extra competitive race to the weekend timetable has already led to a boost in ticket sales.
"At Baku you can always expect the unexpected!" says Turab Teymurov, Official Spokesperson for Baku City Circuit. "We're all very excited and honored to host the first Sprint Qualifying race of the 2023 season and I've no doubt it will set a fascinating grid for the main race on Sunday. Thanks to the 'Baku Factor' we will expect this year's FORMULA 1 AZERBAIJAN GRAND PRIX to be full of drama and I predict we will crown a seventh different winner at our seventh hosting of the race this year."
Held on the 6.0003km Baku City Circuit that winds through the Azerbaijan capital and past historic, UNESCO-protected monuments such as the Baku Fortress Wall and Maiden Tower, the incredible high speeds and thrilling racing make the event one of the highlights of the year for Formula 1 fans. Past races have led to dramatic moments, such as the clash between Sebastian Vettel and Lewis Hamilton in 2017 or late-race lead changes due to incidents with red flags and Safety Cars. Fans from around the world will be hoping the race continues on the F1 schedule for many years to come.
This year's race takes place on the streets of Baku across April 28th-30th, with three days of competitive action starting with Qualifying on Friday afternoon, before the Sprint on Saturday and main event on Sunday, April 30th, 2023. With top speeds in excess of 330km/h across 51 fast and furious laps, fans are encouraged to book their tickets early for the seventh edition of the FORMULA 1 AZERBAIJAN GRAND PRIX at  www.bakucitycircuit.com.
Q&A Turab Teymurov, Baku City Circuit
To begin, can you reveal what has happened with regard to the senior management team at Baku City Circuit?
"There have been some operational changes, with the most significant being the appointment of Maqsud Farzullayev as Promoter and General Director for Baku City Circuit, replacing Arif Rahimov. We wish to thank Mr Rahimov for his hard work and dedication since our inaugural race in 2016 and look forward to the new approach under the leadership of Mr Farzullayev.
"While there has been this transfer in senior management, it's important to emphasize this hasn't changed the way things will be conducted. Mr Rahimov did a great job over the past seven years and his achievements speak for themselves. Right now, Mr Farzullayev is building on those successes and plans to take the organization forward.
What will this change have with regards to the future of the event?
"There won't be an abrupt shift in policy, but there are going to be some modifications as we move forward. For example, we're working on some interesting projects at the moment — such as the entertainment program we will have in place for the future. There has been a lot of work already done this year and Mr Farzullayev comes to us with a very rich experience in the sporting sector.
"He has previously worked at the Baku 2015 European Games, the 4th Islamic Solidarity Games, plus he was the Executive Director at the National Gymnastics Arena — so he's well versed in hosting major international sporting events. We look forward to an exciting new future at Baku City Circuit under his leadership."
Is the future of the event to focus on attracting more international visitors to Baku or is it to work in continuing to educate the local fan base in Azerbaijan?
"It will be a combination of both. First of all, we are promoting the event with local fans to encourage them to enjoy Formula 1 even more than they already do. When we hosted a race for the very first time in 2016, we were considered the 'new kid on the block'. But since then we have been able to establish ourselves as a major player and we want to continue that policy so that we are identified as one of the must-visit destinations on the Formula 1 calendar.
"In the future we want Azerbaijan to be as much a part of the fabric of Grand Prix racing as classic venues such as Monaco, so that when people think of F1 they think of Baku. When attracting visitors to the city to watch the race we are thinking a lot about the different entertainment offerings we have to appeal to race fans.
"Once again, our race weekend on April 28th -30th, 2023, will be a great spectacle and that's partly because the Baku City Circuit is unique. It is one of the world's fastest street circuits, it has one of the narrowest sections of track anywhere in the world and it creates unpredictable races."
Why do you think this race on the streets of Baku is always so exciting?
"We've learned there is a term used by fans locally that is known as the 'Baku Factor' which is a way of expressing that this race is always unpredictable and emphases that — in the six times it has hosted a race — it has produced a different winner each time. So with Baku you can always expect the unexpected. And I don't think this year is going to be any different – I predict we'll have a seventh different winner this year!
"Nowhere else in Formula 1 do you have a racetrack that genuinely passes through the center of a city's streets at the speeds they do in Baku. Monaco is an established street track, but it is also one of the slowest races of the year. Baku is unique in that respect and the course also circumnavigates the old town which features a number of historical buildings that are UNESCO World Heritage protected, including the Baku Fortress Wall and Maiden Tower."
What has been the impact of the FORMULA 1 AZERBAIJAN GRAND PRIX to both the city and the country?
"It has been very important. Back in 2016 when we hosted the race for the first time there wasn't much understanding in its value. But today we have a very clear idea. First of all there's the economic benefit and a recent financial report revealed the impact of the race in Baku had a direct and indirect net value of over $500 million. We have seen a big uptake in tourists coming to the country and spending in shops, hotels and restaurants which is in combination to ticket sales.
"But there are also social benefits too. We have a very large community of volunteers at Baku City Circuit. This year, when we started the registration for the volunteering program, we had to close almost immediately because we were oversubscribed with candidates. Of the 1,400 marshals and 1500 volunteers, nearly 90 percent are returning from previous years, proving how committed so many people are in Azerbaijan to the sport of Formula 1."
What can fans expect at the FORMULA 1 AZERBAIJAN GRAND PRIX 2023 this coming April?
"We are very excited that we are the first event on this year's calendar to be hosting a Sprint Qualifying race, which means that fans will be able to enjoy competitive action on all three days, with the traditional Qualifying practice session now moving to Friday afternoon. We have seen that in the weeks since we announced a Sprint race on Saturday, ticket sales have increased dramatically.
"Every year we have a mission to make our entertainment program even more engaging than it was the previous year. In terms of attracting international fans we are facing some issues in terms of flights. We have direct flights from Frankfurt and London — and Istanbul is a good hub — but we are working to try and improve in this area to attract more people to make Baku a must-visit destination city."
What work are you undertaking in Baku and around the country to educate people about the FIA Formula 1 World Championship?
"We have a number of projects run by the Baku City Circuit and one of those is a motorsport development Academy, specifically targeted at Azerbaijani students. We include a lot of training, which starts at a young age with road safety lessons and English language learning.
"We have also developed a regular series of workshops and educational activities over the past seven years to generate further enthusiasm, awareness, and knowledge of Formula 1 — targeting the youth in particular — and this includes developing STEM (Science, Technology, Engineering, Maths) subjects to give young people a greater opportunity to work towards a potential career in motorsport in the future. As an example, the F1 in Schools program is a perfect opportunity to engage students with engineering ideas and concepts.
"As a result of hosting Formula, not only has it been a wonderful showcase for our capital city it has also been a catalyst for economic, social, and cultural change that will continue to provide increased opportunities for everyone living in the country. We are noticing a real pride around this race and the legacy impact it has had on both the city of Baku and the country of Azerbaijan."