F1: 11th team brings "No Benefit", only "Risks" – Steiner
American hater Guenther Steiner says Haas are against Andretti joining the Formula 1 grid as there is "just risk, no benefit" from an 11th outfit.
Andretti confirmed plans to bring an "all-American team" to F1 after partnering with General Motors and its luxury brand Cadillac in January, with the sport's governing FIA welcoming an entry from 2026.
Their arrival, however, also needs approval from F1 themselves as well as the teams.
So far, Andretti have admitted that only McLaren and Alpine are their "allies" backing their bid.
Speaking to Sky Sports F1 on Friday, Steiner confirmed that Haas – who are currently the only 'US' F1 team but have their main car base in the UK in Banbury – were opposed to an 11th team.
"What upside is it bringing?" said the Haas team principal. "There is just risk, no benefit."
He explained: "Five years ago, you could get teams for nothing, you could pick it up. Nobody wanted them and they went out of business.
"Now, all of a sudden, everybody wants a team. But it's a lot of people that want to come in and the 10 teams which are here are all financially stable, all well set up. It's a very good environment at the moment, no one is struggling.
"If you put an 11th team in and we get a little bit of a dip in the economy or something all of a sudden maybe people are maybe struggling to survive.
"Why take that risk if there is no upside? It's not up to me to decide."
F1 teams' biggest concern appears to be a dilution of the prize money with an 11th outfit, although Andretti feel their entry brings far more positives than negatives.
"We check all the boxes," said Michael Andretti. "The only box we didn't have checked when we were working on our entry was, we didn't have an OEM behind us, but now we have GM and Cadillac behind us. They are going to bring a lot to the party to help us get a race car on track.
"We are very bullish at this moment." Sky Sports
Domenicali Chastises Andretti
Stefano Domenicali, the CEO of Formula 1, hit back at Michael Andretti labeling F1 teams as greedy, claiming that was not a very smart statement by the American.
In the latest development in the Andretti-Cadillac application to enter Formula 1 as an 11th team, the sport's CEO Stefano Domenicali has responded to a statement by Michael Andretti where he accused the F1 teams of being greedy as the reason behind their reluctance to receive the American F1 venture with open arms.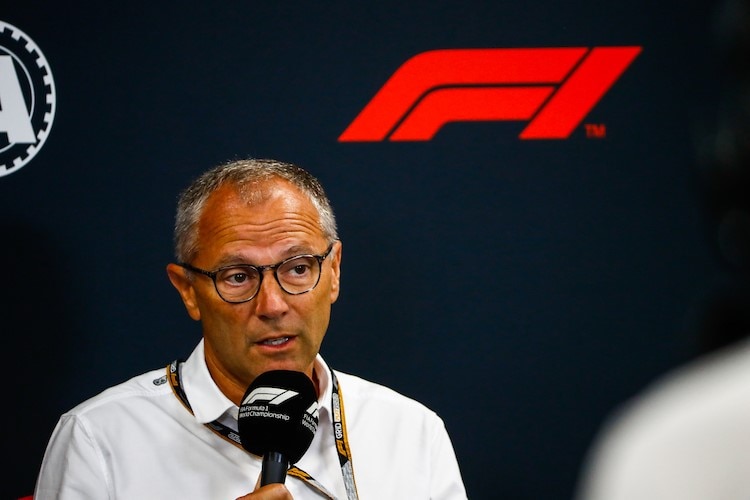 In a recent exclusive interview with Sky Sports F1, and speaking to respected F1 pundit Martin Brundle, F1 CEO Stefano Domenicali weighed in the the Andretti-Cadillac subject.
"First of all, we are very welcoming of everyone that is bringing value to the racing," Domenicali said. "I think we need to respect everyone. There are teams like Mario and Michael Andretti being very vocal about their will to enter Formula 1.
"But in my view [it is] not smart to say that teams are greedy," the 57-year-old Italian warned.
"There are others that are much less vocal that would like to come into Formula 1, so there is a process to respect, and we will make sure together with the FIA that the process will be respected.
"If all the elements are there, they will be very welcome. There are a lot of dimensions to consider and we don't have to overreact because someone is pushing the system.
"The process will be done seriously in the right way someone is shouting and someone is not shouting," the former Ferrari team boss maintained.
"I would have acted in a different way".
"I would say we need to be prudent," he said. "It may seem this is a personal negative attack on Andretti but this is not the case.
"We need to be serious and professional in evaluating all the elements," Domenicali concluded.