NASCAR: Alex Bowman wins pole for Daytona 500
Alex Bowman and his sponsor Ally signed a new 5-year deal with Hendrick Motorsports today, and Ally recently became an official partner of NASCAR.
Hence, as expected, Alex Bowman, the driver of the No. 48 Hendrick Motorsports Chevrolet, won the Busch Light Pole Award for the Daytona 500 with a time of 49.536s and a speed of 181.686mph.  It was Bowman's 3rd career Daytona 500 pole.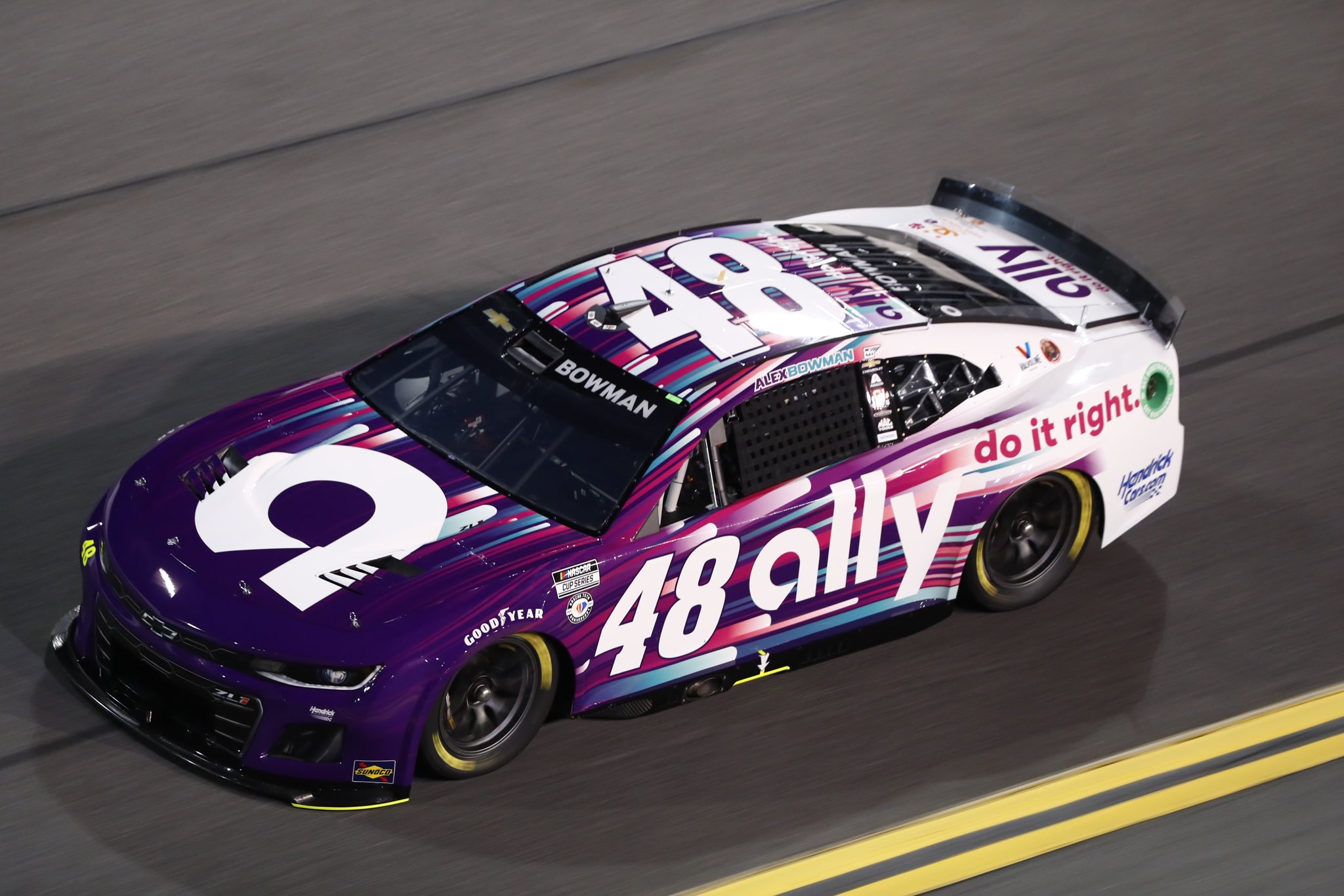 Lining up on the outside front row for the 500 on Sunday will be Bowman's Hendrick Chevy teammate Kyle Larson who was the only other driver over 181 mph at 181.057mph
Single-car qualifying consisted of two rounds with the top 10 qualifiers in Round 1 moving on to the second round. The fastest two cars in Round 2 locked in as the front-row starters for Sunday's DAYTONA 500.
This is Chevrolet's 11th consecutive DAYTONA 500 pole (2013- 2023) and 31st DAYTONA 500 pole total, series-most.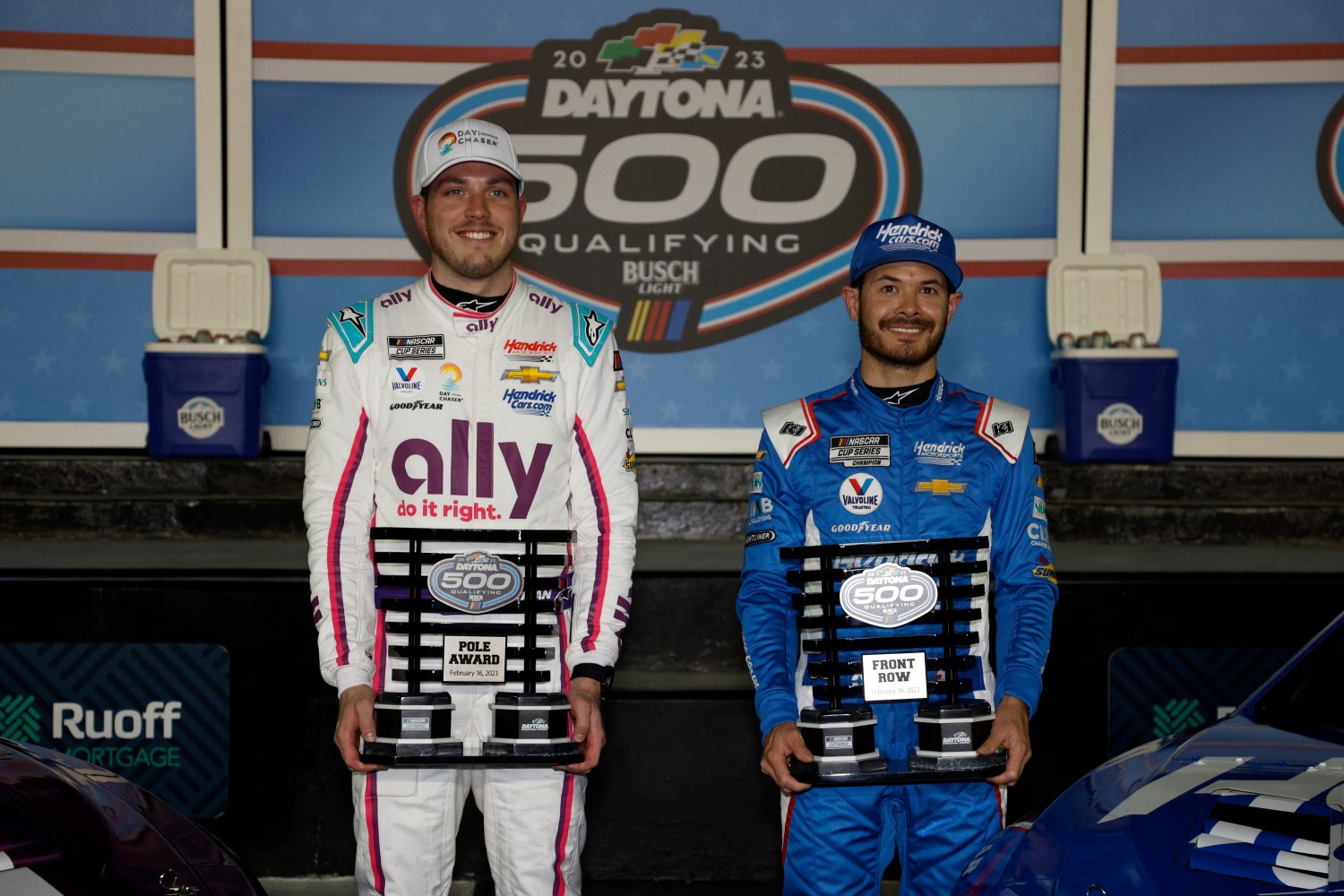 Additionally, the two fastest Open cars will also clinch a spot in Sunday's main event – those honors went to seven-time champion Jimmie Johnson and Travis Pastrana.
The rest of the starting grid will be decided by the Bluegreen Vacation Duels Thursday night.
Hendrick Motorsports has won 16 DAYTONA 500 poles, the series- most: Ken Schrader (1988, 1989, 1990), Jeff Gordon (1999, 2015), Jimmie Johnson (2002, 2008), Mark Martin (2010), Dale Earnhardt Jr.(2011), Chase Elliott (2016, 2017), Alex Bowman (2018, 2021, 2023), William Byron (2019), Kyle Larson (2022).
William Byron was third fastest in qualifying, followed by Aric Almirola and Joey Logano to round out the top five. Chase Briscoe, Ryan Blaney, Austin Cindric, Harrison Burton and Kyle Busch were among the 10 drivers to reach the second round in the qualifying session.
Drivers who in odd-numbered positions on the speed chart from single-car qualifying make up the starting grid of Duel No. 1, while those who qualified in even-numbered positions make up Duel No. 2. The highest-finishing Open car in each duel will advance into the Daytona 500.
The results of Duel No. 1 will set the inside row for the 2023 Daytona 500, while the results of Duel No. 2 will set the outside row for Sunday's race.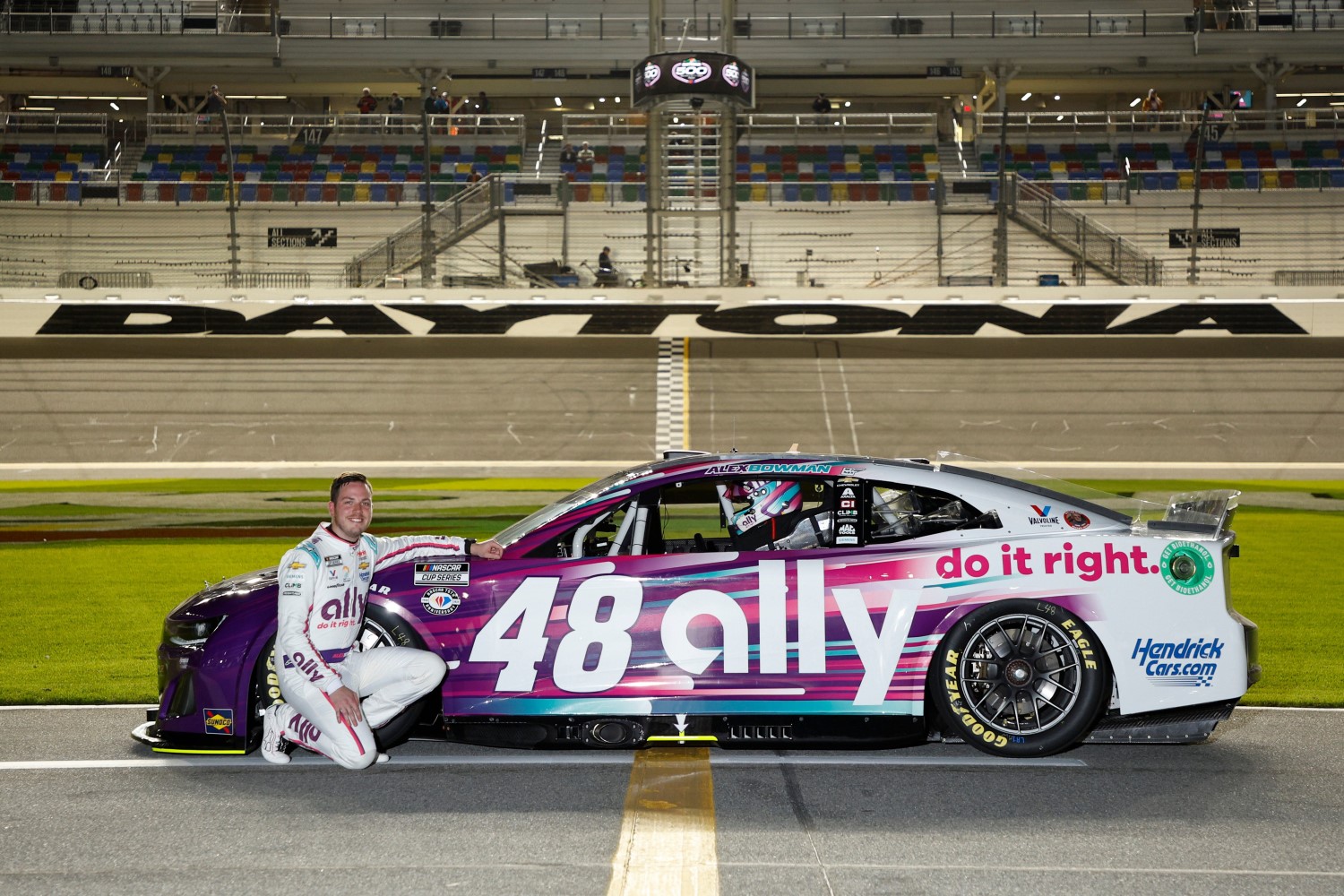 Mark Cipolloni reporting for AutoRacing1.com
Top-10 Round 2 Qualifying Results
| | | | | | | | |
| --- | --- | --- | --- | --- | --- | --- | --- |
| Pos | No. | Driver | Car | Time | Speed | Behind | Gap |
| 1 | 48 | Alex Bowman | Ally Chevrolet | 49.536s | 181.686 | 0.000s | 0.000s |
| 2 | 5 | Kyle Larson | HendrickCars.com Chevrolet | 49.708s | 181.057 | 0.172s | 0.172s |
| 3 | 24 | William Byron | RaptorTough.com Chevrolet | 49.799s | 180.727 | 0.263s | 0.091s |
| 4 | 10 | Aric Almirola | Smithfield Ford | 49.800s | 180.723 | 0.264s | 0.001s |
| 5 | 22 | Joey Logano | Shell Pennzoil Ford | 49.803s | 180.712 | 0.267s | 0.003s |
| 6 | 14 | Chase Briscoe | Mahindra Tractors Ford | 49.817s | 180.661 | 0.281s | 0.014s |
| 7 | 12 | Ryan Blaney | Menards/Blue DEF/PEAK Ford | 49.985s | 180.054 | 0.449s | 0.168s |
| 8 | 2 | Austin Cindric | Discount Tire Ford | 49.996s | 180.014 | 0.460s | 0.011s |
| 9 | 21 | Harrison Burton | Motorcraft/DEX Imaging Ford | 50.070s | 179.748 | 0.534s | 0.074s |
| 10 | 8 | Kyle Busch | 3CHI Chevrolet | 0.000s | 0.000 | —– | —– |
# DENOTES ROOKIE
(i) NOT ELIGIBLE FOR POINTS
(*) REQUIRED TO QUALIFY ON TIME
Bluegreen Vacation Duel No. 1 projected lineup
* denotes Open, non-Charter team
| | | |
| --- | --- | --- |
| Start Pos | Car No. | Driver |
| 1 | 48 | Alex Bowman |
| 2 | 24 | William Byron |
| 3 | 22 | Joey Logano |
| 4 | 12 | Ryan Blaney |
| 5 | 21 | Harrison Burton |
| 6 | 23 | Bubba Wallace |
| 7 | 17 | Chris Buescher |
| 8 | 1 | Ross Chastain |
| 9 | 4 | Kevin Harvick |
| 10 | 54 | Ty Gibbs |
| 11 | 20 | Christopher Bell |
| 12 | 84* | Jimmie Johnson* |
| 13 | 11 | Denny Hamlin |
| 14 | 42 | Noah Gragson |
| 15 | 36* | Zane Smith* |
| 16 | 31 | Justin Haley |
| 17 | 3 | Austin Dillon |
| 18 | 47 | Ricky Stenhouse Jr. |
| 19 | 51 | Cody Ware |
| 20 | 77 | Ty Dillon |
| 21 | 13* | Chandler Smith* |
Bluegreen Vacation Duel No. 2 projected lineup
* denotes Open, non-Charter team
| | | |
| --- | --- | --- |
| Start Pos | Car No. | Driver |
| 1 | 5 | Kyle Larson |
| 2 | 10 | Aric Almirola |
| 3 | 14 | Chase Briscoe |
| 4 | 2 | Austin Cindric |
| 5 | 8 | Kyle Busch |
| 6 | 99 | Daniel Suárez |
| 7 | 9 | Chase Elliott |
| 8 | 41 | Ryan Preece |
| 9 | 6 | Brad Keselowski |
| 10 | 45 | Tyler Reddick |
| 11 | 19 | Martin Truex Jr. |
| 12 | 34 | Michael McDowell |
| 13 | 67* | Travis Pastrana* |
| 14 | 43 | Erik Jones |
| 15 | 16 | AJ Allmendinger |
| 16 | 62* | Austin Hill* |
| 17 | 38 | Todd Gilliland |
| 18 | 78 | BJ McLeod |
| 19 | 15 | Riley Herbst |
| 20 | 7 | Corey LaJoie |
| 21 | 50* | Conor Daly* |