NASCAR: Logano, Almirola win Duels, setting stage for 65th Daytona 500
After a chaotic Bluegreen Vacations Duel 2 at Daytona International Speedway, Aric Almirola methodically worked his way to the front of the field to take home the checkered flag, finalizing the lineup for Sunday's Daytona 500.
Almirola's win completes a Ford sweep in Victory Lane after Joey Logano dominated Duel 1. Austin Cindric, Chase Elliott and Brad Keselowski rounded out the top-five finishers.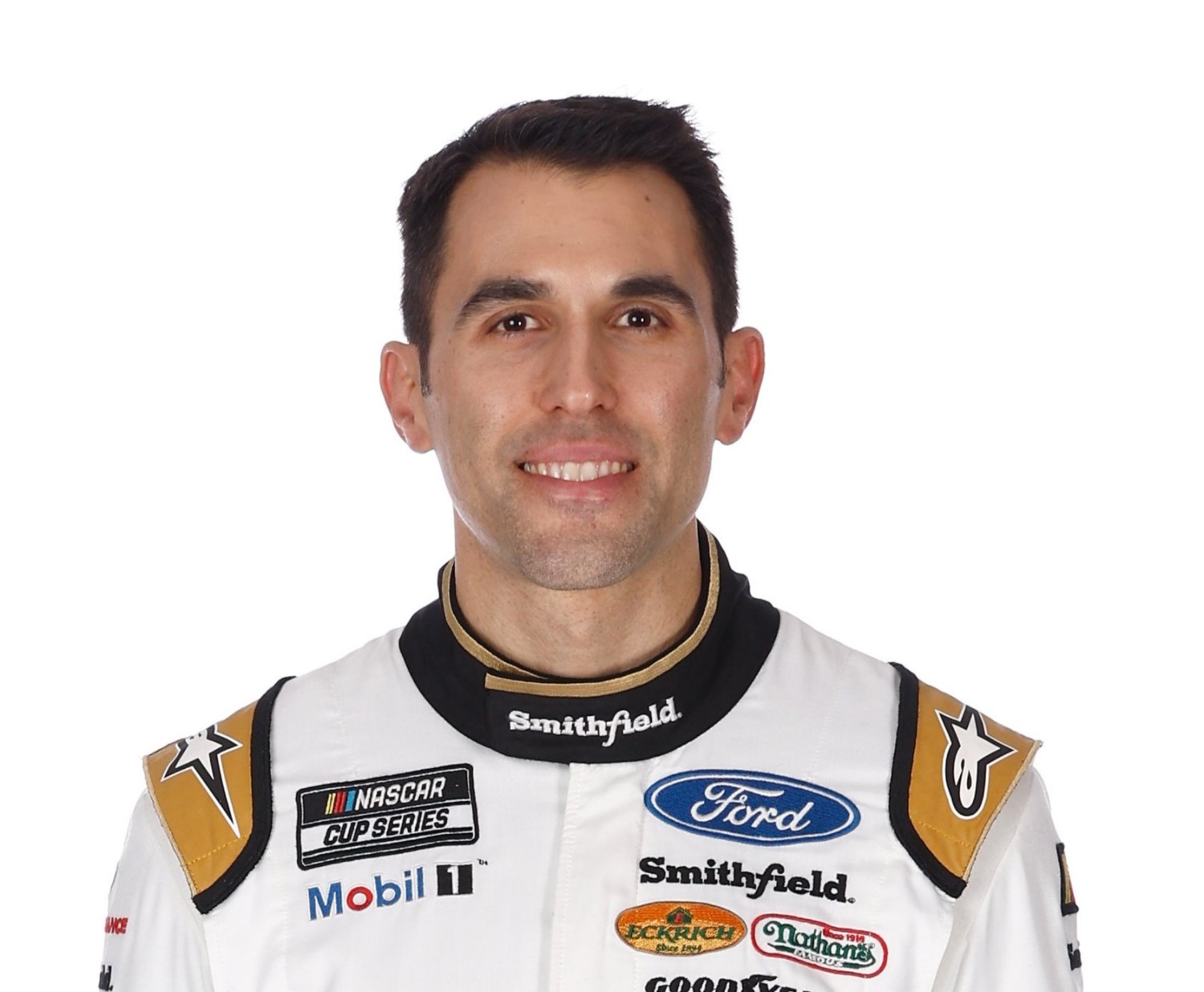 Perhaps the biggest moment of the race came on Lap 40 when Daniel Suárez got into the back of race leader Kyle Busch, sending his No. 8 Chevrolet spinning into the outside wall. A handful of cars were collected in the incident, including open-car hopeful Austin Hill, who was vying for a race bid and needed a solid finish. Busch was visibly upset but was released from the infield care center without further issue. Suárez finished 12th.
Conor Daly capitalized on the caution, securing his starting spot in Sunday's race (2:30 p.m. ET, FOX, MRN, SiriusXM NASCAR Radio).
Aric Almirola
Aric Almirola, you give thumbs up to the fans. You won this race two years ago. Just did it again tonight. Had your hands full, though. Looked like a lot of work for you in that race car.
ARIC ALMIROLA: Yeah, I did have my hands full. Drew said this Smithfield Ford Mustang was going to be fast, but he said I would probably have my hands full. We kind of went for it in qualifying and put on the speed in the car sacrificed some handling, and as you could see tonight it was a handful, but, man, this is so cool.
Daytona is such a special place to me. I've grew up sitting in those grandstands dreaming about racing here. I want that one on Sunday, though. My boss up in the booth during that first Duel, he said, I've won this race three times, but yet to do it on Sunday.
I know Sunday is the big one. We're going to keep focused on that one. The job is not finished.
Just really proud. So thankful. I'm not even supposed to be here. I'm supposed to be retired. This is awesome. Thank you Shane and everybody back at Smithfield headquarters, Ford, Doug Yates. Doug came and told me in the window before the race started I'd meet you in Victory Lane, so I've got a date with him. I'll see him in a minute.
Alex just flew down here with the pit crew this morning from school, so he was up on the spotter's stand with Joel helping him spot. I'm waiting for him. He should be coming down any minute. I told him we'd go to Victory Lane. Alex, where you at, buddy? We're waiting on you.
Logano dominates Duel 1 at Daytona
Picking up right where he left off in 2022, Logano made his way to Victory Lane on Thursday night in the Bluegreen Vacations Duel 1 at Daytona, winning a drag race with Christopher Bell to the checkered flag.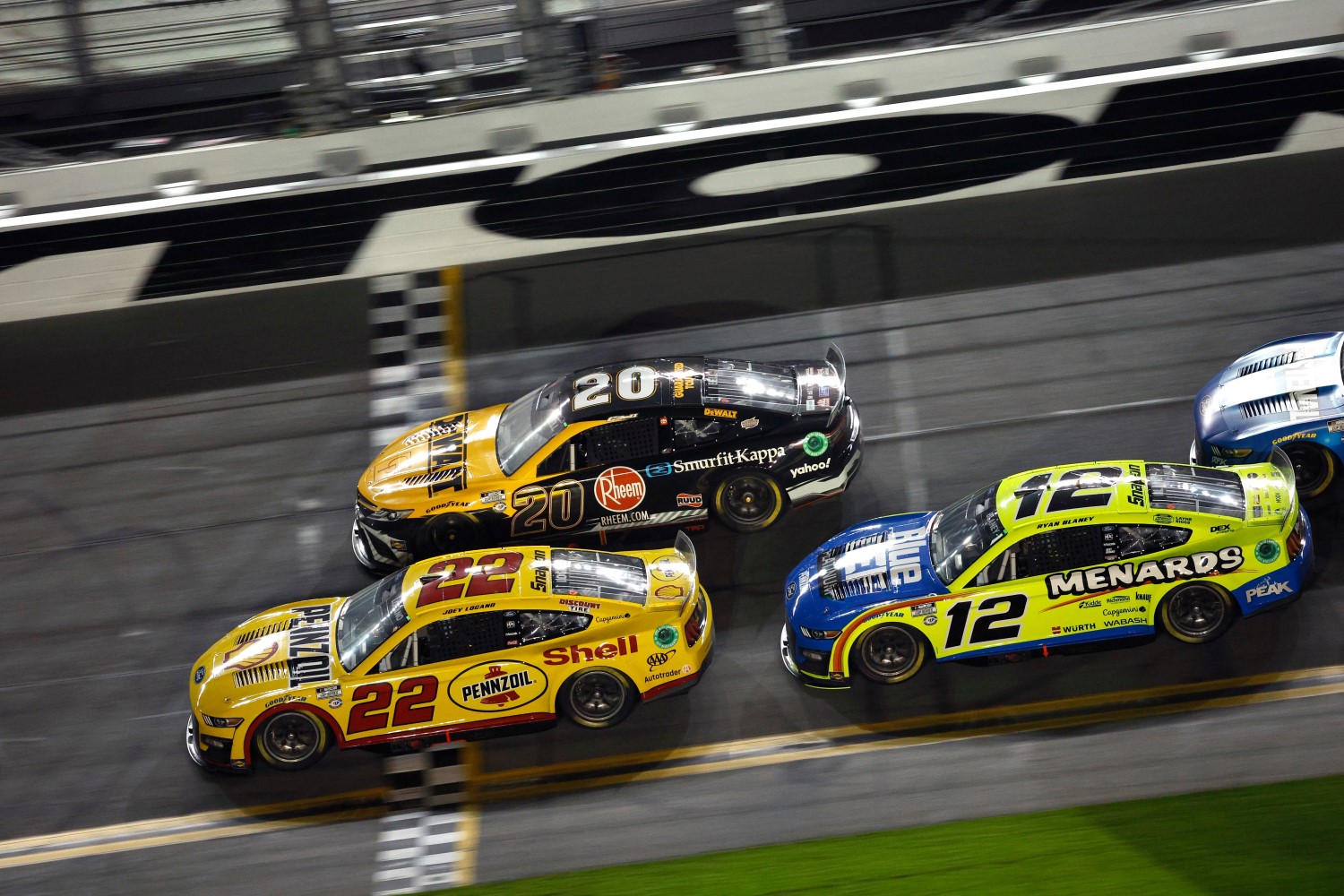 Logano led 29 laps in front of the field, setting the pace for the Ford camp, which had a dominant night under the lights. Seven of the top 10 finishers raced under the Blue Oval banner, including Team Penske teammate Ryan Blaney, who finished third.
Despite a rather organized race throughout the evening, the flurry of moves and blocks in the final two laps set the race up for an exhilarating finish. Bell darted to the outside of Logano but fell short by just 0.018 seconds at the finish, for one of the closest Duel races in recent memory.
The 2022 Duel winner Chris Buescher and 2021 Daytona 500 winner Michael McDowell rounded out the top five.
After earning another Daytona 500 pole with an exceptional qualifying effort Wednesday, Alex Bowman finished without damage in 17th, securing his P1 starting position. Among the open entrants, Zane Smith finished highest in eighth — good enough to secure his place in Sunday's race, driving the No. 36 Ford for Front Row Motorsports.
Duel 1 Results
| | | | | | | | |
| --- | --- | --- | --- | --- | --- | --- | --- |
| Fin | Str | No. | Driver | Team | Laps | Led | Status |
| 1 | 3 | 22 | Joey Logano | Shell Pennzoil Ford | 60 | 29 | Running |
| 2 | 11 | 20 | Christopher Bell | DeWalt/Rheem Toyota | 60 | 0 | Running |
| 3 | 4 | 12 | Ryan Blaney | Menards/Blue DEF/PEAK Ford | 60 | 30 | Running |
| 4 | 7 | 17 | Chris Buescher | Fastenal Ford | 60 | 0 | Running |
| 5 | 13 | 34 | Michael McDowell | Love's Travel Stops Ford | 60 | 0 | Running |
| 6 | 9 | 4 | Kevin Harvick | Busch Light Ford | 60 | 0 | Running |
| 7 | 6 | 23 | Bubba Wallace | McDonald's Toyota | 60 | 0 | Running |
| 8 | 15 | 36 | * Zane Smith(i) | Wellcare Ford | 60 | 0 | Running |
| 9 | 5 | 21 | Harrison Burton | Motorcraft/DEX Imaging Ford | 60 | 0 | Running |
| 10 | 2 | 24 | William Byron | RaptorTough.com Chevrolet | 60 | 0 | Running |
| 11 | 8 | 1 | Ross Chastain | AdventHealth Chevrolet | 60 | 1 | Running |
| 12 | 14 | 43 | Erik Jones | GUNS N' ROSES Chevrolet | 60 | 0 | Running |
| 13 | 17 | 3 | Austin Dillon | Bass Pro Shops Club Chevrolet | 60 | 0 | Running |
| 14 | 12 | 84 | * Jimmie Johnson | Carvana Chevrolet | 60 | 0 | Running |
| 15 | 16 | 16 | AJ Allmendinger | Nutrien Ag Solutions Chevrolet | 60 | 0 | Running |
| 16 | 18 | 47 | Ricky Stenhouse Jr. | Kroger/Cottonelle Chevrolet | 59 | 0 | Running |
| 17 | 1 | 48 | Alex Bowman | Ally Chevrolet | 59 | 0 | Running |
| 18 | 21 | 13 | * Chandler Smith(i) | Quick Tie Inc. Chevrolet | 59 | 0 | Running |
| 19 | 10 | 54 | Ty Gibbs # | Monster Energy/Interstate Batteries Toyota | 59 | 0 | Running |
| 20 | 19 | 51 | Cody Ware | Biohaven/Jacob Co. Ford | 59 | 0 | Running |
| 21 | 20 | 77 | Ty Dillon | Ferris Chevrolet | 59 | 0 | Running |
Duel 2 Results
| | | | | | | | |
| --- | --- | --- | --- | --- | --- | --- | --- |
| Fin | Str | No. | Driver | Team | Laps | Led | Status |
| 1 | 2 | 10 | Aric Almirola | Smithfield Ford | 60 | 17 | Running |
| 2 | 4 | 2 | Austin Cindric | Discount Tire Ford | 60 | 3 | Running |
| 3 | 7 | 9 | Chase Elliott | NAPA Auto Parts Chevrolet | 60 | 0 | Running |
| 4 | 9 | 6 | Brad Keselowski | Nexlizet Ford | 60 | 0 | Running |
| 5 | 20 | 7 | Corey LaJoie | Celsius Chevrolet | 60 | 0 | Running |
| 6 | 1 | 5 | Kyle Larson | HendrickCars.com Chevrolet | 60 | 9 | Running |
| 7 | 17 | 38 | Todd Gilliland | gener8tor Skills Ford | 60 | 1 | Running |
| 8 | 11 | 19 | Martin Truex Jr. | Bass Pro Shops Toyota | 60 | 0 | Running |
| 9 | 13 | 11 | Denny Hamlin | FedEx 50 Toyota | 60 | 0 | Running |
| 10 | 8 | 41 | Ryan Preece | HaasTooling.com Ford | 60 | 0 | Running |
| 11 | 14 | 42 | Noah Gragson # | Wendy's Chevrolet | 60 | 0 | Running |
| 12 | 6 | 99 | Daniel Suarez | Tootsies Orchid Lounge Chevrolet | 60 | 2 | Running |
| 13 | 10 | 45 | Tyler Reddick | Monster Energy Toyota | 60 | 0 | Running |
| 14 | 15 | 31 | Justin Haley | Cirkul Chevrolet | 60 | 0 | Running |
| 15 | 3 | 14 | Chase Briscoe | Mahindra Tractors Ford | 60 | 0 | Running |
| 16 | 18 | 78 | BJ McLeod | Power Slap Rumble Chevrolet | 60 | 0 | Running |
| 17 | 21 | 50 | * Conor Daly(i) | BitNile.com Chevrolet | 59 | 0 | Running |
| 18 | 16 | 62 | * Austin Hill(i) | Bennett Transportation/Beard Chevrolet | 41 | 0 | Accident |
| 19 | 5 | 8 | Kyle Busch | 3CHI Chevrolet | 40 | 28 | Accident |
| 20 | 19 | 15 | Riley Herbst(i) | SunnyD Ford | 40 | 0 | Accident |
| 21 | 12 | 67 | * Travis Pastrana | Black Rifle Coffee Toyota | 40 | 0 | Accident |
Daytona 500 starting lineup
| | | | |
| --- | --- | --- | --- |
| Pos | No. | Driver | Car |
| 1 | 48 | Alex Bowman | Ally Chevrolet |
| 2 | 5 | Kyle Larson | HendrickCars.com Chevrolet |
| 3 | 22 | Joey Logano | Shell Pennzoil Ford |
| 4 | 10 | Aric Almirola | Smithfield Ford |
| 5 | 20 | Christopher Bell | DeWalt/Rheem Toyota |
| 6 | 2 | Austin Cindric | Discount Tire Ford |
| 7 | 12 | Ryan Blaney | Menards/Blue DEF/PEAK Ford |
| 8 | 9 | Chase Elliott | NAPA Auto Parts Chevrolet |
| 9 | 17 | Chris Buescher | Fastenal Ford |
| 10 | 6 | Brad Keselowski | Nexlizet Ford |
| 11 | 34 | Michael McDowell | Love's Travel Stops Ford |
| 12 | 7 | Corey LaJoie | Celsius Chevrolet |
| 13 | 4 | Kevin Harvick | Busch Light Ford |
| 14 | 38 | Todd Gilliland | gener8tor Skills Ford |
| 15 | 23 | Bubba Wallace | McDonald's Toyota |
| 16 | 19 | Martin Truex Jr. | Bass Pro Shops Toyota |
| 17 | 36 | Zane Smith(i) | Wellcare Ford |
| 18 | 11 | Denny Hamlin | FedEx 50 Toyota |
| 19 | 21 | Harrison Burton | Motorcraft/DEX Imaging Ford |
| 20 | 41 | Ryan Preece | HaasTooling.com Ford |
| 21 | 24 | William Byron | RaptorTough.com Chevrolet |
| 22 | 42 | Noah Gragson # | Wendy's Chevrolet |
| 23 | 1 | Ross Chastain | AdventHealth Chevrolet |
| 24 | 99 | Daniel Suarez | Tootsies Orchid Lounge Chevrolet |
| 25 | 43 | Erik Jones | GUNS N' ROSES Chevrolet |
| 26 | 45 | Tyler Reddick | Monster Energy Toyota |
| 27 | 3 | Austin Dillon | Bass Pro Shops Club Chevrolet |
| 28 | 31 | Justin Haley | Cirkul Chevrolet |
| 29 | 16 | AJ Allmendinger | Nutrien Ag Solutions Chevrolet |
| 30 | 14 | Chase Briscoe | Mahindra Tractors Ford |
| 31 | 47 | Ricky Stenhouse Jr. | Kroger/Cottonelle Chevrolet |
| 32 | 78 | BJ McLeod | Power Slap Rumble Chevrolet |
| 33 | 54 | Ty Gibbs # | Monster Energy/Interstate Batteries Toyota |
| 34 | 50 | Conor Daly(i) | BitNile.com Chevrolet |
| 35 | 51 | Cody Ware | Biohaven/Jacob Co. Ford |
| 36 | 8 | Kyle Busch | 3CHI Chevrolet |
| 37 | 77 | Ty Dillon | Ferris Chevrolet |
| 38 | 15 | Riley Herbst(i) | SunnyD Ford |
| 39 | 84 | Jimmie Johnson | Carvana Chevrolet |
| 40 | 67 | Travis Pastrana | Black Rifle Coffee Toyota |
Did Not Qualify:  #62 Austin Hill(i),#13 Chandler Smith(i)
(i) Ineligible for driver points in this series