NASCAR: Keselowski tops final Daytona 500 Cup Practice
Only 17 NASCAR Cup cars took to the 2.5-mile Daytona International Speedway Saturday for final practice ahead of tomorrow's big race.
Brad Keselowski topped the leaderboard at 191.201 mph in the No. 6 RFK Racing Ford.
Right behind him was former teammate and reigning champion Joey Logano in the No. 22 Team Penske Ford at 191.196 mph.
The top six on the leaderboard were all blue ovals, with Ryan Blaney keeping the Ford contingent rolling in third, followed by Ryan Preece in the Stewart-Haas Racing No. 41, Harrison Burton in the Wood Brothers Racing No. 21 and Chase Briscoe in the SHR No. 14.
Defending Daytona 500 winner Austin Cindric was 14th fastest with a speed of 180.281 mph in the No. 2 Team Penske Ford.
All that's left now? The 65th annual running of NASCAR's most historic race — the Daytona 500 on Sunday.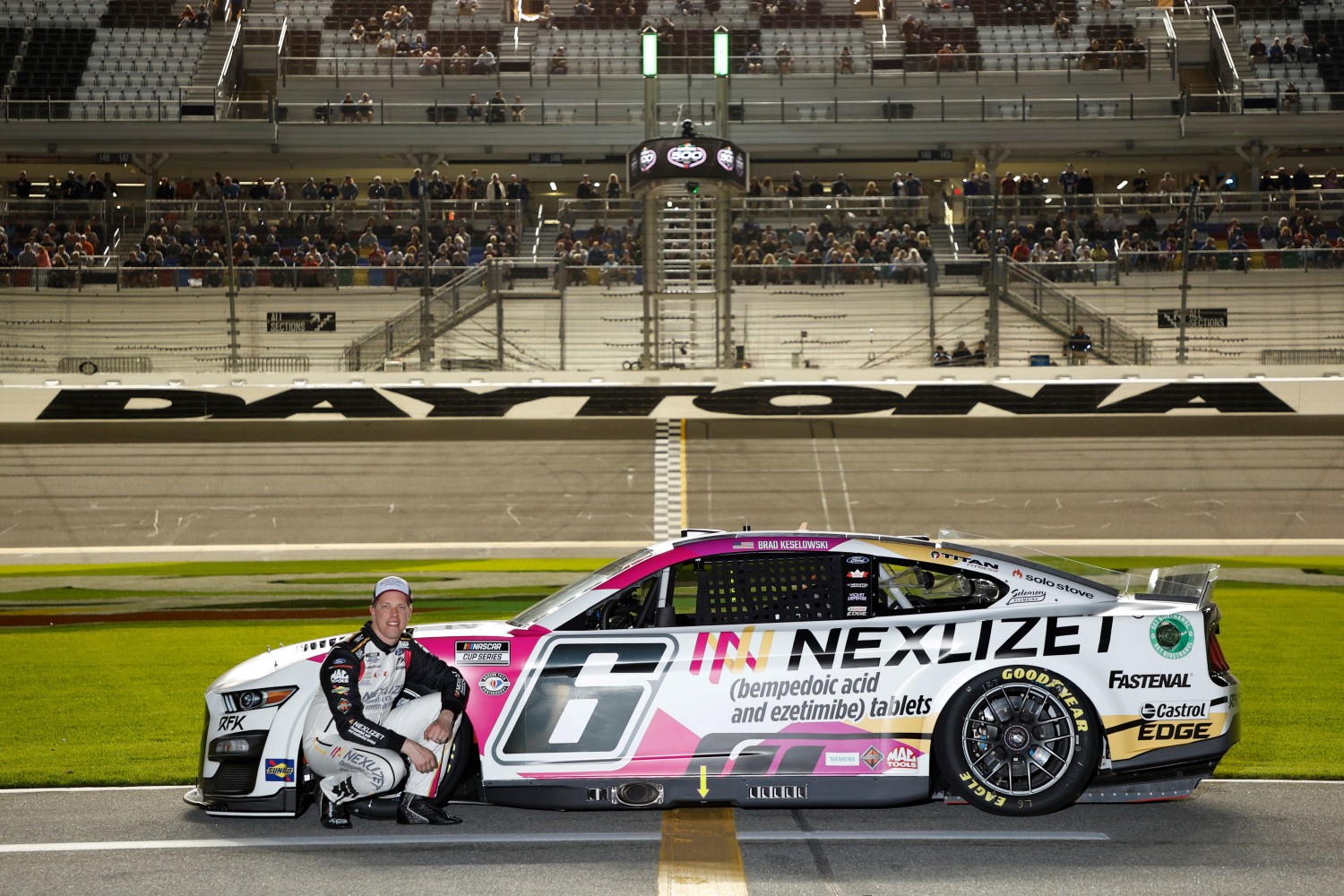 Final Practice Results
| | | | | | | |
| --- | --- | --- | --- | --- | --- | --- |
| Pos | No.  Driver | Team | Time | Speed | Behind | Gap |
| 1 | 6 Brad Keselowski | Nexlizet Ford | 47.071 | 191.201 | —.— | —.— |
| 2 | 22 Joey Logano | Shell Pennzoil Ford | 47.072 | 191.196 | -0.001 | -0.001 |
| 3 | 12 Ryan Blaney | Menards/Blue DEF/PEAK Ford | 47.076 | 191.180 | -0.005 | -0.004 |
| 4 | 41 Ryan Preece | HaasTooling.com Ford | 47.076 | 191.180 | -0.005 | -0.000 |
| 5 | 21 Harrison Burton | Motorcraft/DEX Imaging Ford | 47.077 | 191.176 | -0.006 | -0.001 |
| 6 | 14 Chase Briscoe | Mahindra Tractors Ford | 47.105 | 191.063 | -0.034 | -0.028 |
| 7 | 16 AJ Allmendinger | Nutrien Ag Solutions Chevrolet | 47.167 | 190.811 | -0.096 | -0.062 |
| 8 | 31 Justin Haley | Cirkul Chevrolet | 47.174 | 190.783 | -0.103 | -0.007 |
| 9 | 42 Noah Gragson # | Wendy's Chevrolet | 47.353 | 190.062 | -0.282 | -0.179 |
| 10 | 15 Riley Herbst(i) | SunnyD Ford | 47.358 | 190.042 | -0.287 | -0.005 |
| 11 | *36 Zane Smith(i) | Wellcare Ford | 47.367 | 190.006 | -0.296 | -0.009 |
| 12 | 7 Corey LaJoie | Celsius Chevrolet | 48.062 | 187.258 | -0.991 | -0.695 |
| 13 | *50 Conor Daly(i) | BitNile.com Chevrolet | 48.817 | 184.362 | -1.746 | -0.755 |
| 14 | 2 Austin Cindric | Discount Tire Ford | 49.922 | 180.281 | -2.851 | -1.105 |
| 15 | *84 Jimmie Johnson | Carvana Chevrolet | 50.417 | 178.511 | -3.346 | -0.495 |
| 16 | 38 Todd Gilliland | gener8tor Skills Ford | 50.539 | 178.080 | -3.468 | -0.122 |
| 17 | 45 Tyler Reddick | Monster Energy Toyota | -0.000 | 0.000 | -0.000 | -0.000 |