Asia Le Mans: Cool Racing Win Chaotic Race 3
A dramatic 4 Hours of Abu Dhabi saw #37 COOL Racing Oreca 07 Gibson Alexandre Coigny and Mathe Jakobsen take victory, a first for the team in LMP2.
A red flag interruption didn't stop the on-track action, with battles throughout the field. A sixth-place start saw Coigny and Jakobsen make their way through the class, staying out of the incidents which plagued their competitors to take the win at Yas Marina Circuit.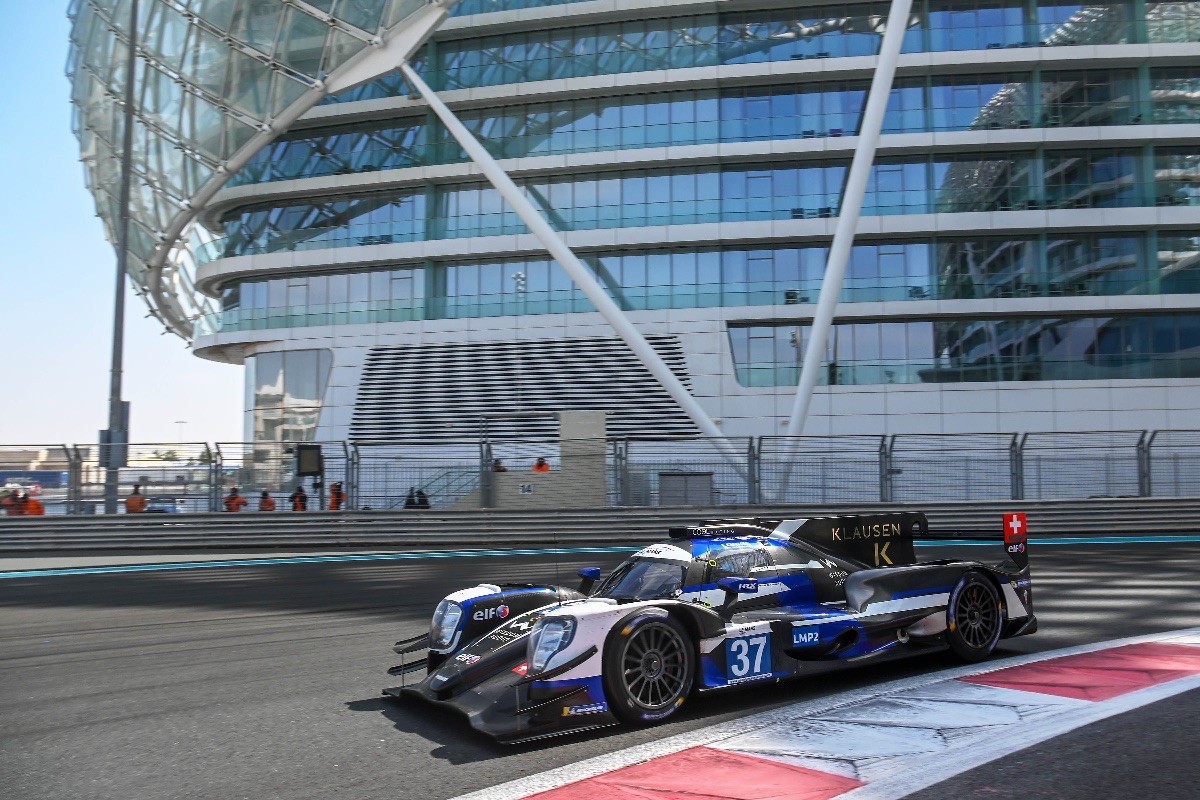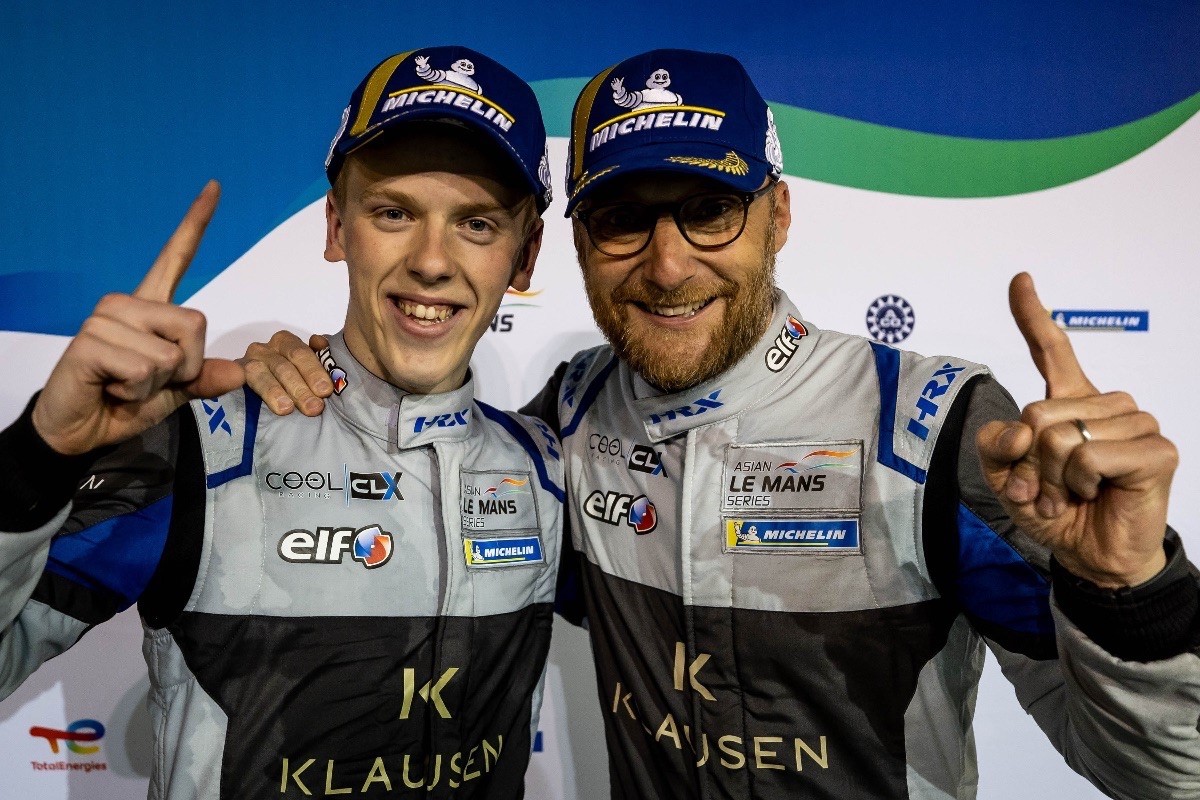 A post race penalty for Phil Hanson, Paul di Resta, and Jim McGuire saw them fall from second place in the #22 United Autosports Oreca 07 Gibson to 5th. The penalty also promoted their teammates in #23 United Autosports entry, Yasser Shahin, Garnet Patterson and Oliver Jarvis to second.
Championship leaders after Dubai, #25 Algarve Pro Racing, had heartbreak in the final moments of the race when Kyffin Simpson caught the curb and clipped the wall when trying to maneuver traffic, giving fourth position to #3 DKR Engineering of Salih Yoluc, Charlie Eastwood and Ayhancan Guven. Simpson was able to re-join, albeit with a broken gearbox, to limp home.
2019/ 2020 LMP3 Champions, Nielsen Racing, took victory with the #4 Ligier JS P320 Nissan of Tony Wells and Matthew Bell in the final hour following the pit stops. 4 Hours of Dubai Race 1 winners Jerome De Sadeleer, Viacheslav Gutak and Fabien Lavergne in #29 MV2S Racing finished second, ahead of pole sitters #11 WTM by Rinaldi Racing of Torsten Kratz, Leonard Weiss and Nicolas Varrone.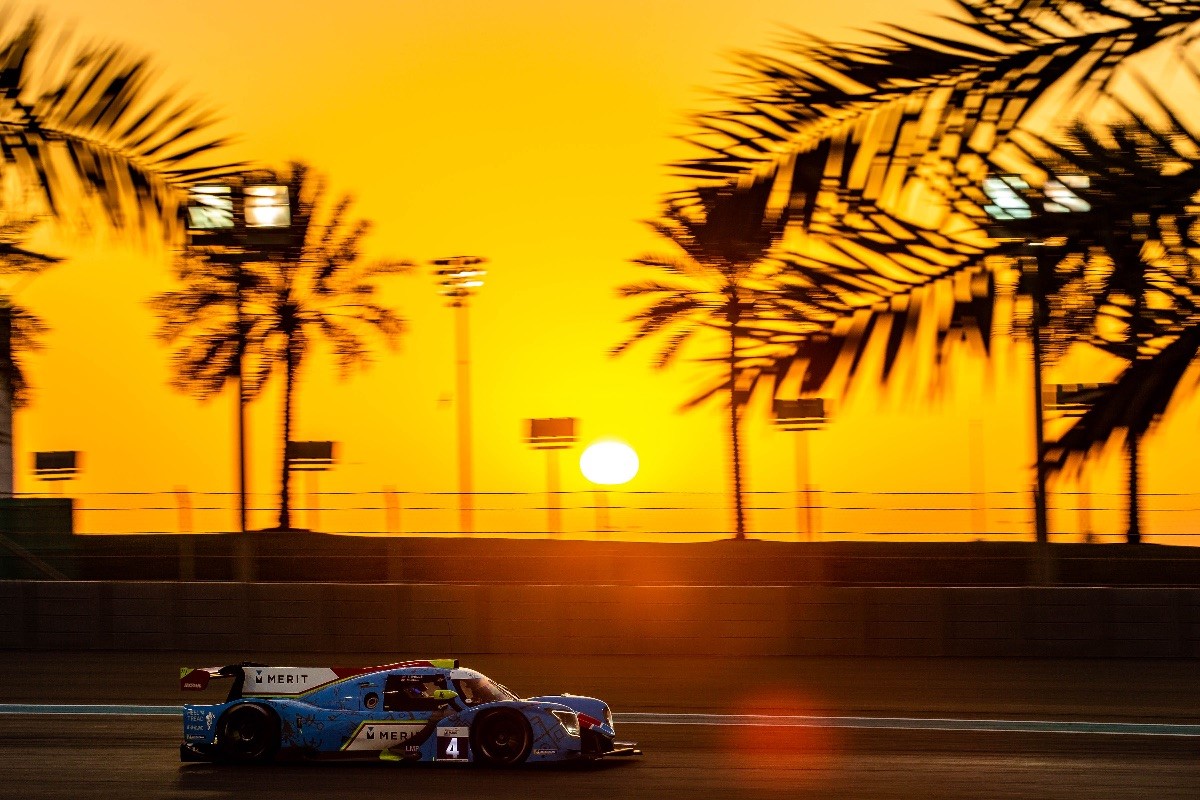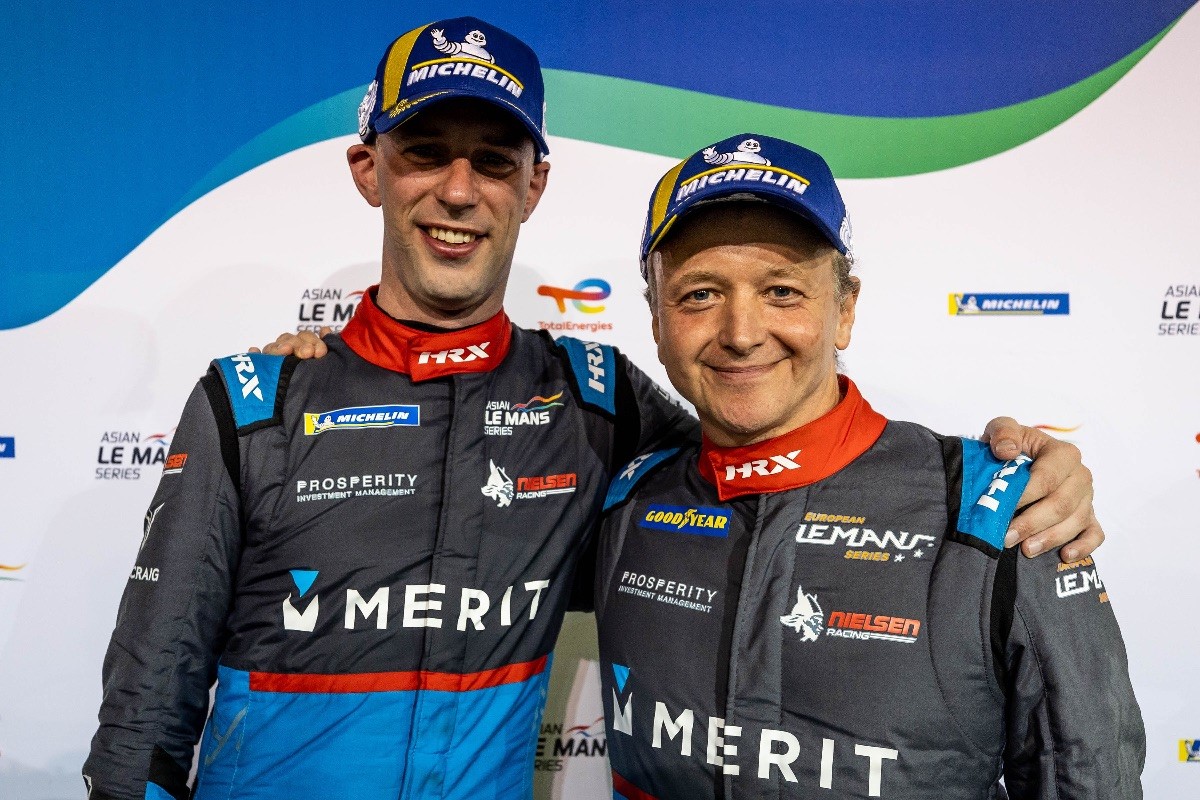 A strong and consistent race by the #7 Haupt Racing Team Mercedes AMG GT3 of Al Faisal Al Zubair, Luca Stolz and Martin Konrad saw them keep their championship hopes alive with victory. Alex Malykhin, Joel Sturm and Harry King in the #91 Herberth Motorsport Porsche 911 GT3 R finished second ahead of #19 Leipert Motorsport Lamborghini Huracan GT3 Evo Gabriel Rindone, Brendon Leitch and Marco Mapelli.
Multiple incidents on the opening lap of the race saw several GT cars damaged and retired, with two entries – #67 Orange Racing Powered by JMH and #74 Kessel Racing – not even making it to the grid because of technical issues.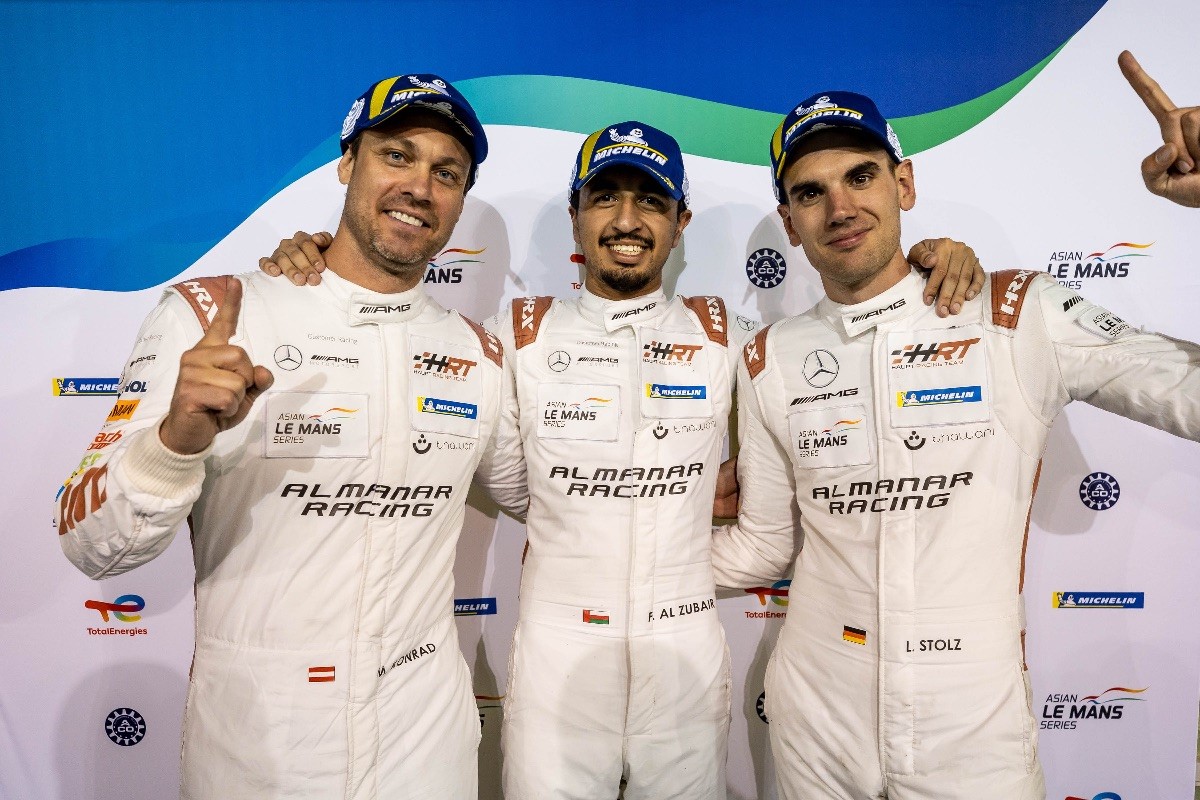 There is no time to rest, with the 4th and final race of the 2023 Asian Le Mans Series tomorrow!
Race Results – Abu Dhabi Race 1, Season Race 3
| | | | | | | |
| --- | --- | --- | --- | --- | --- | --- |
| Pos | No Team | Drivers | Car | Cat | Laps | Gap |
| 1 | 37 COOL Racing | A. Coigny / M. Jakobsen | Oreca 07 – Gibson | LMP2 | 100 | 0.000s |
| 2 | 23 United Autosports | Y. Shahin / G. Patterson / O. Jarvis | Oreca 07 – Gibson | LMP2 | 100 | 34.394 |
| 3 | 3 DKR Engineering | S. Yoluc / C. Eastwood / A. Guven | Oreca 07 – Gibson | LMP2 | 100 | 40.730 |
| 4 | 43 Inter Europol Competition | N. Siegel / C. Bogle / C. Crews | Oreca 07 – Gibson | LMP2 | 100 | 21.906 |
| 5 | 22 United Autosports | P. Hanson / P. Di Resta / J. Mcguire | Oreca 07 – Gibson | LMP2 | 100 | 5.492 |
| 6 | 24 Nielsen Racing | R. Sales / B. Hanley / M. Beche | Oreca 07 – Gibson | LMP2 | 100 | 19.249 |
| 7 | 98 99 Racing | N. Jani / N. Mazepin / A. Al Harthy | Oreca 07 – Gibson | LMP2 | 100 | 2.182 |
| 8 | 44 ARC Bratislava | M. Konopka / N. Pino / L. Toth | Oreca 07 – Gibson | LMP2 | 98 | 2 Laps |
| 9 | 4 Nielsen Racing | T. Wells / M. Bell | Ligier JS P320 – Nissan | LMP3 | 97 | 3 Laps |
| 10 | 25 Algarve Pro Racing | J. Falb / J. Allen / K. Simpson | Oreca 07 – Gibson | LMP2 | 97 | 3 Laps |
| 11 | 29 MV2S Racing | J. De Sadeleer / V. Gutak / F. Lavergne | Ligier JS P320 – Nissan | LMP3 | 97 | 3 Laps |
| 12 | 11 WTM by Rinaldi Racing | T. Kratz / L. Weiss / N. Varrone | Duqueine M30 – D08 – Nissan | LMP3 | 97 | 3 Laps |
| 13 | 8 Graff Racing | F. Rossello / X. Lloveras / F. Heriau | Ligier JS P320 – Nissan | LMP3 | 96 | 4 Laps |
| 14 | 5 DKR Engineering | T. Van Rompuy / V. Catalano | Duqueine M30 – D08 – Nissan | LMP3 | 96 | 4 Laps |
| 15 | 17 COOL Racing | C. Oltramare / A. Chila / M. Siebert | Ligier JS P320 – Nissan | LMP3 | 96 | 4 Laps |
| 16 | 9 Graff Racing | E. Trouillet / S. Page / B. Garcia | Ligier JS P320 – Nissan | LMP3 | 96 | 4 Laps |
| 17 | 1 CD Sport | M. Jensen / N. Adcock / V. Eriksen | Ligier JS P320 – Nissan | LMP3 | 96 | 4 Laps |
| 18 | 53 Inter Europol Competition | K. Askey / W. Brichacek / M. Cristovao | Ligier JS P320 – Nissan | LMP3 | 95 | 5 Laps |
| 19 | 73 Inter Europol Competition | J. Corbett / A. Bukhantsov / J. Winslow | Ligier JS P320 – Nissan | LMP3 | 94 | 6 Laps |
| 20 | 7 Haupt Racing Team | A. Al Zubair / L. Stolz / M. Konrad | Mercedes AMG GT3 | GT | 94 | 6 Laps |
| 21 | 15 RLR MSport | A. Feyzulin / B. Garg / A. Latorre | Ligier JS P320 – Nissan | LMP3 | 94 | 6 Laps |
| 22 | 91 Herberth Motorsport | A. Malykhin / J. Sturm / H. King | Porsche 911 GT3 R | GT | 94 | 6 Laps |
| 23 | 19 Leipert Motorsport | G. Rindone / B. Leitch / M. Mapelli | Lamborghini Huracan GT3 Evo | GT | 94 | 6 Laps |
| 24 | 63 Inter Europol Competition | A. Ali / J. Schauerman / J. Dayson | Ligier JS P320 – Nissan | LMP3 | 93 | 7 Laps |
| 25 | 34 Walkenhorst Motorsport | C. Hull / N. Catsburg / T. Merrill | BMW M4 GT3 | GT | 93 | 7 Laps |
| 26 | 95 TF Sport | J. Hartshorne / H. Chaves / J. Adam | Aston Martin Vantage AMR GT3 | GT | 93 | 7 Laps |
| 27 | 77 D'Station Racing | S. Hoshino / T. Fujii / C. Fagg | Aston Martin Vantage AMR GT3 | GT | 92 | 8 Laps |
| 28 | 10 Getspeed | R. Marciello / F. Schiller / F. Scholze | Mercedes AMG GT3 | GT | 92 | 8 Laps |
| 29 | 33 Herberth Motorsport | A. Au / A. Renauer / K. Bachler | Porsche 911 GT3 R | GT | 92 | 8 Laps |
| 30 | 20 Herberth Motorsport | N. Leutwiler / M. Pedersen / M. Cairoli | Porsche 911 GT3 R | GT | 92 | 8 Laps |
| 31 | 57 Car Guy | T. Kimura / F. Schandorff / M. Jensen | Ferrari 488 GT3 | GT | 92 | 8 Laps |
| 32 | 59 Garage 59 | N. Halstead / L. Prette / R. Bell | McLaren 720S GT3 | GT | 92 | 8 Laps |
| 33 | 16 Getspeed | B. Zhou / Z. Wang / A. Imperatori | Mercedes AMG GT3 | GT | 91 | 9 Laps |
| 34 | 6 Haupt Racing Team | A. Maini / F. Bird / M. Blanchemain | Mercedes AMG GT3 | GT | 88 | 12 Laps |
| 35 | 72 Hub Auto Racing | L. Talbot / J. Gounon / O. Millroy | Mercedes AMG GT3 | GT | 87 | 13 Laps |
| DNF | 2 CD Sport | V. Lomko / J. Sweetnam / J. Wolff | Ligier JS P320 – Nissan | LMP3 | 65 | |
| DNF | 99 Herberth Motorsport | R. Bohn / A. Jeffries / R. Renauer | Porsche 911 GT3 R | GT | 44 | |
| DNF | 55 Rinaldi Racing | L. Hanafin / M. Luethen / J. Ried | Duqueine M30 – D08 – Nissan | LMP3 | 37 | |
| DNF | 18 360 Racing | F. Jousset / S. Alvarez / R. Kaiser | Ligier JS P320 – Nissan | LMP3 | 35 | |
| DNF | 88 Garage 59 | A. West / B. Goethe / M. Kirchhofer | McLaren 720S GT3 | GT | 14 | |
| DNF | 60 Formula Racing | J. Laursen / C. Laursen / N. Nielsen | Ferrari 488 GT3 | GT | 12 | |
| DNF | 66 Bullitt Racing | V. Hasse-Clot / J. Riegel / M. Berry | Aston Martin Vantage AMR GT3 | GT | 1 | |
| DNF | 74 Kessel Racing | M. Broniszewski / D. Fumanelli / B. Barker | Ferrari 488 GT3 | GT | | |
| DNF | 21 AF Corse | S. Constantini / S. Mann / M. Molina | Ferrari 488 GT3 | GT | | |
| DNF | 67 Orange Racing Powered by JMH | S. Orange / M. O'brien / M. Clutton | McLaren 720S GT3 | GT | | |