NASCAR: Austin Hill wins Daytona 300-miler
After Sam Mayer spun on the roof of his Chevrolet on the backstretch at Daytona International Speedway, trailing a shower of sparks, Austin Hill, Justin Allgaier and John Hunter Nemechek sat in their cars and waited.
And after what must have seemed to be an eternity to the drivers, NASCAR reviewed video of the final lap of overtime and declared Hill the winner of his second straight season opener at the World Center of Racing in front of the largest crowd to witness an Xfinity Series race at Daytona since the $400-million renovation of the facility in 2016.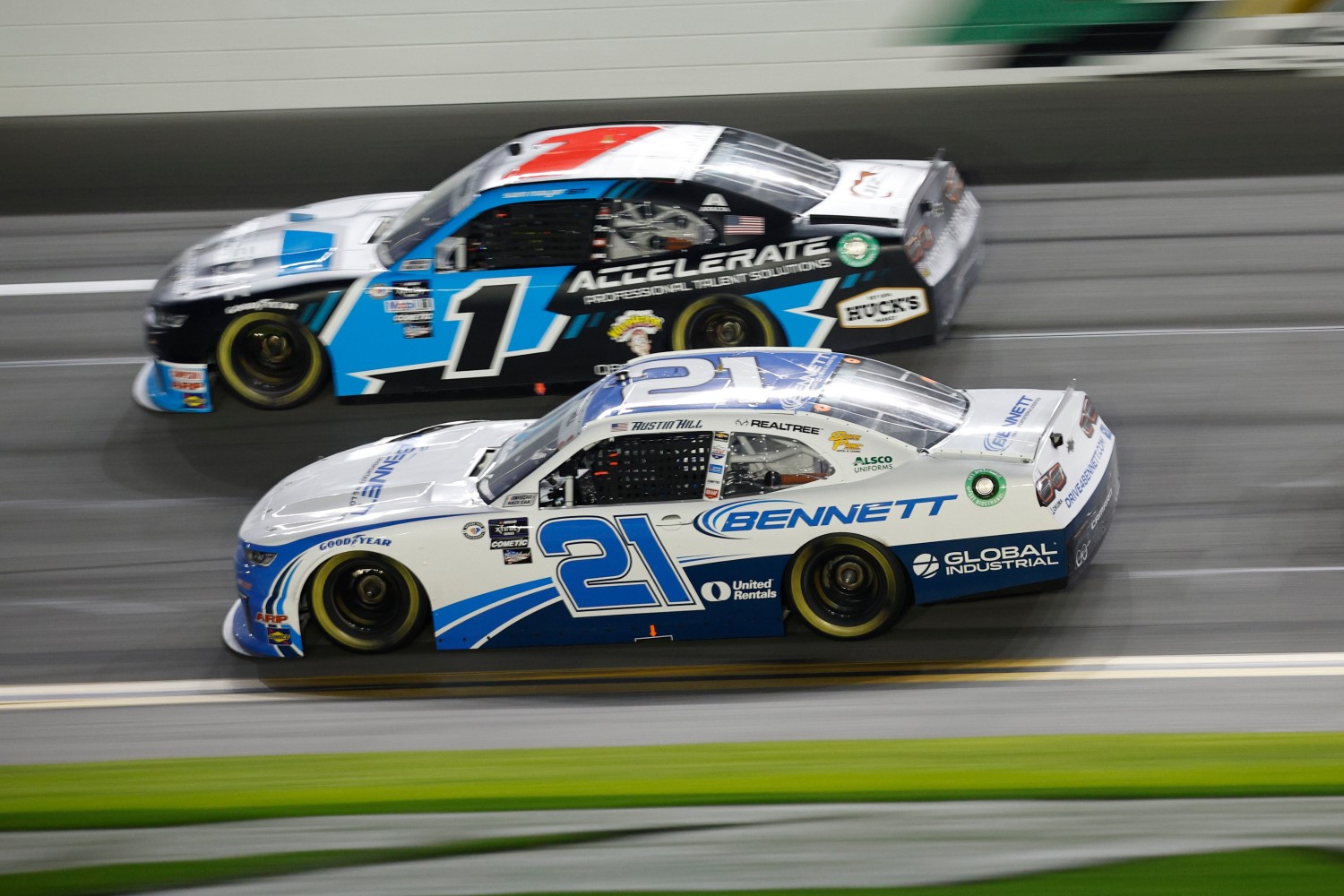 A consummate superspeedway racer, Hill led a race-high 38 laps in Saturday's Beef. It's What's for Dinner. 300 and was narrowly ahead of surging John Hunter Nemechek when the sanctioning body called the caution for Mayer's spectacular accident on Lap 125-five circuits beyond the scheduled distance.
Hill's first thought, however, was for Mayer. Contact between Hill's No. 21 Camaro and Mayer's No. 1 Chevrolet sent Mayer spinning and then flipping upside down until his car hit the infield grass and landed upright. Mayer was treated and released from the infield care center.
"When I saw the 1 (Mayer) and the 7 (Allgaier) get together, I just went to go squeeze them, and the 1 came down, he started getting loose, and then you can't lift-it's last lap," Hill said. "I hope Sam is OK, man. That was a heck of a flip there."
Allgaier, who was credited with a third-place finish, had another close call in the race that has eluded him.
"I've been short my whole life, so I guess it's just fitting," quipped the 5-foot-6-inch driver. "But really proud of everybody at JR Motorsports. Our Chevy Camaros tonight were absolutely blazing fast.
"Obviously, I'm glad Sam is OK. He had a heck of a run there at the end."
Rookie Parker Retzlaff finished a career-best fourth, followed by Myatt Snider. Riley Herbst, Joe Graf Jr., Ryan Sieg, Cole Custer and Justin Haley completed the top 10.
Hill won the first stage, but only through Allgaier's benevolence. On the final lap of the stage, Hill steered down the track to block Allgaier's Chevrolet. Allgaier backed out of the throttle to give Hill room, as the rear bumper of Hill's Camaro slid uncomfortably close to the nose of Allgaier's car.
"If I don't lift, I wreck the whole field," Allgaier said on his radio. "It's stupid racing.
"Justin really cut me a break," Hill acknowledged. "I really appreciate that from him."
Allgaier must have gotten some karmic benefit from his magnanimity. When Parker Kligerman turned Sheldon Creed's Chevrolet while bump-drafting near the entrance to Turn 1 on Lap 40, Allgaier's Chevrolet spun sideways onto the apron behind the initial wreck.
After a tape job to the left rear of his car, Allgaier returned to the track, started at the rear of the field and quickly charged back into the lead on Lap 54. Allgaier went on to win the second stage, with Mayer close behind him.
"To go to the back and have that spin and just battle our way through, it's crazy how fast our car was tonight and how good we were in traffic," Allgaier said.
Unfortunately for the veteran driver, speed, maneuverability and good karma could carry him only so far.
The Xfinity Series will return to action at Auto Club Speedway on Feb. 25
Q. Austin Hill, back-to-back at Daytona. You had to work for this one at the end. You had a ton of teammates lined up behind you and it was single file for a little bit there and then you guys got to dice it up. How did you pull this one off?
AUSTIN HILL: I have no idea. I don't know. When I chose the outside line, I just — I didn't feel like the inside line was that great all day for most of the day. I just wanted to choose the top. I knew the 78 would stay with me. He was pretty committed. When I saw the 1 and the 7 get together, I just went to go squeeze them, and the 1 came down, he started getting loose, and then you can't lift. It's last lap.
I hope Sam is okay, man. That was a heck of a flip there.
Yeah, as soon as the caution lights came on, I thought I had it, but it was so close. To get back-to-back here at Daytona, it's really special. That's three wins for me now, two in the Xfinity, one in the truck here, and I can't thank everyone at RCR, our Bennett Chevrolet was so good, and it was as fast as Xfinity 10G tonight for sure. We came from the back two different times.
I hope everyone enjoyed it. It was such a blast. I had so much fun. We won at Daytona! Let's go!
JOHN HUNTER NEMECHEK, No. 20 Mobil 1 Toyota GR Supra, Joe Gibbs Racing
Finishing Position: 2nd
Could you see the caution lights at the end, and did you believe you were ahead of the 21?
"I thought we were ahead. The 31 (Retzlaff) gave the 21 (Hill) a good push on the outside but can't thank everyone on this Mobil 1 GR Supra for Joe Gibbs Racing. Just proud of the effort. It's been a long off season waiting to get to Daytona and just to be that close. Great points day, but our car was as fast as Xfinity 10G. Looking forward to moving on to Fontana and I'm glad that we got the year kicked off this way and hopefully we can go chase some more wins, I feel like there are some here in our future. Need to get our speedway program just a little bit better. Thank you for the opportunity from Coach (Gibbs) and I wish Coy (Gibbs) was here. Thank you to Heather (Gibbs) and the entire Gibbs family and everyone at Toyota and TRD for helping me move back up to the Xfinity Series after taking a gamble and moving up from the Truck Series after leaving the Cup Series. The plan is working, and the Lord is good."
Can you describe the racing for the last few laps?
"Intense and fast just like Xfinity 10G. I can't say enough about this team. I was hoping after we signed the deal to come to Daytona and get the season kicked off and to come out of here with a race car that's in one piece with these awesome Mobil 1 colors. Definitely makes us proud. It was really close there when they threw the caution, I thought we were ahead. Just can't thank Myatt Snider enough for working with me all day. We didn't have the numbers with the Toyotas, it was definitely a Chevy type of day. But we worked well together, and we were able to come home in second and fifth. Just thankful for this opportunity from Coach (Gibbs) and wish Coy (Gibbs) was here to spend it with us. Glad that we came home second, and we can get our points run kicked off on the right foot. Looking forward to Fontana next week and the rest of the year."
Race Results
| | | | | | | | |
| --- | --- | --- | --- | --- | --- | --- | --- |
| Fin | Str | No. | Driver | Team | Laps | Pts | Status |
| 1 | 1 | 21 | Austin Hill | Bennett Transportation Chevrolet | 125 | 58 | Running |
| 2 | 7 | 20 | John Hunter Nemechek | Mobil 1 Toyota | 125 | 40 | Running |
| 3 | 5 | 7 | Justin Allgaier | BRANDT Chevrolet | 125 | 52 | Running |
| 4 | 16 | 31 | Parker Retzlaff # | FUNKAWAY Chevrolet | 125 | 33 | Running |
| 5 | 13 | 19 | Myatt Snider | Tree Top Toyota | 125 | 33 | Running |
| 6 | 9 | 98 | Riley Herbst | Monster Energy Ford | 125 | 35 | Running |
| 7 | 29 | 39 | Joe Graf Jr | Getcoverseal.com Ford | 125 | 30 | Running |
| 8 | 22 | 38 | Ryan Sieg | CMRroofing.com Ford | 125 | 29 | Running |
| 9 | 3 | 00 | Cole Custer | Haas Automation Ford | 125 | 30 | Running |
| 10 | 19 | 10 | Justin Haley(i) | DaaBIN Store Chevrolet | 125 | 0 | Running |
| 11 | 20 | 27 | Jeb Burton | State Water Heaters Chevrolet | 125 | 33 | Running |
| 12 | 8 | 16 | Chandler Smith # | Quick Tie Products, Inc. Chevrolet | 125 | 34 | Running |
| 13 | 17 | 45 | Stefan Parsons | Clear Cryptos Chevrolet | 125 | 24 | Running |
| 14 | 11 | 9 | Brandon Jones | Menards/Swiffer Chevrolet | 125 | 30 | Running |
| 15 | 25 | 92 | Josh Williams | Alloy Employer/Call 811 Chevrolet | 125 | 22 | Running |
| 16 | 34 | 24 | Parker Chase | Ontivity Toyota | 125 | 21 | Running |
| 17 | 38 | 51 | Jeremy Clements | One Stop/All South Electric Chevrolet | 125 | 20 | Running |
| 18 | 36 | 53 | Joey Gase | National Crime Prevention Ford | 125 | 19 | Running |
| 19 | 15 | 18 | Sammy Smith # | TMC Toyota | 125 | 18 | Running |
| 20 | 23 | 08 | Gray Gaulding | Panini Chevrolet | 125 | 17 | Running |
| 21 | 26 | 28 | Kyle Sieg | Night Owl Ford | 125 | 16 | Running |
| 22 | 28 | 02 | David Starr | Special Report with Bret Baier Chevrolet | 125 | 15 | Running |
| 23 | 2 | 48 | Parker Kligerman | Big Machine Racing Spiked Chevrolet | 125 | 17 | Running |
| 24 | 10 | 78 | Anthony Alfredo | Ticket Smarter Chevrolet | 125 | 13 | Running |
| 25 | 12 | 5 | Jade Buford | Double Spiked Coolers Chevrolet | 125 | 12 | Running |
| 26 | 18 | 8 | Josh Berry | Bass Pro Shops/TRACKER Boats Chevrolet | 125 | 20 | Running |
| 27 | 14 | 1 | Sam Mayer | Accelerate Pros Talent Chevrolet | 124 | 19 | Accident |
| 28 | 24 | 44 | Jeffrey Earnhardt | ForeverLawn Chevrolet | 124 | 9 | Running |
| 29 | 32 | 25 | Brett Moffitt | AM Technical Solutions Ford | 124 | 14 | Running |
| 30 | 37 | 34 | Jesse Iwuji | Chevrolet | 110 | 7 | Electrical |
| 31 | 31 | 35 | CJ McLaughlin | Sci-Aps Ford | 87 | 6 | Accident |
| 32 | 33 | 26 | Kaz Grala | Island Coastal Lager Toyota | 82 | 5 | Engine |
| 33 | 21 | 6 | Brennan Poole | Macc Door Systems Chevrolet | 81 | 4 | Engine |
| 34 | 4 | 2 | Sheldon Creed | Whelen Chevrolet | 41 | 8 | Accident |
| 35 | 35 | 43 | Ryan Ellis | Heartbeat Hot Sauce Chevrolet | 41 | 2 | Accident |
| 36 | 6 | 11 | Daniel Hemric | Cirkul Chevrolet | 20 | 1 | Accident |
| 37 | 27 | 07 | Blaine Perkins # | AUTOPARKit.com Chevrolet | 19 | 1 | Accident |
| 38 | 30 | 4 | Bayley Currey | Mikes Weather Page/Firman Chevrolet | 8 | 1 | Engine |