NASCAR: Stenhouse Jr. wins Daytona 500 crashfest
Driving the #47 Chevy, Ricky Stenhouse Jr. was leading when the 8th and final caution flew on the last lap to win the Daytona 500 crashfest to celebrate the start of NASCAR's 75th anniversary.
With a crowd of over 100,000 looking on, Stenhouse held off Joey Logano on the final lap of overtime as a wreck involving Kyle Larson and several other drivers caused the caution flag to come out. Once the caution came out, Stenhouse was the leader and Logano finished in second in the annual crap shoot.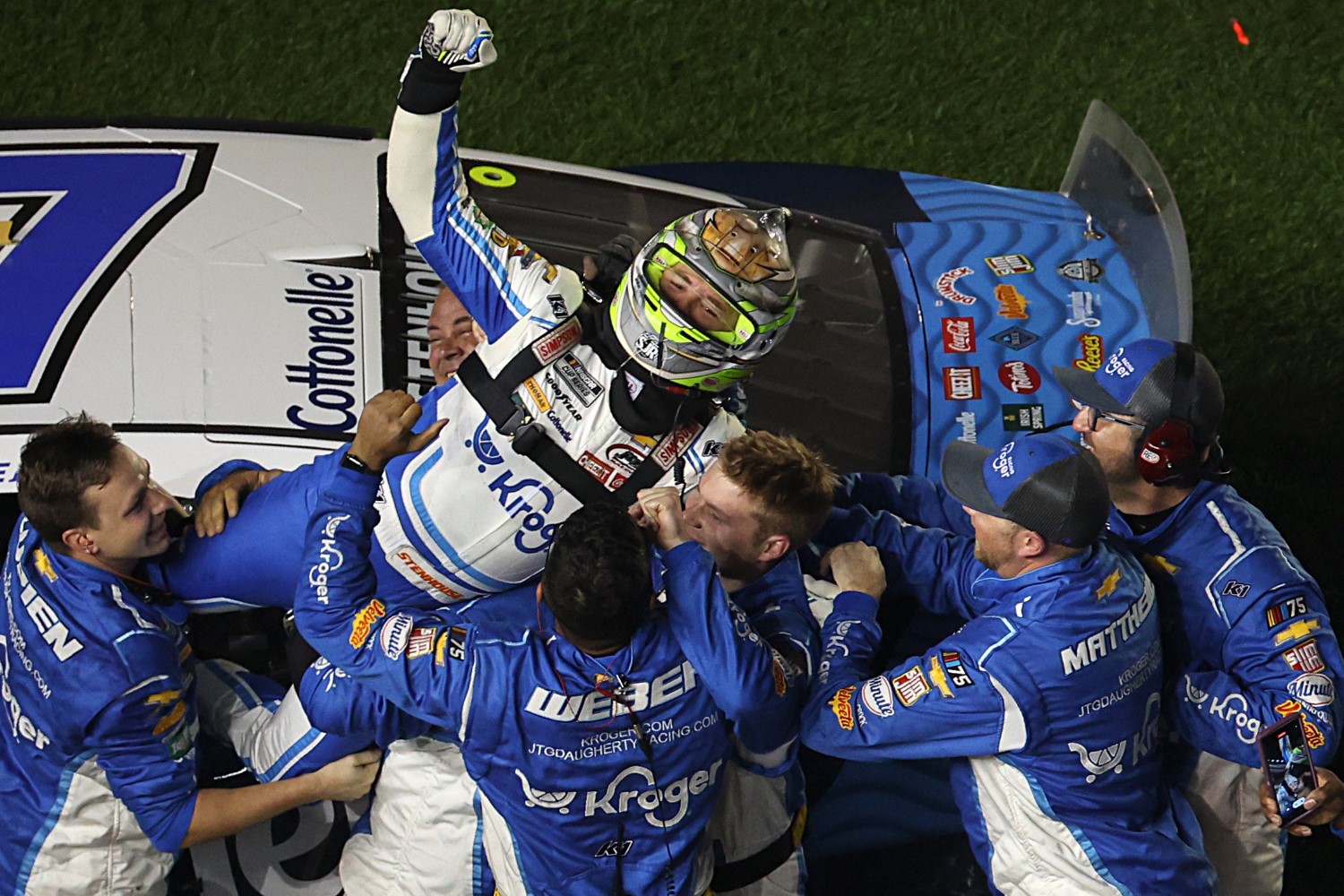 Christopher Bell finished 3rd for Joe Gibbs Racing.
Stenhouse is the 42nd different driver to win "The Great American Race." Stenhouse claimed his third career Cup Series win by beating out 39 other drivers in the annual Daytona 500 crashfest.
Nothing but green waved during the race's opening stage, seeing only a handful of cars dealing with on-track issues, including Bubba Wallace, who scraped the outside wall and was forced to pit road to change tires with 13 to go in the stage. Martin Truex Jr. — who made contact with the No. 23 — capitalized via a strong high lane before losing momentum up top as Brad Keselowski won Stage 1.
Green was all the field continued to see through the waning laps of Stage 2, until the first non-stage caution flew following a Tyler Reddick slip that eventually culminated with a total of nine cars being involved, including Chase Elliott and Ryan Blaney.
Although Fords — spearheaded by the RFK Racing tandem in Keselowski and Chris Buescher — dominated through the late going, multiple wrecks initiated NASCAR Overtime, where the Chevrolet in Stenhouse Jr. eventually prevailed in what amounted to the longest-ever Daytona 500 in terms of laps.
Brad Keselowski scored the Stage 1 win as he fended off a charging Ryan Preece and Ross Chastain narrowly topped pole-sitter Alex Bowman for the win in Stage 2.
Today's DAYTONA 500 produced 52 lead changes, the fourth-most in the history of the Great American Race; behind 2011 (74 lead changes), 1974 (60) and 1983 (58). The race produced 204 Green Flag Passes For The Lead – which is the most all-time at Daytona International Speedway surpassing the previous record of 177 GFPL set in the 2014 DAYTONA 500.
Q. Ricky Stenhouse Jr., it has been a long time coming. The one difference? Mike Kelley, your crew chief, is back. You won two championships together, and now you won the Daytona 500. Was it just magic together that made the difference here?
RICKY STENHOUSE JR: Yeah, I think this whole off-season Mike just preached how much we all believed in each other. They left me a note in the car that said they believe in me and to go get the job done tonight. I made a few mistakes. We were able to battle back.
This Kroger Continental team worked really, really hard in off-season, great pit stops, Hendrick engines. Glad a Chevy won.
Man, this is unbelievable. This was the site of my last win back in 2017. We've worked really hard. We had a couple shots last year to get a win and fell short. It was a tough season, but man, we got it done, Daytona 500.
Q. You have a knack for this style of racing, and we went into overtime, so you had to do it a couple of times and earn it. What were those moments like, and what were you watching, what made the difference initially at the end?
RICKY STENHOUSE JR: Yeah, when the 8 went to the bottom there I was able to push the 22 and the 5. We had a huge run. I was hoping we were going to get to the white there, and we didn't, so I knew I was going to take the top. I was hoping the 22 was going to follow, and he did. He was able to push us out.
I went to the bottom, the 8 and the 22 got a huge run. The 5 split me in the middle, but another fellow dirt racer with Bell gave me a good shot down the little short chute into 1, and we were out front when the caution came out. We were out of fuel so the fuel light was going crazy.
I hope y'all had fun. That was a heck of a race.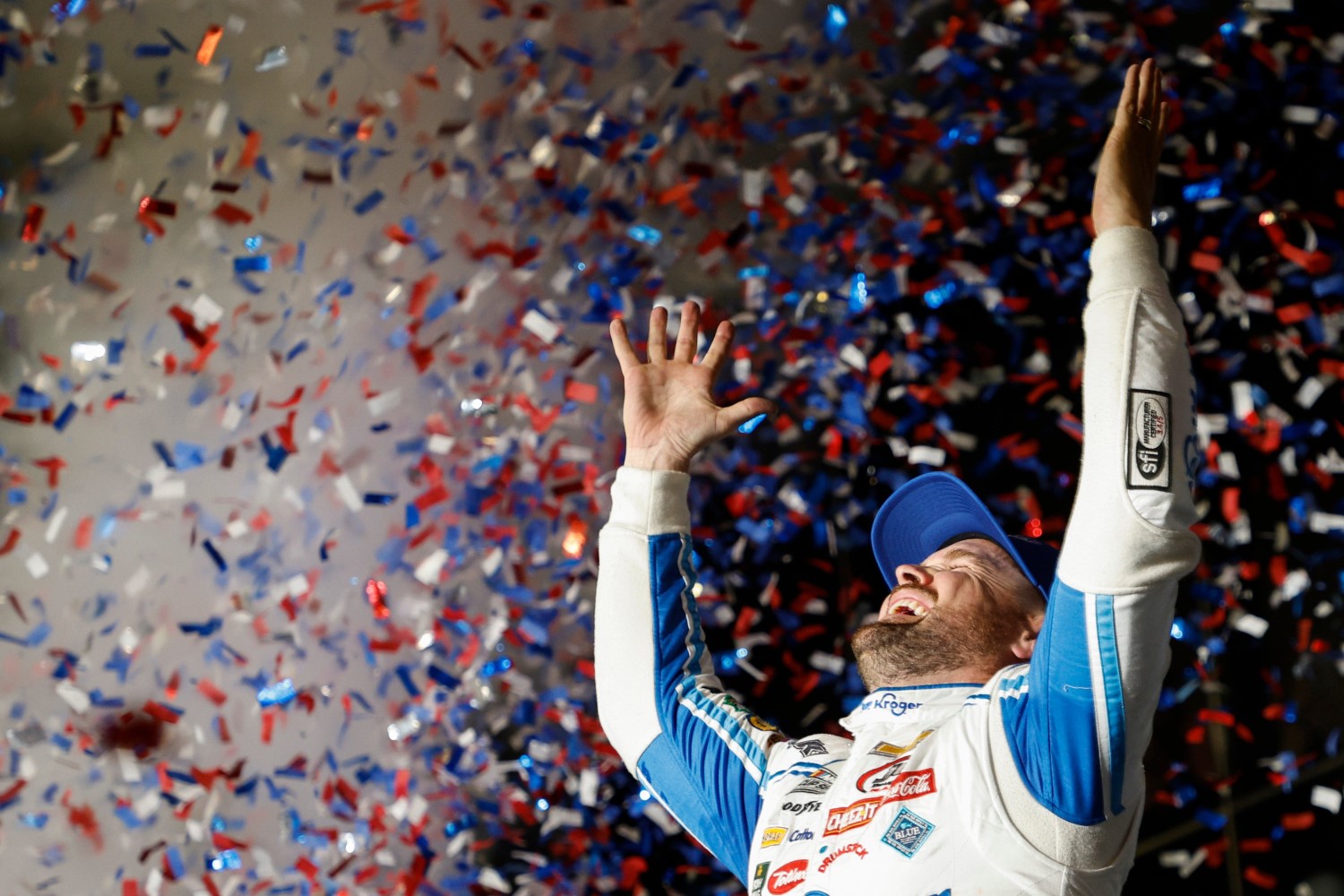 Q. Joey, you had a clear shot out front; you could see where you needed to be. What are the emotions right now?
JOEY LOGANO: Second is the worst, man. You're so close. Leading the white flag lap there, I was up front. Kyle gave me a good push and, yeah, you're watching in the mirror and you're three wide across there. I felt like the three wide was going a hurt a lane; looked like Kyle was getting pushed ahead, and then Ricky started getting pushed ahead.
I knew if I went to the bottom my car didn't handle good enough. I already got pushed off the bottom once and I thought, if I go down there I'm probably going to get wrecked, and I don't know if I can get down there in time to throw the block and so I didn't want to wreck my car either.
Then you don't expect them to wreck either. You think you're racing to the checkered flag and you put yourself in the best position to try to win at the start-finish line, and just caution came out — you wish you could race to the end. Obviously you can't when they wreck that much.
Congratulations to Ricky. There's nothing like winning the Daytona 500. That's why it stings so much finishing second.
Still proud of the team, still proud of the effort coming off the championship last year and bringing this Shell-Pennzoil Mustang back toward the front and getting a Ford close to the front. Wish it was in Victory Lane, though.
CHRISTOPHER BELL, No. 20 DeWalt – Rheem Toyota Camry TRD, Joe Gibbs Racing
Finishing Position: 3rd
Can you tell us about your race?
"If you would have told me pre-race that I was going to run third, I would have jumped up and down and been smiling ear-to-ear. I'm very happy. I'm very, very thankful that I could get this Rheem and DeWalt Toyota Camry a good solid finish, but just so close to a crown jewel. I feel like if it would have stayed green, I would have been on offense – but who knows. I'm very proud and thankful to be here at Joe Gibbs Racing. I'm happy for Ricky (Stenhouse, Jr.). That's really cool. I'm very happy for him."
What was your perspective on those last couple of laps?
"I don't know. I'm very thankful to be here at Joe Gibbs Racing driving this Rheem, DeWalt Camry. I hate superspeedway racing. It has been my Achilles heel for a number of years now, so just running third at the Daytona 500 is a really big deal, and I'm sure tomorrow I will be really happy – but right now, I'm just bummed because I feel like we were in position there, but overall – I'm really happy for Ricky (Stenhouse, Jr.). He's won multiple speedway races and been very close at others. Happy for him and can't wait to go to Auto Club."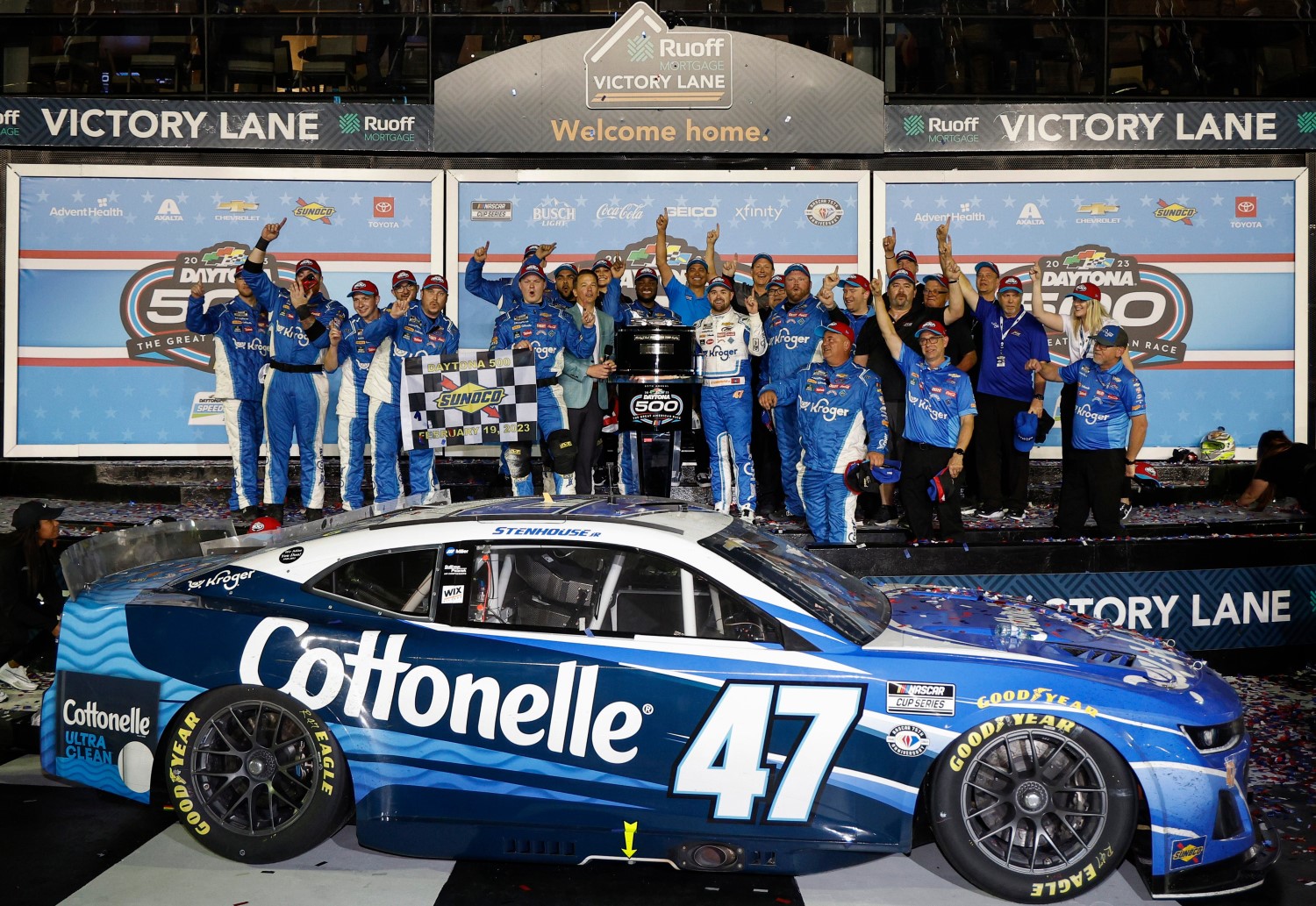 Race Results
| | | | | | | |
| --- | --- | --- | --- | --- | --- | --- |
| Fin | Str | Car | Driver | Team | Laps | Status |
| 1 | 31 | 47 | Ricky Stenhouse Jr. | Kroger/Cottonelle Chevrolet | 212 | Running |
| 2 | 3 | 22 | Joey Logano | Shell Pennzoil Ford | 212 | Running |
| 3 | 5 | 20 | Christopher Bell | DeWalt/Rheem Toyota | 212 | Running |
| 4 | 9 | 17 | Chris Buescher | Fastenal Ford | 212 | Running |
| 5 | 1 | 48 | Alex Bowman | Ally Chevrolet | 212 | Running |
| 6 | 29 | 16 | AJ Allmendinger | Nutrien Ag Solutions Chevrolet | 212 | Running |
| 7 | 24 | 99 | Daniel Suarez | Tootsies Orchid Lounge Chevrolet | 212 | Running |
| 8 | 7 | 12 | Ryan Blaney | Menards/Blue DEF/PEAK Ford | 212 | Running |
| 9 | 23 | 1 | Ross Chastain | AdventHealth Chevrolet | 212 | Running |
| 10 | 38 | 15 | Riley Herbst(i) | SunnyD Ford | 212 | Running |
| 11 | 40 | 67 | * Travis Pastrana | Black Rifle Coffee Toyota | 212 | Running |
| 12 | 13 | 4 | Kevin Harvick | Busch Light Ford | 212 | Running |
| 13 | 17 | 36 | * Zane Smith(i) | Wellcare Ford | 212 | Running |
| 14 | 35 | 51 | Cody Ware | Biohaven/Jacob Co. Ford | 212 | Running |
| 15 | 16 | 19 | Martin Truex Jr. | Bass Pro Shops Toyota | 212 | Running |
| 16 | 12 | 7 | Corey LaJoie | Celsius Chevrolet | 212 | Running |
| 17 | 18 | 11 | Denny Hamlin | FedEx 50 Toyota | 212 | Running |
| 18 | 2 | 5 | Kyle Larson | HendrickCars.com Chevrolet | 211 | Accident |
| 19 | 36 | 8 | Kyle Busch | 3CHI Chevrolet | 211 | Accident |
| 20 | 15 | 23 | Bubba Wallace | McDonald's Toyota | 211 | Accident |
| 21 | 4 | 10 | Aric Almirola | Smithfield Ford | 211 | Accident |
| 22 | 10 | 6 | Brad Keselowski | Nexlizet Ford | 211 | Accident |
| 23 | 6 | 2 | Austin Cindric | Discount Tire Ford | 210 | Accident |
| 24 | 22 | 42 | Noah Gragson # | Wendy's Chevrolet | 210 | Running |
| 25 | 33 | 54 | Ty Gibbs # | Monster Energy/Interstate Toyota | 210 | Running |
| 26 | 19 | 21 | Harrison Burton | Motorcraft/DEX Imaging Ford | 210 | Running |
| 27 | 14 | 38 | Todd Gilliland | gener8tor Skills Ford | 208 | Accident |
| 28 | 11 | 34 | Michael McDowell | Love's Travel Stops Ford | 208 | Running |
| 29 | 34 | 50 | * Conor Daly(i) | BitNile.com Chevrolet | 206 | Running |
| 30 | 32 | 78 | BJ McLeod | Power Slap Rumble Chevrolet | 204 | Running |
| 31 | 39 | 84 | * Jimmie Johnson | Carvana Chevrolet | 203 | Accident |
| 32 | 28 | 31 | Justin Haley | Cirkul Chevrolet | 203 | Accident |
| 33 | 27 | 3 | Austin Dillon | Bass Pro Shops Club Chevrolet | 202 | Accident |
| 34 | 21 | 24 | William Byron | RaptorTough.com Chevrolet | 202 | Accident |
| 35 | 30 | 14 | Chase Briscoe | Mahindra Tractors Ford | 182 | Accident |
| 36 | 20 | 41 | Ryan Preece | HaasTooling.com Ford | 181 | Accident |
| 37 | 25 | 43 | Erik Jones | GUNS N' ROSES Chevrolet | 118 | Accident |
| 38 | 8 | 9 | Chase Elliott | NAPA Auto Parts Chevrolet | 118 | Accident |
| 39 | 26 | 45 | Tyler Reddick | Monster Energy Toyota | 117 | Accident |
| 40 | 37 | 77 | Ty Dillon | Ferris Chevrolet | 26 | Engine |
(i) NOT ELIGIBLE FOR POINTS
(*) REQUIRED TO QUALIFY ON TIME