Formula E: Antonio Felix da Costa wins in Cape Town
Antonio Felix da Costa produced a storming drive from 11th on the grid to his first win for TAG Heuer Porsche in the inaugural Cape Town E-Prix, after producing a carbon copy of one of the best moves you'll ever see for the race win on two separate occasions.
The Porsche driver had clambered his way through the top 10 to the top three by Lap 20. With the pack squeezed by a Full Course Yellow on Lap 21, the top four were split by just 1.5 seconds and the scrap for the lead was anybody's.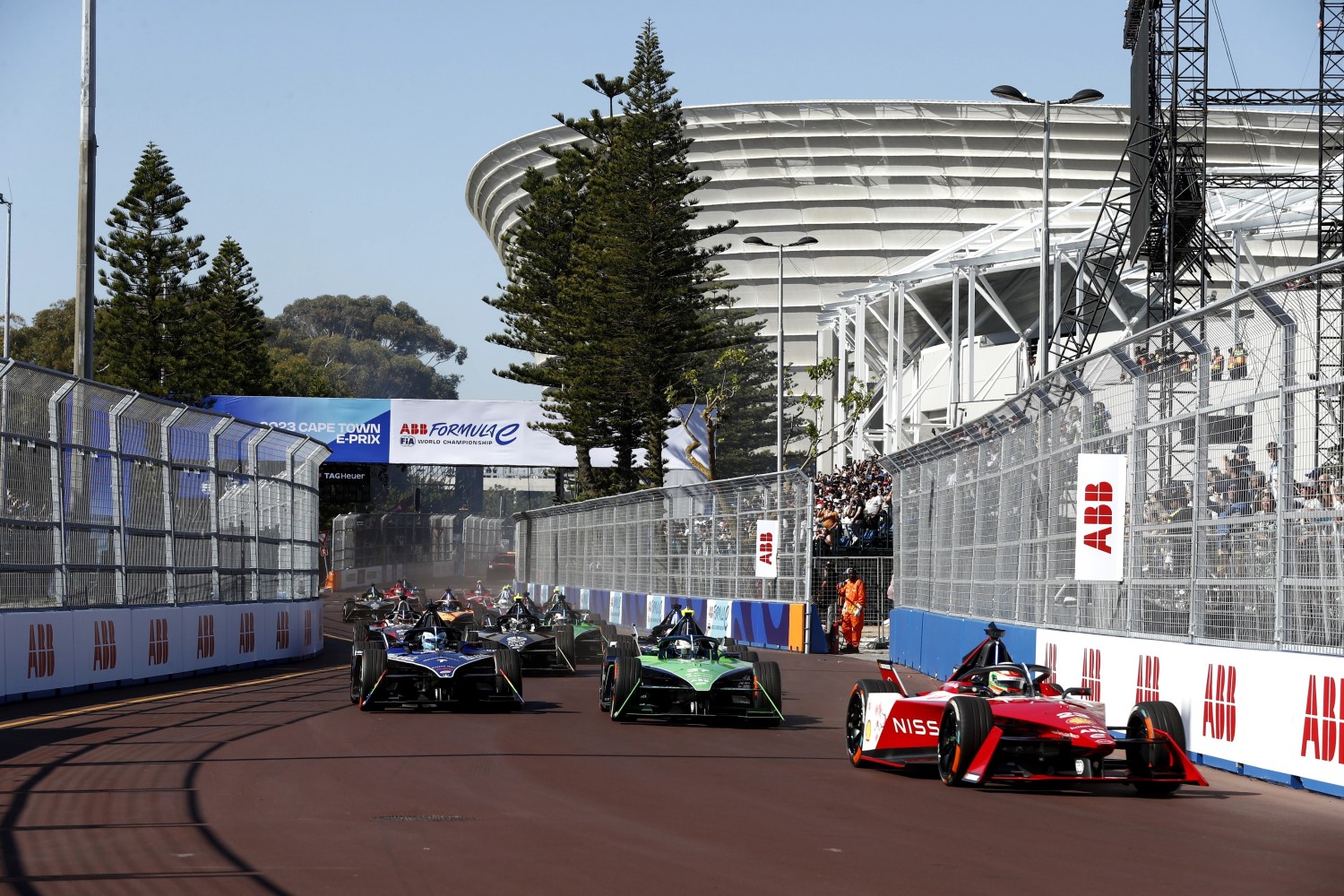 This was Da Costa's first win for his new team and is also his first Formula E victory since the 2022 New York City E-Prix in Season 8.
And speaking afterwards a visibly emotional Da Costa admitted he had been feeling the pressure in the lead up to the race.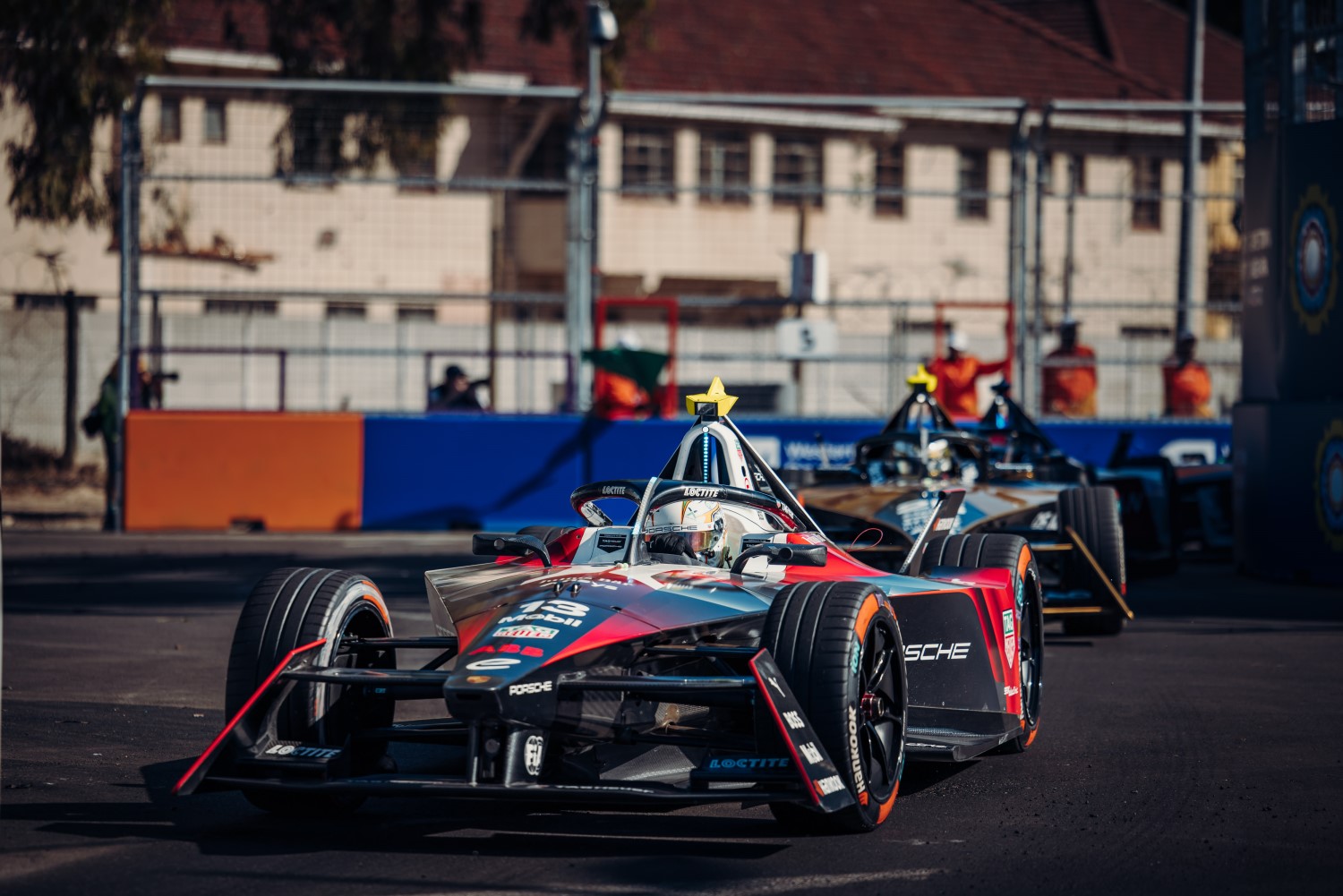 "There was a lot of weight on my shoulders", he said. "Thanks for the ones who have stuck with me and helped me get here. It has been a journey.
"I knew it was going to be a strategic one, I've done this race before where you have to give that lead away and really plan a late move in the race because the energy was playing a big part, and so following was a bit of an advantage. I wanted to be behind him (Vergne) for a few laps to build that energy advantage and use it, but I know leaving it late is always a risk and JEV is a very hard guy to overtake. I thought I was gone for a moment there in T9! But it's good to race him on a day like this.
"I was [prepared to give it everything], there was a moment there in the race when I thought if I missed the ATTACK mode it was gone and I would have to finish second, but when I dropped behind him I could see the energy coming back and I said lets go for it. It's the only way I like to do it."
Envision Racing's Nick Cassidy had outdone impressive rookie and polesitter Sacha Fenestraz and Maximilian Guenther through the first round of ATTACK MODE activations – going longer before opting for his initial 50kW boost – and creeping into the lead.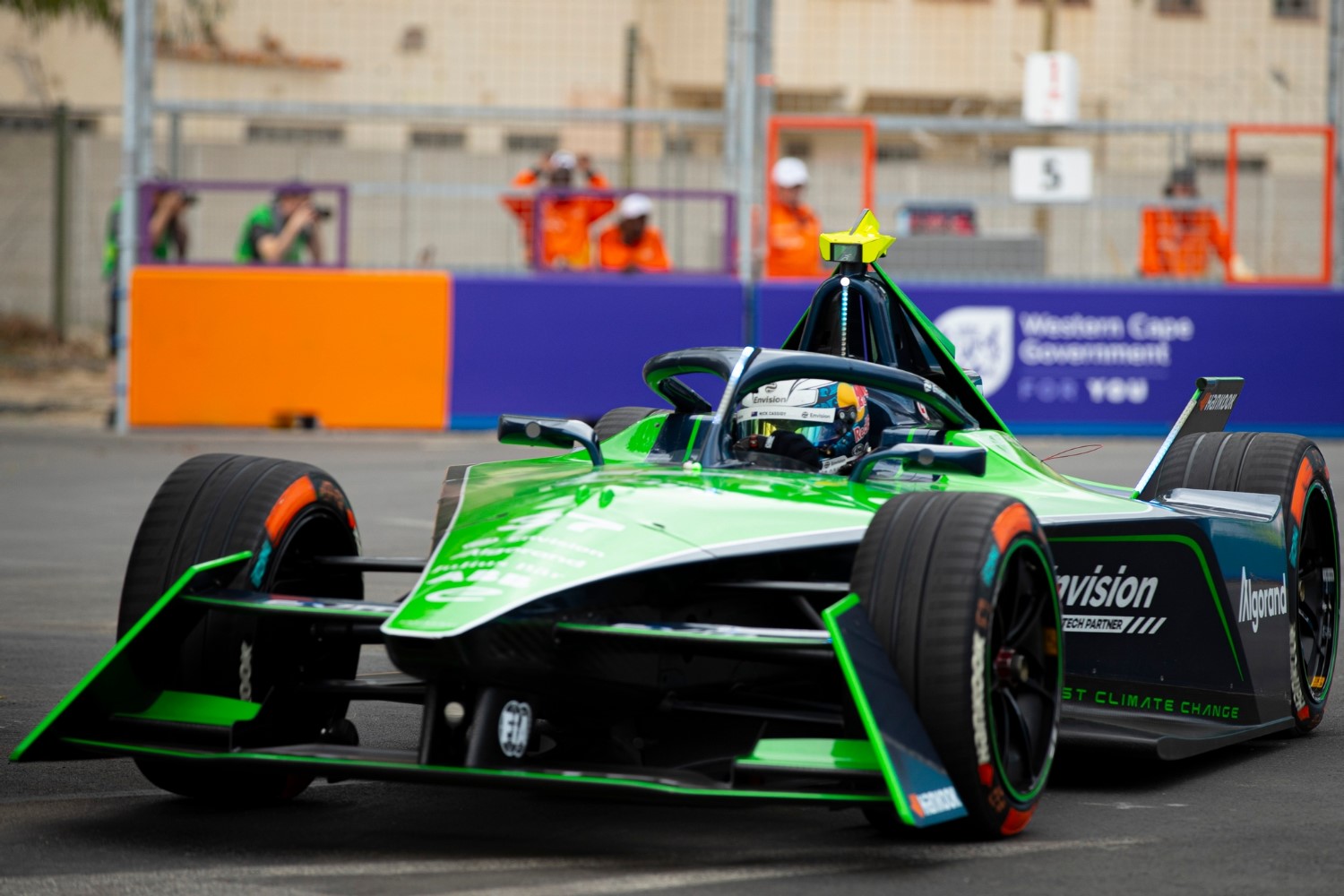 With the top four nose to tail thanks to Guenther clipping a wall all on his own and pulling the car over, throwing that caution, Cassidy headed Fenestraz – by less than half-a-second – da Costa and Vergne. The former teammates in third and fourth swept by Fenestraz as the Nissan jumped through the ATTACK MODE loop and set about Cassidy out front.
The move for the lead was one of the best you'll see. On Lap 24, Da Costa produced an outrageous pass to steal the lead from Cassidy at that trickiest part of the track – that ultra-tricky Turn 8 and 9 combo that had been the site of three crashes earlier in the weekend. The Season 6 champ sent it around the outside and made it stick up the inside at Turn 8 – keeping his foot in.
The Porsche driver then pulled enough of a gap to take his second mandatory ATTACK MODE and retake the lead but he missed the activation loop – handing the lead to Hyderabad winner Vergne a lap later. The Frenchman had never had back-to-back wins to this point.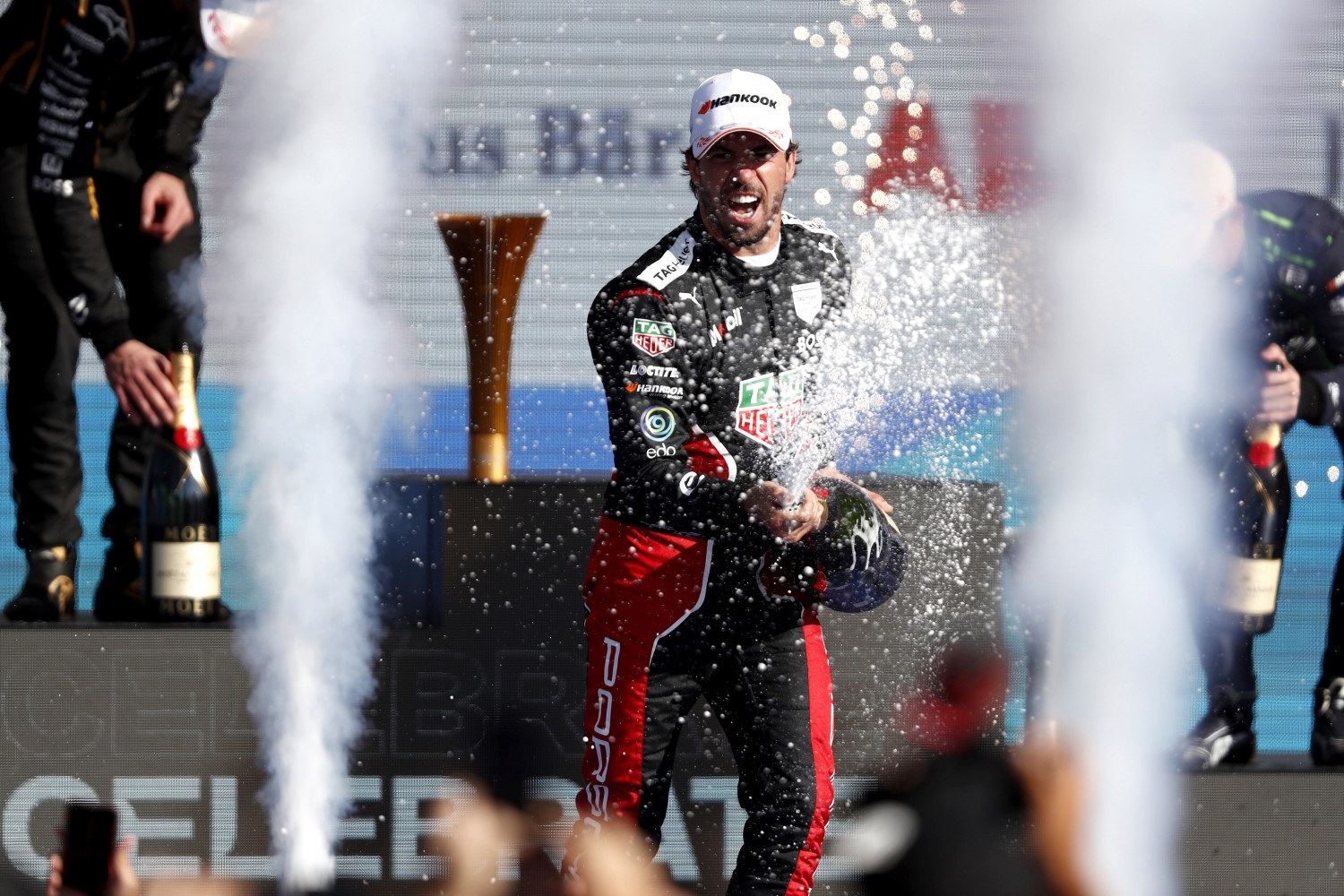 The former teammates then fought to the flag – Vergne having taken one of his 11 victories to-date by more than two seconds. The gap was half-a-second here with the full 30 laps down and just two added on to come.
On Lap 21, Da Costa then produced the same stunning overtaking maneuver once again on Vergne – one of the toughest competitors out there. Once again – no room, and he sent it around the outside of Turn 7 into 8 and 9 and on to the race win under severe pressure from JEV.
Meanwhile, Fenestraz had made it by Cassidy to take a potential podium but heartbreaking, the Nissan driver hit the wall on the final lap – that was that. So near, yet so far for the rookie after another super impressive race weekend.
Rene Rast (NEOM McLaren) steered to a cool fourth, a six-place gain, while Sebastien Buemi (Envision Racing) took the flag fifth. Dan Ticktum ensured NIO 333 would score strongly again with a sixth-placed finish – two top sixes on the bounce for the Anglo-Chinese outfit which has started GEN3 well.
Reigning champion Stoffel Vandoorne settled for relative scraps and seventh while his teammate steered to the podium. Norman Nato (Nissan), Andre Lotterer (TAG Heuer Porsche) and Jake Hughes (NEOM McLaren) rounded out the top 10 and the points.
Standings leader Pascal Wehrlein in the sister Porsche ran clean into the back of Buemi's Envision Racing car on Lap 1 – massively overcooking it and out braking himself into retirement.
The poor look for the Jaguar TCS Racing team didn't let up. Sam Bird's damaged car wasn't fit to make the start, then Mitch Evans was slapped with a drive-through penalty for an overpower violation, dropping him out of a strong fourth spot at the time, early in the race.
Avalanche Andretti's Jake Dennis had worked his way up to ninth, looking to capitalize on standings leader Wehrlein's retirement, but he'd be shot down by a drive-through penalty for under-pressured tires.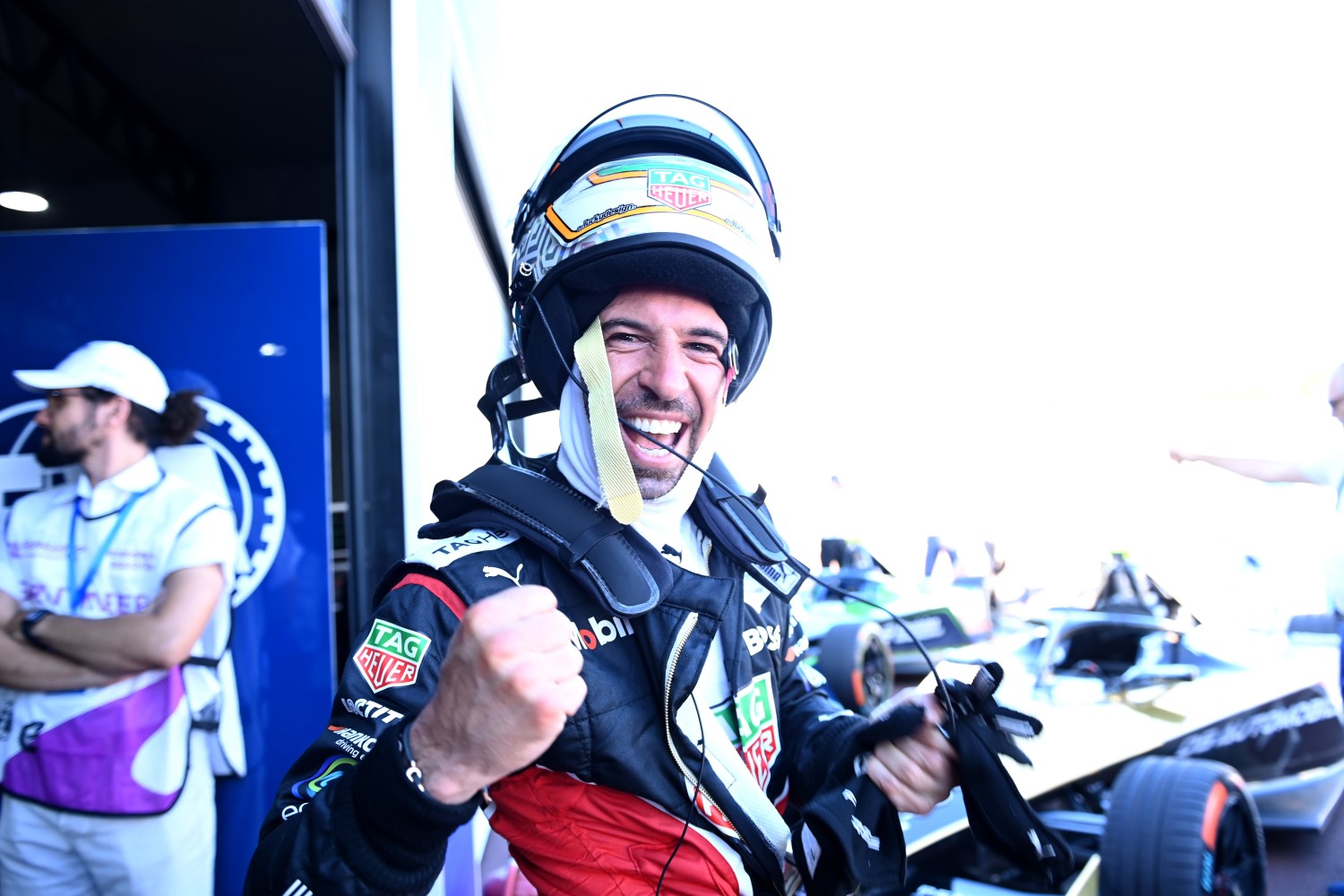 Round 6 of the ABB FIA Formula E World Championship takes place in São Paulo, Brazil on Saturday 25 March.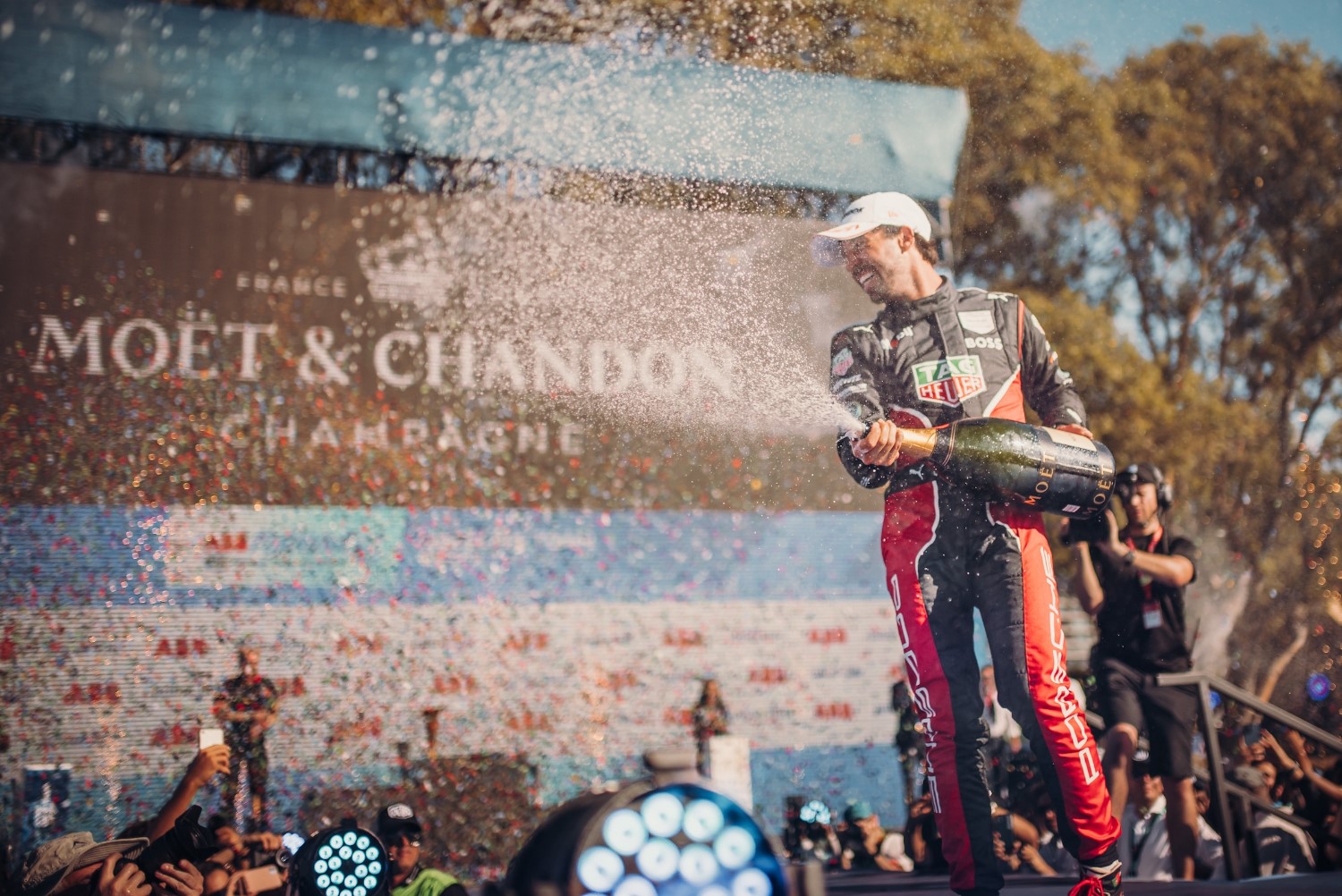 Race Results
| | | | | | | | | |
| --- | --- | --- | --- | --- | --- | --- | --- | --- |
| Pos | No. | Driver | Status | Status | Laps | Behind | Gap | Best Lap |
| 1 | 13 | A. Da Costa | Porsche | Running | 32 | 0.000s | 0.000s | 1:09.810 |
| 2 | 25 | J. Vergne | DS Penske | Running | 32 | 0.281 | 0.281 | 1:09.740 |
| 3 | 37 | N. Cassidy | Envision | Running | 32 | 1.808 | 1.527 | 1:10.249 |
| 4 | 58 | R. Rast | McLaren | Running | 32 | 2.208 | 0.400 | 1:09.946 |
| 5 | 16 | S. Buemi | Envision | Running | 32 | 2.656 | 0.448 | 1:10.152 |
| 6 | 33 | D. Ticktum | NIO | Running | 32 | 3.209 | 0.553 | 1:10.079 |
| 7 | 1 | S. Vandoorne | DS Penske | Running | 32 | 4.210 | 1.001 | 1:10.027 |
| 8 | 17 | N. Nato | Nissan | Running | 32 | 8.582 | 4.372 | 1:10.490 |
| 9 | 36 | A. Lotterer | Andretti Avalanche | Running | 32 | 8.755 | 9.827 | 1:10.322 |
| 10 | 5 | J. Hughes | McLaren | Running | 32 | 10.475 | 6.720 | 1:10.248 |
| 11 | 9 | M. Evans | Jaguar | Running | 32 | 14.183 | 3.708 | 1:09.951 |
| 12 | 3 | S. Sette Câmara | NIO | Running | 32 | 14.914 | 0.731 | 1:10.788 |
| 13 | 27 | J. Dennis | Andretti Avalanche | Running | 32 | 38.846 | 23.932 | 1:10.060 |
| 14 | 23 | S. Fenestraz | Nissan | Running | 32 | 47.613 | 8.767 | 1:10.139 |
| 15 | 7 | M. Günther | Maserati | Out | 20 | NR | NR | 1:10.247 |
| 16 | 48 | E. Mortara | Maserati | Out | 1 | NR | NR | |
| 17 | 94 | P. Wehrlein | Porsche | Out | 0 | NR | NR | |