F1 Bahrain Preseason Test Day 3: Perez tops 'Glory Run' day
by Mark Cipolloni
Sergio Perez, on a set of soft C4 Pirelli tires, turned a lap of 1m30.305s in his #11 Red Bull Honda to lead all comers on 'Glory Day' running of F1 preseason testing in Bahrain. That time beat the pole time here from last year at 1m30.558s.
More telling was the times Perez set on the next several laps that almost matched his quick lap, indicating the Red Bull is able to get good long run times on the soft C4 tire.
Lewis Hamilton strapped on Pirelli's C5 Super Soft tires meant for street circuits with low fuel in his Mercedes, but try as he might, could not match the time put up by Perez on the harder C4 tire and ended up 2nd quick, 0.359s behind Perez.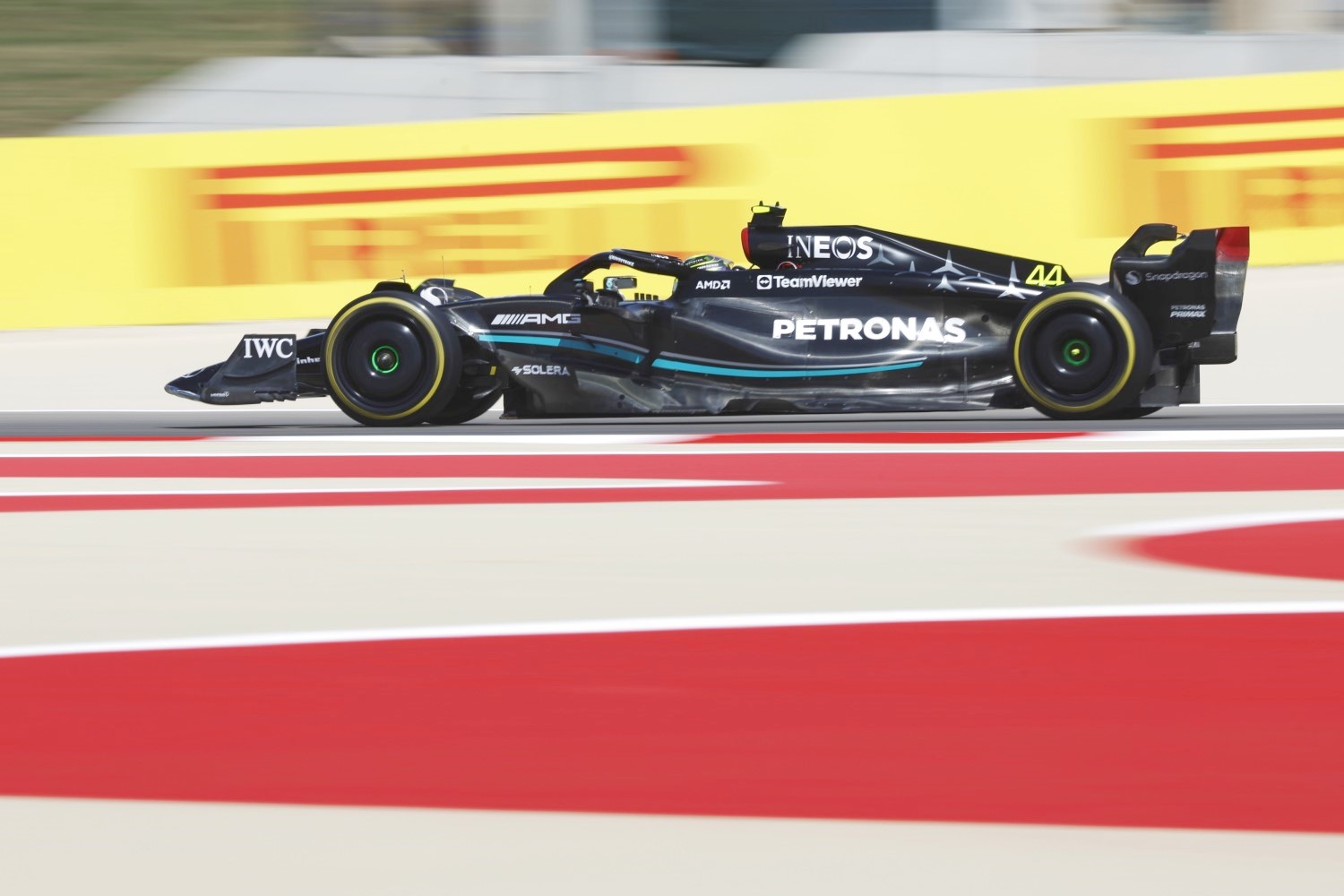 Asked to compare the W14 to its problematic predecessor, Hamilton continued: "Right now, for example, the bouncing that we had has pretty much gone. That's a huge step for us.
"It's nice to drive it without the bouncing in the corners. But there are still some underlying things that we are working through."
"It's going to be tough for everyone with this short period of testing.
"We're trying to make sure we hit the ground running in understanding the car, the tires and the ability to respond. There are things we're working through.
"Some of the balance limitations that we had last year are present. I'm really proud of everyone in the team for continuing to remain positive after a tough year last year.
"Amazing work through the winter to arrive and have the mileage that we've had. Every single year they arrive with the same mental focus and determination to fix whatever issue we have.
"I enjoy being in the offices just chugging away going through the data. We will hopefully get there."
Valtteri Bottas did a Glory Run on the Super Soft C5 Pirellis to go third fastest during Happy Hour with a time of 1m30.827s in his Alfa Romeo that was 0.522s behind Perez who was on the harder C4s.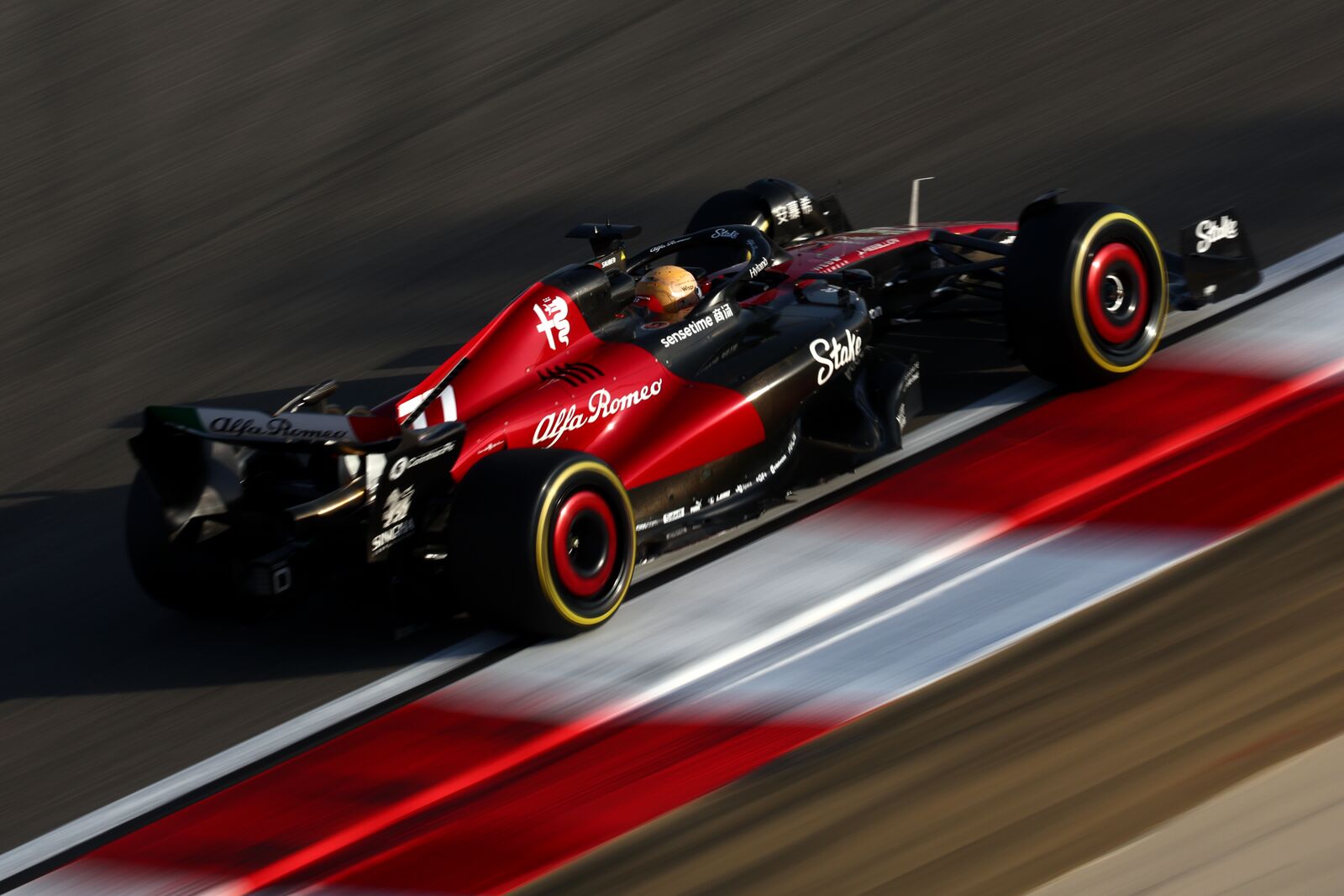 The C4 and C5 tires will not be used in next weekend's race, so all the times by drivers shown on the soft and super soft tires below are 'Glory Runs' and should be disregarded.
The Ferraris of Charles Leclerc and Carlos Sainz Jr. turned nearly identical times on the C4 rubber to go 4th and 5th quick with times of 1m31.024s and 1m31.036s respectively. The Ferrari never made a 'Glory Run' with low fuel during 'Happy Hour' so we do not know just how fast they can go.
Yuki Tsonoda rounded out the top-6 for Alpha Tauri on the C4 rubber.
Predictions for Pecking Order
It's hard to tell the exact pecking order coming out of testing because all the teams hide their true pace, but based on what we saw, this appears to the order:
| | | |
| --- | --- | --- |
| Pos | Team | Comments |
| 1 | Red Bull | Car looks balanced, best long run times, Verstappen put up fast times without even trying hard. Perez fastest overall for week on C4 tire. Team beaming with confidence. Verstappen fastest on the C3 tire and Perez fastest on the C4 tire |
| 2 | Ferrari | Car also looks balanced, good long run times, but slightly slower than Red Bull's. They are definitely hiding their ultimate pace. Staying reserved until they see where they stand with respect to Red Bull after qualifying next Saturday |
| 3 | Aston Martin | The Aston Martin looks totally hooked up, and the team is bubbling with enthusiasm. Car goes wherever Alonso points it. |
| 4 | Mercedes | Mercedes could be #3 instead of #4 but their pace on the tires to be used next weekend was marginal and while the car looked more balanced on the soft tires, it appears to oversteer with the harder tires. |
| 5 | Alpine | Team never made any Glory Runs and the car was bouncing like hell either from porpoising or a very stiff suspension setup.  Other teams are saying they can see the Alpine is fast from the data |
| 6 | Alfa Romeo | Zhou was fastest overall on Day 2 on the C5 tires, but it was a glory run. With that said, the car looked fairly hooked up |
| 7 | AlphaTauri | The Red Bull 'B' team looks like they have stepped up their game for 2023 using some of the aero philosophy from their sister Red Bull team |
| 8 | Haas | They will start well but as teams develop their cars over the season, can they keep up? |
| 9 | McLaren | The team appears to be struggling and boss Zak Brown admitted the car did not meet its design targets |
| 10 | Williams | Alex Albon on the C5 Super Soft tires was 2.5s off the pace and out to lunch on Glory Run Day. Rookie Logan Sargeant actually looked better. |
Bahrain Day 3 Final Times
| | | | | | | | |
| --- | --- | --- | --- | --- | --- | --- | --- |
| POS | DRIVER | NAT. | TEAM | TIME | BEHIND | LAPS | TIRES |
| 1 | Sergio Perez | MEX | Oracle Red Bull Racing | 1m30.305s | 0.000s | 133 | C4 Soft |
| 2 | Lewis Hamilton | GBR | Mercedes AMG Petronas F1 Team | 1m30.664s | 0.359 | 65 | C5 Super Soft |
| 3 | Valtteri Bottas | FIN | Alfa Romeo F1 Team Stake | 1m30.827s | 0.522 | 131 | C5 Super Soft |
| 4 | Charles Leclerc | MON | Scuderia Ferrari | 1m31.024s | 0.719 | 67 | C4 Soft |
| 5 | Carlos Sainz | ESP | Scuderia Ferrari | 1m31.036s | 0.731 | 76 | C4 Soft |
| 6 | Yuki Tsunoda | JPN | Scuderia AlphaTauri | 1m31.261s | 0.956 | 79 | C4 Soft |
| 7 | Kevin Magnussen | DEN | MoneyGram Haas F1 Team | 1m33.381s | 1.076 | 95 | C4 Soft |
| 8 | George Russell | GBR | Mercedes AMG Petronas F1 Team | 1m31.442s | 1.137 | 83 | C5 Super Soft |
| 9 | Fernando Alonso | ESP | Aston Martin Aramco Cognizant F1 Team | 1m31.450s | 1.145 | 80 | C4 Soft |
| 10 | Felipe Drugovich | BRA | Aston Martin Aramco Cognizant F1 Team | 1m32.075s | 1.770 | 77 | C5 Super Soft |
| 11 | Lando Norris | GBR | McLaren F1 Team | 1m32.160s | 1.855 | 37 | C3 Medium |
| 12 | Pierre Gasly | FRA | BWT Alpine F1 Team | 1m32.762s | 2.457 | 56 | C3 Medium |
| 13 | Alex Albon | THA | Williams Racing | 1m32.793s | 2.488 | 136 | C5 Super Soft |
| 14 | Esteban Ocon | FRA | BWT Alpine F1 Team | 1m33.257s | 2.952 | 76 | C3 Medium |
| 15 | Nico Hulkenberg | GER | MoneyGram Haas F1 Team | 1m33.329s | 3.024 | 77 | C3 Medium |
| 16 | Oscar Piastri | AUS | McLaren F1 Team | 1m33.655s | 3.350 | 44 | C3 Medium |
| 17 | Nyck de Vries | NED | Scuderia AlphaTauri | 1m38.244s | 7.939 | 8 | C3 Medium |