IndyCar: Friday Morning Report from St Petersburg
Good morning from beautiful St Petersburg, Florida, for the season's opening race for the NTT INDYCAR Series.  The sun is shining on a perfect day for watching race cars on this 1.8-mile, 14-turn street circuit.  The temperature will be in the low 80s when we have the only practice session for today at 3:15 pm ET.
The Indy Lights Series has been renamed to the  INDY NXT by Firestone.    There will be 19 entries in the series with ten of these drivers being rookies.  Nine of the entries are for HMD Motorsports, who won the 2022 championship with Linus Lundqvist.
Their practice session is at 1:55 pm ET.
Kyle Kirkwood Back with Andretti Autosport
AR1 talked with the native Floridian, Kyle Kirkwood, who is back driving with Andretti Autosport in the number 27 AutoNation entry this season, after spending his rookie season for AJ Foyt Racing last year.
AR1 asked how it feels to be back with his team with whom he won his 2021 Indy NXT (formerly Indy Lights) championship.
"I am feeling super confident.  We had two very good tests.  I am gotten on with the team super well.  I have gelled with the engineers and all the  mechanics, most of them I already knew, and some of them I worked with in the past in Indy Lights.  It had just been super easy, smooth transition."
"The work that I do shows, it shows in the car, it shows in their preparation.  Jeremy Millis is my engineer, and he is only the one I have not worked with.  He and I have gotten off on the right step."
AR1 asked what Kirkwood felt his strong point was last year when he ran with Foyt Racing.
"It is  hard to see what the strong points are in IndyCar from a driver aspect, being it is so car-oriented.  And it is so based on kinda how you are doing that weekend and where you qualify and how strategy is.  A lot of things make you look better than what they should be."
"I feel like my strong points are road courses, but last year our street courses were amazing.  Everyone thought I was driving really well there and the car was better at street courses.  I guess this year will be a true teller to that."
"And now I am going to be back driving a Honda this season and I have raced with them in F4 and F3 and won a championship with them in karting even.  So it is cool for Honda because I have done all their junior categories and now I am stepping into IndyCar with them.  And that is a huge marketing thing for them."
"I think for me, there is no pressure to perform better than my teammates.   From an outside view, not the team view,  Colton (Herta) is expected to do the best.  I think Romain (Grosjean) and I are comparable.  Maybe Romain given his experience in IndyCar and he has almost won races,  I have not had that chance yet.  That is the way it shakes up."
"But within the team, we will all have chances at certain times.  We all work together super well.  We have all been quick and we have been pushing each other.  We do not want to look at it as this is our A, B, C driver.  We need to work together at it as a group.  And based on the weekend,  whoever has the best opportunity of winning needs to go out and win."
Hollywood Star Simu Liu to Super-Charge Season Opener (Press Release)
Simu Liu, the groundbreaking star of Marvel's "Shang-Chi and The Legend of The Ten Rings," will ride in the Fastest Seat in Sports at the Firestone Grand Prix of St. Petersburg presented by RP Funding, leading the full field of drivers to the green flag of the season-opening NTT INDYCAR SERIES race Sunday, March 5.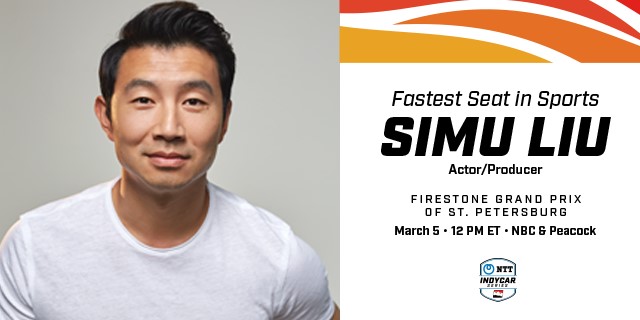 The live telecast of the race on the streets of St. Petersburg, Florida, will start at noon ET on NBC, Peacock and Telemundo Deportes on Universo.
INDYCAR's Fastest Seat in Sports is a high-speed, high-octane, super-charged thrill ride in a custom INDYCAR SERIES car with a special back passenger seat. At almost every race on the schedule, the car advances the field of drivers to the start/finish line to signify the beginning of the race, with a special passenger in the guest seat. Previous participants in the Fastest Seat in Sports include Lady Gaga, NBA champions Steph Curry and Kawhi Leonard, actor Channing Tatum and many others.
The NTT INDYCAR SERIES represents the ultimate challenge in racing, with drivers competing at speeds of 200+ mph across a demanding set of ovals and road and street courses. The race for the championship begins this weekend on the sunny city streets of St. Petersburg.
Liu made history as the lead of the first Asian-fronted movie in the Marvel Cinematic Universe, which earned him the People's Choice Award for Favorite Action Movie Star.
For five seasons, Liu starred in the CBC/Netflix comedy series "Kim's Convenience," which won the ACTRA Awards for Outstanding Ensemble in 2017 and was also nominated for the same award in 2018.
He most recently completed production on Greta Gerwig's feature "Barbie" for Warner Bros. opposite Margot Robbie and Ryan Gosling and will next star alongside Mark Wahlberg in "Arthur the King" and on the film adaptation of Taylor Jenkins Reid's bestseller "One True Loves" opposite Phillipa Soo.
Liu's New York Times best-selling memoir, "We Were Dreamers: An Immigrant Superhero Origin Story," was released by Harper Collins last May. He also was named as one of "The World's Most Influential People" in June 2022 by TIME magazine.
Stay tuned for updates during the day.
Lucille Dust reporting live from St Petersburg, FL