IndyCar: Dixon tops opening practice for St. Pete GP
Ganassi Racing veteran Scott Dixon turned the fastest laps to lead opening practice for the Firestone GP of St. Petersburg with a time of 1m01.6145s.
"We ran a long session in the No. 9 PNC Bank Honda, an hour and fifteen minutes, which was good.  A couple sets of tires for the field and I ended up on top which was a nice way to start the weekend.  The tough part now if just trying to stay there."
Andretti Autosport's Colton Herta was 2nd quick, just 0.0330s behind
Dixon's Ganassi teammate Alex Palou was third fastest, 0.0645s behind his teammate.
Andretti Autosport's Kyle Kirkwood turned a lap of 1m01.6851s to go 4th quick.
Simon Pagenaud rounded out the top-5 for Meyer Shank racing as Honda powered cars ran 1-2-3-4-5.
Several drivers had wall banging incidents including Rahal Letterman's Christian Lundgaard and Penske's Scott McLaughlin who both clipped the turn 3 concrete wall that proved too slippery due to the new surface and a change with brake pads.
Kyle Kirkwood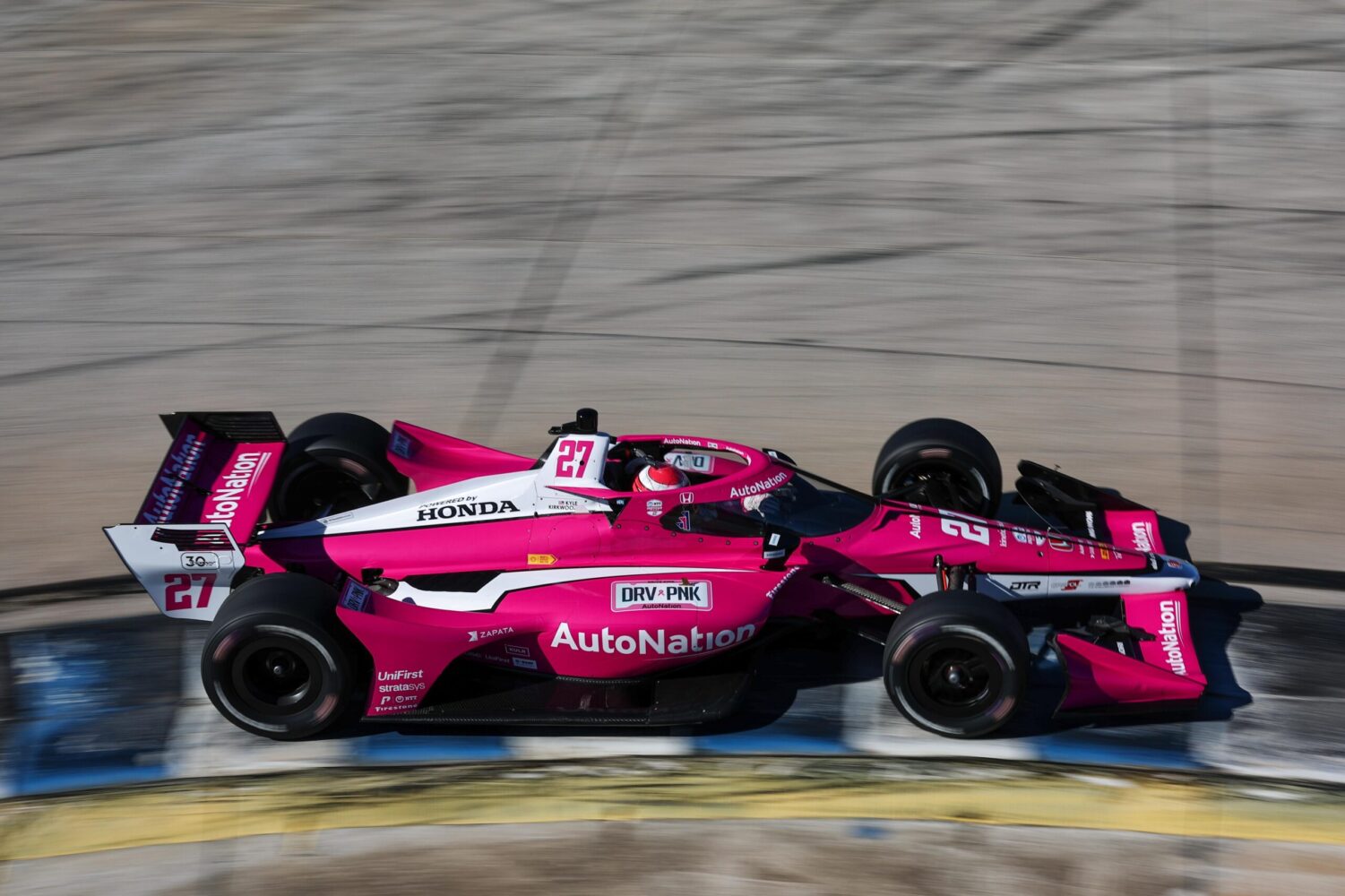 Kyle Kirkwood was on the top of the chart until the last few minutes of the session, when some of the drivers changed tires for their final laps.  The confident American explained that he was super happy to be at the top of the leaderboard in the first session.
"I think it's definitely important. From the outside looking in, it's not as important for me or the team, but I guess for the persona around the team and myself based on my last year of performance being so up and down, to start up the year on a high and kind of continue that trait."
"I also feel like Andretti's performance last year didn't show what their actual capability has been. I feel like we're showing it now. I feel like the team has melded very well. All the drivers work together well, all the engineers work together well."
" Being in the middle of the pack, having to race for things and drive to your absolute limit always is going to make you a better driver, I find."
"If I look back to my junior year in formulas, like F4, USF2000, not Indy Lights, Indy pro 2000, a lot of races I was just sitting there leading. I felt like I didn't learn much.  Being in the middle of the pack, having to race guys, push my all, which is something I didn't have to do a ton in my junior formulas, definitely honed me in to be a better driver."
Practice 1 Results
| | | | | | | | | | |
| --- | --- | --- | --- | --- | --- | --- | --- | --- | --- |
| Pos | No | Name | Time | Behind | Gap | Laps | Speed | Engine | Team |
| 1 | 9 | Scott Dixon | 1:01.6145 | 0.000s | 0.000s | 29 | 105.170 | Honda | Chip Ganassi Racing |
| 2 | 26 | Colton Herta | 1:01.6475 | 0.0330 | 0.0330 | 25 | 105.114 | Honda | Andretti Autosport w/Curb-Agajanian |
| 3 | 10 | Alex Palou | 1:01.6790 | 0.0645 | 0.0315 | 25 | 105.060 | Honda | Chip Ganassi Racing |
| 4 | 27 | Kyle Kirkwood | 1:01.6851 | 0.0706 | 0.0061 | 26 | 105.050 | Honda | Andretti Autosport |
| 5 | 60 | Simon Pagenaud | 1:01.6963 | 0.0818 | 0.0112 | 28 | 105.031 | Honda | Meyer Shank Racing |
| 6 | 21 | Rinus VeeKay | 1:01.8514 | 0.2369 | 0.1551 | 25 | 104.767 | Chevy | Ed Carpenter Racing |
| 7 | 18 | David Malukas | 1:01.8613 | 0.2468 | 0.0099 | 24 | 104.750 | Honda | Dale Coyne Racing with HMD |
| 8 | 12 | Will Power | 1:01.8915 | 0.2770 | 0.0302 | 27 | 104.699 | Chevy | Team Penske |
| 9 | 11 | Marcus Armstrong | 1:01.9444 | 0.3299 | 0.0529 | 35 | 104.610 | Honda | Chip Ganassi Racing |
| 10 | 3 | Scott McLaughlin | 1:01.9882 | 0.3737 | 0.0438 | 26 | 104.536 | Chevy | Team Penske |
| 11 | 5 | Pato O'Ward | 1:02.0177 | 0.4032 | 0.0295 | 23 | 104.486 | Chevy | Arrow McLaren |
| 12 | 77 | Callum Ilott | 1:02.0360 | 0.4215 | 0.0183 | 25 | 104.455 | Chevy | Juncos Hollinger Racing |
| 13 | 8 | Marcus Ericsson | 1:02.0733 | 0.4588 | 0.0373 | 29 | 104.393 | Honda | Chip Ganassi Racing |
| 14 | 28 | Romain Grosjean | 1:02.1064 | 0.4919 | 0.0331 | 30 | 104.337 | Honda | Andretti Autosport |
| 15 | 6 | Felix Rosenqvist | 1:02.1094 | 0.4949 | 0.0030 | 26 | 104.332 | Chevy | Arrow McLaren |
| 16 | 29 | Devlin DeFrancesco | 1:02.2507 | 0.6362 | 0.1413 | 26 | 104.095 | Honda | Andretti Steinbrenner Autosport |
| 17 | 30 | Jack Harvey | 1:02.3236 | 0.7091 | 0.0729 | 26 | 103.973 | Honda | Rahal Letterman Lanigan Racing |
| 18 | 06 | Helio Castroneves | 1:02.3290 | 0.7145 | 0.0054 | 25 | 103.964 | Honda | Meyer Shank Racing |
| 19 | 78 | Agustin Canapino | 1:02.3629 | 0.7484 | 0.0339 | 34 | 103.908 | Chevy | Juncos Holling Racing |
| 20 | 14 | Santino Ferrucci | 1:02.4032 | 0.7887 | 0.0403 | 29 | 103.841 | Chevy | AJ Foyt Enterprises |
| 21 | 7 | Alexander Rossi | 1:02.4616 | 0.8471 | 0.0584 | 22 | 103.744 | Chevy | Arrow McLaren |
| 22 | 2 | Josef Newgarden | 1:02.5150 | 0.9005 | 0.0534 | 17 | 103.655 | Chevy | Team Penske |
| 23 | 20 | Conor Daly | 1:02.5480 | 0.9335 | 0.0330 | 29 | 103.600 | Chevy | Ed Carpenter Racing |
| 24 | 51 | Sting Ray Robb | 1:02.8157 | 1.2012 | 0.2677 | 37 | 103.159 | Honda | Dale Coyne Racing w/RWR |
| 25 | 45 | Christian Lundgaard | 1:03.0412 | 1.4267 | 0.2255 | 13 | 102.790 | Honda | Rahal Letterman Lanigan Racing |
| 26 | 15 | Graham Rahal | 1:03.1389 | 1.5244 | 0.0977 | 18 | 102.631 | Honda | Rahal Letterman Lanigan Racing |
| 27 | 55 | Benjamin Pedersen | 1:03.5134 | 1.8989 | 0.3745 | 26 | 102.026 | Chevy | AJ Foyt Enterprises |