IndyCar: Andretti teammates Grosjean & Herta lock up front row for St. Petersburg GP
First there were six in the Fast Six Qualifying Session (Otherwise known as Q3 in F1).
Then there were five – Kyle Kirkwood crashed his #27 Andretti Autosport Honda.
Then there were four – defending race winner, Scott McLaughlin crashed his #3 Penske Chevy out of the session, his third incident in two days.
After both cars were removed, Romain Grosjean drove his #27 DHL Andretti Autosport Honda to pole position for the Firestone GP of St. Petersburg with a time of 59.5532s to beat his teammate Colton Herta by a comfortable 0.4155s
Pato O'Ward will start 3rd in his #5 Arrow McLaren Chevy, 0.4631s back.
Marcus Ericsson was 4th quick for Chip Ganassi Racing.
 Romain Grosjean
Romain Grosjean scored his second NTT INDYCAR Series pole today against a couple of his teammates.   When asked how the team managed to improve their performance, Grosjean replied., "There's always bits and pieces we can improve on the car, but this weekend as a team we've been very impressive and hopefully we can carry that out in the race."
"A lot of people had issues on the brakes. You could see a lot of guys suffering. Even qualifying, two guys went off at the last corner. The wind has been playing a role."
"This morning I spun, but no big deal. We worked on the car, made some small adjustments for quallies and it worked well."
Colton Herta
Colton Herta was not happy with himself after the Fast Six qualifying,  'I was as useless as gum on a boot heel", he commented in the press conference.  The American admitted he did not put up the best lap needed to beat his teammate to the pole.  The fact that he parked his car at the end of the session instead of putting in another lap did not help his situation.
" Yeah, that was a bad lap. I probably did just about everything wrong that I could have.
But I did a 5-5 in the run before. I didn't think I could really go much faster than that, if at all.
"Even if I did hook up a lap, I think it would be really close with Romain.  But, yeah, I think in the 5s, that's pretty much the absolute limit of this place for these conditions. Yeah, that's a really good lap."
"I was referring to myself driving, by the way, not the car when I made my first comment."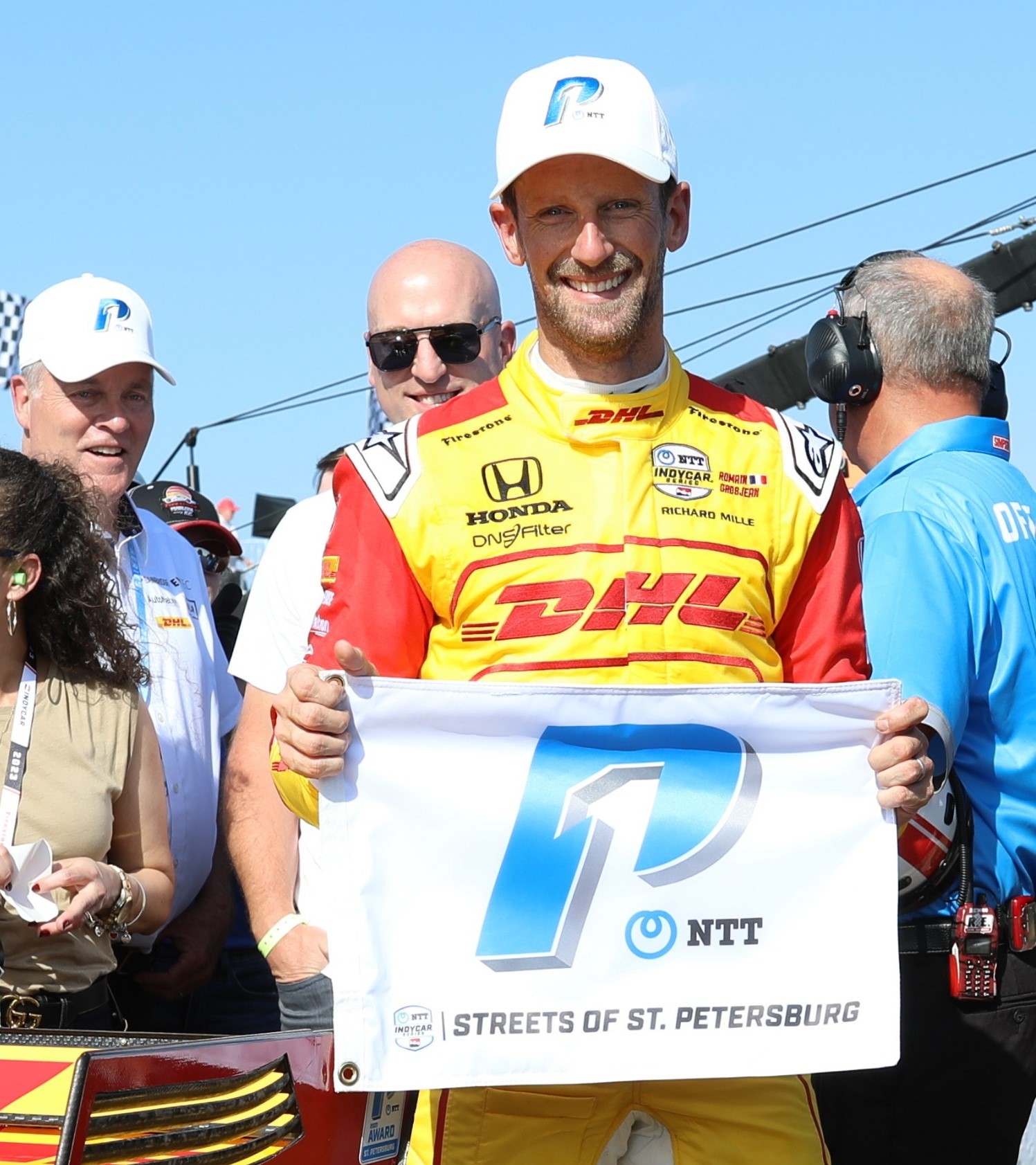 Qualifying Results
| | | | | | | |
| --- | --- | --- | --- | --- | --- | --- |
| Rank | Car | Driver Name | Engine | Time | Speed | Session |
| 1 | 28 | Grosjean, Romain | Honda | 59.5532 | 108.810 | Round 3 / Firestone Fast Six |
| 2 | 26 | Herta, Colton | Honda | 59.9687 | 108.056 | Round 3 / Firestone Fast Six |
| 3 | 5 | O'Ward, Pato | Chevy | 01:00.0163 | 107.971 | Round 3 / Firestone Fast Six |
| 4 | 8 | Ericsson, Marcus | Honda | 01:00.4435 | 107.208 | Round 3 / Firestone Fast Six |
| 5 | 27 | Kirkwood, Kyle | Honda | No Time | No Speed | Round 3 / Firestone Fast Six |
| 6 | 3 | McLaughlin, Scott | Chevy | No Time | No Speed | Round 3 / Firestone Fast Six |
| 7 | 10 | Palou, Alex | Honda | 59.7781 | 108.401 | Elimination Round 2 / Top 12 |
| 8 | 6 | Rosenqvist, Felix | Chevy | 59.7971 | 108.366 | Elimination Round 2 / Top 12 |
| 9 | 9 | Dixon, Scott | Honda | 59.8010 | 108.359 | Elimination Round 2 / Top 12 |
| 10 | 12 | Power, Will | Chevy | 59.9482 | 108.093 | Elimination Round 2 / Top 12 |
| 11 | 45 | Lundgaard, Christian | Honda | 59.9618 | 108.069 | Elimination Round 2 / Top 12 |
| 12 | 7 | Rossi, Alexander | Chevy | 01:00.0040 | 107.993 | Elimination Round 2 / Top 12 |
| 13 | 11 | Armstrong, Marcus (R) | Honda | 01:00.3158 | 107.435 | Elimination Round 1 / Group 1 |
| 14 | 2 | Newgarden, Josef | Chevy | 01:00.0605 | 107.891 | Elimination Round 1 / Group 2 |
| 15 | 06 | Castroneves, Helio | Honda | 01:00.5049 | 107.099 | Elimination Round 1 / Group 1 |
| 16 | 18 | Malukas, David | Honda | 01:00.0796 | 107.857 | Elimination Round 1 / Group 2 |
| 17 | 14 | Ferrucci, Santino | Chevy | 01:00.5301 | 107.054 | Elimination Round 1 / Group 1 |
| 18 | 29 | DeFrancesco, Devlin | Honda | 01:00.1798 | 107.677 | Elimination Round 1 / Group 2 |
| 19 | 30 | Harvey, Jack | Honda | 01:00.7270 | 106.707 | Elimination Round 1 / Group 1 |
| 20 | 15 | Rahal, Graham | Honda | 01:00.3714 | 107.336 | Elimination Round 1 / Group 2 |
| 21 | 78 | Canapino, Agustin (R) | Chevy | 01:01.0692 | 106.109 | Elimination Round 1 / Group 1 |
| 22 | 77 | Ilott, Callum | Chevy | 01:00.3868 | 107.308 | Elimination Round 1 / Group 2 |
| 23 | 51 | Robb, Sting Ray (R) | Honda | 01:02.3711 | 103.894 | Elimination Round 1 / Group 1 |
| 24 | 21 | VeeKay, Rinus | Chevy | 01:00.4831 | 107.137 | Elimination Round 1 / Group 2 |
| 25 | 60 | Pagenaud, Simon | Honda | 06:37.4112 | 16.306 | Elimination Round 1 / Group 1 |
| 26 | 20 | Daly, Conor | Chevy | 01:00.6066 | 106.919 | Elimination Round 1 / Group 2 |
| 27 | 55 | Pedersen, Benjamin (R) | Chevy | 01:01.4355 | 105.476 | Elimination Round 1 / Group 2 |
| | | (R) Rookie | | | | |
Pursuant to Rule 8.3.4, Car 60 has lost their two fastest laps and may not advance.Pursuant to Rule 8.3.5.4, Car 45 has lost their fastest lap to that point.Pursuant to Rule 8.3.4, Car 27 has lost their two fastest laps.Pursuant to Rule 8.3.4, Car 3 has lost their two fastest laps.Pursuant to Rule 8.3.8.1.3, Car 27 finished ahead of Car 3
(C)hassis: D=Dallara | (E)ngine: C=Chevy, H=Honda | (T)ire: F=Firestone