NASCAR: Logano wins Cup pole in Las Vegas
Joey Logano claimed the Busch Light Pole Award at Las Vegas Motor Speedway Saturday afternoon with a lap time of 29.024 seconds and a best speed of 186.053 mph in qualifying for Sunday's Pennzoil 400 presented by Jiffy Lube.
For the No. 22 Team Penske driver, it is his first pole of the season and 27th of his Cup Series career. Logano is the most recent Vegas winner (fall 2022) and has three wins in his last eight starts at the Nevada 1.5-miler.
Joining Logano on the front row is William Byron, who posted a 29.165-second time on the board, nearly two-tenths slower than Logano's blazing lap. Ryan Blaney, Logano's teammate, gets the nod alongside Ty Gibbs in Row 2. It will be the best starting position for Gibbs in his blossoming premier series career.
Most recent race winner Kyle Busch, Kyle Larson, Brad Keselowski, Ross Chastain, Austin Cindric and Christopher Bell rounded out the 10 fastest in qualifying.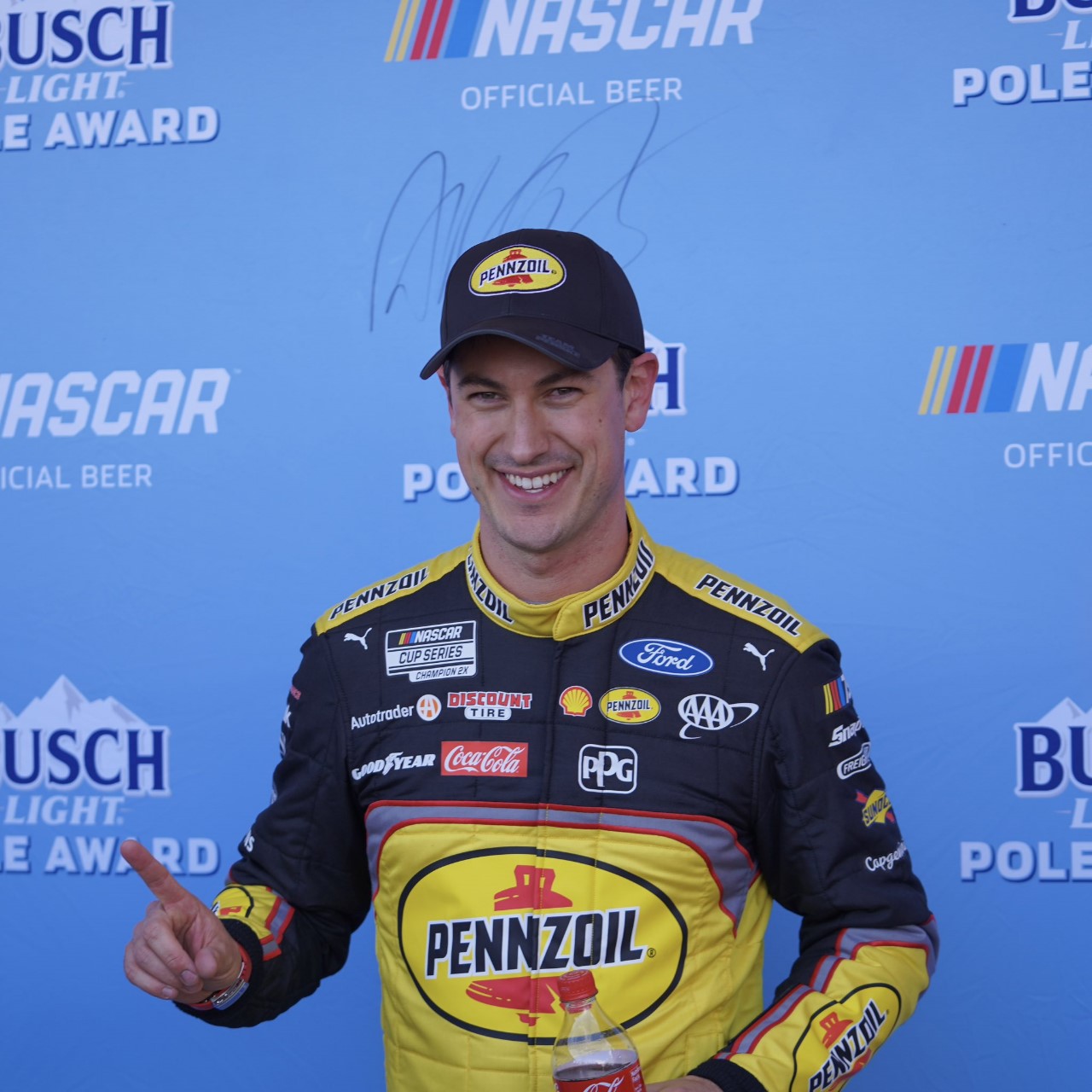 Qualifying Results
| | | | | | |
| --- | --- | --- | --- | --- | --- |
| Pos | No. | Driver | Team | Time | Speed |
| 1 | 22 | Joey Logano | Pennzoil Ford | 29.024 | 186.053 |
| 2 | 24 | William Byron | RaptorTough.com Chevrolet | 29.165 | 185.153 |
| 3 | 12 | Ryan Blaney | Menards/Pennzoil Ford | 29.205 | 184.9 |
| 4 | 54 | Ty Gibbs # | He Get us Toyota | 29.262 | 184.54 |
| 5 | 8 | Kyle Busch | Alsco Chevrolet | 29.27 | 184.489 |
| 6 | 5 | Kyle Larson | HendrickCars.com Chevrolet | 29.308 | 184.25 |
| 7 | 6 | Brad Keselowski | Fastenal Ford | 29.333 | 184.093 |
| 8 | 1 | Ross Chastain | GlobalTranz Chevrolet | 29.387 | 183.755 |
| 9 | 2 | Austin Cindric | Discount Tire Ford | 29.401 | 183.667 |
| 10 | 20 | Christopher Bell | SiriusXM Toyota | 29.424 | 183.524 |
| 11 | 48 | Alex Bowman | Ally Chevrolet | 29.346 | 184.011 |
| 12 | 11 | Denny Hamlin | FedEx Express Toyota | 29.367 | 183.88 |
| 13 | 23 | Bubba Wallace | Columbia Sportwear Company Toyota | 29.392 | 183.723 |
| 14 | 4 | Kevin Harvick | Rheem Ford | 29.411 | 183.605 |
| 15 | 19 | Martin Truex Jr. | Bass Pro Shops Toyota | 29.467 | 183.256 |
| 16 | 47 | Ricky Stenhouse Jr. | Smith's/Coca-Coal Zero Sugar Chevrolet | 29.562 | 182.667 |
| 17 | 34 | Michael McDowell | Quincy Compressor Ford | 29.582 | 182.543 |
| 18 | 17 | Chris Buescher | Nexletol Ford | 29.593 | 182.476 |
| 19 | 7 | Corey LaJoie | EnviroXstream Chevrolet | 29.605 | 182.402 |
| 20 | 14 | Chase Briscoe | Mahindra Tractors Ford | 29.61 | 182.371 |
| 21 | 10 | Aric Almirola | Smithfield Ford | 29.611 | 182.365 |
| 22 | 43 | Erik Jones | Allegiant Chevrolet | 29.629 | 182.254 |
| 23 | 16 | AJ Allmendinger | Action Industries Chevrolet | 29.635 | 182.217 |
| 24 | 99 | Daniel Suarez | Tootsies Orchid Lounge Chevrolet | 29.65 | 182.125 |
| 25 | 42 | Noah Gragson # | Sunseeker Resort Chevrolet | 29.789 | 181.275 |
| 26 | 3 | Austin Dillon | BREZTRI Chevrolet | 29.81 | 181.147 |
| 27 | 31 | Justin Haley | LeafFilter Gutter Protection Chevrolet | 29.823 | 181.068 |
| 28 | 38 | Todd Gilliland | Ruedebusch Ford | 29.892 | 180.65 |
| 29 | 15 | JJ Yeley | OTR Mobile Ford | 29.986 | 180.084 |
| 30 | 51 | Cody Ware | Biohaven/Jacob Co. Ford | 29.994 | 180.036 |
| 31 | 41 | Ryan Preece | HaasTooling.com Ford | 30.034 | 179.796 |
| 32 | 9 | Josh Berry(i) | NAPA Auto Parts Chevrolet | 30.153 | 179.087 |
| 33 | 77 | Ty Dillon | NationsGuard Chevrolet | 30.686 | 175.976 |
| 34 | 45 | Tyler Reddick | Monster Energy Toyota | 0 | 0 |
| 35 | 21 | Harrison Burton | Motorcraft/Quick Lane Ford | 0 | 0 |
| 36 | 78 | BJ McLeod | Circle B Diecast Chevrolet | 0 | 0 |