F1: Verstappen cruises to Bahrain GP victory
by Mark Cipolloni
Before a sold-out crowd, World Driving Champion Max Verstappen grabbed the lead from pole and pulled away at will to win the Bahrain GP for his 36th career F1 win.
After winning a record 15 races last year, Verstappen controlled the lead at will, nursing his tires as needed despite suffering some rear brake lockups to beat Sergio Perez and give Red Bull Honda a 1-2 to start the season.
He didn't put a foot wrong. It's been the dream opening race for the Dutchman. He wins in Bahrain for the first time in his career.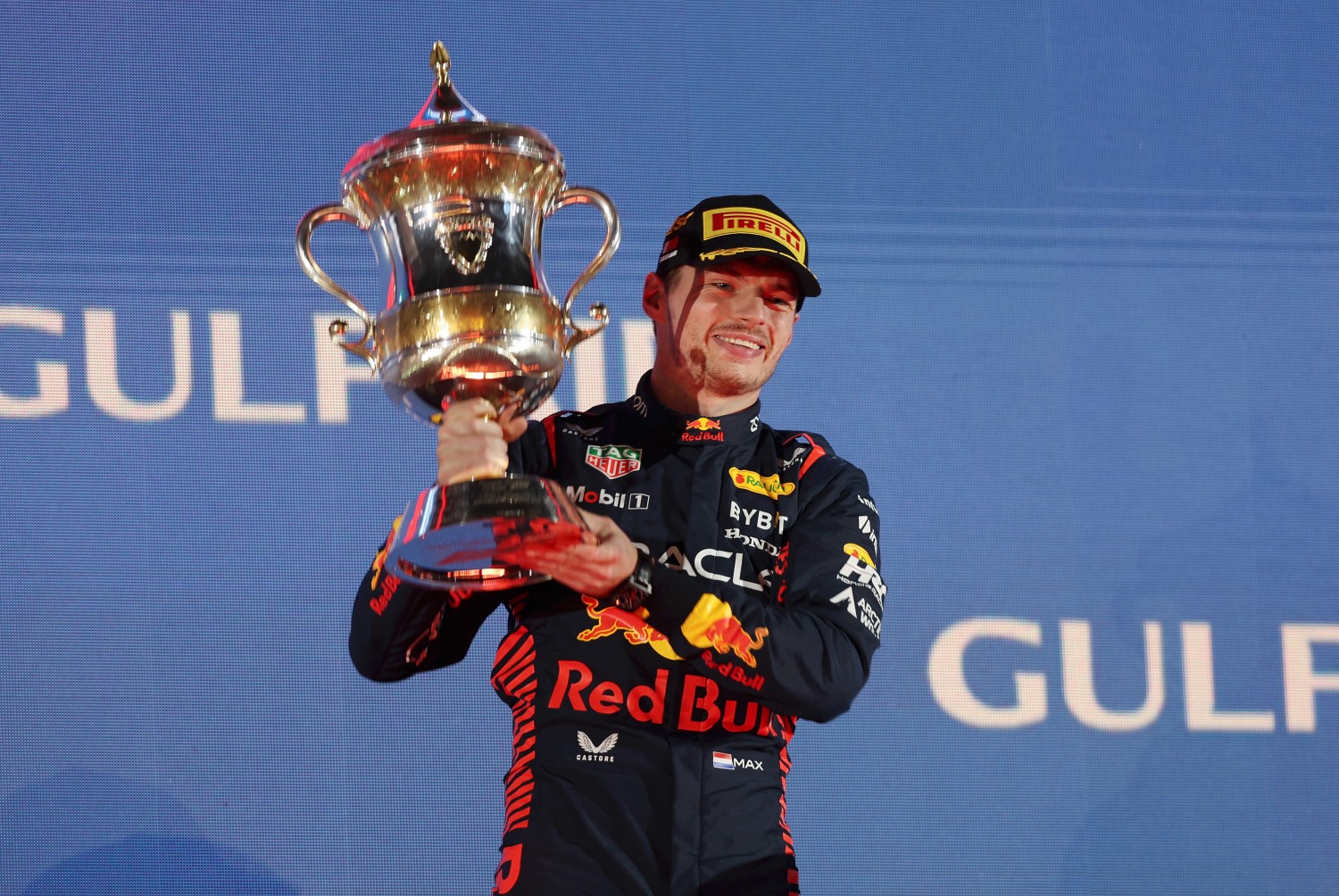 "You never really know what will happen later on in the race, so very happy to finally win here in Bahrain," said Verstappen on the podium. "I think we have a good race package, we can definitely fight with this so a big thank you to the team."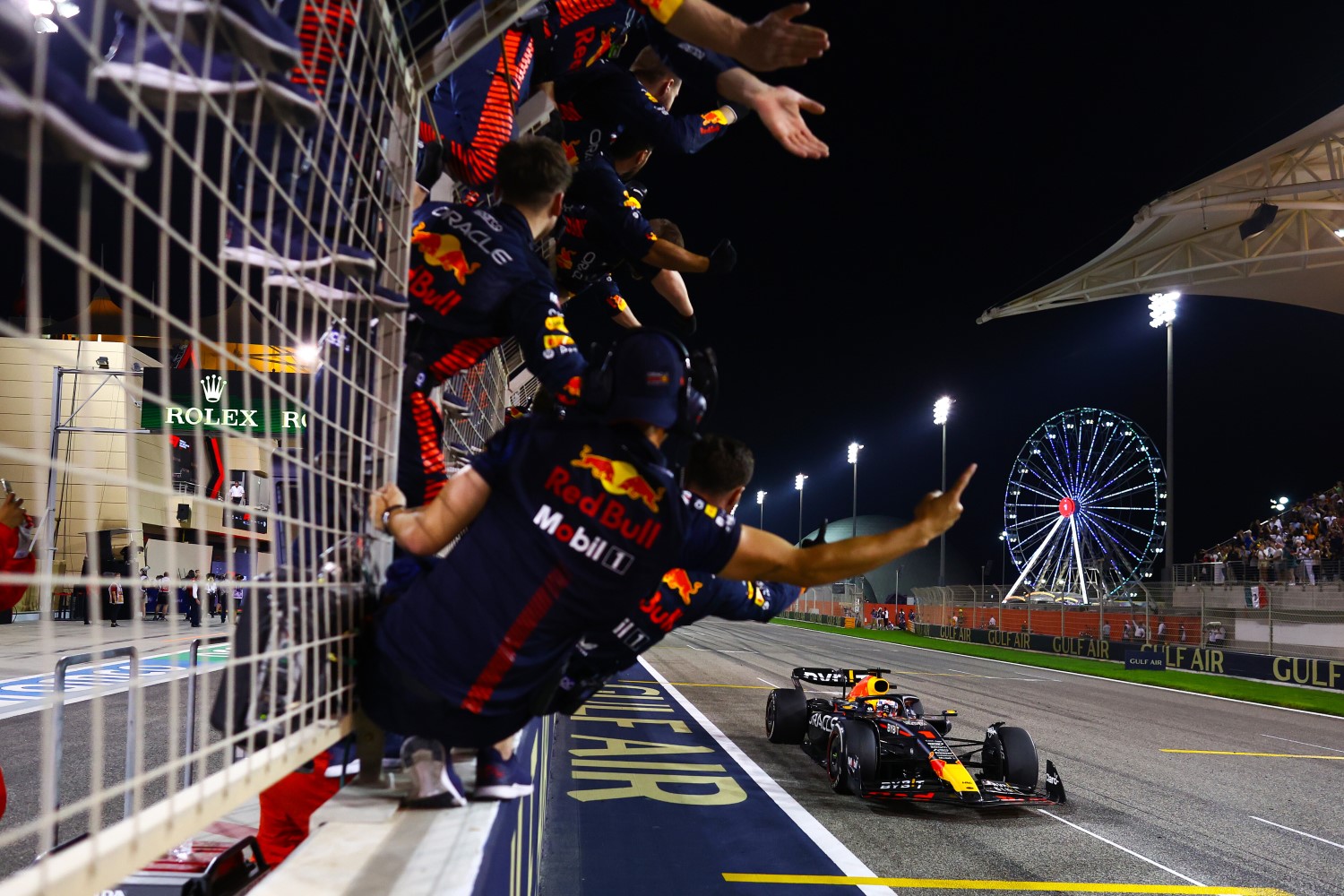 Fernando Alonso scored a podium for Aston Martin in a fantastic debut for the green team after out dueling both Lewis Hamilton's Mercedes and Carlos Sainz Jr's Ferrari.  They were the best battles of the race and Alonso certainly is not showing his age at all.
After schooling Hamilton, Alonso yelled, "Let's go"!
"This is a lovely car to drive," radioed in Alonso. He hasn't said that many times in recent year has he! No sign of a GP2 engine in that AMR23.
"First of all congrats to Lance, my teammate, surgery 12 days ago and now he's fighting with everyone. Finishing on the podium, second-best car in race one, it's just unreal."
"Yeah, it's a great start, when we look at last year how we started here, it's a great comeback" said Perez. "I think today, that start put me out of contention for the race, but it was all about minimizing the damage so second is good. I feel comfortable with the car, we have a strong package."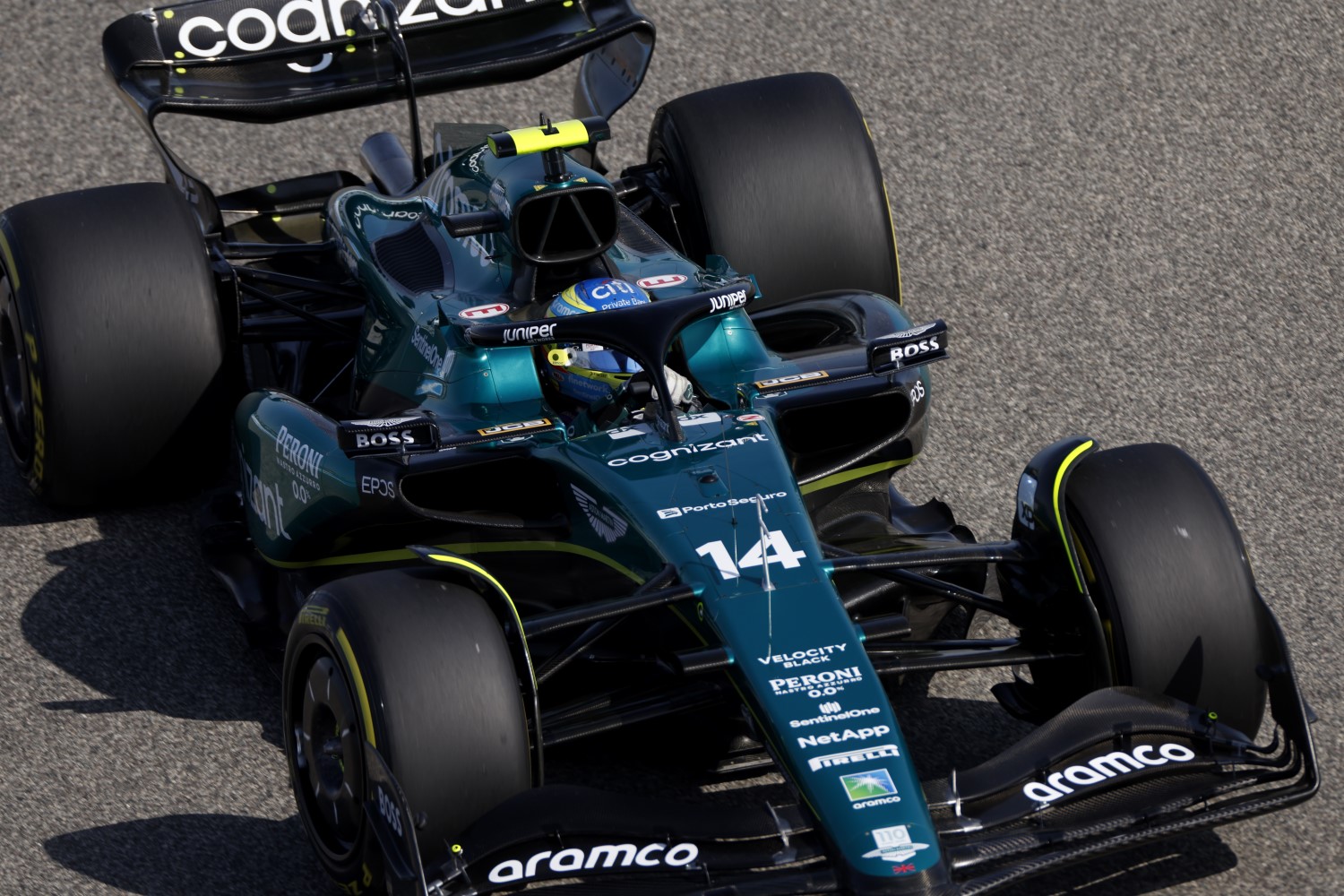 Carlos Sainz Jr. had his hands full of Lewis Hamilton in the last ten laps, with Sainz eventually prevailing for 4th in the #55 Ferrari.
Sainz's Ferrari teammate Charles Leclerc fell out while running third with an engine issue, thought to be electronic.
The Monegasque reported he had "no power" as he ground to a halt.  A Ferrari spokesperson said "we seem to have lost the engine on Charles' car".
Lance Stroll held off George Russell for 6th despite driving with a broken wrist and toe.
Valtteri Bottas picked up some points too, as did Pierre Gasly despite starting last. Alex Albon for Williams grabbed the final point on offer.
How the Race Unfolded
At the start of the race, Verstappen got away well and took the lead. Alongside him on the front row, team-mate Pérez bogged down and the Mexican driver was swamped from row two by Ferrari's Leclerc and Carlos Sainz. Leclerc got past into Turn 1 but Pérez resisted the assault of Sainz and settled into third place ahead of the Spanish driver and the fifth-placed Mercedes of Lewis Hamilton.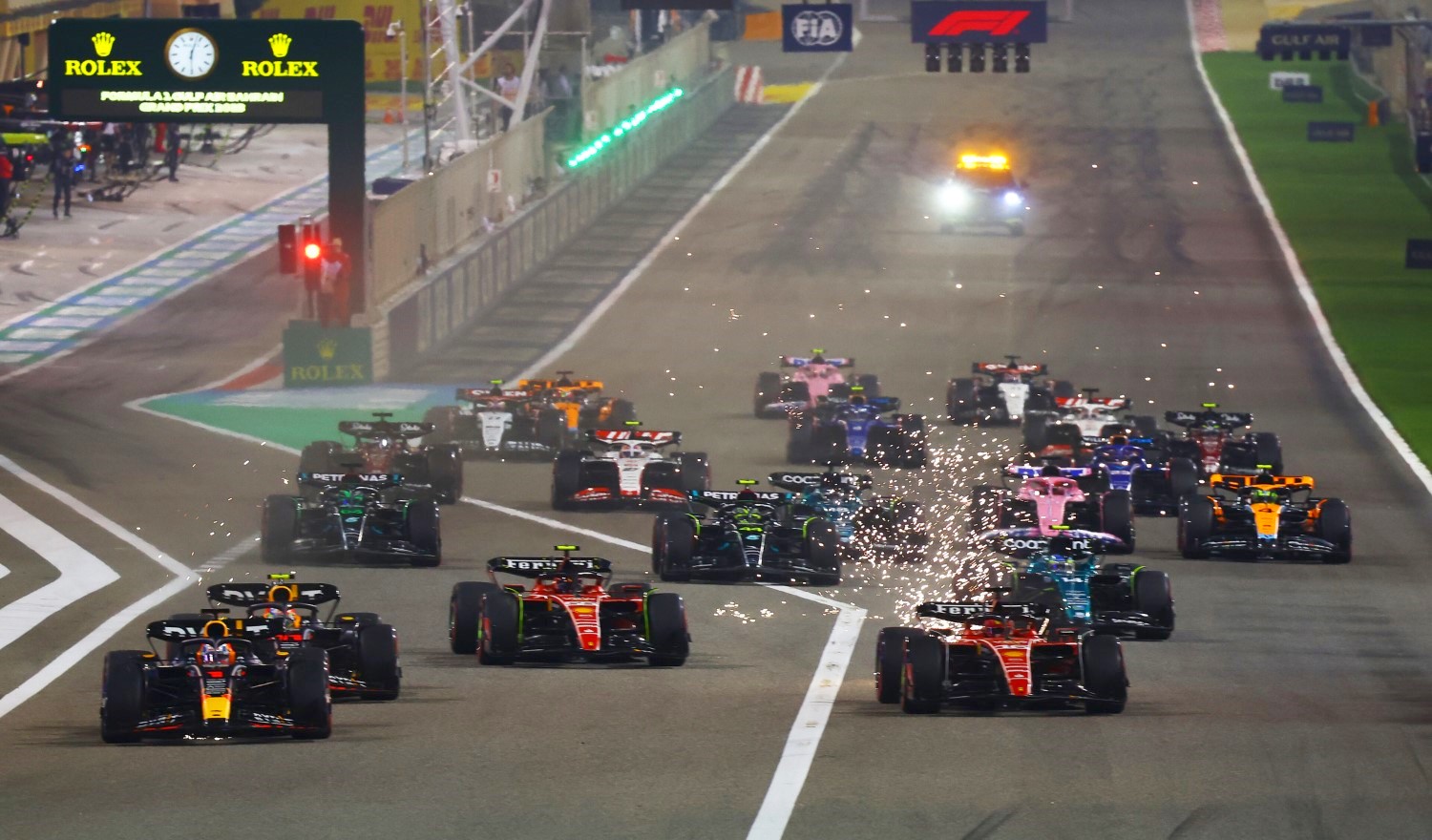 Behind the top five, Mercedes' George Russell was sixth but the Aston Martin pair of Alonso and Lance Stroll clashed in Turn 4. Alonso managed to hold on to seventh but Stroll dropped back to ninth behind Alfa Romeo's Valtteri Bottas after getting a late-braking move wrong.
At the front, Verstappen quickly began to pull away from the field and by the start of lap 10 the world champion was a full seven seconds clear of Leclerc.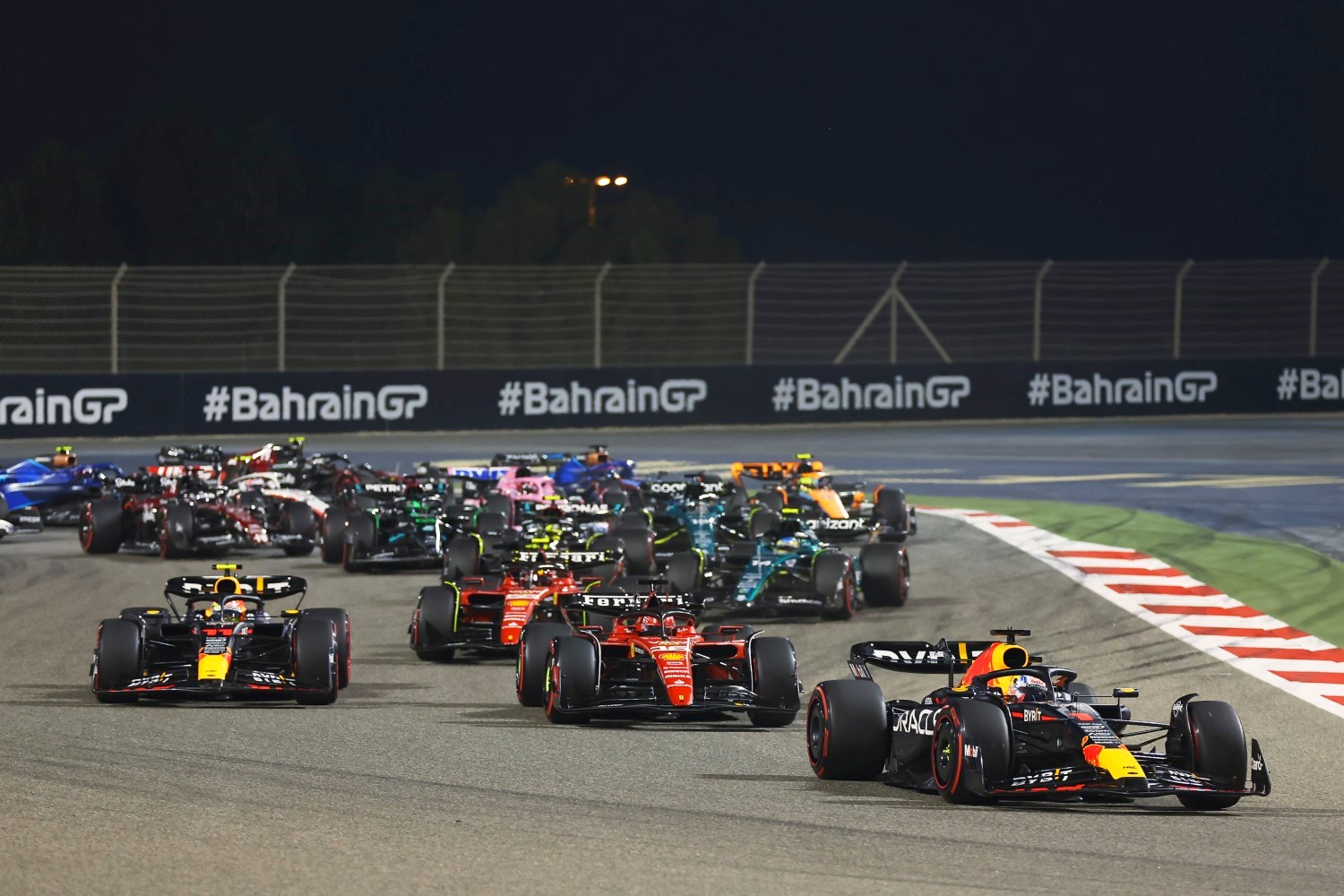 Leclerc was the first of the leaders to pit, with the Ferrari driver taking on hard compound tires on lap 14. Sainz followed his team-mate immediately and they rejoined the race in P5 and P6 respectively.
Verstappen was called in a lap later and when he stopped for a set of soft tires he ceded the lead to Pérez. The Mexican then made his first stop of the race on lap 17. Like his team-mate, the Mexican bolted on another set of soft tires and as Verstappen retook the lead, Pérez slotted into third place behind Leclerc.
Pérez then began to hunt down the Ferrari ahead, and on lap 25 he closed within DRS range. He quickly went on the attack and powered past the Monegasque driver under braking into Turn 1 to take P2.
At the front, Verstappen was in cruise control and after moving to hard tires in the final round of pit stops he emerged over 11 seconds ahead of his team-mate, who after his final stop, had pulled out his own 11-second gap to Leclerc.
The major battle was now between Alonso and Hamilton and on lap 39 the Spaniard made a superb move past the seven-time champion into Turn 10 to steal fifth place. The Aston Martin driver then began to chase down Sainz.
What looked like a stable podium order then changed on lap 40 when Leclerc suffered an engine issue. The Ferrari driver pulled over at the side of the track and was forced to retire, meaning that, under the Virtual Safety Car, Sainz inherited third place, just 2.5s clear of Alonso. On lap 43 that gap shrunk to under a second and three laps later, after a bruising sequence of corners, he powered past his compatriot in Turn 11.
At the front, the Red Bull pair were in complete control, exemplified by Pérez's race engineer Hugh Bird telling his driver "there's no pressure from behind, just stroke it home".
Next up is the Saudi Arabian GP in two weeks time.
Race Results – 57 Laps
| | | | | | |
| --- | --- | --- | --- | --- | --- |
| POS | NO. | DRIVER | NAT. | TEAM | BEHIND |
| 1 | 1 | Max Verstappen | NED | Oracle Red Bull Honda | +0.000s |
| 2 | 11 | Sergio Perez | MEX | Oracle Red Bull Honda | +11.987s |
| 3 | 14 | Fernando Alonso | ESP | Aston Martin Aramco Cognizant | +38.637s |
| 4 | 55 | Carlos Sainz | ESP | Scuderia Ferrari | +48.052s |
| 5 | 44 | Lewis Hamilton | GBR | Mercedes AMG Petronas F1 Team | +50.977s |
| 6 | 18 | Lance Stroll | CAN | Aston Martin Aramco Cognizant | +54.502s |
| 7 | 63 | George Russell | GBR | Mercedes AMG Petronas F1 Team | +55.873s |
| 8 | 77 | Valtteri Bottas | FIN | Alfa Romeo F1 Team Stake | +72.647s |
| 9 | 10 | Pierre Gasly | FRA | BWT Alpine F1 Team | +73.753s |
| 10 | 23 | Alex Albon | THA | Williams Racing | +89.774s |
| 11 | 22 | Yuki Tsunoda | JPN | Scuderia AlphaTauri Honda | +90.870s |
| 12 | 2 | Logan Sargeant | USA | Williams Racing | +1 Lap |
| 13 | 20 | Kevin Magnussen | DEN | MoneyGram Haas F1 Team | +1 Lap |
| 14 | 21 | Nyck de Vries | NED | Scuderia AlphaTauri Honda | +1 Lap |
| 15 | 27 | Nico Hulkenberg | GER | MoneyGram Haas F1 Team | +1 Lap |
| 16 | 24 | Zhou Guanyu | CHN | Alfa Romeo F1 Team Stake | +1 Lap |
| 17 | 4 | Lando Norris | GBR | McLaren F1 Team | +2 Laps |
| 18 | 31 | Esteban Ocon | FRA | BWT Alpine F1 Team | DNF |
| 19 | 16 | Charles Leclerc | MON | Scuderia Ferrari | DNF |
| 20 | 81 | Oscar Piastri | AUS | McLaren F1 Team | DNF |