IndyCar: Ericsson wins Crash Filled Firestone GP of St. Petersburg
After the two strongest cars – Scott McLaughlin and Romain Grosjean took each other out battling for the lead position on Lap 72, and  Arrow McLaren's Pato O'Ward Chevy engine coughed while in the lead, defending Indy 500 winner Marcus Ericsson picked up the pieces and won the opening race of the NTT Data IndyCar Season in the GP of St. Petersburg.
O'Ward had to settle for 2nd after losing the lead with four laps to go, while Scott Dixon rounded out the podium positions in a race that was hampered by multiple crashes and a red flag on the opening lap that took out five cars and saw Devlin DeFrancesco get punted high into the year.
O'Ward's teammate Alexander Rossi was 4th, and Callum Ilott rounded out the top-5 for Juncos Hollinger Racing.
Michael Andretti's Andretti Autosport team had a disastrous day. After qualifying so strong and looking like a sure winner, all four of their cars were involved in crashes.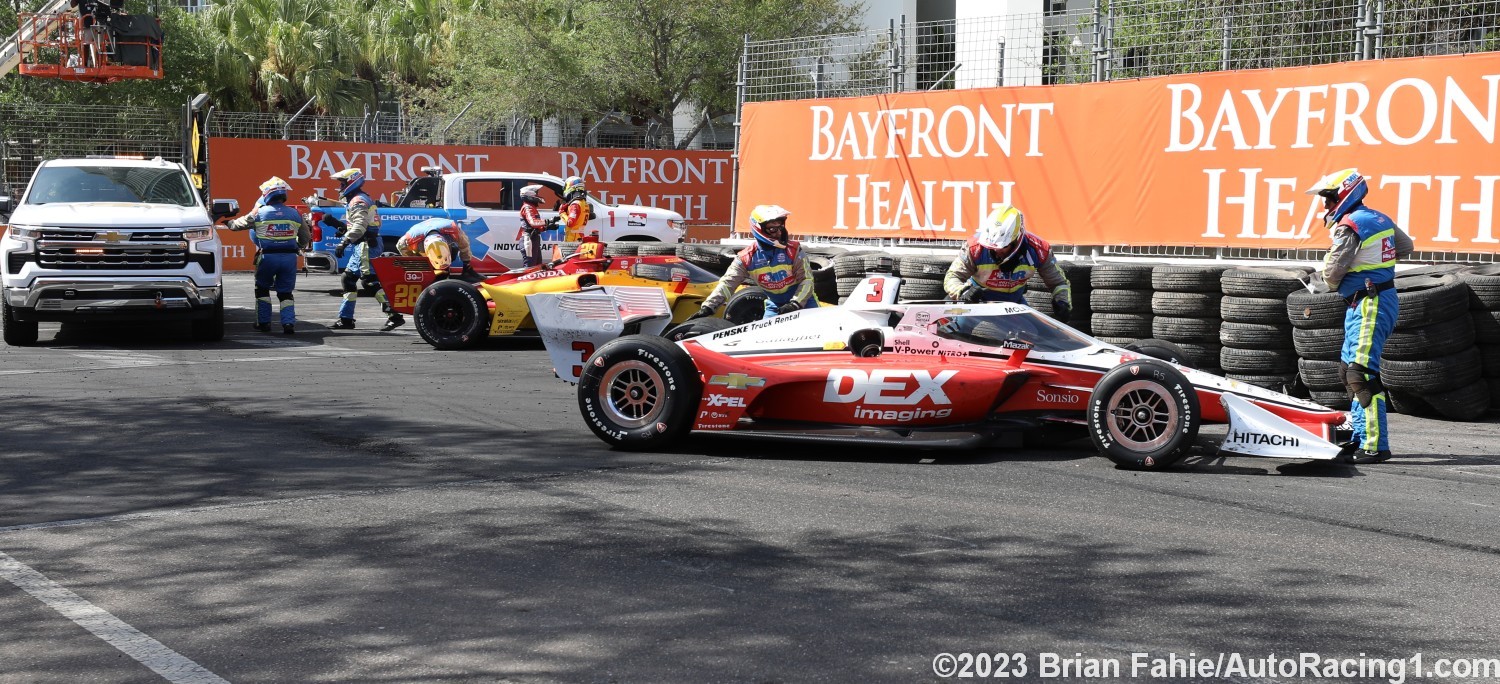 Another of Andretti Autosport's cars went airborne on Lap 41 in a multi-car incident.   Kyle Kirkwood's no 27  got caught up in the melee and vaulted over the top of Jack Harvey's no 30 Rahal Letterman Lanigan's entry.  Kirkwood's car was able to finish the race 15th.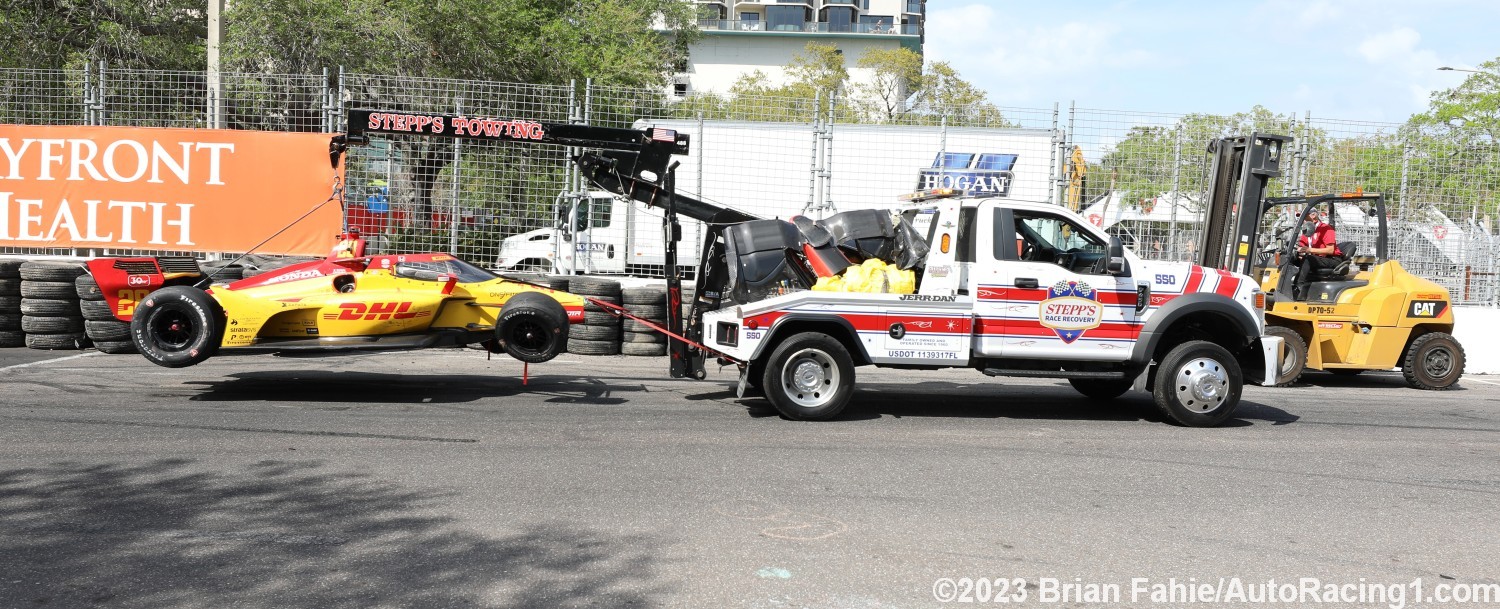 Jack Harvey was able to get out of the car on his own but was visibly shaken and was taken to the hospital for further evaluation out of the abundance of caution.  He was released from the hospital around 5 pm.
Marcus Ericsson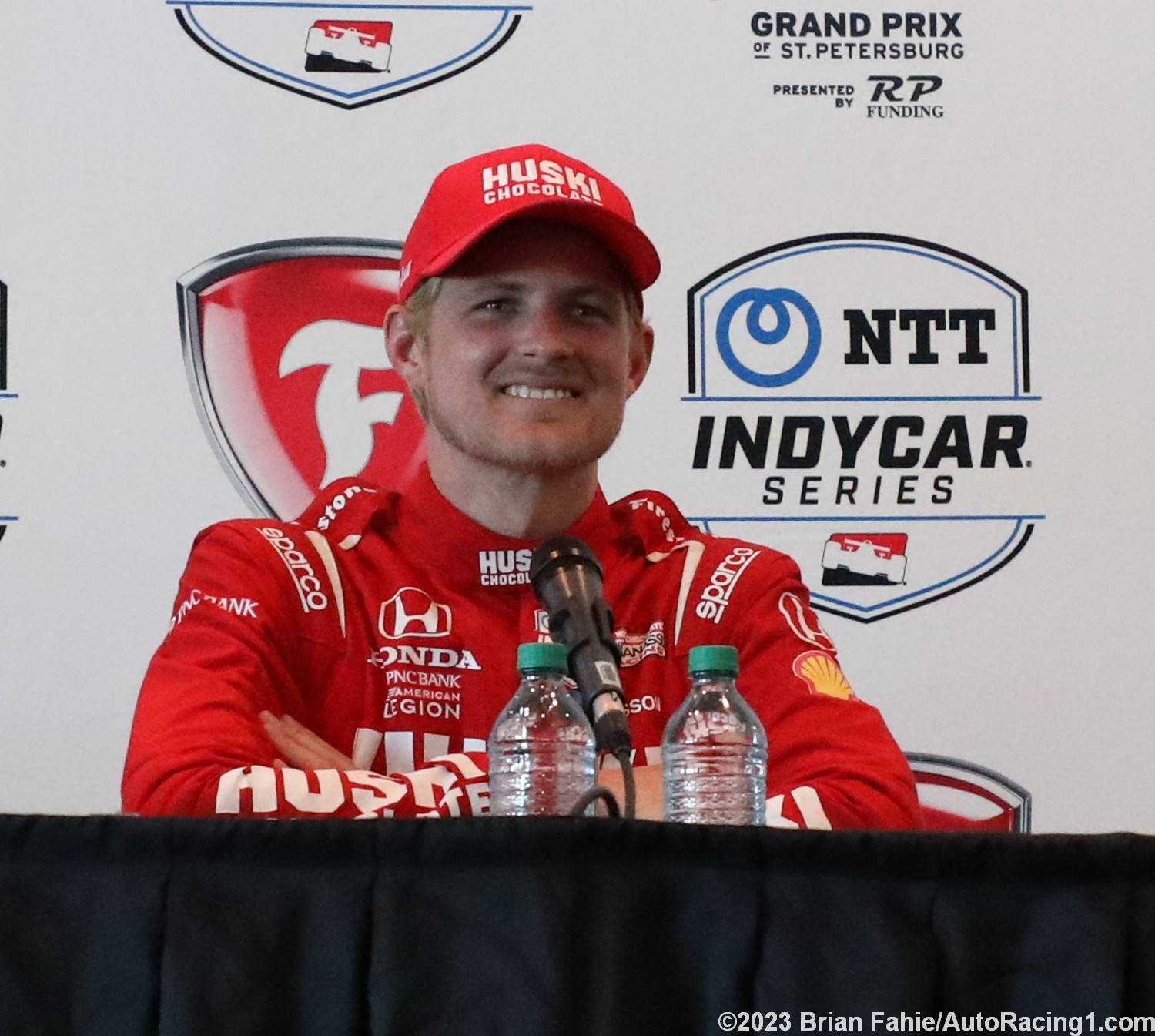 "Yeah, I think we had a really good weekend from the get-go. I think the whole Chip Ganassi Racing organization has done a tremendous job in the off-season to improve our street and road course package, where we thought we were lacking a bit last year. We went to Thermal, tried some stuff there, and we were fastest.  And then going here, we were pretty confident we were going to be better than last year. And I think we showed
that all weekend we were fast."
"Qualified fourth, one of my best qualifyings of my career in INDYCAR, so that was a big area we've been focusing because we know on race day we can be really strong."
"I think today was one of those races where a lot of things happened. It seems every time there's a red flag, we win a race. Yeah, in the end, I did a bad restart, got out in the
marbles, lost a couple seconds on Pato and had to hunt him down. But I knew our race pace was extremely good, so I could close that gap and put pressure on him. He had
an issue, whatever happened there, but we were putting the pressure on, and then things can happen."
"I think we showed all weekend that we were fast, and it's obviously a perfect way to start the season for us."
Pato O'Ward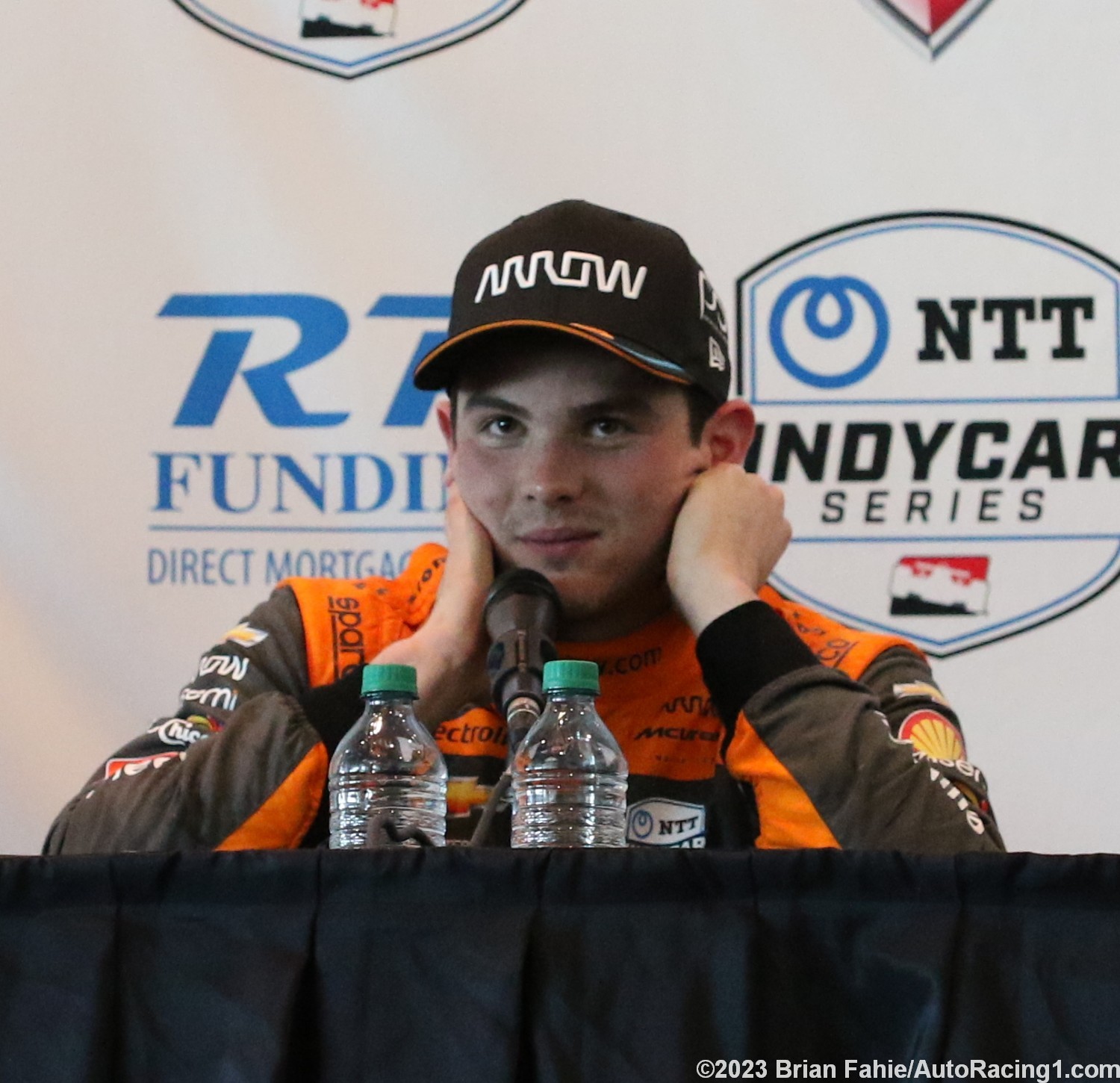 "I think as a team we've arrived with something that's just so much better than where we
were last year. Obviously every single track is different. You can be great one weekend, you can get to the next one and be like, where are we."
"But this is a great first step to where we want to be, and we're in great position to challenge in Texas and so forth."
"Yeah, it was an emotional roller coaster today.  I had a feeling they were going to get tangled up, because after the first pit stop sequence they did the exact same thing where — well, yeah, McLaughlin was inside in Turn 4 with colder tires, Grosjean on the outside and Grosjean almost got the bad end of it, but he saved it. But this last pit stop, it was his chance to get by him, and I knew he was going to go for it."
"I wasn't very surprised when I saw it, to be honest with you. There's space for one car there, and when you really, really charge it, it's a coin toss. Is the car going to give it to
you or not. And if you touch, then both of you are going to get received by the wall quite nicely."
"Yeah, lead got handed over to me and then I handed it over to Marcus."
" It makes me proud of — we arrived here, people knew we were here. We were fighting for the win. That was ours to take, and it was just very — I wouldn't say heartbreaking, but I would say just very — it was very generic. I was trying to find a more fancy word."
Scott Dixon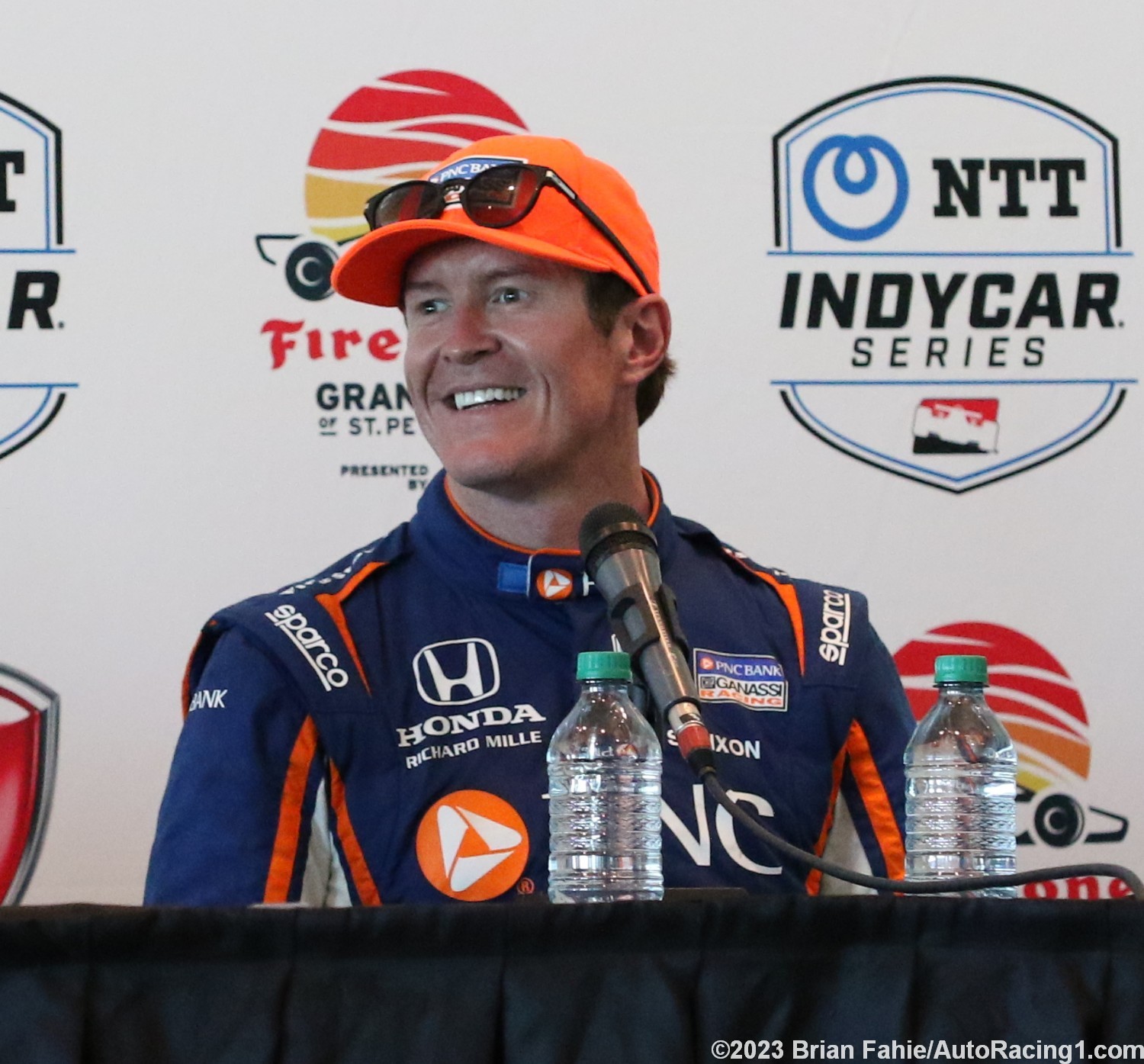 "For us, it was a lot smoother than normal with the exception of that and Q2. This was probably the best car we've ever had at St. Pete. We wound up with a third.
Could have had a win. Car was fast. We'll definitely take the positives out of it."
"Yeah, it was a wild race. I think everybody kind of had a slightly different version. Again, I think the wind was a big part of it. It's definitely a little bumpier there, especially right in the compression."
"I think if you look at last year, your first push lap, you were flat through there easy. Maybe it was flat in the race 20 times out of 100, which that would be every lap. It was
interesting. I think some of it was the track surface. There was a lot of things that played into it, but it was definitely a lot tougher than what we'd seen previously."
"It was good to see the 8 car get a win. Wins are hard to come by, so great weekend for the team. I think all of us had great speed. I think Armstrong did a tremendous job this race for us for his first one, so expect big things from him later in the season, as well."
"I think we just rolled off a little bit better. There was definitely a lot of things that we did better starting this year than what we had done last. Hopefully that carries on through the rest of the season."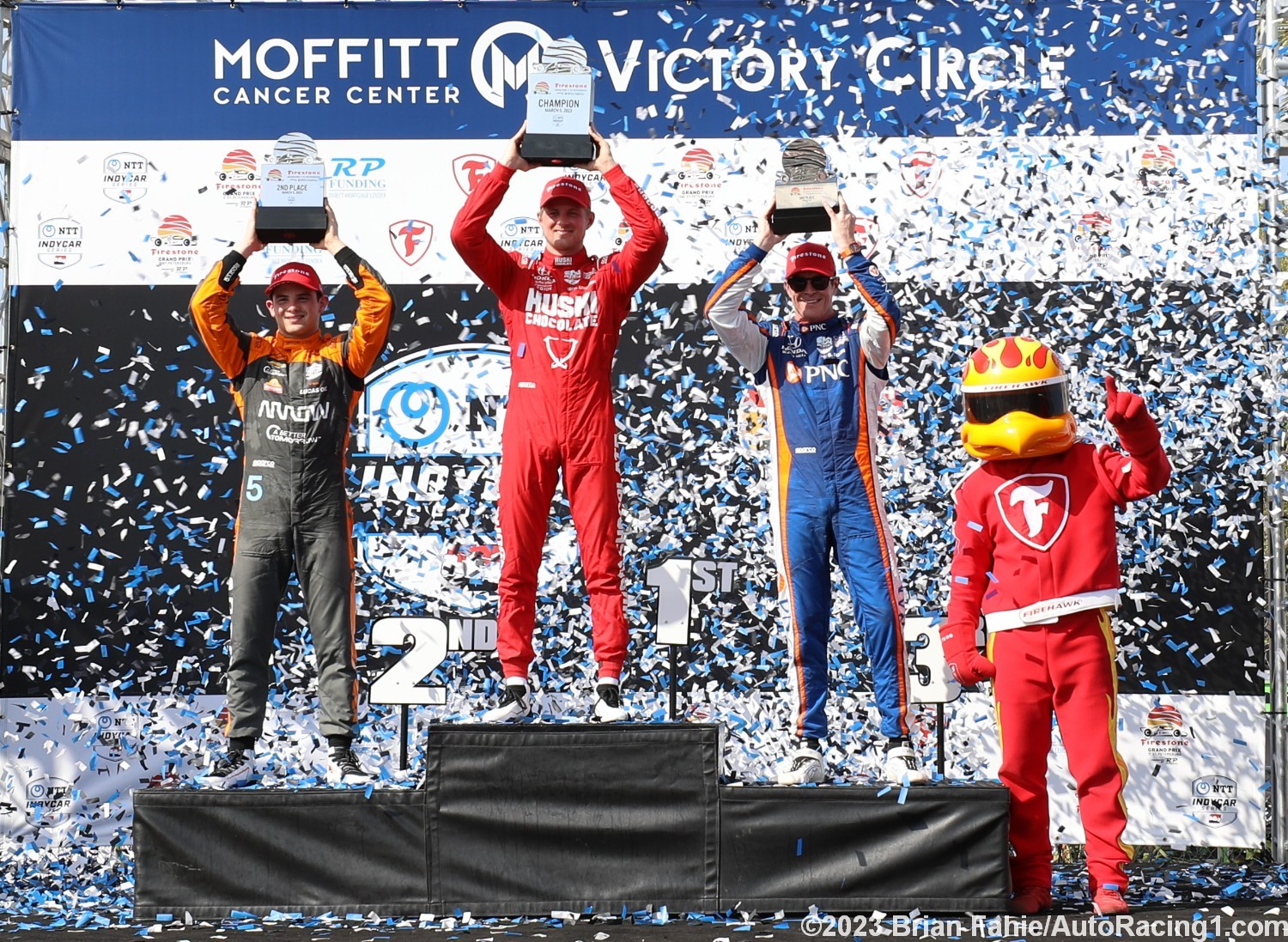 Race Results
| | | | | | | | | | | |
| --- | --- | --- | --- | --- | --- | --- | --- | --- | --- | --- |
| Pos | No | Name | Laps | Diff | Gap | Led | ST | Engine | Points | Team |
| 1 | 8 | Marcus Ericsson | 100 | 0.000s | 0.000s | 4 | 4 | Honda | 51 | Chip Ganassi Racing |
| 2 | 5 | Pato O'Ward | 100 | 2.4113 | 2.4113 | 23 | 3 | Chevy | 41 | Arrow McLaren |
| 3 | 9 | Scott Dixon | 100 | 2.9257 | 0.5144 | 3 | 9 | Honda | 36 | Chip Ganassi Racing |
| 4 | 7 | Alexander Rossi | 100 | 6.7689 | 3.8432 | 0 | 12 | Chevy | 32 | Arrow McLaren |
| 5 | 77 | Callum Ilott | 100 | 8.2650 | 1.4961 | 0 | 22 | Chevy | 30 | Juncos Hollinger Racing |
| 6 | 15 | Graham Rahal | 100 | 10.7671 | 2.5021 | 0 | 20 | Honda | 28 | Rahal Letterman Lanigan Racing |
| 7 | 12 | Will Power | 100 | 11.6798 | 0.9127 | 0 | 10 | Chevy | 26 | Team Penske |
| 8 | 10 | Alex Palou | 100 | 14.7244 | 3.0446 | 0 | 7 | Honda | 24 | Chip Ganassi Racing |
| 9 | 45 | Christian Lundgaard | 100 | 14.9528 | 0.2284 | 0 | 11 | Honda | 22 | Rahal Letterman Lanigan Racing |
| 10 | 18 | David Malukas | 100 | 15.4401 | 0.4873 | 2 | 16 | Honda | 21 | Dale Coyne Racing with HMD |
| 11 | 11 | Marcus Armstrong | 100 | 15.8049 | 0.3648 | 0 | 13 | Honda | 19 | Chip Ganassi Racing |
| 12 | 78 | Agustin Canapino | 100 | 28.1332 | 12.3283 | 0 | 21 | Chevy | 18 | Juncos Holling Racing |
| 13 | 3 | Scott McLaughlin | 99 | 1 LAPS | 1 LAPS | 37 | 6 | Chevy | 20 | Team Penske |
| 14 | 20 | Conor Daly | 99 | 1 LAPS | 8.1572 | 0 | 26 | Chevy | 16 | Ed Carpenter Racing |
| 15 | 27 | Kyle Kirkwood | 97 | 3 LAPS | 2 LAPS | 0 | 5 | Honda | 14 | Andretti Autosport |
| 16 | 51 | Sting Ray Robb | 96 | 4 LAPS | 1 LAPS | 0 | 23 | Honda | 15 | Dale Coyne Racing w/RWR |
| 17 | 2 | Josef Newgarden | 95 | In Pit | 1 LAPS | 0 | 14 | Chevy | 13 | Team Penske |
| 18 | 28 | Romain Grosjean | 71 | Contact | 24 LAPS | 31 | 1 | Honda | 14 | Andretti Autosport |
| 19 | 6 | Felix Rosenqvist | 51 | In Pit | 20 LAPS | 0 | 8 | Chevy | 11 | Arrow McLaren |
| 20 | 26 | Colton Herta | 49 | Contact | 0.2071 | 0 | 2 | Honda | 10 | Andretti Autosport w/Curb-Agajanian |
| 21 | 21 | Rinus VeeKay | 41 | Contact | 0.5977 | 0 | 24 | Chevy | 9 | Ed Carpenter Racing |
| 22 | 30 | Jack Harvey | 41 | Contact | 0.2302 | 0 | 19 | Honda | 8 | Rahal Letterman Lanigan Racing |
| 23 | 06 | Helio Castroneves | — | Contact | 0.1722 | 0 | 15 | Honda | 7 | Meyer Shank Racing |
| 24 | 14 | Santino Ferrucci | — | Contact | | 0 | 17 | Chevy | 6 | AJ Foyt Enterprises |
| 25 | 29 | Devlin DeFrancesco | — | Contact | 0.1469 | 0 | 18 | Honda | 5 | Andretti Steinbrenner Autosport |
| 26 | 60 | Simon Pagenaud | — | Contact | 0.5489 | 0 | 25 | Honda | 5 | Meyer Shank Racing |
| 27 | 55 | Benjamin Pedersen | — | Contact | 0.7859 | 0 | 27 | Chevy | 5 | AJ Foyt Enterprises |
Race Statistics:
Winner's average speed: 86.047 mph
Time of Race: 2:05:30.7907
Margin of victory: 2.4113 seconds
Cautions: 6 for 26 laps
Lead changes: 6 among 6 drivers
Lap Leaders:
Grosjean, Romain 1 – 31
McLaughlin, Scott 32 – 34
Dixon, Scott 35 – 37
McLaughlin, Scott 38 – 71
Malukas, David 72 – 73
O'Ward, Pato 74 – 96
Ericsson, Marcus 97 – 100
NTT INDYCAR SERIES Point Standings: Ericsson 51, O'Ward 41, Dixon 36, Rossi 32, Ilott 30, Rahal 28, Power 26, Palou 24, Lundgaard 22, Malukas 21, McLaughlin 20, Armstrong 19, Canapino 18, Daly 16, Kirkwood 15, Grosjean 14, Robb 14, Newgarden 13, Rosenqvist 11, Herta 10, VeeKay 9, Harvey 8, Castroneves 7, Ferrucci 6, DeFrancesco 5, Pedersen 5, Pagenaud 5