F1: Verstappen does not expect to be as dominant in Saudi Arabia
(Update)
Red Bull Motorsports advisor Dr. Helmut Marko chimed in on Verstappen's comments after the season opening Bahrain GP.
He told Autosport: "I wouldn't mind if it will be a boring year, but I don't believe it will be.
"It's only one race, and it is a specific race as well because of the [abrasive] tarmac.
"All races are different. Jeddah [Saudi Arabia, round two] is much faster, for example, and other teams will develop their cars as well. They're not sleeping."
"I think, at the moment, the Ferrari is the fastest engine, but what does the fastest engine help if it's not reliable?
"But yes, the top speed is like it is and we have to cope with it. Also, if we come to a circuit like Monza, let's see what happens."
---
March 7, 2023
–by Mark Cipolloni–
Mercedes driver George Russell said he expects Red Bull to win every race this year, such was the dominance of Max Verstappen and Sergio Perez in Bahrain in race trim.
However, some people disagree and say it is too early to tell if Red Bull's dominance will translate to all circuit types.
In the Bahrain GP post-race press conference, Verstappen was asked whether he expects to be so dominant in Saudi Arabia in 2 weeks.
The defending Saudi Arabian GP winner said: "Saudi is quite a different track to this one. You have a lot more like straights, fast corners, and a lot less degradation.
"And I think here [in Bahrain] we were particularly good on the deg. So, I do expect in terms of race pace, that everyone is closer in Jeddah."
The RB18 was particularly fast on the straights last year. However, the RB19 was not the fastest car on the straights in Bahrain.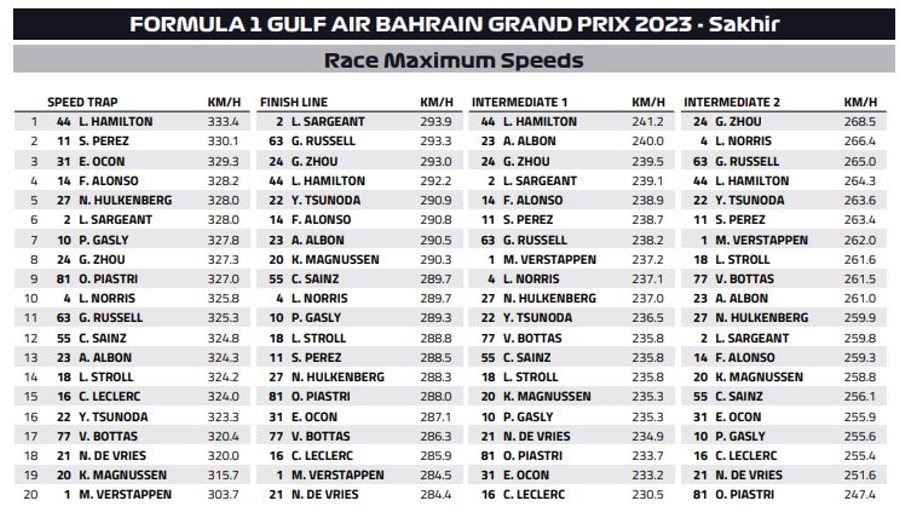 But the more flowing Jeddah street track and its less course surface should in theory favor the top speed advantage enjoyed by Mercedes and Ferrari this year.
Verstappen added: "Jeddah is going to be quite different again.
"Our car seems quite strong in high speed, but I think Ferrari is quite quick on the straight, which in Jeddah, of course, is very nice to have.
"Time will tell. It's really hard to know. "We've only really driven these cars here in Bahrain, so we just have to wait and see.
"We'll, of course, try and get there in the best shape possible and then we'll find out throughout practice [in Saudi] where we are exactly."