IndyCar: Aeroscreen did its job in St. Petersburg wreckfest
by Mark Cipolloni
Thank God for the IndyCar Aeroscreen.  IndyCar drivers could not stop crashing into each other in the Firestone GP of St Petersburg IndyCar race, but the Aeroscreen and the safety of the Dallara chassis did its job.
Only one driver had to go to the hospital in St. Pete for further evaluation – Jack Harvey – who checked out ok.
The Aeroscreen incorporates Formula 1 halo titanium roll cage of sorts around the head of the driver, anchored by three points around the head.
The aeroscreen combines a Formula 1 halo-style titanium roll cage and a wrap-around polycarbonate screen, designed to prevent debris from entering the cockpit.
In a first lap accident, rookie Benjamin Pedersen t-boned Devlin DeFrancesco.
The contact sent DeFrancesco up the nose, over the top of Pedersen's aeroscreen, and into the air.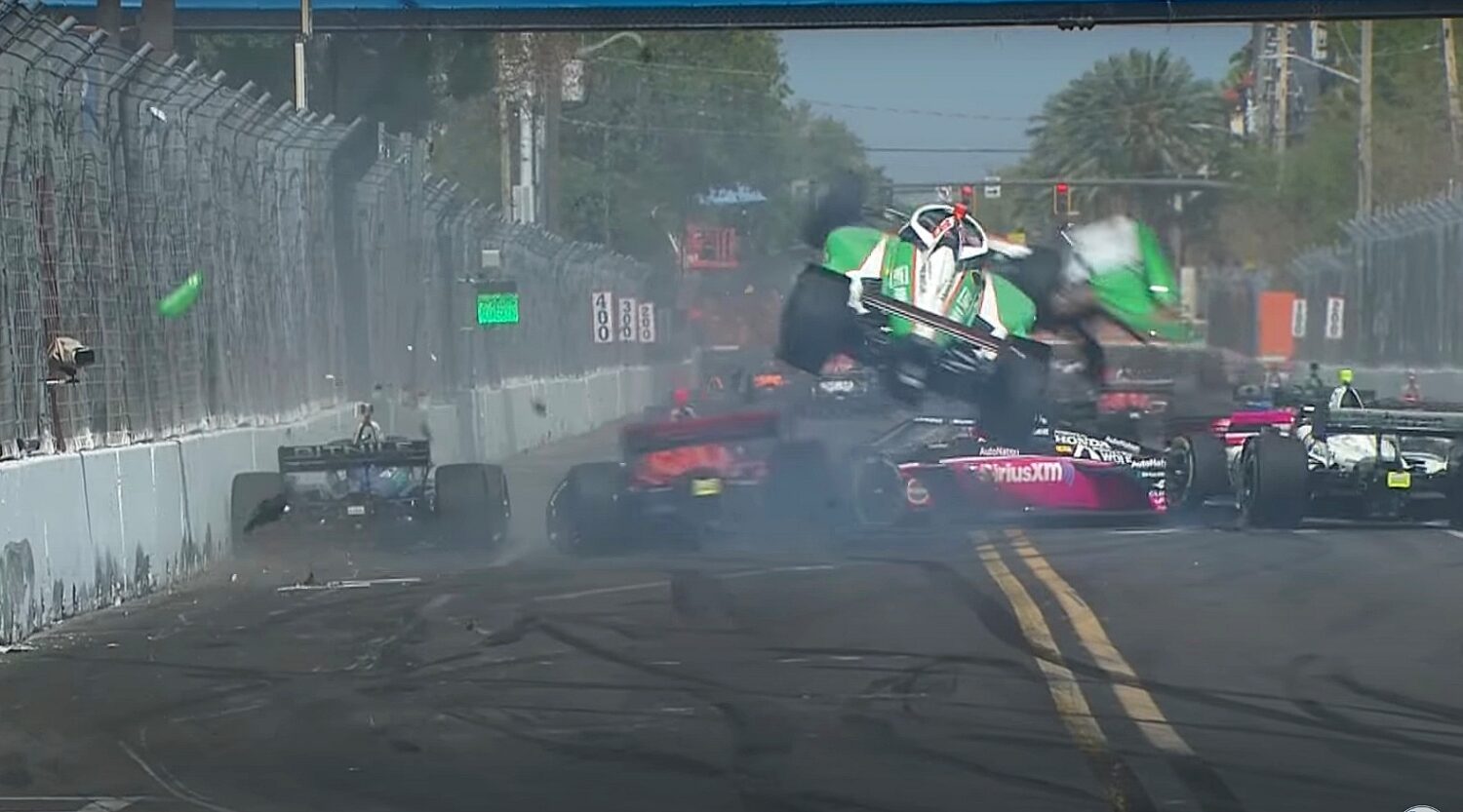 Both DeFrancesco and Pedersen were uninjured and able to walk away from the incident.
IndyCar president Jay Frye posted a video of Pedersen's wrecked car in the aftermath, showing damage to the aeroscreen (below).
DeFrancesco wrote on Twitter, "I need to say thank you to IndyCar for the aeroscreen today and for making sure our cars are safe!"
. @IndyCar makes constant safety improvements – always has. But the aeroscreen effort by @JayRFrye & the team is a huge safety step that is in the same category as Tony George's early investment in and focus on SAFER walls. BIG difference makers! https://t.co/oZbBZ3Je9q

— J. Douglas Boles (@jdouglas4) March 6, 2023
Though it may appear cracked (see main article photo), the aeroscreen withstood the impact and remained whole. Those lines are actually from the tear-offs being shredded.